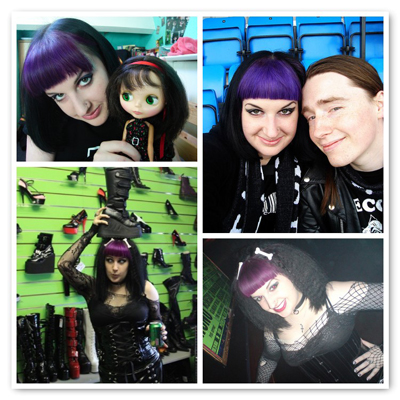 This is Jess. Well, the top right is Jess & Dan, but you get the idea.
The Doll Thing
I fell in love with Blythe in the summer of 2004. I'd discovered her by chance, in one of the LiveJournal communities I was watching, and thought she was perfect – a balance of cute and weird and innocent. I was impressed at how changing her looks were. I was impressed with the customs I saw on auction sites. I loved the tiny fashions, the miniature accessories, and the devoted cult the cute lump of plastic had acquired… Within three months or so, I had my first girl (Elvie – Love Mission) and life really hasn't been the same since. Eight years on, my family has grown and shrunk to include not only Blythe dolls, but Momokos, BJDs, other dolls that take my fancy, vinyl toys and other random bits of cute. It seems you can't just have one. Though shelf space and money attempt to prevent more growth, I know it's inevitable. They just do that to you.
The Real Life Thing
My name is Jess, I'm 25 years old and I live in Leeds, West Yorkshire. I share a home with my ninja boyfriend / god of the machine, Dan, and all our various toys and collections. Things I love include vodka, corsets, cosmetics, tentacles and tea.