Dan requested a scarf – it could be any colour so long as that colour was grey, and it needed to have skulls. I sort of made this up as I went along, and didn't take any real notes of what I was doing as I was doing it. 😳 I've tried to write down how I made it, so hopefully someone will be able to figure this out!
My notes are written in US crochet terms. If you fancy having a go at this, and can decipher my garbled non-pattern below, you'll need to be familiar with single crochet, double crochet, front post double crochet, and how to work with two colours. Check out the Stitch 'N Bitch Crochet : The Happy Hooker book if you need a hand getting started.
I used a 5mm hook, and Wendy Serenity Aran yarn.
Chain 25 (+1 to turn), then sc straight for a few rows (25 stitches per row). Use the graph below to work the skulls and bones when you feel it's appropriate. Each square is one sc, and I think it's pretty simple to see where you need to change colours. Don't worry about the top two rows and the bottom row on the graph, I was just too lazy to clean it up before putting it up here. :blush: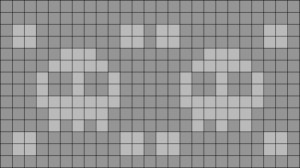 After you've finished the skulls pattern, sc straight for a few more rows, then work a row of dc. Chain 3 (counts as first dc), dc into the next stitch, and fpdc around the next stitch. Alternate dc and fpdc along, finishing with 2dc. Alternate the dc and dc/fpdc rows until the scarf is getting to a decent size, finishing up with a row of plain dc. Then you simply work a couple more rows of sc, and work the skulls part of the graph upside down. Add a few more rows of sc until that end of the scarf matches up to the first end, and you're done.
You could easily use the skulls graph for other projects – I'm tempted to make some matching mittens, or even a bag for myself. There is nothing that can't be made more awesome with skulls. :cheery: If you do make a scarf like this, or something else using the graph please get in touch – I'd love to see what people come up with.