Goodbye 2016, and good riddance… it was a bit of a dogshit year, wasn't it? I'll admit, during the bits where I wasn't locked away trying to get my thesis finished, I was mainly shaking my head and despairing at the news. On a global scale, absolutely horrendous year. On an individual level, not too bad overall.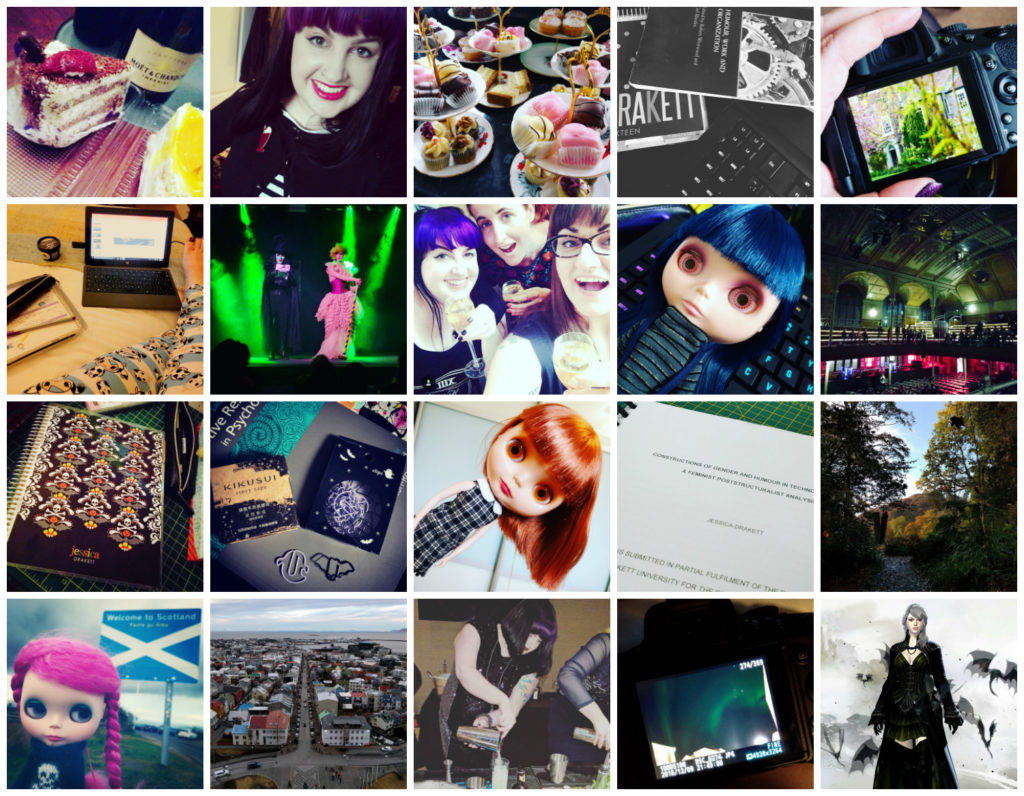 Highlights included seaside trips, birthday celebrations in Manchester, hanging out with guildies IRL, afternoon tea(s) with friends, burlesque shows, Placebo, another Night Vale live show, EGX with an industry pass (cheers husband!), watching a friend get married via the Internet, conferences for work and conferences for fun, embracing lipstick, a wonderfully successful BlytheCon UK in Edinburgh, unashamedly loving stationery and planning, Pokémon Go, blogger events (despite my lack of blog time), adding my two Blythe grail girls to my collection (EBL Picca and EBL Asian Butterfly!), completing the Nightfury bat shoulders in Guild Wars, feminist writing retreats, visiting Iceland and seeing the northern lights, and handing my thesis in.
The biggest thing was handing my thesis in on October 19th. As it stands, I'm still waiting for my viva voce exam. I'll keep you posted. With a bit of luck, it'll go well and this will all be over soon… In related news, I've managed to secure a senior lecturer position at Leeds Beckett (!) which is exciting and panic inducing all at once. It's fixed term for a year, and I am so happy to have landed it. I've been working as an hourly paid lecturer in the department for the last few years, so the security and predictable income will be a welcome change. I know some of you might laugh at the idea of 'security' and 'fixed term for a year' but trust me – this is about the best I'm going to get for now, so I'm grabbing it while I can. A year of SL is enough to do what I want to do for now, and I can reassess towards autumn time. I desperately need to get my research findings published, and I'm keeping myself very busy with conference planning (haha I know – BlytheCon UK clearly isn't enough!) and journal editor work too.
Dan and I have big plans for 2017… we're hoping to be able to buy a house this year, and then the logical next step is chihuahuas! I never thought we'd want to be tied to an area, I think I assumed when I made the jump to academia that we'd keep a sense of freedom and flexibility for me and my work. I didn't see the point in tying ourselves to an area (or even a country, to be honest) but then Dan landed his dream job… it feels like he'll be there for the foreseeable. He loves what he does, and where he works. He goes from strength to strength with his work – I couldn't be more proud of what he's achieved, and how hard he pushes himself.
So, we have no travel plans this year… not big ones anyway. No major events coming up, no major commitments. I foresee a lot of Pinterest interiors scrolling, and obsessive researching of areas to live. I want more blogging, more photography, more Blythe, more game time and yet I also crave more time away from screens… we'll see how that goes, haha.
Happy 2017 everyone! x