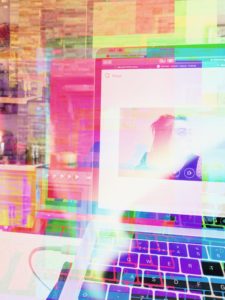 Can you believe it's taken a fucking global pandemic for me to check in here?
Yeah. I kinda can as well.
Between my work, Dan's work, and *gestures outside*, the world is a literal dumpster fire right now. What better time to reminisce about a simpler time and fuck around with your (depressingly) neglected online presence?
I last wrote here at the end of 2017, and it's now the millionth day of lockdown in the month of Marchtemberurary 2020. It's fucking June. JUNE. If we're going to play catch up, I guess we'd better get started…
In 2018 I turned 30. Published work. Reconnected with tarot. Went to Iceland (again). Got tattooed. Wernerrnerrnerred in a World Rally Blue Impreza. Became a chihuahua pawrent. Decorated. Gardened. Blythe-ed. Went to Iceland (again again!) Saw the Northern Lights (again!)
As 2019 rolled round, I was finally, FINALLY made permanent at work after years of uncertainty. The year brought a lot more good stuff in the form of tattoos, Dungeons and Dragons (on both sides of the screen), the beginnings of an EGL wardrobe, seeing Spice Girls, theatre trips, Ghost, and a holiday in Rhode Island and New York. I wrote, I Blythe-ed (custom work for the first time in YEARS) and I spent time in the kitchen with Dan. I wrote and ran my own elective module in cyberpsychology. I fully embraced Apple products and that makes me question who I am…
But it wasn't all amazing. I don't want to go into it here, not yet anyway, but I do want to say that 2019 also brought some of the worst fucking BULLSHIT I've ever had to deal with. I have never been as glad to see the back of a year.
Pandemic aside, and touch wood, 2020 is shaping up okay. Despite all of… whatever this shit is… we've also seen weekends away for weddings and occult conferences, more tattooing, cooking and Blythe-ing… then uhhhh… *gestures outside* 
Yeah.
Who knows what will happen. I had a lot of fun stuff lined up this year following the fuckery that was 2019, and the majority has now been shifted to 2021 or who-fucking-knows. I've got a lot to be grateful for. Our house is a pretty good place to be enduring the pandemic. My family and friends are safe and healthy, for the most part. I've been able to continue working, I have a safety net, and I'm valuing every extra second I get to spend with Dan and Buffy.
Still scared though.
Excited about a few things, but scared.
If I disappear again, you can probably find me at Instagram.
Stay safe.
♥ x