I'm a huge fan of autumn (or fall, if you prefer) – the nights are drawing in, it's been cool enough to wear layers, and of course, pumpkin spice is a valid lifestyle choice again. I don't think we have so much of the pumpkin spice obsession this side of the pond, but the availability of the infamous PSL is a sure sign that we're on our way there. Give it a few years, and I reckon we'll start to see more. I picked up a gorgeous pumpkin spice candle in TK Maxx a few weeks ago, and I'm hoping that it's a sign of things to come!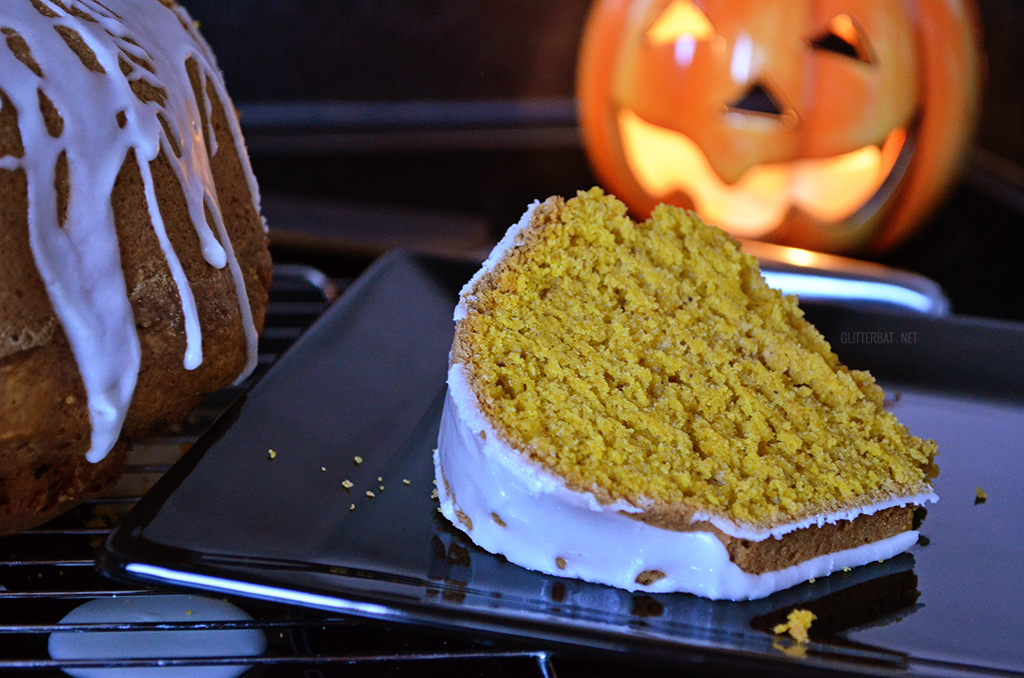 I'm also a huge fan of baking bundt cakes. They are big, hearty cakes perfect for sharing with friends and family, and they look so much fancier than they actually are. Last year I tried my hand at pumpkin spice bundt cakes, using this recipe. They came out beautifully, and I've been waiting for the leaves to start turning to have an excuse to make the first pumpkin bundt of 2015. The recipe below is slightly altered, as I didn't have plain flour in (shameful!) and I've had to forgo the cream cheese frosting (*sob*!) because creamy rich dairy is super not my friend right now. Instead of the frosting I've gone with a simple maple and vanilla glaze, just to add a little sweetness to the spiced flavour of the cake itself.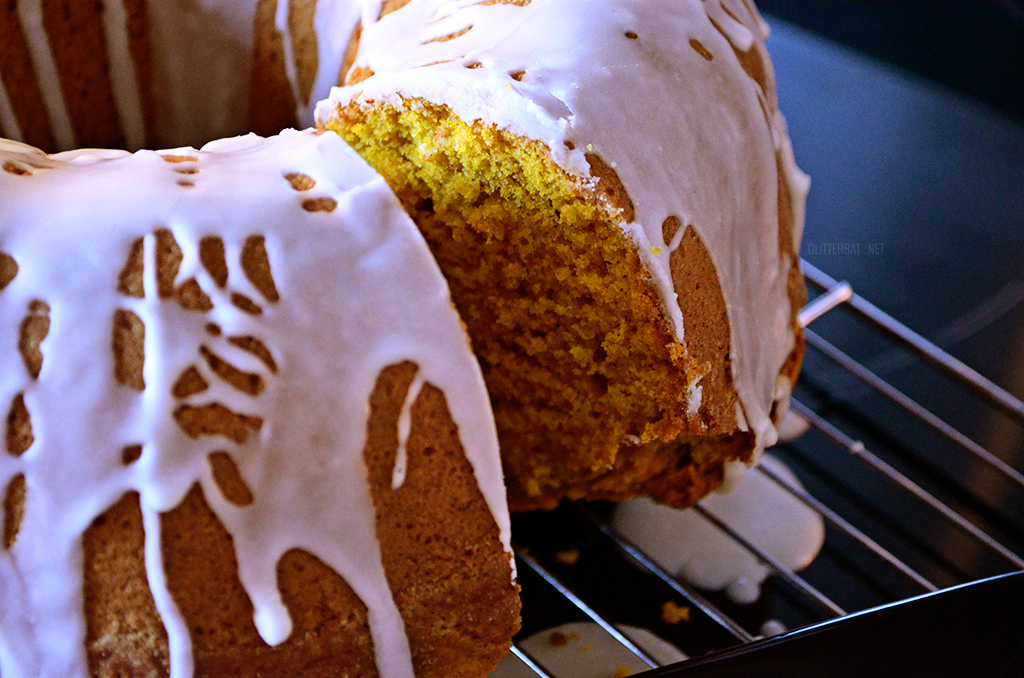 Ingredients
For the cake –
1 cup of vegetable oil
2 1/4 cups caster sugar
3 eggs
3 cups self raising flour
3 teaspoons of pumpkin spice
A pinch of salt
1 can pumpkin purée
And for the glaze –
1 cup of icing sugar
A few teaspoons of maple syrup
A few drops of vanilla extract
A few drops of water
Method
Preheat your oven to 170°C – as ever, mine's fan and fierce so use your judgement.
Prepare a 10 inch bundt tin – I grease mine with a chunk of butter on some kitchen roll, then tap flour all around it making sure all the nooks and crannies are lightly covered. This is absolutely fucking essential if you want the cake to ever come out of the tin, and not leave little chunks of cake behind. Believe me.
Throw your sugar and oil into the bowl of your stand mixer and mix together until well combined.
Beat the eggs into the sugar and oil mix one at a time.
In a separate mixing bowl, sift together your flour, pumpkin spice and a pinch of salt.
Mix the dry mix and the canned pumpkin into the eggy sugary oily mix, alternating with a little of each at a time.
Spoon your batter into the bundt pan and smooth it all out.
Bake for approximately 1 hour, until a skewer poked into the middle of the cake comes away clean.
Let the bundt cool for at least ten minutes before inverting onto a wire rack to cool fully.
Once your cake is cooled thoroughly, it's time to glaze!
Mix icing sugar and wet stuff in a small bowl. Basically you want it runny enough to drizzle, but still thick enough to look good. Sorry my quantities aren't precise, I always kind of bumble my way through icing and glazes. If it's too wet add more icing sugar, if it's too dry add more liquid(s) to taste. Simples.
I would suggest that you make the pumpkin spice blend yourself – there are instructions here and it's so much cheaper than buying a pre-mixed jar. For a start, you probably already have at least some of the spices in your cupboard. Secondly, pumpkin spice obsession doesn't seem to be a huge deal here, so you're looking at around £7 for an imported few grams of the good shit. Kill that noise.
Let me know if you give this recipe a try – I'd love to hear how it comes out for you!