In all the chaos of the last few months, I feel like my blog has really suffered from a bad case of neglect, and I've suffered from a bad case of no down time. You can probably imagine then, that I was pleasantly surprised when an email landed in my inbox inviting me to bonprix's #bonprixOnTheRocks event at Malmaison Leeds. Cocktails, canapes, chilling out with lovely northern bloggers? Sign me up!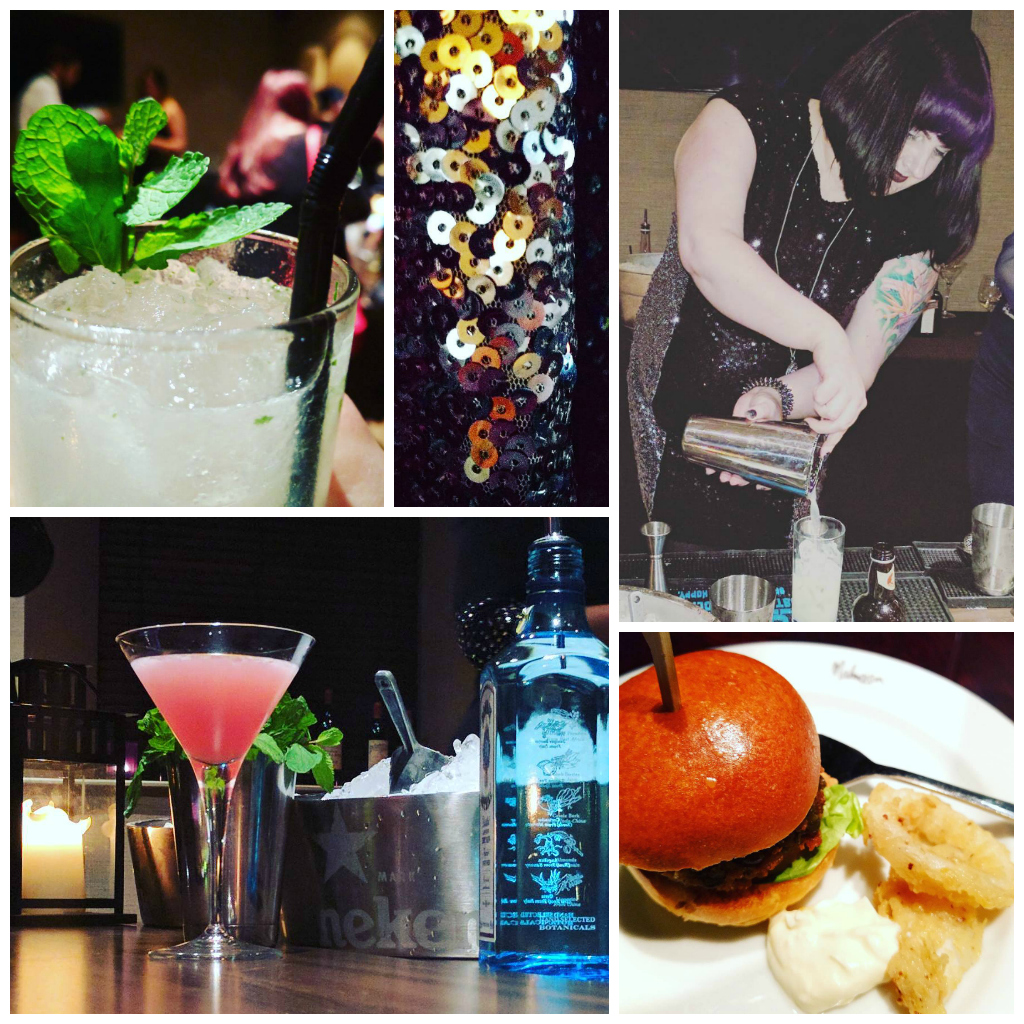 Here's the twist – every blogger was to wear a party dress from bonprix. Being unable to resist glitter and sparkles, I opted for a silver and black sequin number which I styled with opaque black tights, my shiny snakeskin look Dr Martens, and a black fur wrap that I've had for years. I added a plain silver sugar skull pendant and spiked bracelet and I was good to go. Makeup wise I kept it relatively simple, going for dark matte lips with Makeup Revolution's Salvation Velvet lip lacquer in Black Heart.
We were split into two teams, and took it in turns over the course of the evening to have a go at making cocktails under the watchful eye of a trained professional. Massive props to him, trying to teach a horde of overly excited bloggers all wielding cameras and rearranging his bar stuff for the perfect shot (Lucinda!) can't be an easy task… We made a 'Pretty in Pink Frocktail' – Absolut Citron, Cointreau, cranberry juice and lime juice – and a 'Sassy Sapphire Frocktail' – Bombay Sapphire, ginger beer, lime juice, mint leaves and sugar syrup. Yeah, a gin mojito. I was shocked and appalled initially, but soon changed my tune. Hipster AF, but also delicious AF.
When we weren't making delicious cocktails, we relaxed and chatted and generally had a lovely time. It was great to meet Natasha, and to catch up with Donna, Kelly, Kellie, Jennie and so many other lovely ladies. We were so well looked after by Malmaison, who kept us just the right side of drunk with a selection of lush canapes – the sliders were to die for!
It was great to see such a wide range of dresses on show – I don't know how it happened, but nobody was wearing the same dress as anyone else! Okay, Kel and Natasha almost had the same dress on, but they had styled them differently and chosen different colourways, I didn't even notice until it had been pointed out to me – and I can't blame the cocktails, haha! Considering the fact that all of us were wearing dresses from the same place, everyone looked amazing and had made their outfit their own – testament to the wearability and versatility of bonprix clothing.
Thanks so much to bonprix, Malmaison Leeds and Search Laboratory for having me – this event was just what I needed! If you'd like to check out more of what went on, you can have a peek at bonprix's blog about the event here.