When I found out that ArenaNet were bringing a playable demo of the new expansion Guild Wars 2: Heart of Thorns to EGX Rezzed games convention in London, a week after my birthday… well. You don't need me to tell you what happened, do you? Dan and I took Friday the 13th off work, heading down south on Thursday night to stay with our close friend and guildmate Sam. We arrived late, fuelled by coffee and donuts and promptly crashed out on Sam's sofa. Well, Dan did. I was too excited to sleep, and must have had about an hour of dozing tops!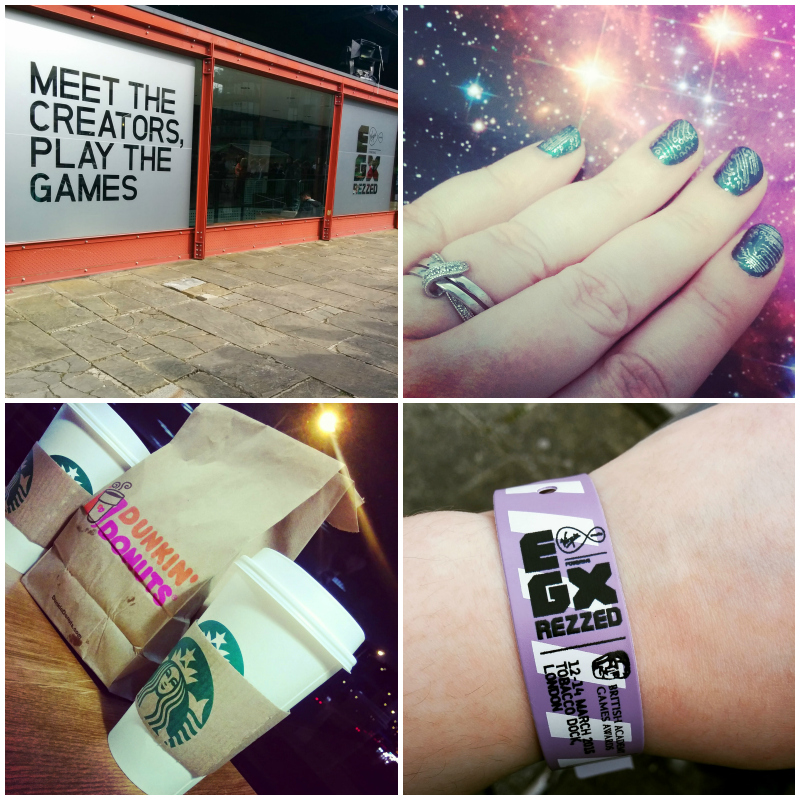 Friday morning brought an early morning drive across London to Tobacco Dock, where after a rather lovely breakfast pastry/coffee from Cinnamon Coffee Shop and a brief queue, we headed straight for the ArenaNet booth. I'm not even slightly ashamed to say I was overcome with emotions – seeing two rows of immaculate gaming rigs set up around walls featuring Heart of Thorns vines/thorns, along with the ArenaNet staff wearing beautifully coordinated HoT swag…. yeah. The feels. We were kept waiting a little longer than anticipated, firstly by an issue with Internet connectivity in the venue itself – no need to worry though, as we were all kept happily entertained with chatter and trivia quizzes from the ArenaNet staff. Dan, Sam and I were in the second round of players to get their hands on the demo, though we were thwarted by a second round of connectivity issues (this time on ArenaNet's end) after about five minutes of play. On some level, this was almost a blessing (?) as we got to chat with some of the ArenaNet staff for longer, and their team sorted it out super quick. I loved chatting with environment artist Tirzah Bauer, who is responsible for quite literally my favourite areas in the game – including one of my favourite screenshot locations, the hidden garden in The Grove.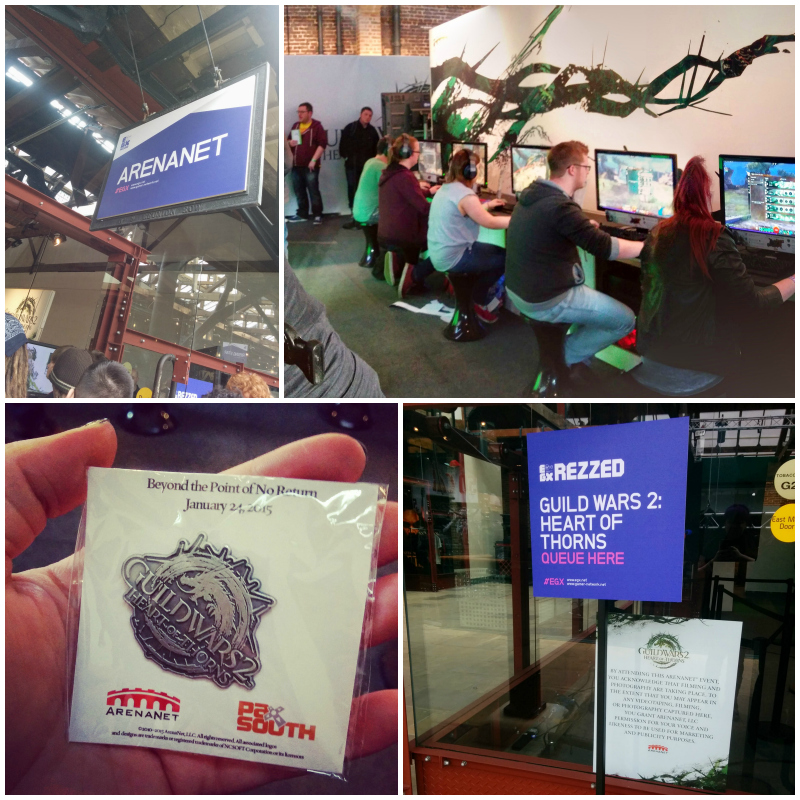 All three of us were lucky enough to win Heart of Thorns pin badges chatting to Gaile Gray – and to be honest, I felt a little bit starstruck chatting with her. Sam summed it up at the end of the weekend by saying that Gaile is kind of like everyone's Guild Wars fairy godmother, and he's right! After playing the demo we were given gorgeous grey shirts featuring the mighty Rytlock Brimstone as the new profession, the Revenant with the bright green Heart of Thorns logo on the back. We also got green and white lanyards with the Heart of Thorns and ArenaNet branding – Dan's already using one of his for server room keys!
After a little bit of lunch and a look around the rest of the stands we headed back to the Guild Wars 2 area to try our luck on the new PvP map, stronghold. In an amazing twist of fate we ended up teaming up with @blacklionchest and @JebDan – and we only went and WON the match, netting ourselves the much lusted after green foil shirts. I'm not even kidding, I could have cried with happiness. I wanted one of those shirts since I saw them during the first expansion announcement stream back in January, and now I have one… Of course, we wore them with pride on Saturday but I think I'm going to frame mine for above my desk.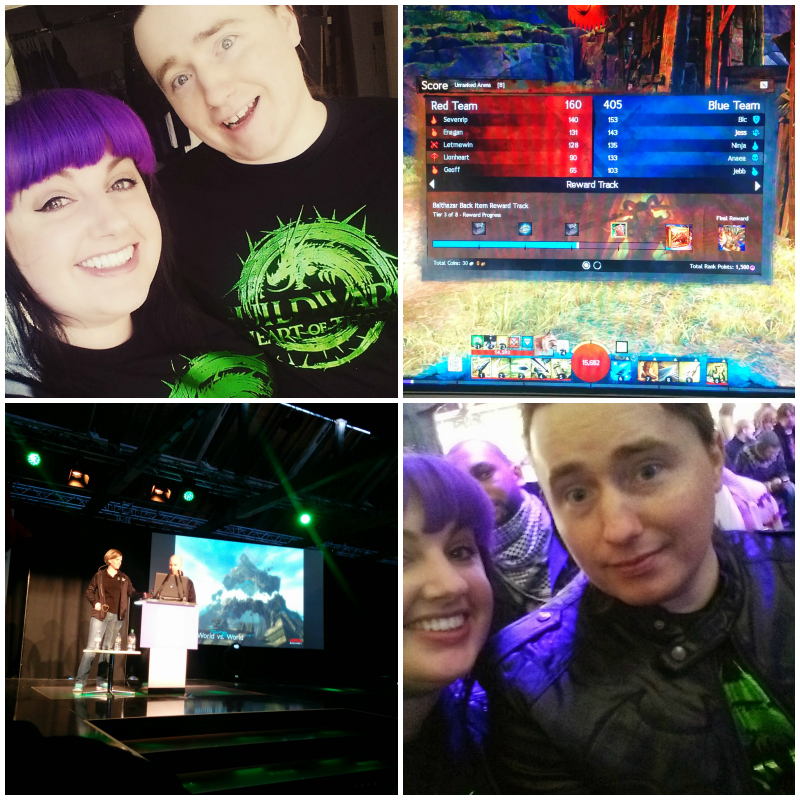 Saturday brought a much busier (the event was sold out!) day, where we didn't really play much but we did get a bit of shopping in, alongside attending an interesting talk on AI and game development. Excitingly, ArenaNet were revealing more information about the new World versus World changes coming in Heart of Thorns – the new desert borderland looks gorgeous, and there are some really exciting new mechanics that will be incredibly fun to play. I'm really excited about the "spooky forest" area, no surprises there!
I didn't think it was possible to be more excited about the expansion, but since coming back from Rezzed my hype has increased about a thousand times over. Guild Wars itself turns 10 this April, which a) makes me feel old and b) reminds me just how long it's been a part of my life. From playing back in college through to introducing Dan and Matt to GW1, being in the beta for GW2 and now obsessively counting down the days to an as yet unspecified expansion release date… yeah. I had a great time, and I feel incredibly grateful for the experience. Best birthday present ever? I think it just might be…