Day three of our Las Vegas adventure was the big day… our magical Las Vegas wedding! :love: This one is going to be very photo heavy, and I make no apologies for this!
The wedding morning was really relaxing, which was a massive relief as I wasn't feeling very well at all the night before. To give it some perspective, I felt rough enough that I willingly left an arcade bar well before 11pm and pretty much blacked out in bed. I think if I'm perfectly honest, I was skirting the edges of what could have been a very nasty migraine. Dan fed me loads of water and tucked me up in bed, and miraculously I got up early the next morning, and felt a million times better.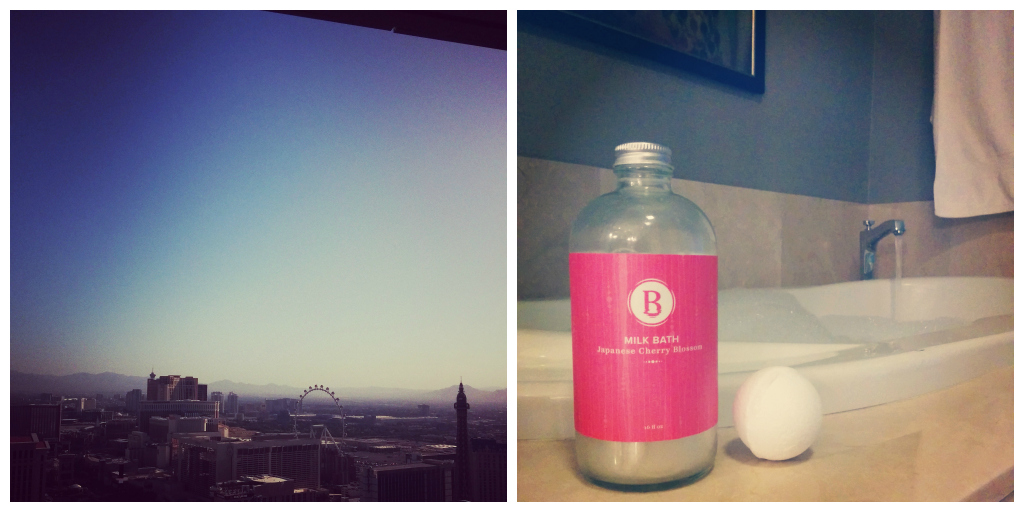 First order of business? I did some yoga looking out at that fabulous view. I love doing yoga in the morning, and I'm really glad I made time for it on my wedding day. I had a good long soak in our jacuzzi tub in the gorgeous cherry blossom bath milk from Basin, then shared a relaxed breakfast (eggs benedict and blueberry pancakes) in the suite with Dan. We opened a bunch of cards from friends and family, including this beautiful cross stitch piece from my Mum, which made me have a little cry.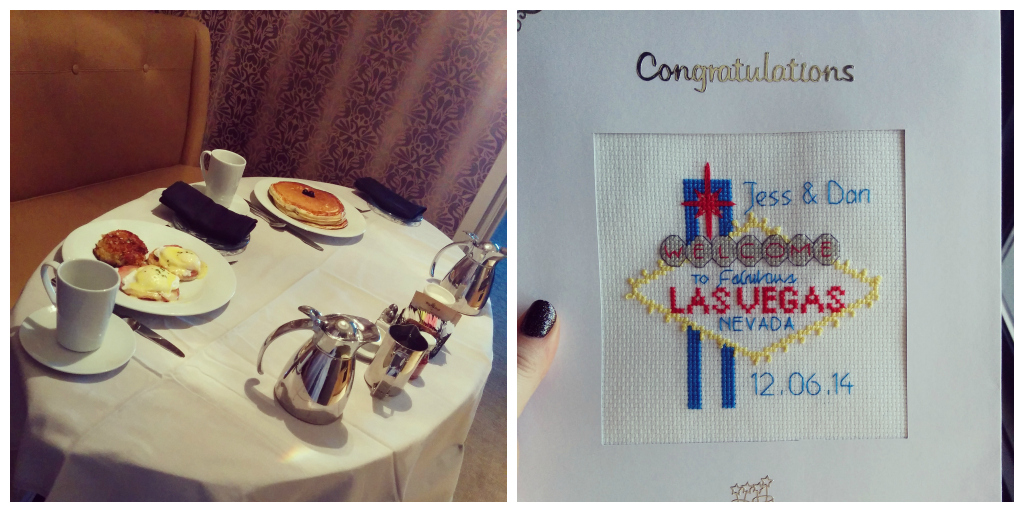 Turns out she had written the reading I'd asked for in my ceremony inside, without knowing I'd asked for it… mums just know, you know? I was a little sad that my parents weren't there in Las Vegas with us, but we're having a party this coming weekend in Sheffield to celebrate with those who couldn't join us.
Even though I love doing my own hair and makeup, I'd decided to get it done professionally in Vegas. Why? Well, I know how damn hot Las Vegas gets, and I also remember how my makeup loved to just slide right off my face during our last trip. Rather than chancing it, I used Makeup in the 702 and they did an incredible job. I made my little birdcage veil myself (dead easy) and the flower was a last minute buy in Miracle Mile, as the flowers I'd ordered for my hair in the UK didn't arrive in time :sweat: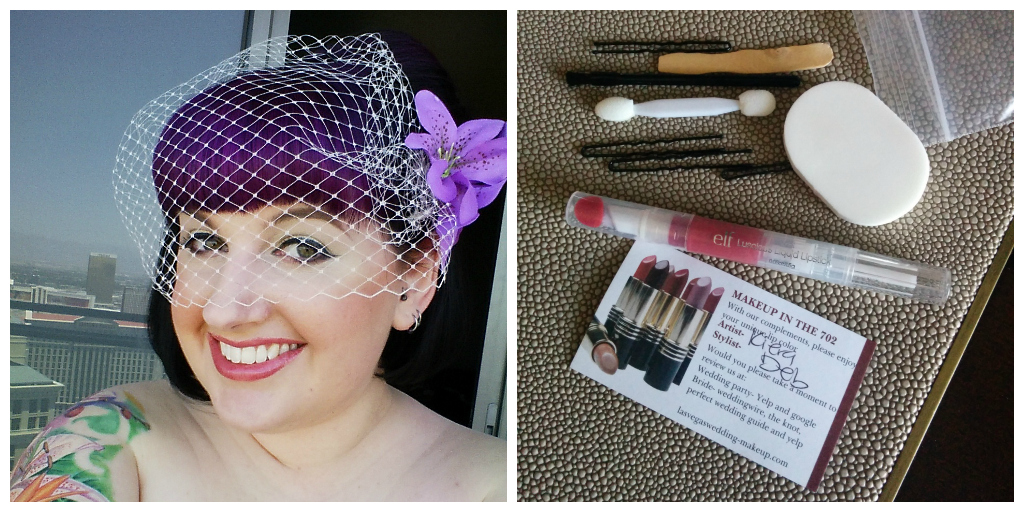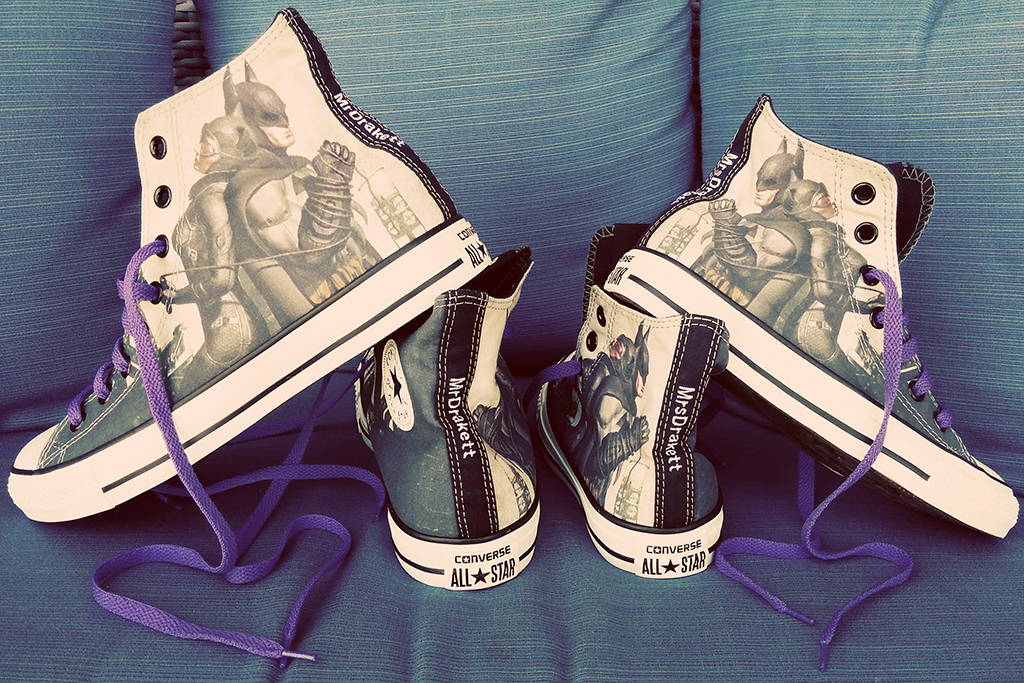 Do you like our wedding shoes? Matching Batman and Catwoman Converse, custom made for our wedding day. Yes, Batman and Catwoman. Yes, the heel stripes are embroidered with Mr Drakett and Mrs Drakett. Super cute and super comfortable – absolutely perfect.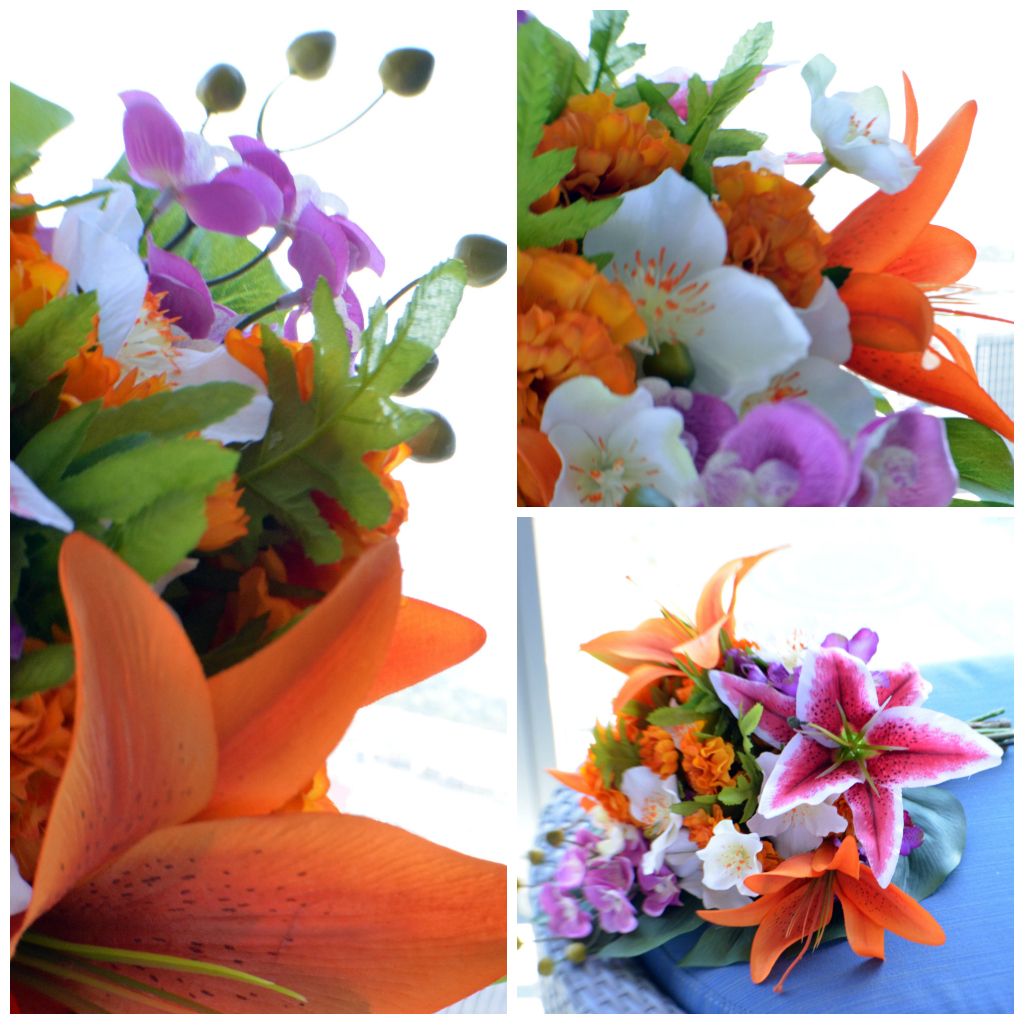 I also assembled my bouquet at home (along with Dan's bouttonnierre and Catherine's makeshift fan/floral thingy) and transported them in a huge box in my checked baggage. I spent a lot of the flight praying they wouldn't get damaged, and they didn't! Everyone who saw them was convinced that they were real flowers. Pssshhhh… in that heat? Nah.
Our limo, a stretch Dodge Challenger picked us up and despite showing up late (a major source of panic and anxiety for me, thanks for that…) got us to the Welcome to Fabulous Las Vegas sign right as our officiant and photographer were unloading their car. We'd decided to go with Scenic Las Vegas Weddings, and could not be happier with their services. Planning from the UK could have been really stressful, but Melissa made our Las Vegas wedding dreams come true – nothing was too much trouble. I'd love to do an anniversary photo tour with them in a few years!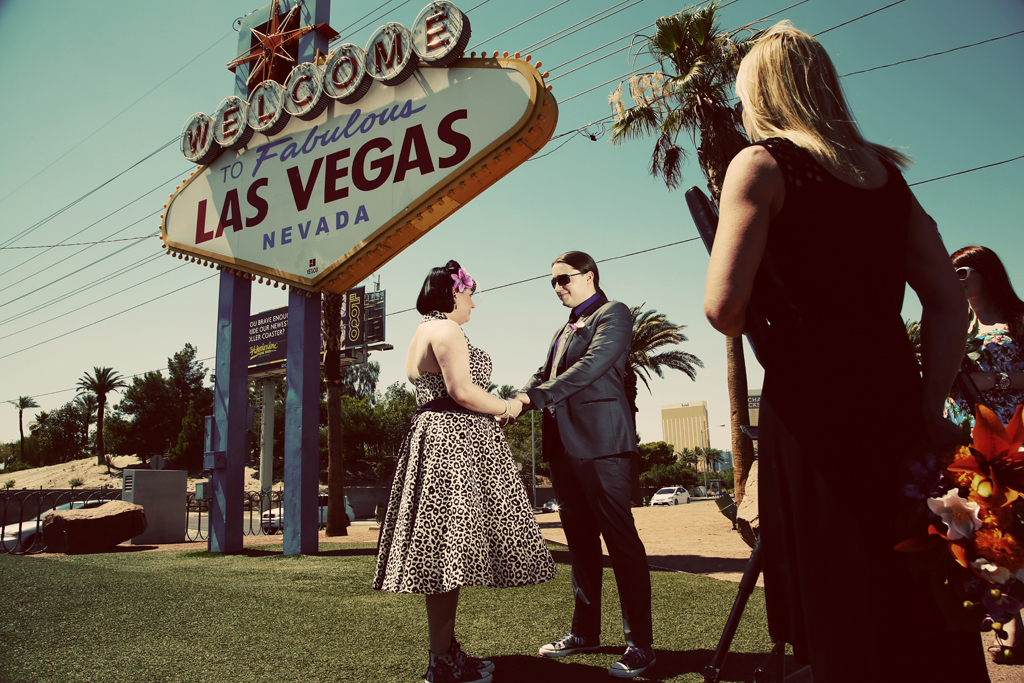 The ceremony was perfect. The vows were simple and uncomplicated, and very beautiful for it. I very, very nearly cried. We both thought our shoes were going to melt to the floor. It was horrendously hot. It was really windy. It didn't matter.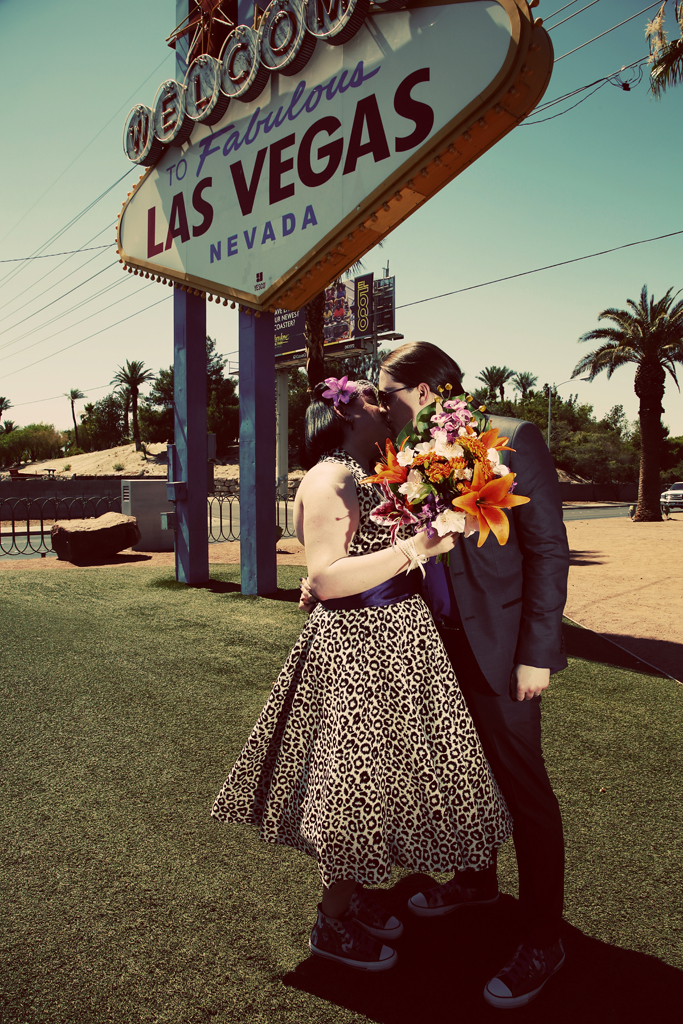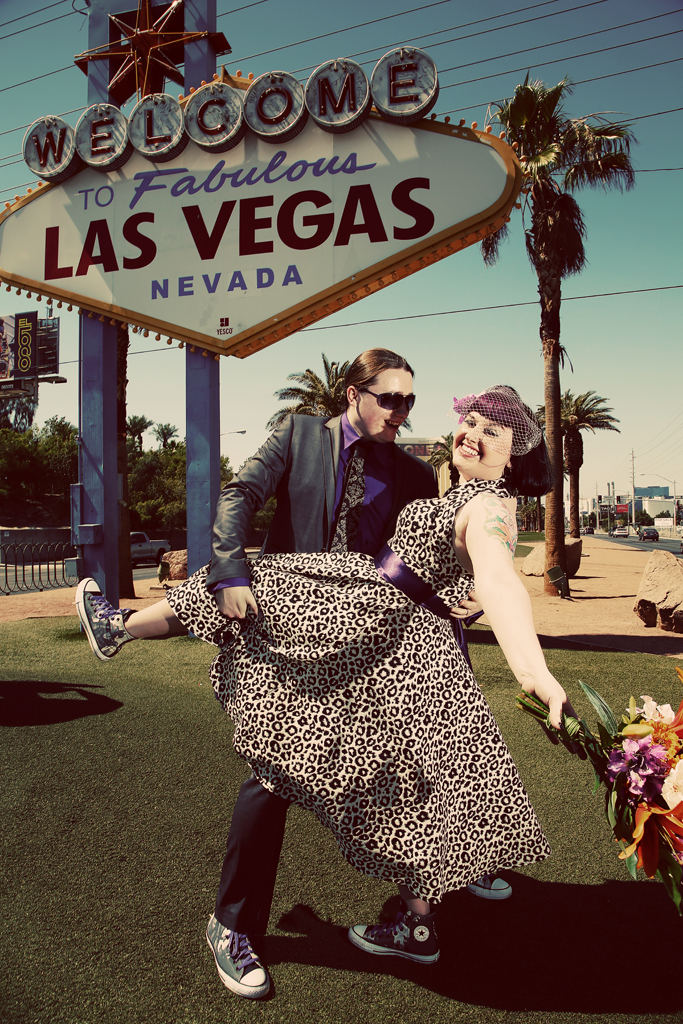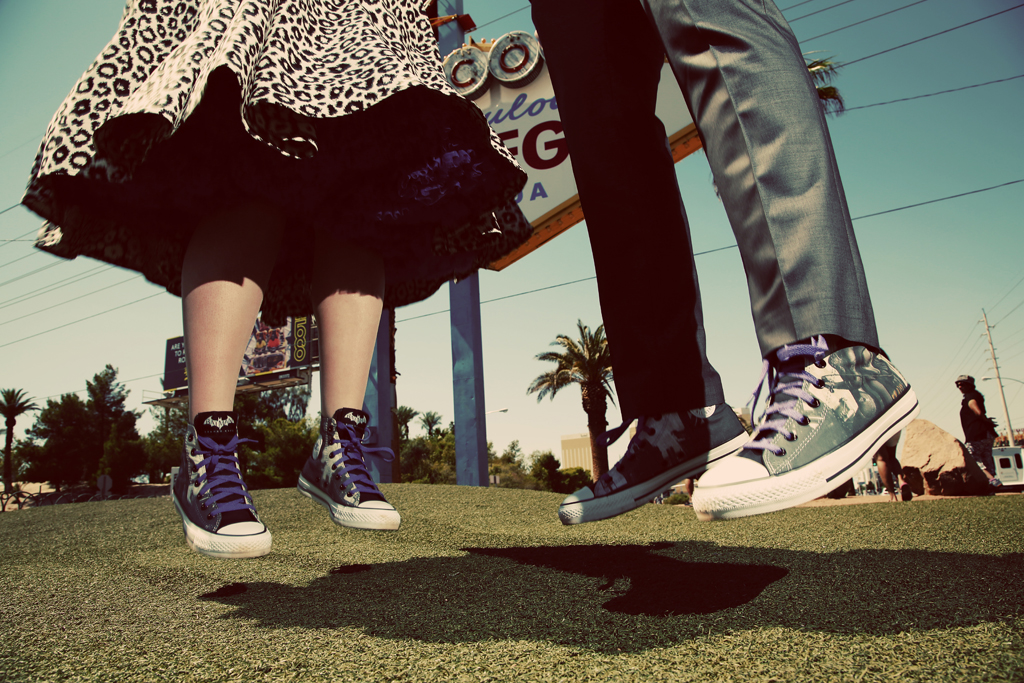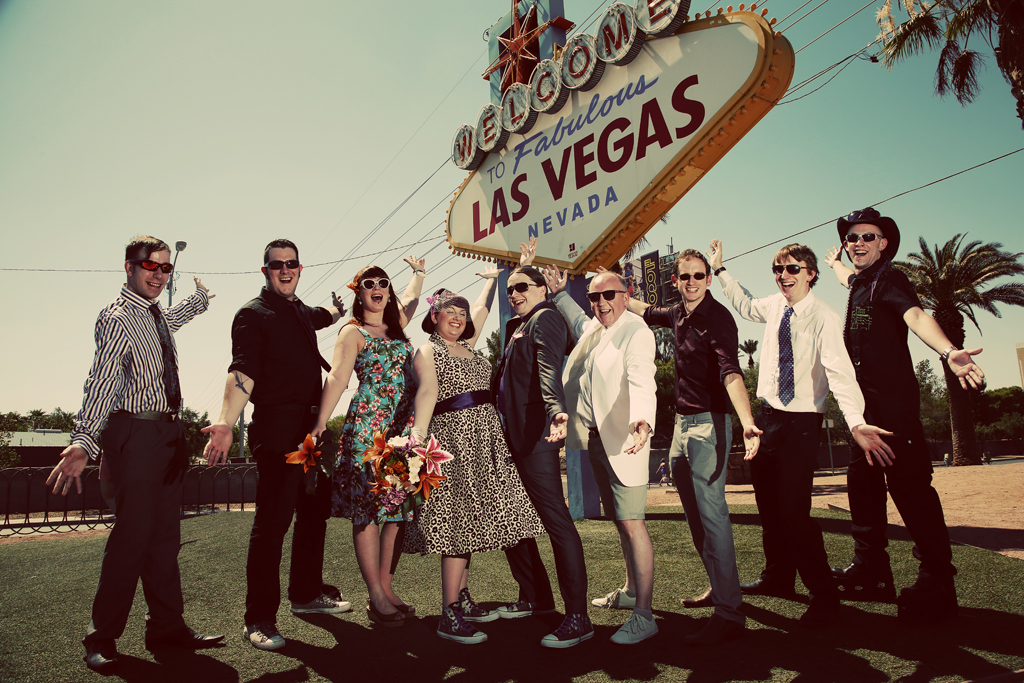 Our fabulous collection of friends and (just the one) family, aka Team Vegas 2014. Angry Tom, Jim, Catherine, me, Dan, Dan's dad Gary (aka Beerwulf), Matt Wood, DW, and Leon. Say "Tequila!" :cheery:
After some photos at the sign, we ventured back up the strip for some more wedding photos… first around the fountain show at Bellagio and then around the gardens at Caesar's Palace.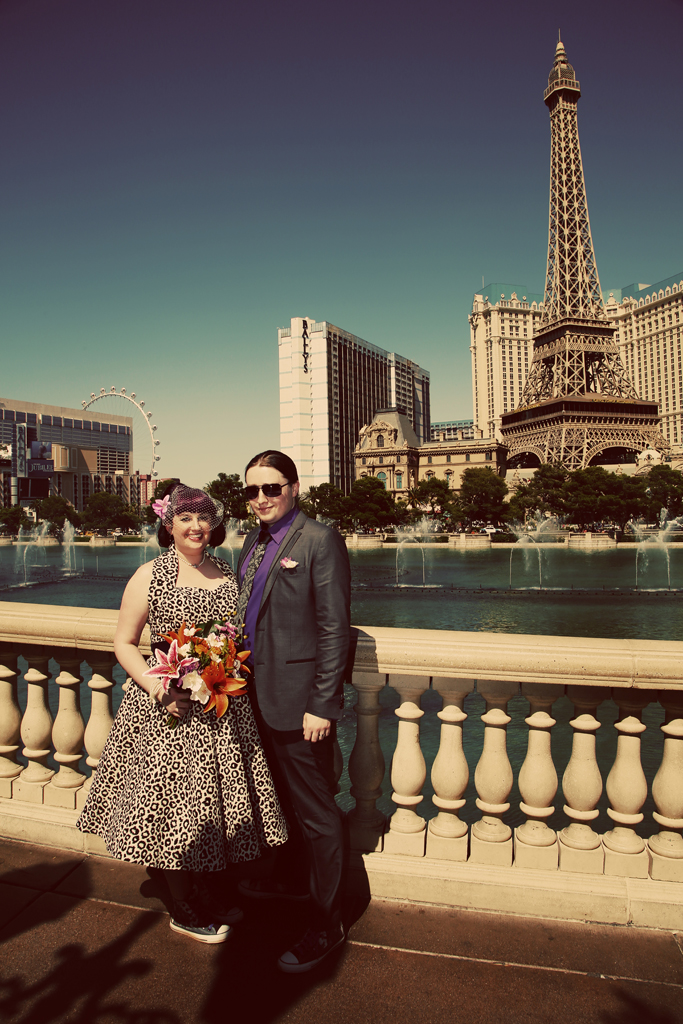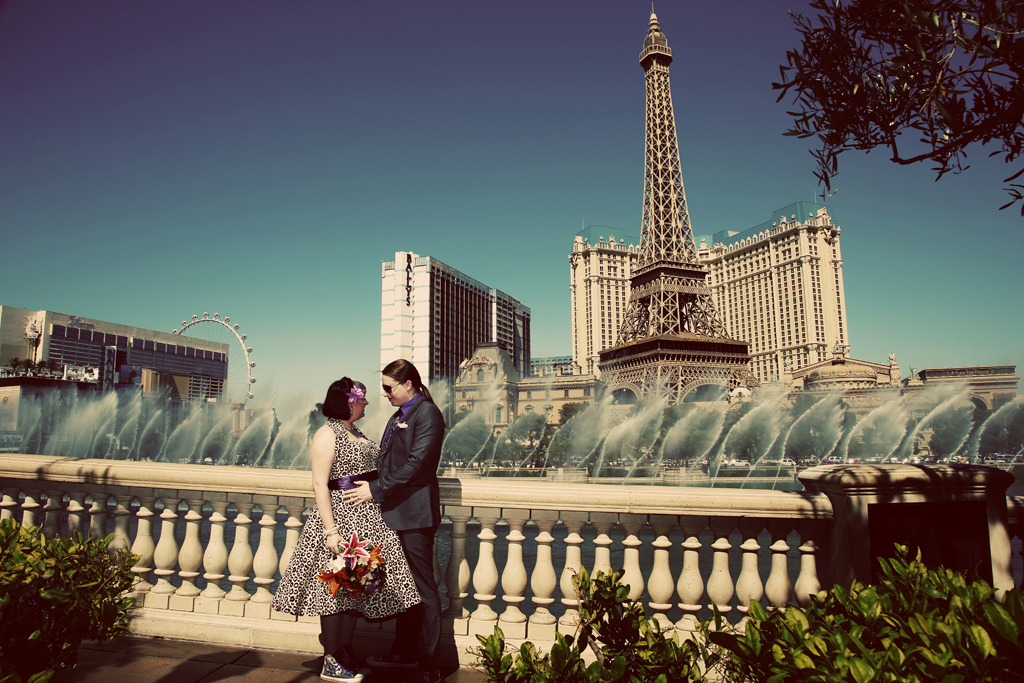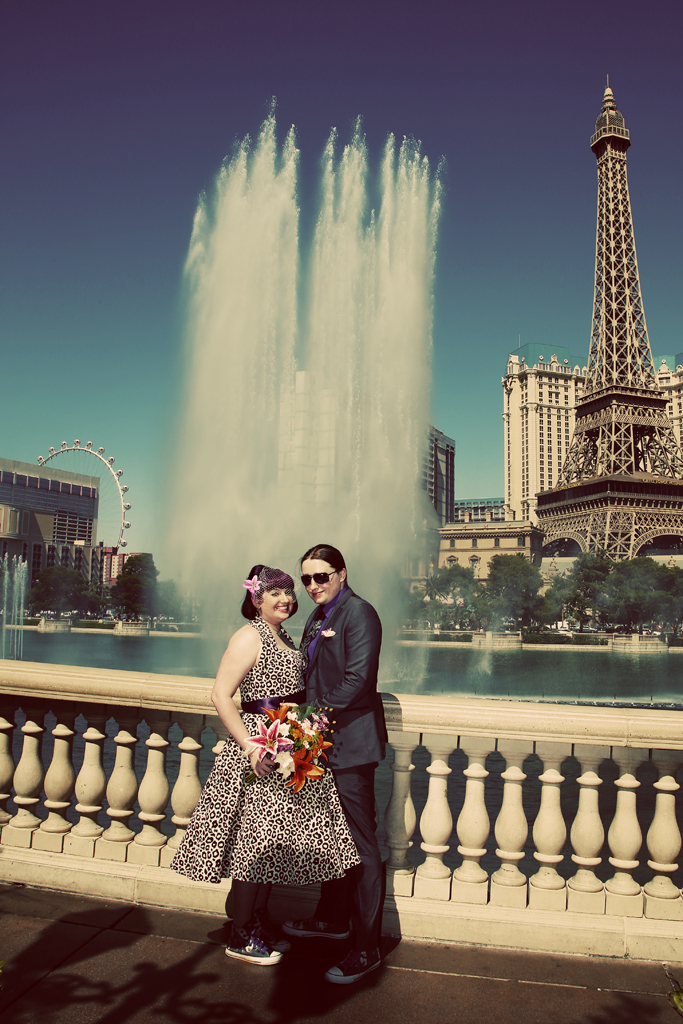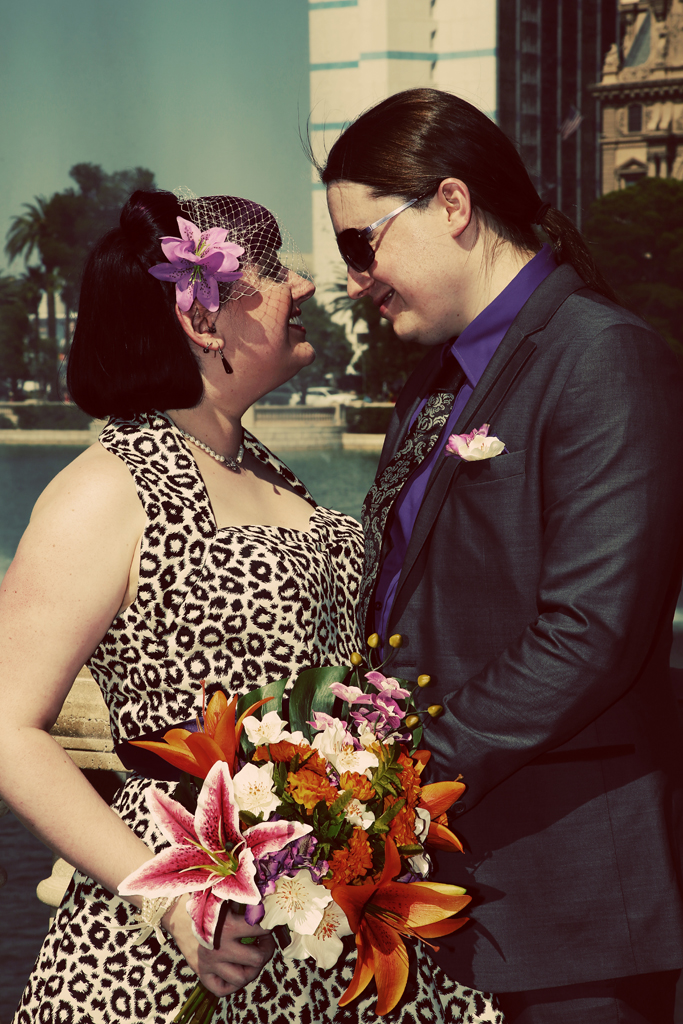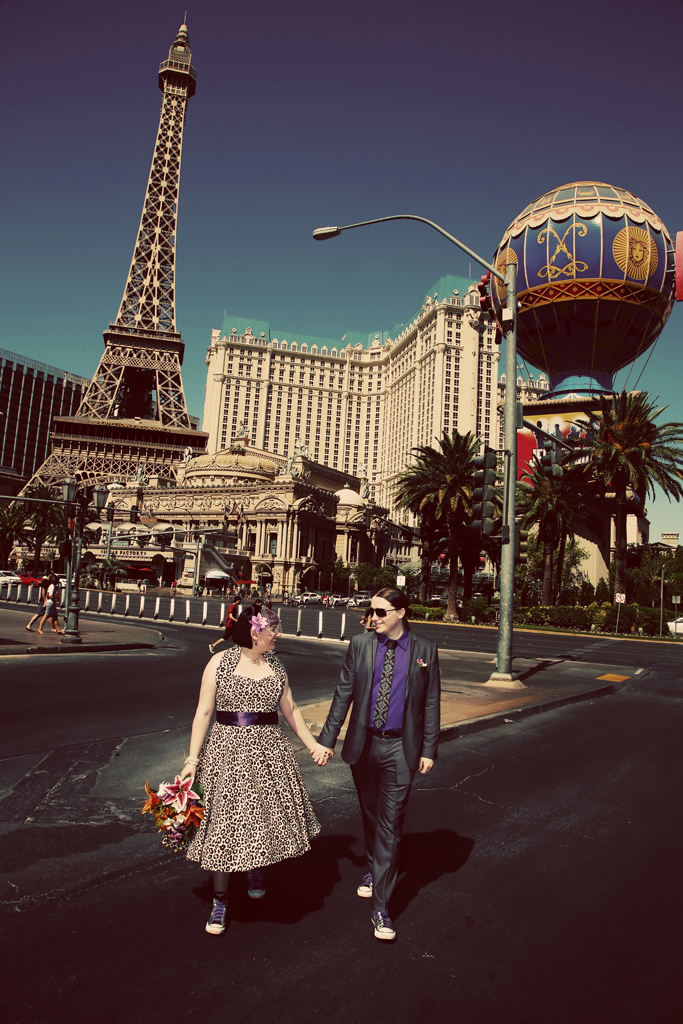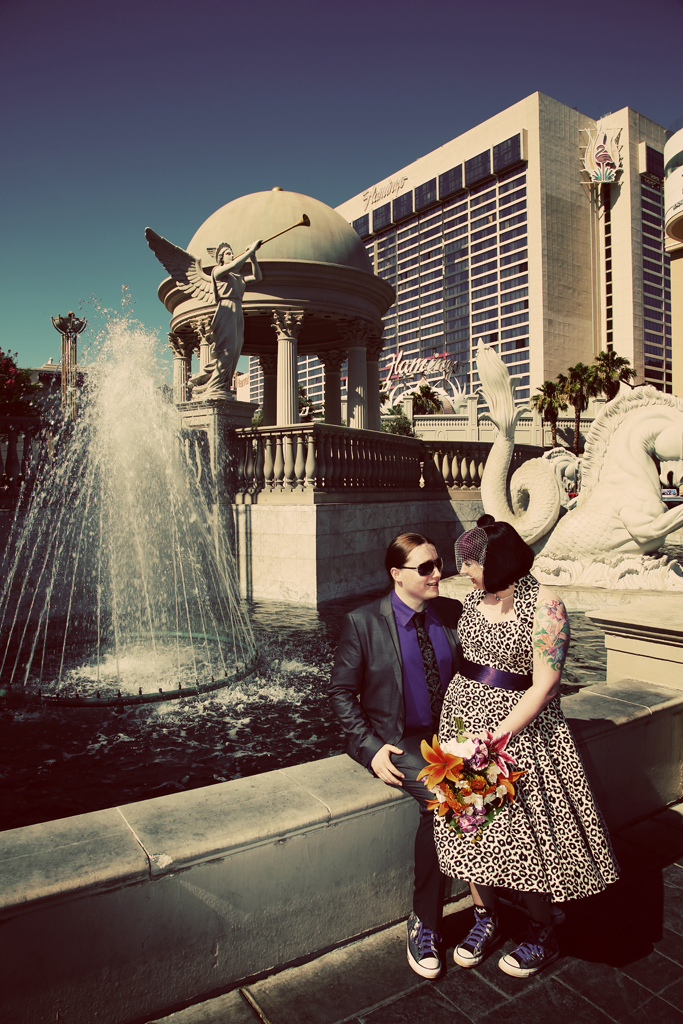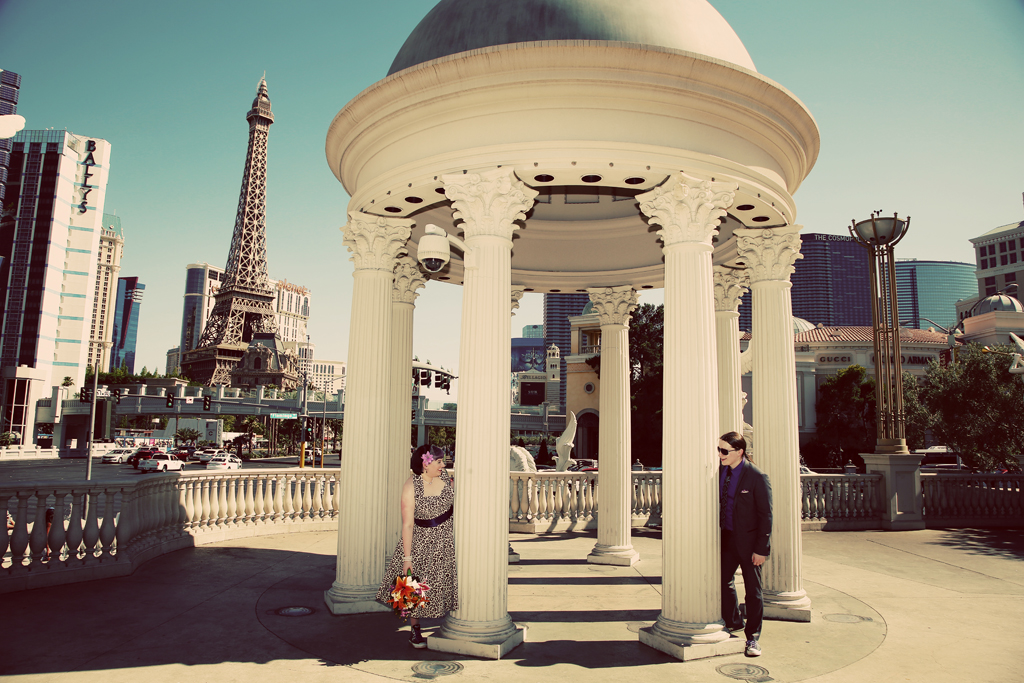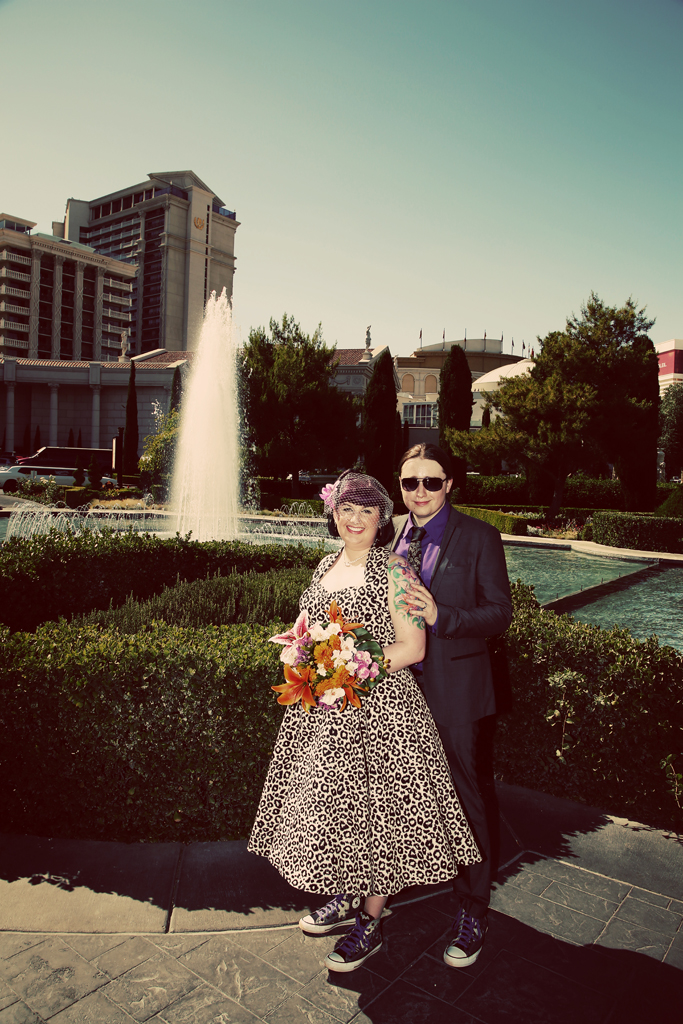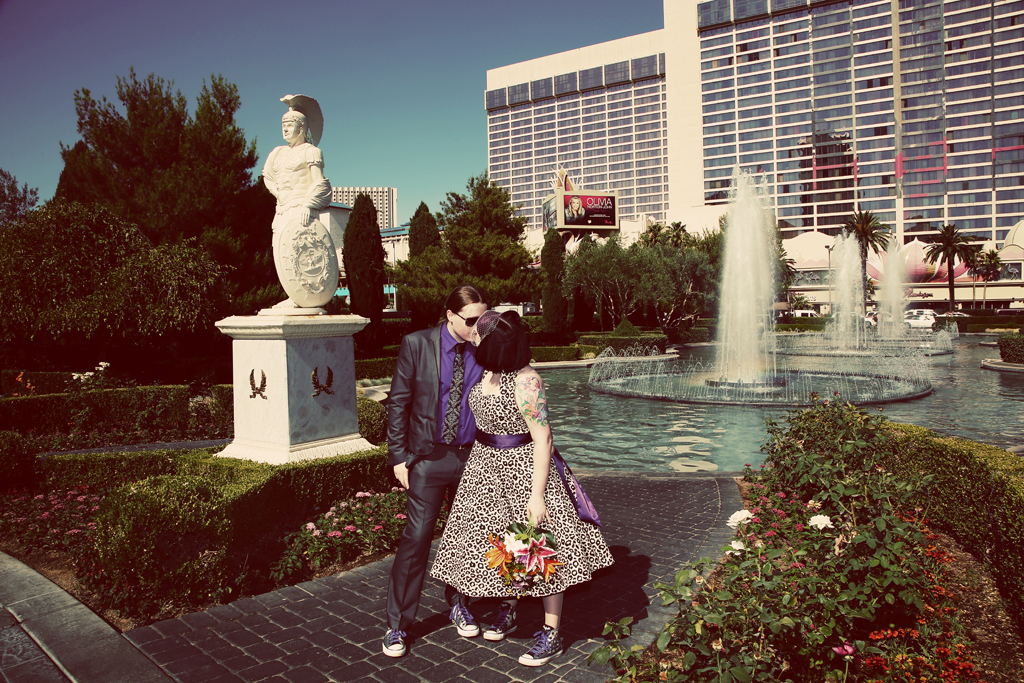 By the time we were done with that we were exhausted, and snuck back upstairs to our suite for a cheeky "We're married!" beer. I also flipped my veil back up on itself and pinned it in a slightly less annoying fashion for the evening. Good call on my part.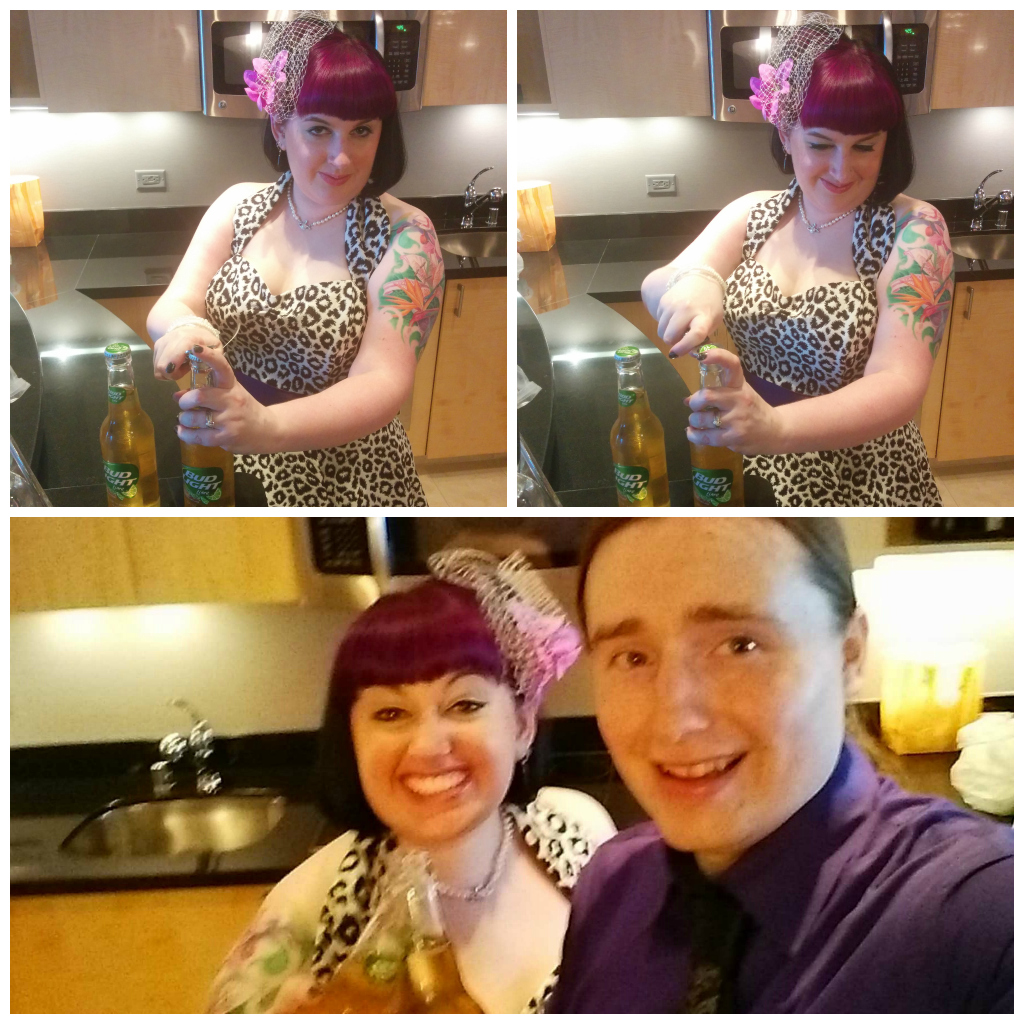 Dinner was at China Poblano, a Chinese and Mexican restaurant in our hotel. Lots of cute, tapas style deliciousness. Dan and I shared a bunch of stuff, including the most incredible shrimp mojo (i.e. massive prawns with black garlic and chillies) and lobster tacos. After dinner, we all headed over to the V Theatre in Planet Hollywood to see Zombie Burlesque. Beers and cabaret and zombies and boobs and contortionists and campy musical goodness, oh my!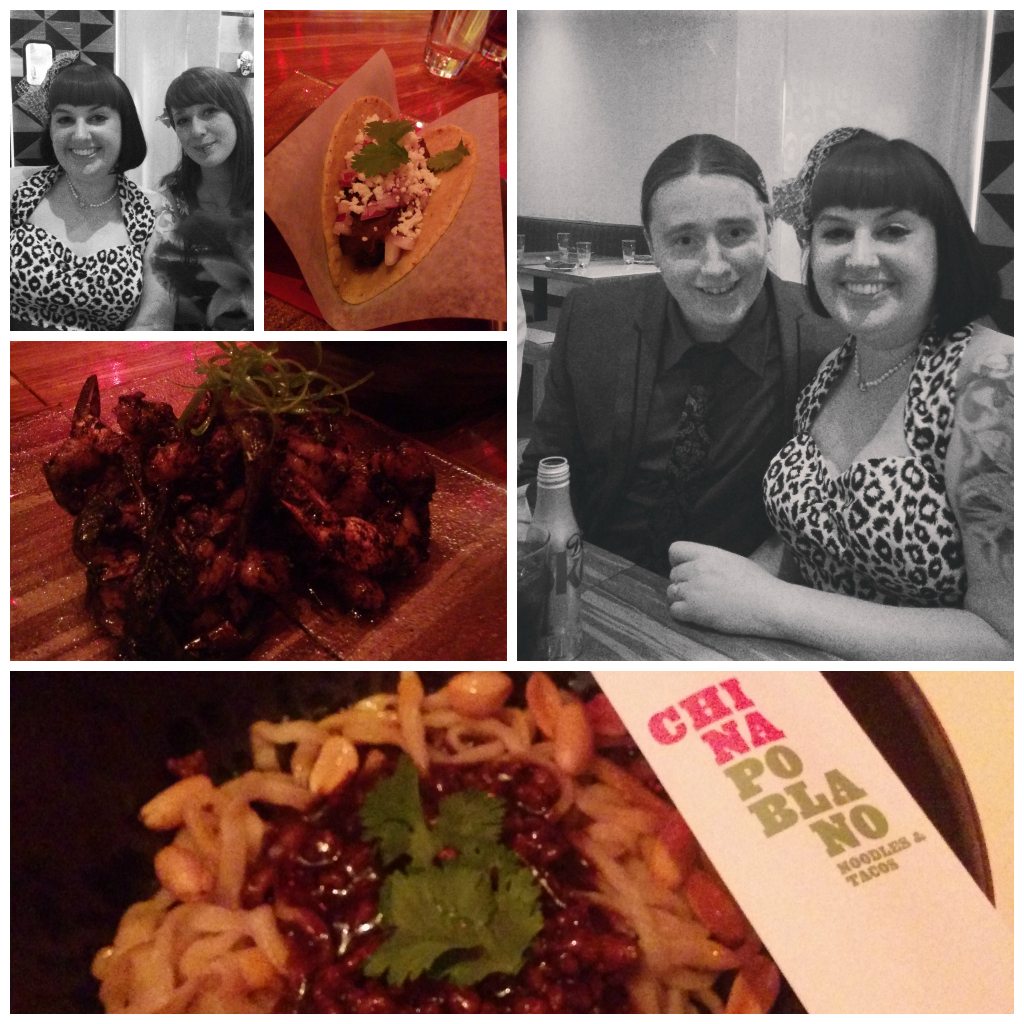 Once we were done enjoying the morbid festivities, we all headed back up to our suite for a few drinks and some wedding cake. Our cake is a chocolate sponge layered with salted caramel buttercream, from Retro Bakery. The design speaks for itself, no?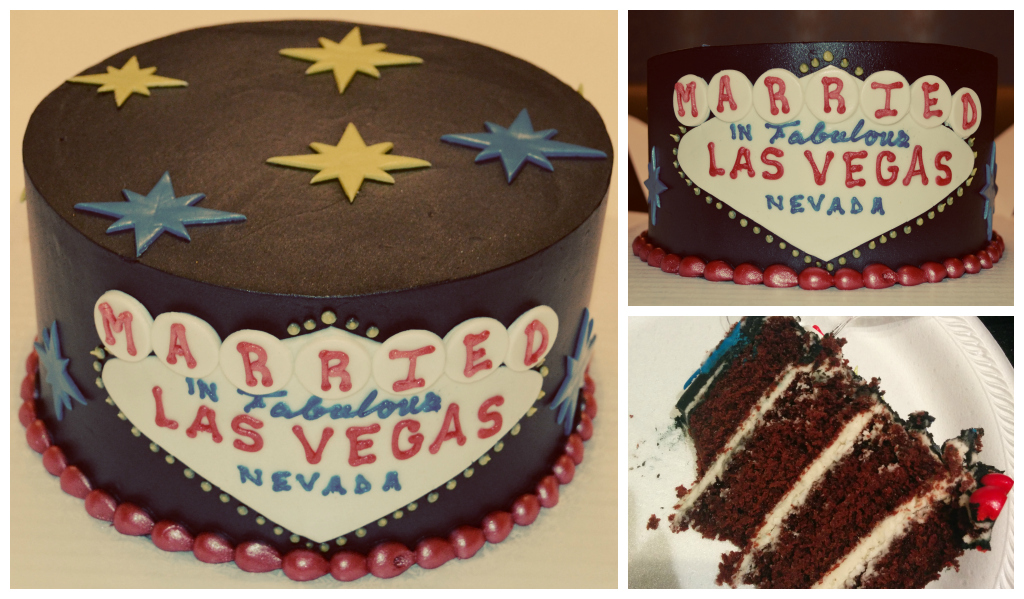 It tasted even better than it looked, and it was enormous… we were still eating it the following week!
To finish up, here's a sneaky little Lensbaby shot Dan took on our wedding night. Paris balloon with the heart shaped creative aperture disc in the Muse.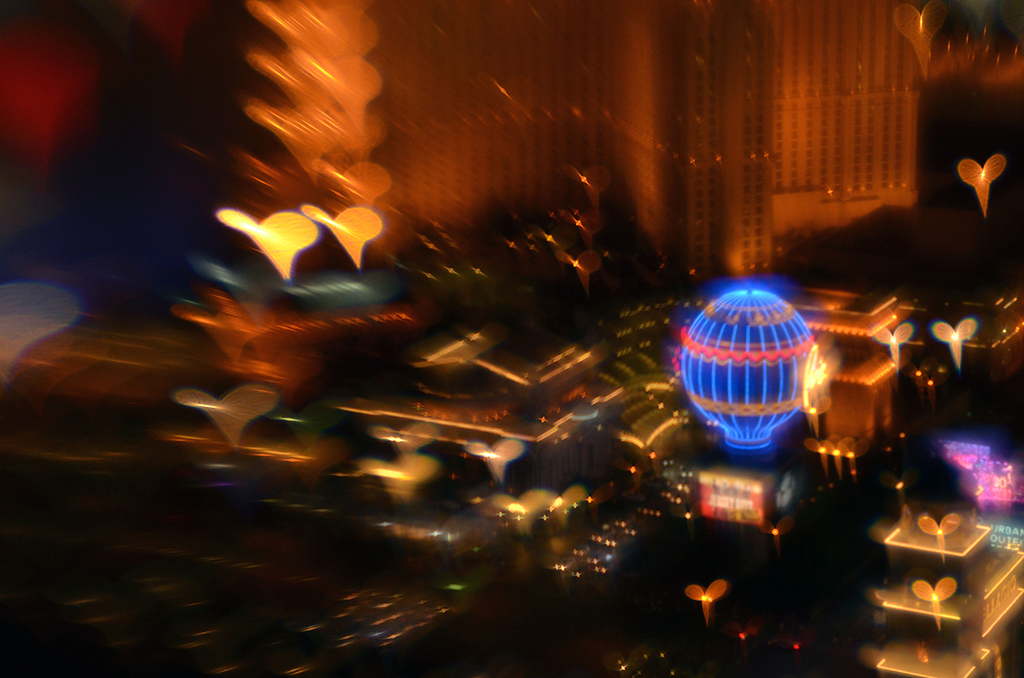 I couldn't have asked for a more perfect day. :love: