I've been on a serious baking kick lately… and I mean serious. Not to brag or anything – who am I kidding absolutely gonna brag – I seem to have perfected the method for the most incredible, toweringly tall scones. I made a superb vanilla / cream cheese / fresh strawberry bundt for my mum's birthday. I made wickedly good brownies for Dan to celebrate sysadmin day (it's a thing, honest!) and then a week later… I adapted said wicked brownies to make them even more wicked. Inspired by the amazing brownie I sampled at #TheCityGirls Leeds, I give you my… Amaretto. Pecan. Brownies. Recipe.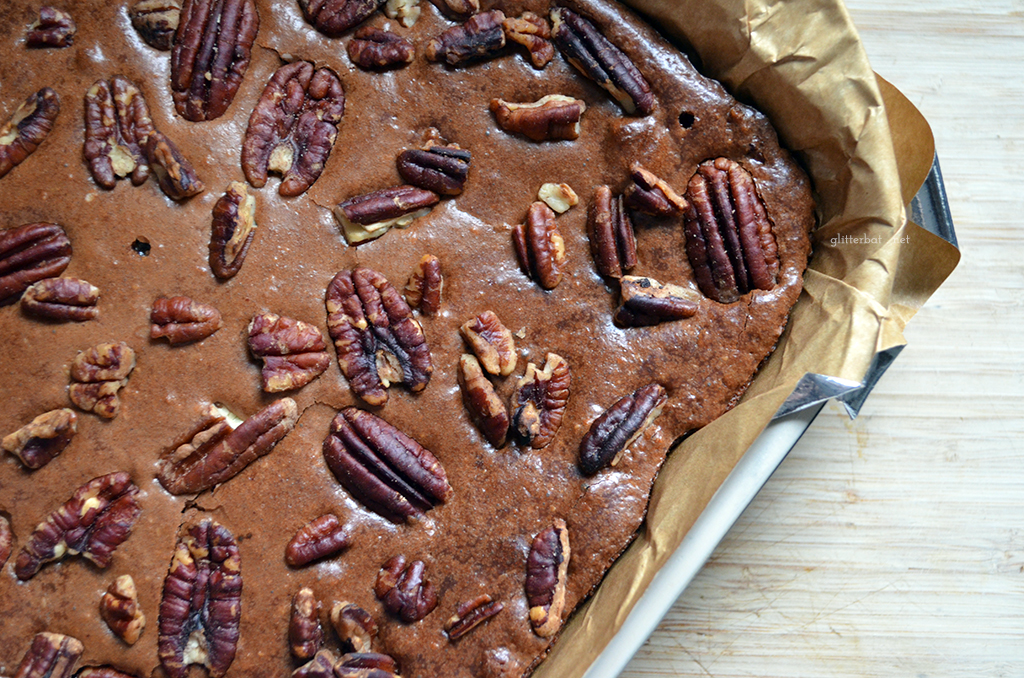 If you like a rich, moist, fudgy brownie then you're in the right place. With a crisp top and a molten bottom that really requires some time in the fridge to firm up if you want any semblance of structural integrity, I think I have found my perfect brownies. They are almost upsettingly easy to make and even more easy to devour… bonus points for being accidentally gluten free too!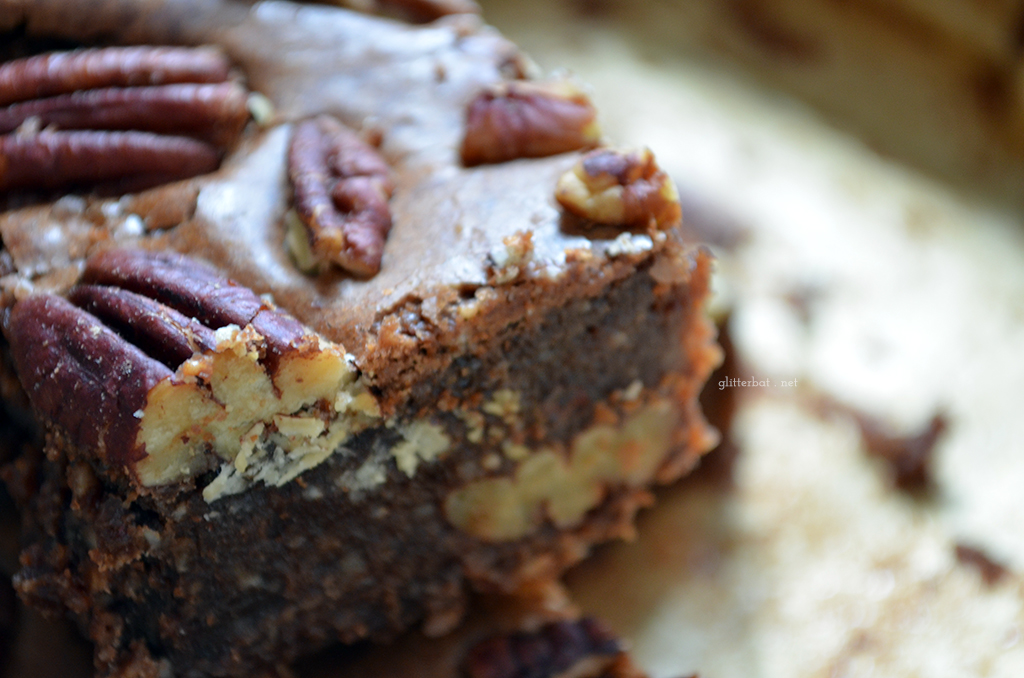 Ingredients
225g butter
225g dark chocolate
200g caster sugar
2 tablespoons amaretto (or you know, use almond extract and probably less of it?)
200g ground almonds
3 eggs, beaten
A heap of chopped pecans
A smaller heap of unchopped pecans
Method
Preheat your oven to 160°C – mine's fan and fierce, so you might want yours a little higher?
Line a 23cm square pan and set aside. I use my favourite black stoneware Le Creuset baby (a total bargain from TK Maxx a while ago) and foil backed parchment.
Chop your butter into cubes and smash your chocolate up, then melt them together in a heavy bottomed saucepan on a VERY low heat. Patience grasshopper, you want it smooth and glossy and unburned.
Take the pan off the heat, stir in your sugar and your amaretto/extract and let it cool a little.
Stir in your ground almonds and beaten eggs, about 1/2 of each at a time.
Chuck in your chopped pecans and give them a stir through to distribute evenly, ish.
Pour the batter into your pan, and press your unchopped pecans into the top to make it all fancy looking.
Bake for approximately 30 minutes – the top will have set but the mixture underneath will still be pretty gooey and wet. I let these cool on the side before letting them rest in the fridge overnight.
Cut into 16 equal squares, devour.
I've been using Bournville in this recipe because I had some in the house that needed using up – next time I'll be doing this with a much better (read: more bitter) chocolate for a more intense hit. The first time I tried these I used chopped walnuts in the batter, and vanilla extract (2 tsp) instead of amaretto. I miiiight have a go at making these with cherries and kirsch too, for a black forest kinda vibe. SO many possibilities! SO easy to make. SO little in the way of clean up too!
Please do let me know if you try this recipe  – I would love to hear how it turns out for you!