Where has this last month gone? I was so surprised to get my Birchbox UK shipping email last night, then I realised we're actually 1/3 of the way into April already! And on a "oh God this year is disappearing" note, I can't believe I'm getting married in just over 60 days? Eeek! That's coming around really fast, but there's not a lot left to do. Relatively stress free, for now anyway.
The theme for this month's box is Good Enough To Eat, so all the samples have some kind of edible, delicious quality to them. Sidenote, please don't attempt to eat the samples (with the exception of the popcorn, duh), no matter how delicious they sound or smell. Without further ado, here's a little peek at what I got in my Birchbox this month.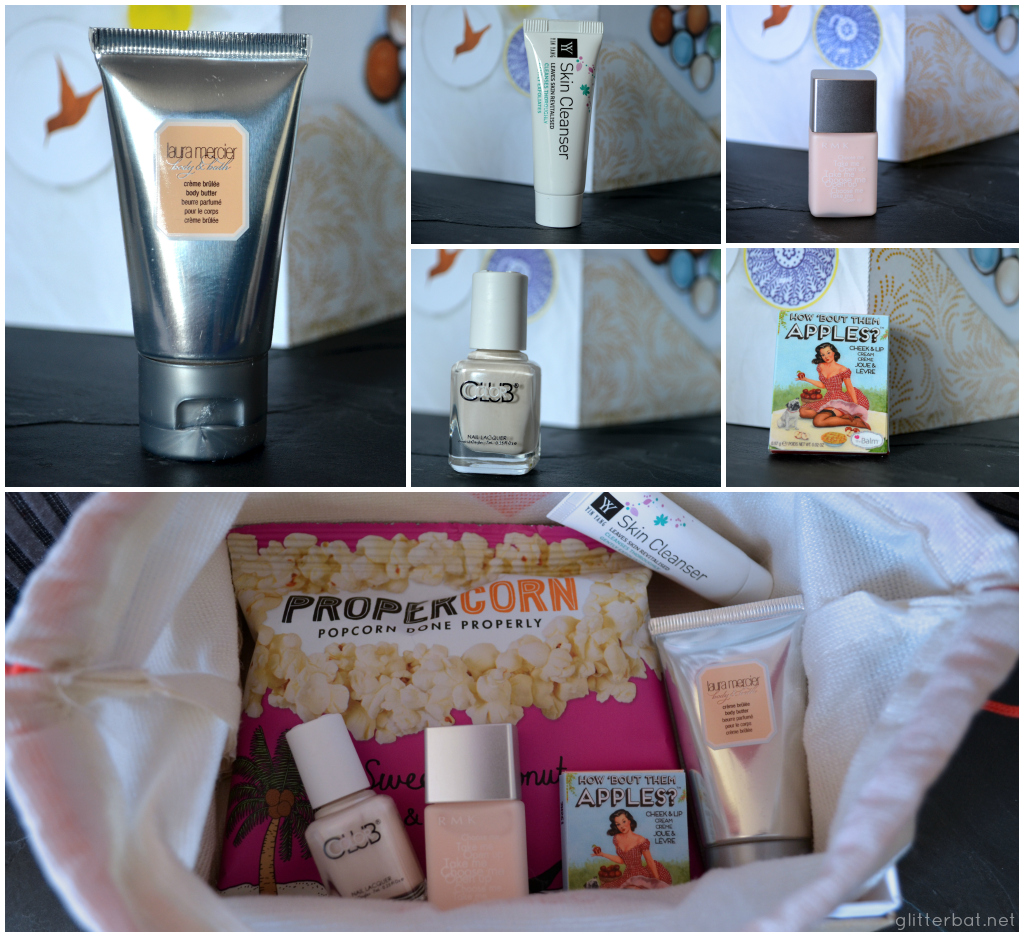 Laura Mercier Body Butter in Crème Brûlée. This smells amazing. Seriously. It's got a hint of the vanilla cupcake Yankee Candles I'm addicted to, and has the most luxurious texture. Very happy with this one!
Yin Yang Skin Cleanser is a natural cleanser full of sensible (and recognisable!) ingredients such as coconut oil, orange, apple cider vinegar, and witch hazel. Not super exciting, but always useful.
RMK Make Up Base Can I just say, weirdest packaging to photograph, ever. There's pale text on a pale background (the product itself), so… I don't know. Apparently it will smooth and hydrate the skin and make foundation last. It smells pretty inoffensive and the texture is silky, but I'm still using the Dr. Brandt pore refiner sample from last month under my foundation (which is ace, by the way). Will definitely have a play with this though and see what it actually does.
Color Club Gala's Gems Nail Polish in Heirloom Pearl. So this month we had the chance to choose the colour of nail polish we wanted to get in our box. I went for Heirloom Pearl, and the Birchbox deities listened! Like the name suggests, it's a gorgeous creamy pearl white colour. Looking forward to giving this one a go.
The Balm Cosmetics – How 'Bout Them Apples Cheek & Lip Cream in Pie. I'm a sucker for cutesy vintagey pin-uppy packaging at the best of times, so I'm well impressed with this. The inside of the cardboard/magnetic flip sleeve has topless cowboys to admire, and the shade is a warm reddish pink. More likely to be used on my lips than my cheeks, but you never know.
Finally the lifestyle extra this month is a bag of Propercorn in Sweet Coconut & Vanilla. Not a huge fan of coconut, so might end up feeding this to Dan when he comes home from work.
Overall I'm really happy with this box – it's possibly the best one I've had to date. As ever, if you're thinking about subscribing you can do it via this link and we'll both get £5 of points to spend in their shop.
Did you get a Birchbox UK this month? What did you get?