Away we go! That's the jolly little theme for Birchbox UK August 2014 – a box brimming with holiday ready samples, for all your adventures at home or abroad. A nice touch for this month's box is that, instead of the usual fabric drawstring bag, this month's samples were sent in a clear plastic zippered pouch, perfect for carry on and airport/liquid shenanigans. It smells like pencil cases. Do you know what I mean? That new pencil case cheap plastic smell? I kind of like it – makes me feel young again haha! Though this box didn't wow me on opening as much as some of the previous boxes have, it's still a solid box and I'm looking forward to having a play with the samples inside.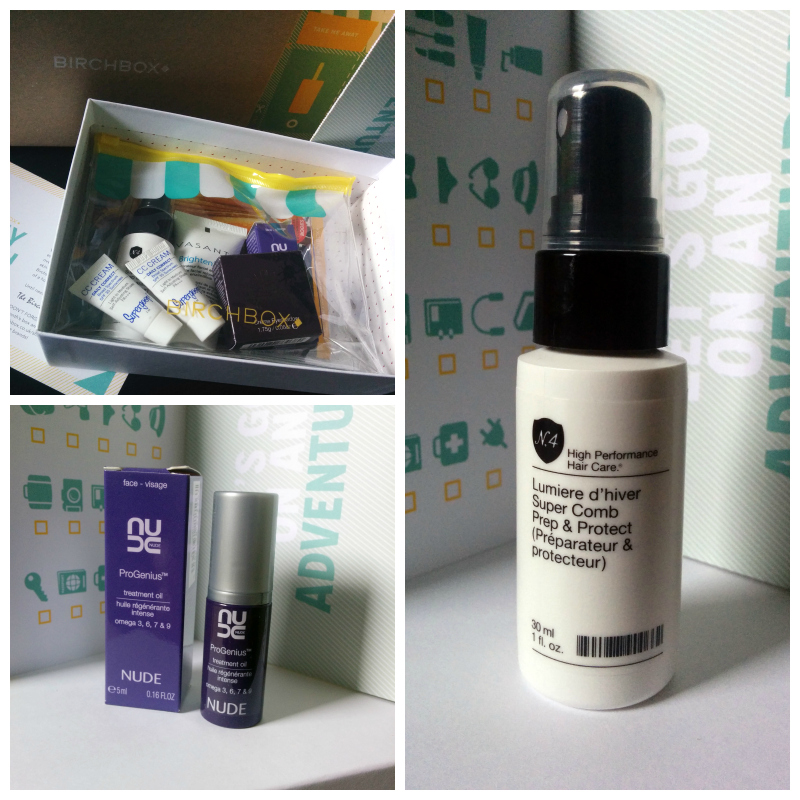 Number 4 Super Comb Prep & Protect – this is a leave in conditioner spray kind of affair, meant to protect from sun and heat damage. Admittedly not something I'd usually seek out, but I'll be interested to see how it fares against the Aussie one I bought a few months ago in a bid to address some weird hair issues I had going on. The Aussie one smells a bit like Calpol (again with the childhood smells!) but this one smells like… generic hair product? Kinda sweet but also kinda chemical? It's also being touted as vegan (good) paraben free (good) sulphate free (good) and… gluten free? Not sure why I care about that one because I don't tend to eat my hair products, but maybe I've missed something.
Nude Progenius Omega Treatment Oil – fancy face oil that is, again, vegan and free of parabens, sulphates, phthalates and other nasties. No obvious scent to it, and it absorbs quickly. I've not used a facial oil in AGES, but I used to love the Trilogy rosehip oil. I'm not sure why I stopped using that actually?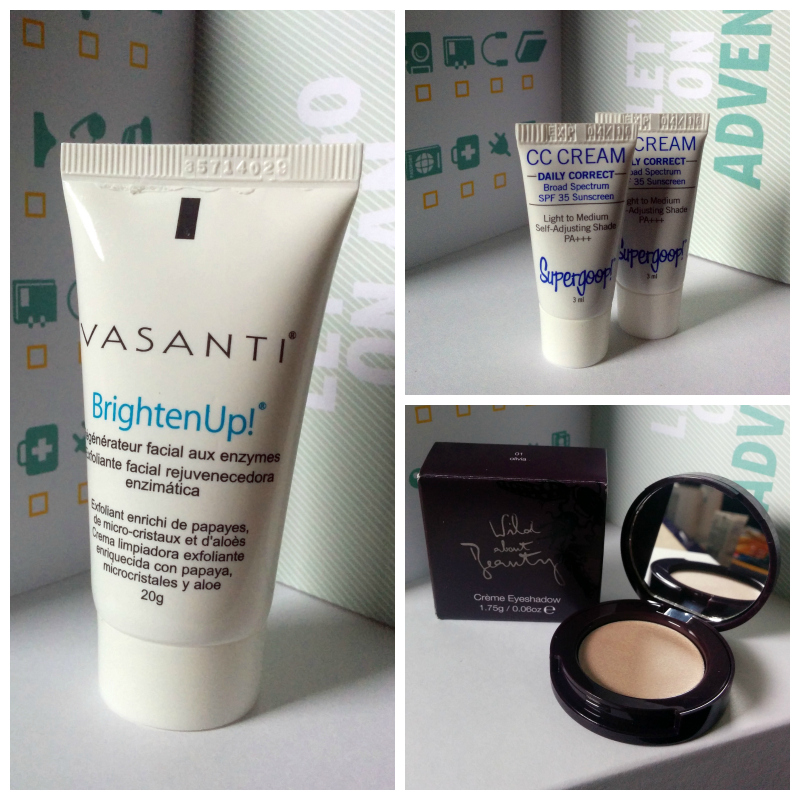 Vasanti BrightenUp! Enzymatic Face Rejuvenator – enriched with papaya, aloe and micro-crystals (of what I'm not sure?) this is an exfoliating cleanser, and it looks like a good one. The scrubby bits are very fine, and I can see this actually doing what it says it will. Bonus points for being full of sensible ingredients like green tea extract, ginseng extract and grapefruit seed extract. I'll report back after giving it a good go, it's a generous sample (20g) so it'll last me a while.
Supergoop! Daily Correct SPF 35 CC Cream – nice! I like switching to a lighter base when it's summer, so this CC cream is perfect. The fact that it's SPF 35 is an added bonus, not that we're gonna be seeing any sun around these parts if this blimmin' weather continues like it is! The shade I was sent is light-medium, but erm… it's pretty dark actually. Too dark for my pale and pasty chops. I'll have to mix it out with a little something else for a good match, but that's no big deal.
Wild About Beauty Creme Eyeshadow in Olivia. Creme eyeshadows aren't usually my bag, but this is a pretty, soft satin finish shimmery neutral. I'm not doing a very good job of describing it, am I? It's very sheer but buildable, somewhere between a pink and silver nude? The pot is plastic, and there's a handy mirror in the lid for on the go touch ups. Nice little addition to the box.
The lifestyle extra this month was chapter one of The Proposal. It looks like a bog standard romance novel, and as such is definitely not my cup of tea. I'm sure a lot of people will like it? I don't know – maybe I'm just jealous that all my reading time is taken up with reading for work, so reading for fun is a rare pleasure to be indulged on longer train and car journeys. The idea of giving the first chapter is a good one from a marketing perspective though – nice one Birchbox.
Overall August brought another nice box, even if my initial gut reaction wasn't as enthusiastic as the last few. I think it might be a packaging thing – lots of bland white tubes and bottles this month – and I guess I am quite fickle with stuff like that? The products themselves look pretty good on closer inspection, I just think maybe the box was lacking visual impact.
Thinking of trying Birchbox UK? You can use my referral link to get us both 50 points to spend in the Birchbox shop – that's the equivalent of £5. The points rack up quick!