I can't believe my six month Birchbox UK subscription has run out! Easily the best birthday present, so thanks Dan – nice work there. It turns out I'm so enamoured with receiving surprise parcels of frivolity that the thought of not getting a Birchbox was pretty devastating, so I've renewed my subscription for another 12 months. Aww yeah. I'm getting a bit excited waiting for the August Birchbox so I figured I'd do what I said I'd do in my Birchbox UK July review and post a little round up of my very favourite, stand out products from the last six months.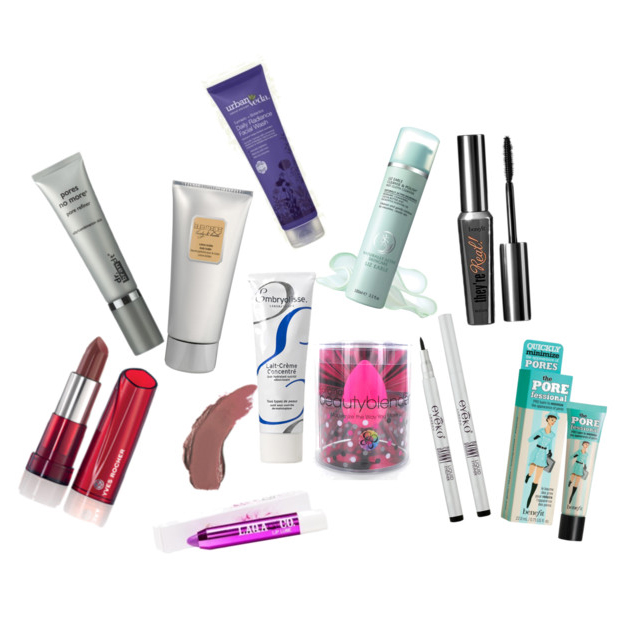 The Dr. Brandt Pores No More sample seemed to last for ages, and I was gutted when it ran out. It's a fab product, doing exactly what it says on the tin but at £39 for a full size tube? Ehhhh… maybe one day. I bought Benefit's POREfessional in a bid to stave off the cravings and it has worked as a substitute (cannot fault it!) but I really would like another tube of the Dr. Brandt. I think the tea-tree in the Dr. Brandt makes a noticeable difference to the quality of my skin.
Two lip products really stood out to me, and if you'd asked me six months ago to tell you about lip products I would have looked blank and handed you my Rose & Co. Sweet Vanilla lip salve. Literally the only thing I would ever have on my lips… Not the case any more! Firstly the Yves Rocher Sheer Botanical Lipstick in Marron Glacé has become a firm favourite, offering sheer but buildable colour and the sweetest scent… I will definitely be repurchasing this when it's all used up. Secondly can we talk about the Laqa & Co Sheer Lip Lube in Menatour for a minute? I am in LOVE with this colour. Any initial reservations I had about this bright pinky purple have vanished. I rocked this on Saturday with a pale base and a good cat eye and all was right with the world. It's got a lovely consistency, doesn't dry your lips out and has a gorgeous minty tingle to it – and it's super long lasting.
In my very first box I received a tube of Urban Veda Daily Radiance Facial Wash and somehow didn't use it until July. Woah. What I thought was an average, inoffensive smell in the tube turns out to be a really lovely floral smell when you lather it on your face. Pleasantly surprised by how good this face wash is, and one I'll be considering when the time comes around to restock. Perhaps unsurprisingly the Liz Earle Beauty Co. Cleanse and Polish Hot Cloth Cleanser is in my favourites, along with everyone else and their dog seemingly. That stuff is actually magical, and removes the toughest most ridiculous makeup and grime known to man. I took this to Las Vegas with me and it made light work of my very heavy wedding makeup, and made my skin feel absolutely incredible.
Embryolisse Lait-Crème Concentré was a godsend following Las Vegas. After the heat and plane air and hours in a humid car had wrecked my skin, this cult classic sorted out my face out super quick. I've nearly used up my sample tube, and will likely get a full size when I have. It's like… miracle juice.
Unsurprisingly, the Beautyblender & Blender Cleanser Solid gets a mention here. It really is as magical as people say, allowing you to create the most perfect base. I managed to recreate my wedding makeup for our at home do with this little pink sponge, and my actual wedding makeup was airbrushed! A very good tool, without question. Believe the hype kids.
The Laura Mercier Body Butter in Crème Brûlée is beautiful. I still reckon it smells like the Vanilla Cupcake Yankee Candles, and that's no bad thing. It's luxurious and thick and literally smells good enough to eat. I have the tiniest little bit left, and think full size will be on my Christmas list for sure. Dan? Mum? Someone?
I have to mention the couple of tried and tested, loved-them-anyway products that I was simply glad to get miniatures of. Firstly the Eyeko Skinny Mini Liquid Liner is such a great liquid/pen type eyeliner, it is nigh on impossible to mess up a good cat eye when you're wielding this bad boy. I was equally pleased to find miniatures of Benefit They're Real! Mascara and Benefit The POREfessional primer as these are staple products in my daily routine. Though there were a few products and brands I was familiar with, I think Birchbox did a good job of being a discovery service and allowed me to try out a lot of things I wasn't familiar with at all or had never given much thought to.
So there you have it! If you'd like to sign up and start receiving your own monthly beauty discovery boxes from Birchbox UK, you can use my referral link to get us both 50 points to spend in the Birchbox shop. The August box looks to be a cracker – I'm really looking forward to seeing what's in mine!