Feeling festive? I know I am! Aside from the obvious ones, like putting the tree up at the weekend and drinking a load of mulled cider, the postie brought me the Put On Your Party Shoes! Birchbox yesterday… and can I just say… what an amazing Birchbox to finish 2014! A collaboration with accessories designer Sophia Webster, the December box is full of sparkle and joy.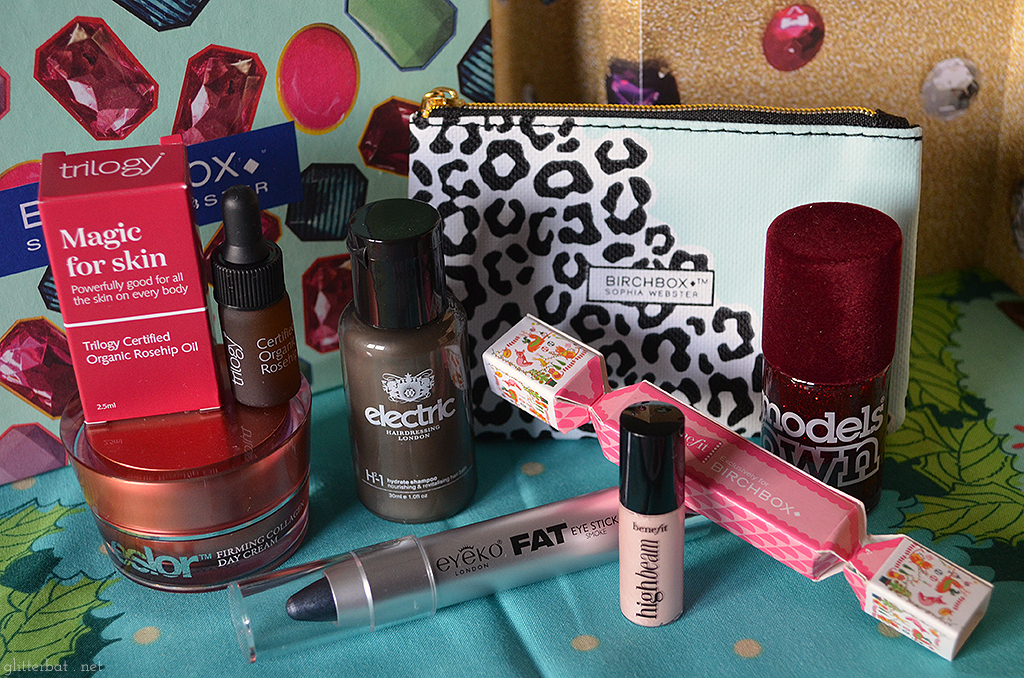 Ready for some sparkles? Get comfortable, let's have a look at the products this month…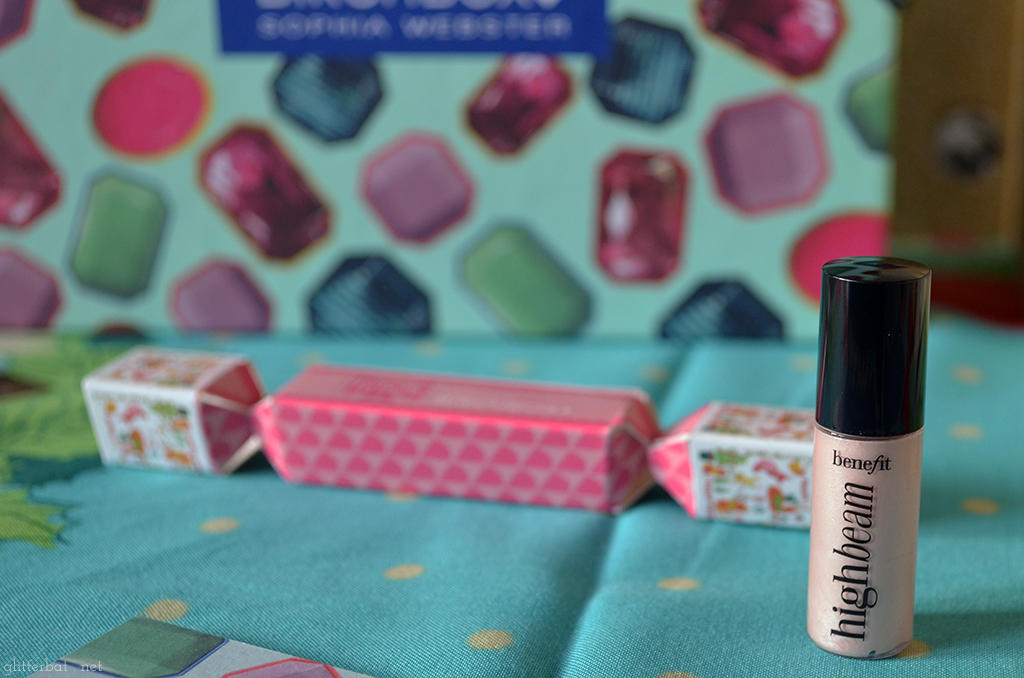 The first thing that caught my eye was the adorable Benefit Christmas cracker, which I very carefully pried open to find a miniature Benefit High Beam highlighter lurking within. I've never actually tried this product, but it's been on my wishlist for a while. Very exciting stuff!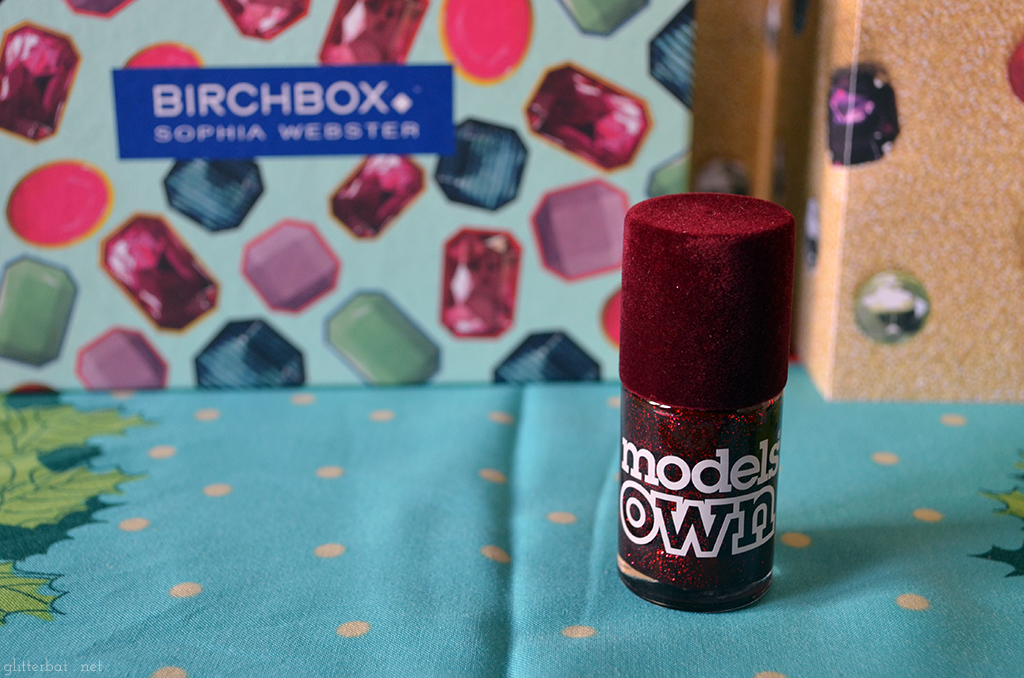 Next up is the Models Own Velvet Goth Collection nail polish in Sardonyx. Subscribers were asked to choose their shade a few weeks ago, and with it being the festive box I figured I'd go for the red one. I already own a couple of polishes in this range, and I'm a fan of the matte yet glittery finish.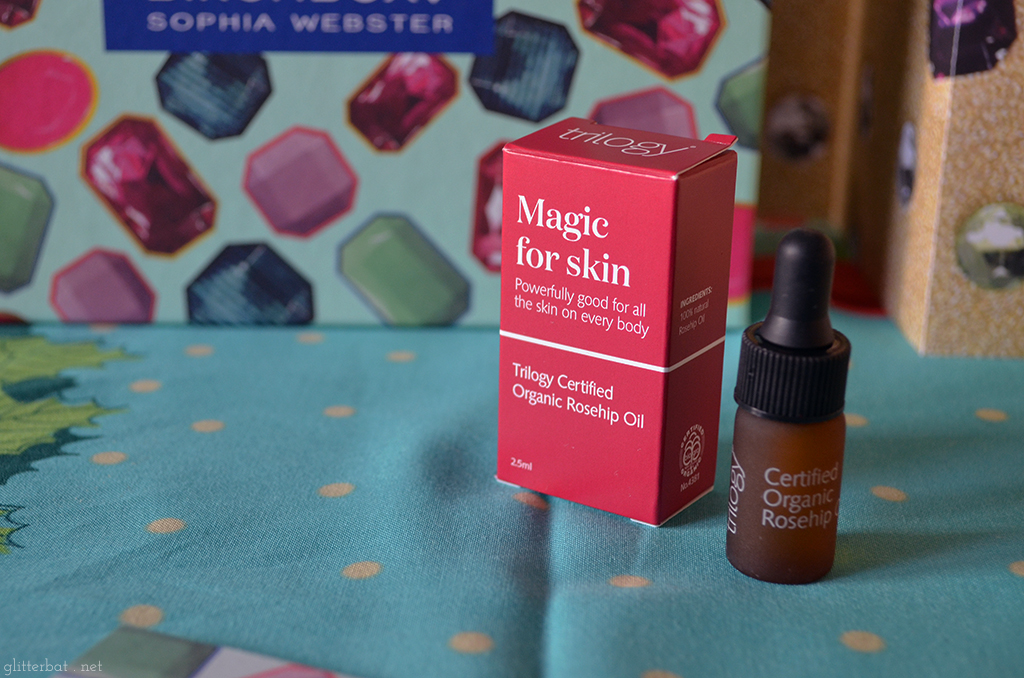 I was pleased to see a sample of the Trilogy Certified Organic Rosehip Oil in this box. I used to use Trilogy skincare obsessively (post my Lush regime) but just kinda… stoppped with it I guess? My aunt swears by the rosehip oil, and it definitely worked well for my skin. Maybe this sample will get me back on the Trilogy bandwagon?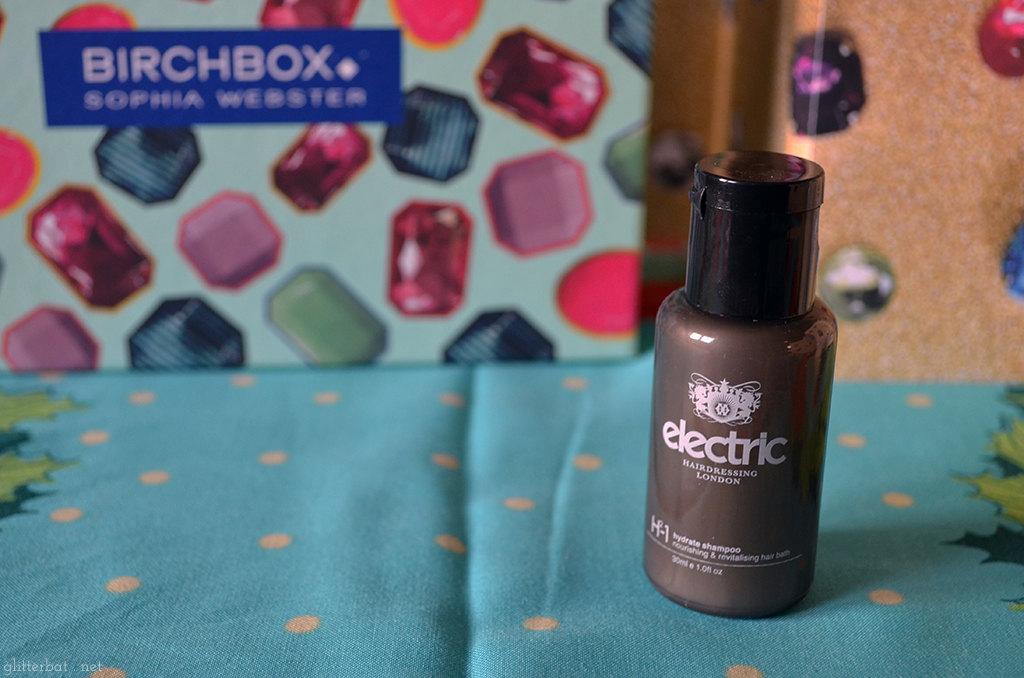 I'm looking forward to trying the Electric Hair Hydrate Shampoo. This smells incredible (hard to describe, but very… salon-y if that makes sense?) and promises to repair damage and improve shine.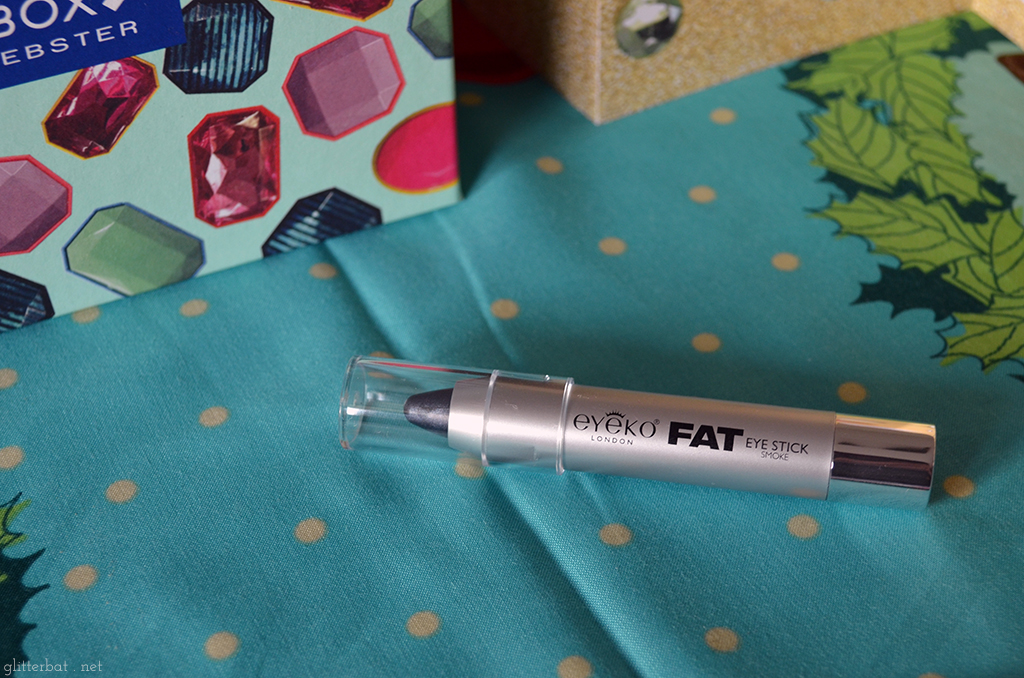 The Eyeko Fat Stick in Smoke is a great addition to the December Birchbox, as fat crayons like this are great for creating a quick smoky eye. Eyeko is a great brand, and I've used a few of their products over the years. Very pleased with this one.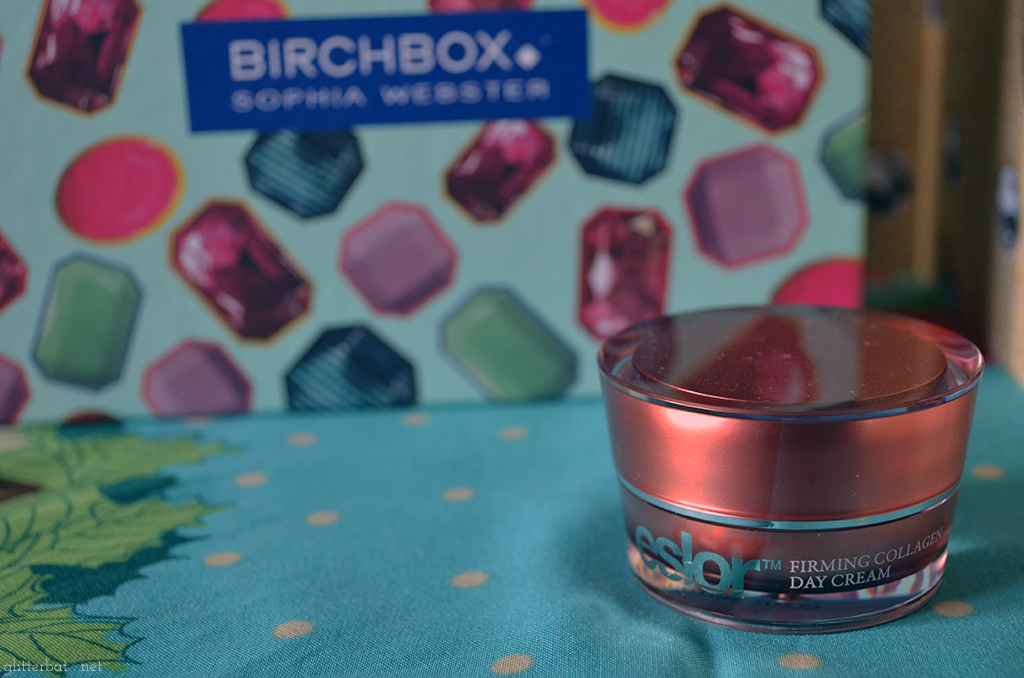 Finally, there's a pot of the Eslor Firming Collagen Day Cream. This is probably the only item I could take or leave from this box. It's not bad, but I'm not massively fussed either.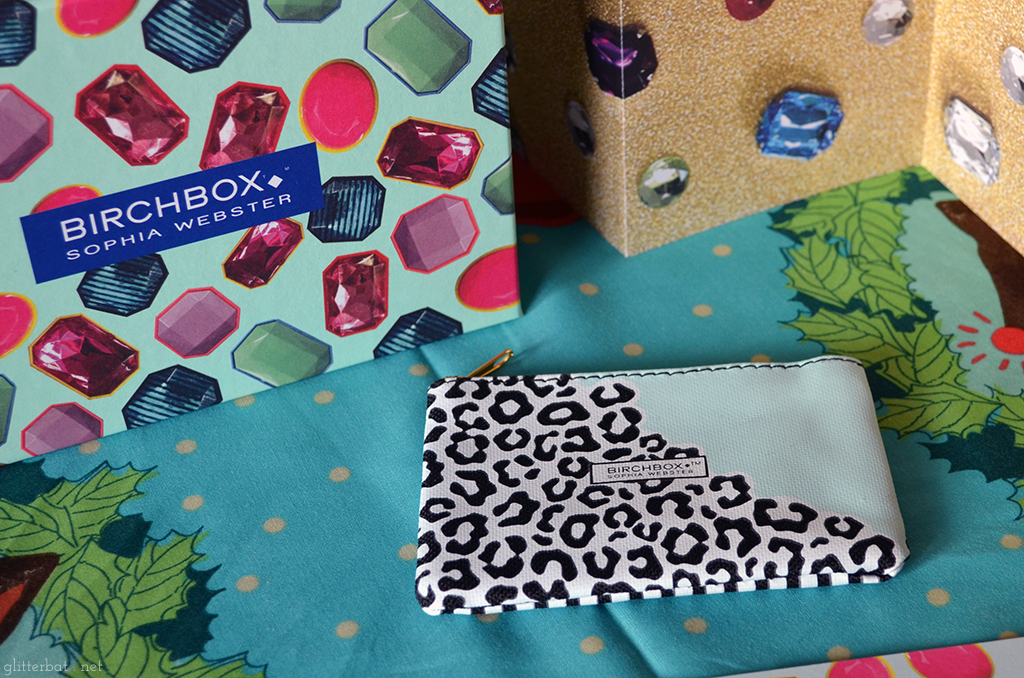 The lifestyle extra this month is a fabulous little Sophia Webster coin purse. It's white leopard print and baby blue. Y'all know how I feel about leopard print, especially of the snowy white variety. Come on. I got married in a white leopard print dress, so naturally I love this tiny little purse.
I'm really happy to see such a strong box to see out 2014, and I can't wait to see what 2015 will bring! If you'd like to subscribe to Birchbox UK and get your own sparkly party themed box, you can use my referral link to get us both 50 points to spend in the Birchbox shop – that's the equivalent of £5.
Did you get the UK Birchbox this month? What did you get?