Love is in the air with the Birchbox UK February 2015 offering, appropriately themed this month Birchbox Loves. I'm going to confess right off the bat, that I am deeply, wildly in love with this Birchbox and am hugely impressed with each and every sample I've been sent this month.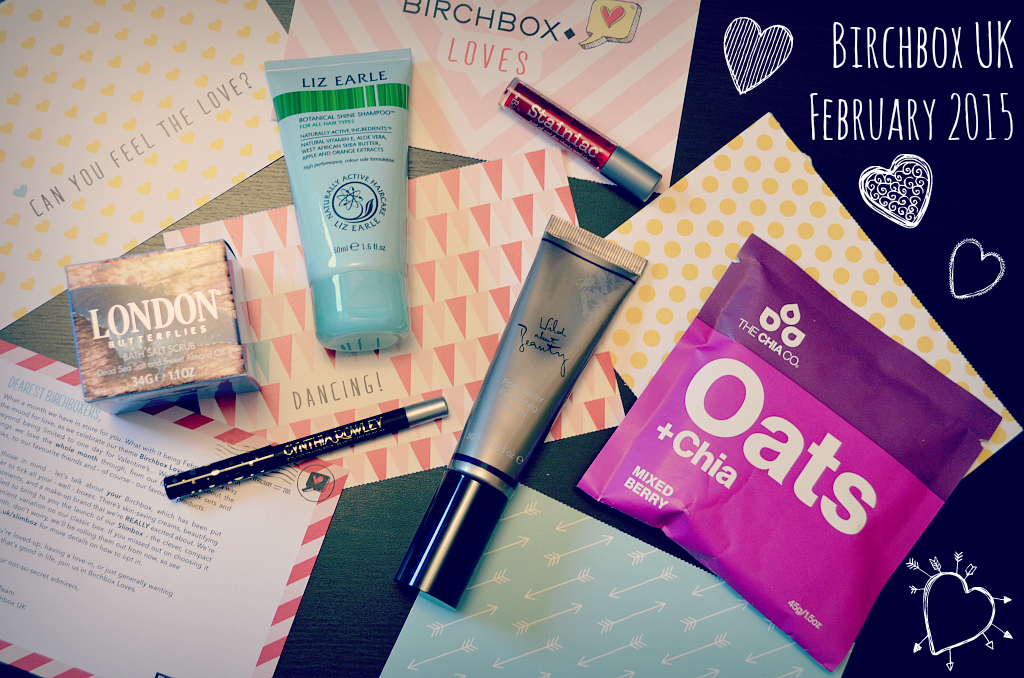 The first thing that caught my eye was the Liz Earle Beauty Co. Botanical Shine Shampoo – I'm a big fan of the famous Cleanse & Polish, and I'm hoping that this fruity, nourishing shampoo is going to live up to my expectations of the brand.
The next thing I spied was the little tube of theBalm Stainiac in Beauty Queen. This is a multi-purpose stain for cheeks and lips and has a thick, gel kind of texture. There's no smell to it, and it seems to blend out really nicely on the back of my hand.
I was excited to find a Cynthia Rowley Beauty Eyeliner in Silver, immediately swatching it on the back of my hand. The formula is creamy and buildable, and not too far off my coveted Urban Decay 24/7 Glide On eyeliner pencils. I'm really pleased that I got sent the silver and not the black, as I have faaaar too many black pencils in my stash as it is!
The London Butterflies Bath Salt Scrub has incredibly luxe feeling packaging – a gorgeous outer box, containing a heavy glass jar that feels expensive, you know? Inside the jar is a Dead Sea salt and almond oil scrub that smells really sweet and clean. I'm really looking forward to using this!
Finally, the last item in the box is a full size Wild About Beauty Rose Water Illuminating Serum. This serum promises to brighten the complexion and boasts anti-oxidant, anti-ageing and soothing properties. Straight away I applied a small pump of this to the back of my hand and I have to say, it smells amazing. It puts me in mind of the Anna Sui Dolly Girl perfume I used to wear when I was sixteen or so, and I'm looking forward to seeing how this performs on my face.
The lifestyle extra this month is a sachet of The Chia Co Oats & Chia in Mixed Berry. I'll probably have this for breakfast one day next week, and I'm really looking forward to it – you simply mix the sachet with hot water and bam! Insta-food. Dan and I have been doing the whole chia/oatmeal overnight cold soaked breakfast jars for a couple of years now, so a pre-made sachet indicates that we've clearly been on trend for a while now, haha.
This box is definitely a hit for me – there's nothing I'm not excited by! If you'd like to subscribe to Birchbox UK, I'd love it if you used my referral link to get us both 50 points to spend in the Birchbox shop – that's the equivalent of £5.
Did you get a Birchbox this month? What's your most loved sample?