Six months ago I rounded up my favourite Birchbox UK samples, and seeing as the January box marked yet another six months gone on the calendar, and tomorrow is February 1st, I figured I'd do the same today.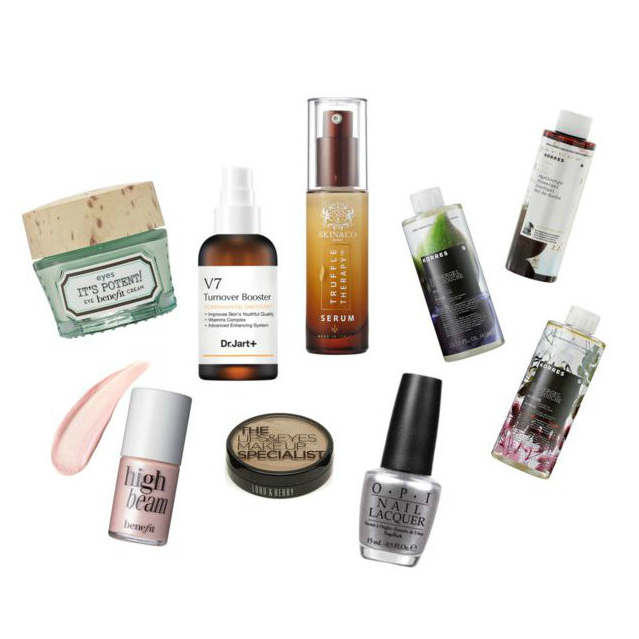 In the last six months I've really enjoyed some of the skincare samples I've found in my Birchboxes. First up, I'm in love with the Benefit It's Potent! Eye Cream – and was over the moon to win a full size of this shortly after sampling it – saving me the hassle of repurchasing myself! The Skin & Co Truffle Therapy Serum was an instant love, as it smells amazing and makes my skin feel absolutely unreal. I've not repurchased this, as I was lucky enough to drop on in TK Maxx and find a bottle of their Sicilian Light Serum so I've been using that up. I've also been enjoying the Dr. Jart+ V7 Turnover Booster, as the lightweight formula really agrees with my skin. I do think that when that runs out, I will be purchasing one of the Skin & Co Truffle Serums in full size.
The only makeup products that wowed me in the last six months of my subscription were the Benefit High Beam highlighter, and the Lord & Berry mini bronzer in the shade Sienna. High Beam is great for illuminating the tops of my cheekbones, cupids bow and inner corners of my eyes and just making me look a little bit more… alive? The Lord & Berry bronzer is the perfect subtle matte for using through winter, especially for a pasty pale gal like myself!
I fell head over heels for the formula of Korres Citrus Showergel, and ended up buying a matched set of the jasmine shower gel and body butter. I ran out of the shower gel just before Christmas, and treated myself to a few more bottles (a fig, a guava, and another jasmine). There's something so luxurious and moisturising about these shower gels, and the scents are just really… genuine? I'm trying to say, with my clumsy wording, that they don't smell like cheap, synthetic, chemically pretend perfumes.
Honorary mention goes to the full size OPI nail polish in Turn on the Haute Light. I'm a huge fan of OPI polishes, and this little gem from the Coca Cola collection is one of the nicest things I've had from a Birchbox. It's lovely alone, and it's equally nice to use in my shoddy attempts at nail art (read: polka dots or stripes!) I hope we'll see more from OPI in Birchbox!
When I renewed my subscription in August I took a 12 month deal, meaning that I still have another six boxes to come this year – and I'm still just as excited every time I get my shipping notification and when the postie knocks on my door! If you'd like to sign up and start receiving your own monthly beauty discovery boxes from Birchbox UK, you can use my referral link to get us both 50 points to spend in the Birchbox shop.