If you follow me on Instagram at all, you may have seen yesterday that I had a rather exciting double-Birchbox delivery. Alongside three bottles of Korres shower gel I'd ordered from the e-shop, the postie brought my January 2015 beauty box. Predictably, the January 2015 Birchbox has a fitness/health/new year resolution kinda vibe to it – which is great, if you buy into that kinda thing. I personally don't… But hey. If the changing of a calendar means you sort your life out and it works for you, it works for you. I'm just a cynical bitch with stuff like this. Critical psych aside, what's in the box?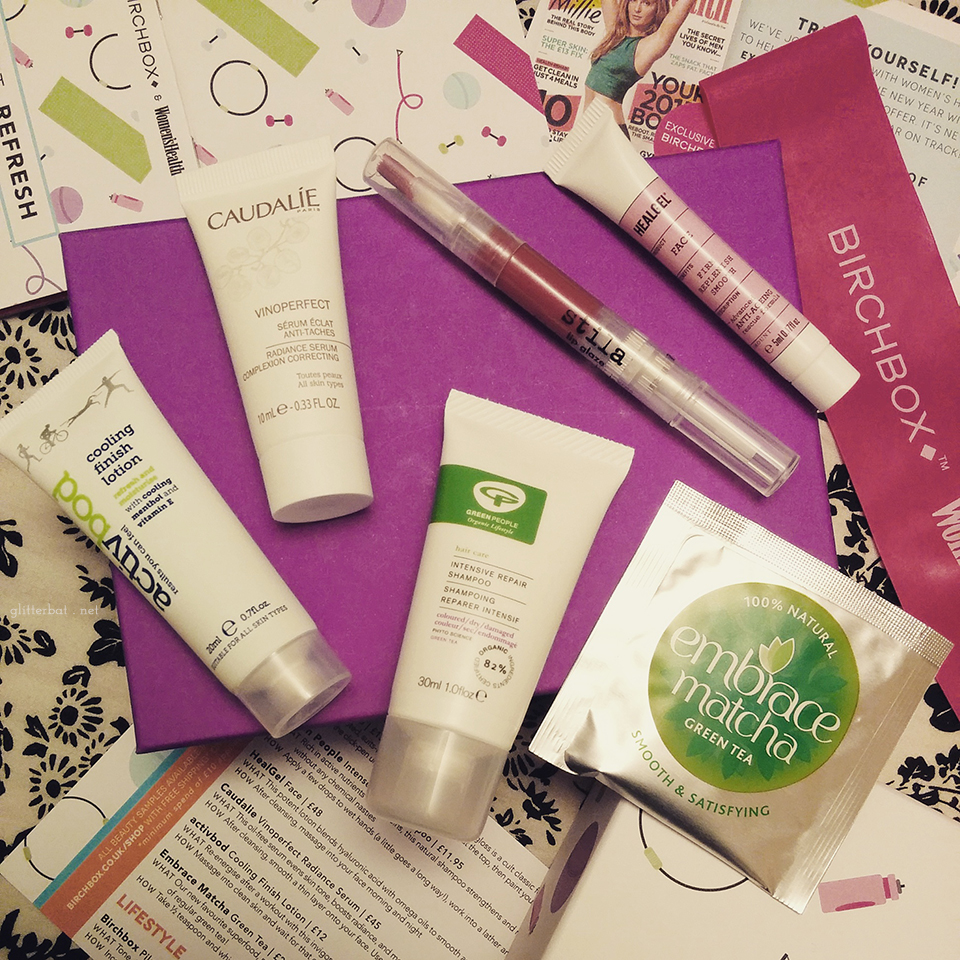 stila lip glaze – I was excited when I saw these arriving in other bloggers' boxes to fanfare and joyous reviews, but if I'm brutally honest, I don't get it. The gloss is super thick and feels really heavy on the lips, and I think it smells cheap. I like the twist up packaging, the colour is nice enough, but aside from that this is a disappointment.
HealGel Face – I've not tried any of the HealGel stuff before, but it always seems to get rave reviews. I'm excited to try this one out!
activbod Cooling Finish Lotion – a menthol lotion to help soothe and cool muscles after a workout. I think this one is a good addition, given the theme of the box this month.
Caudalie Vinoperfect Radiance Serum – another brand that seems to be praised everywhere, and another brand I've not tried yet. I'm really digging serums at the minute, so this is maybe the most exciting thing in the box this month?
Green People Intensive Repair Shampoo – tiny shampoos are always appreciated in this house… especially when they're full of natural ingredients, and claim to be good for coloured hair.
Lifestyle extras this month include a sachet of Embrace Matcha Green Tea, and rather usefully there's a pink rubber pilates band in the box as well. Love green tea, love me a bit of yoga or pilates. Nice little extra touch, and in keeping with the theme.
Overall, I'm not in love with this box but I'm certainly not disappointed with it. If anything this box has saved me the trouble of chucking £15 away on a over-hyped lip gloss formula I wouldn't like. I'm excited to see how the Caudalie and HealGel play out, and you can't really go wrong with a cup of green tea. If you'd like to subscribe to Birchbox UK, I'd love it if you used my referral link to get us both 50 points to spend in the Birchbox shop – that's the equivalent of £5.
Did you get a Birchbox this month? What do you think to the products?