For the 2% of the population who don't already know, every year Boots release a massive Soap & Glory gift set that's a) a bargain at full price and b) a flipping steal when they inevitably reduce it as a flash sale pre-Christmas. Predictably, everyone loses their shit because a) Soap & Glory is awesome and b) who doesn't like a great deal on great products? My December kind of flew by, and I thought I'd missed my chance to get my hands on the 2014 gift set, The Next Big Thing.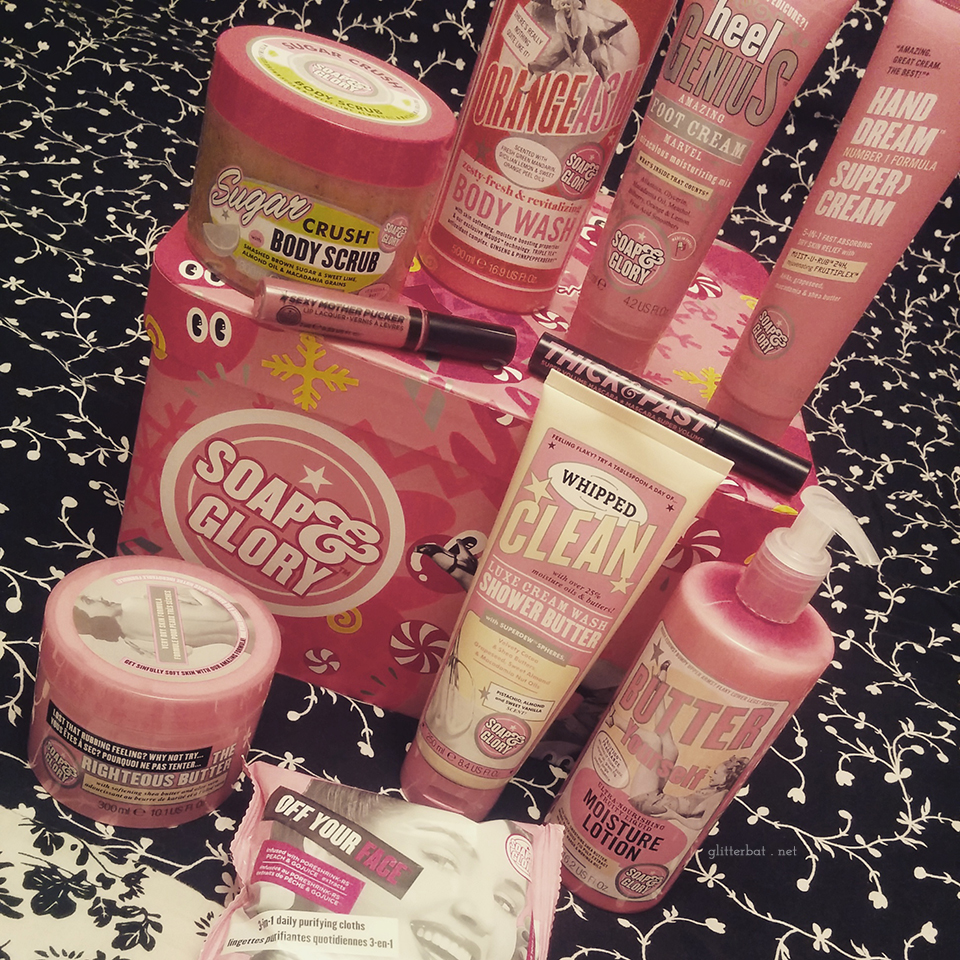 Well. You can imagine my surprise and delight when, in sleepy old Whitby, I found that Boots actually had a bunch of The Next Big Thing gift boxes still in stock, and they were all reduced to £30. Squealing happened. Dan even tried to get me to buy two! Merry Christmas and a happy new year to me, from me. The set consists of a bright, pretty hatbox designed by Hattie Stewart (check out her incredible Nancy piece in the Manic series!) with a pink drawstring bag inside, containing 10 full size products with a retail value of over £75. Bargain.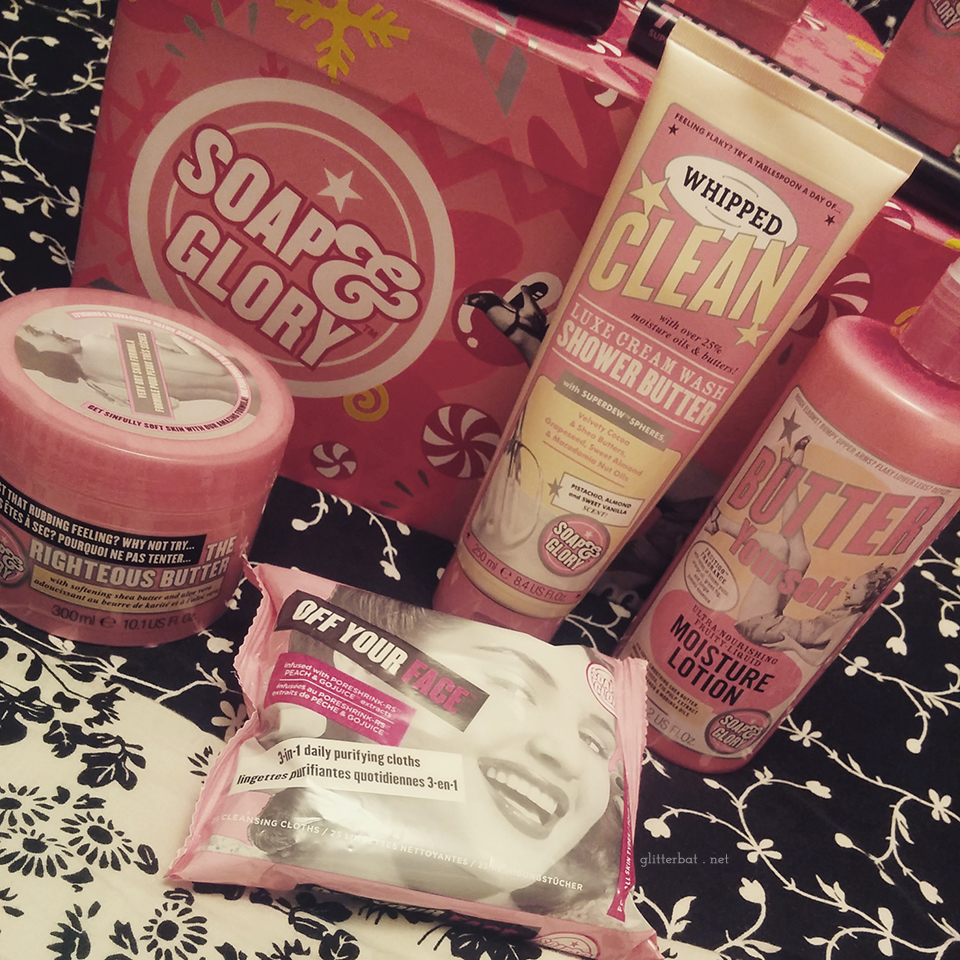 I love The Righteous Butter – it's so intensively moisturising and I find the scent absolutely addictive. I hadn't tried the Whipped Clean shower butter before getting this set, but it's been in the shower for the past week and I'm hooked – it makes me smell like almond cake batter! Butter Yourself is a fruity body lotion, and I'm excited to try this out. Even though I'm not a huge fan of face wipes, the Off Your Face cleansing wipes are always handy to have around and especially good for travelling.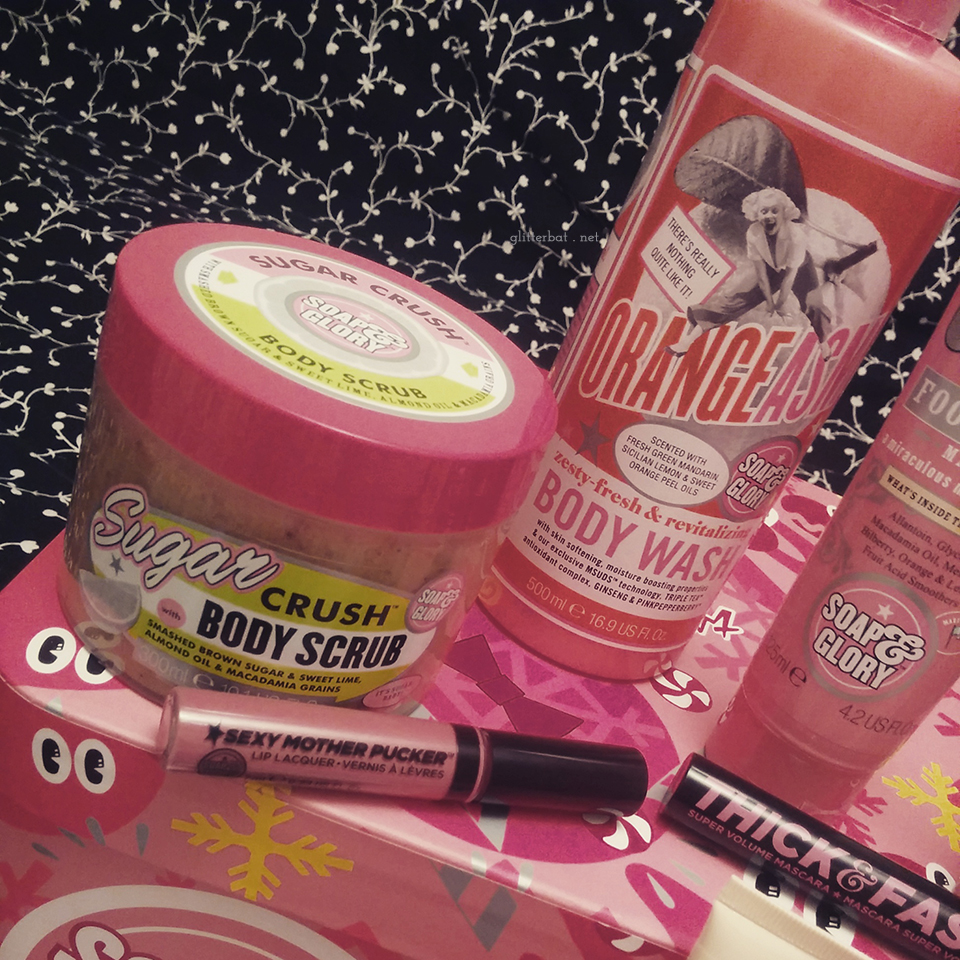 The next three things are all new to me. First up is the Sugar Crush body scrub – I'm a big fan of the Flake Away scrub, and I love the zingy lime scent of Sugar Crush so it'll be nice to see how this one compares. I've never tried the Orangeasm shower gel before, but it smells incredible in the bottle – super fruity and really summery. The Sexy Mother Pucker lip gloss looks to be a very wearable shade (Charm Offensive), and I know a lot of people love this product.
Rounding out the box we have the Thick & Fast super volume mascara, and the Heel Genius foot cream. Finally, another favourite for me – the Hand Dream hand cream. I was using this obsessively in the run up to the wedding last year, and really love it.
I think The Next Big Thing is a really good value gift set, with a great mix of favourites and new products for me to try out. I'm really looking forward to reviewing some of these beauties in more detail over the coming months, and honestly – I still can't get over the fact that these were still in stock after Christmas!