After a whirlwind trip to Las Vegas for my wedding, a painfully long flight back to the UK, and a gruelling drive back up north from Gatwick, I was over the moon to find my Birchbox UK June 2014 waiting for me by the door at home. I know this review is a bit late, but come on – I wasn't even in the country when it shipped!
This month's Birchbox UK is the Global Strikers edition, in honour of the World Cup in Brazil. I can't begin tell you how uninterested I am in football (or "soccer", which is all I have heard being a Brit in Las Vegas for the past two weeks… EVERY taxi driver… EVERY bartender… EVERY waiter…) but I can tell you how interested I am in the Birchbox lineup this month! Very. The answer is very.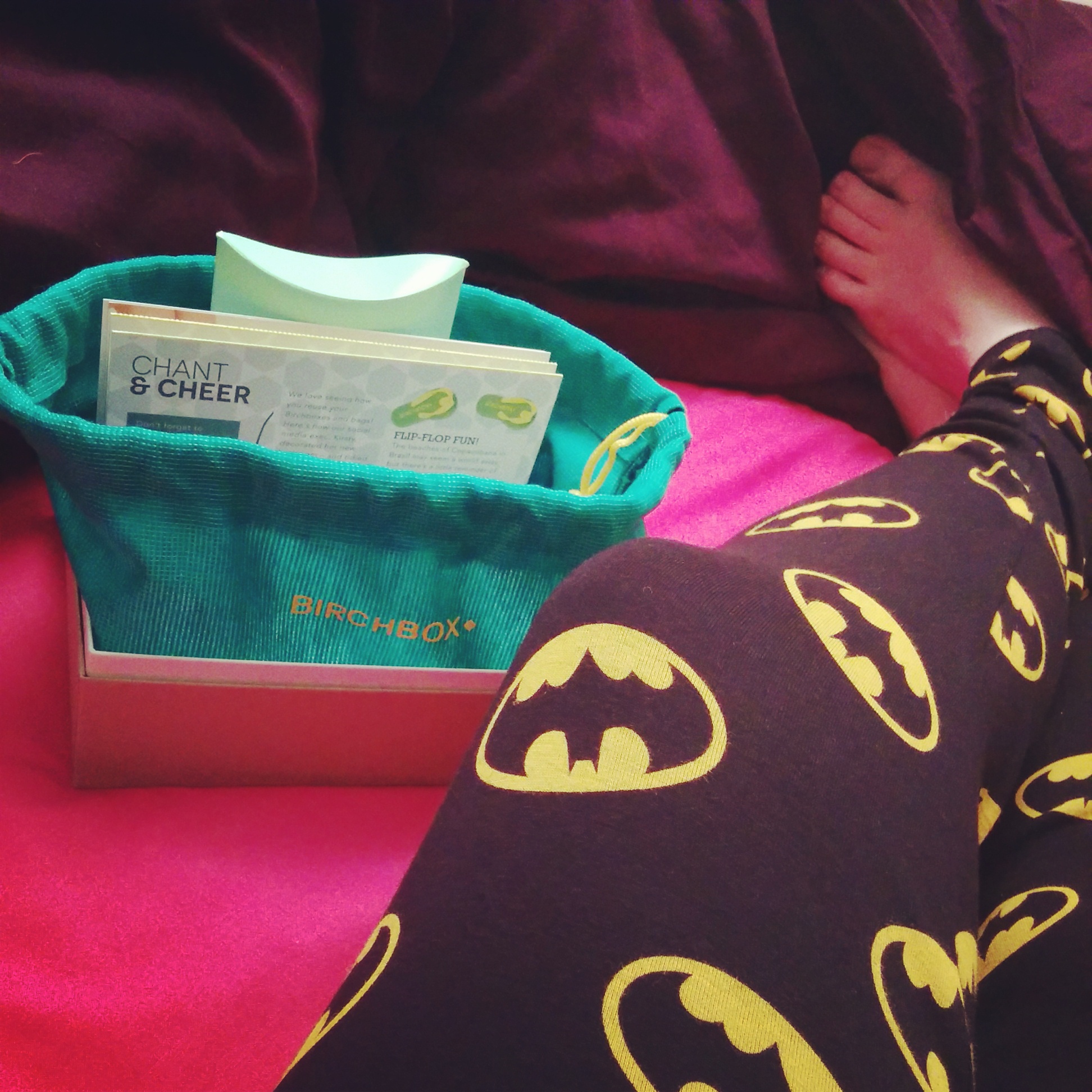 Special mention to the little bag this month, in gorgeous green and yellow like the Brazilian flag. These little bags were so useful on my trip to America – I had one filled with accessories like bangles and hair clips, and another to hold a bunch of my palettes. Also, behold the glory that is my new Batman leggings/pyjama bottoms. Thanks Primark!
So, what's inside the box this month? Well. Just you look at THIS little lot…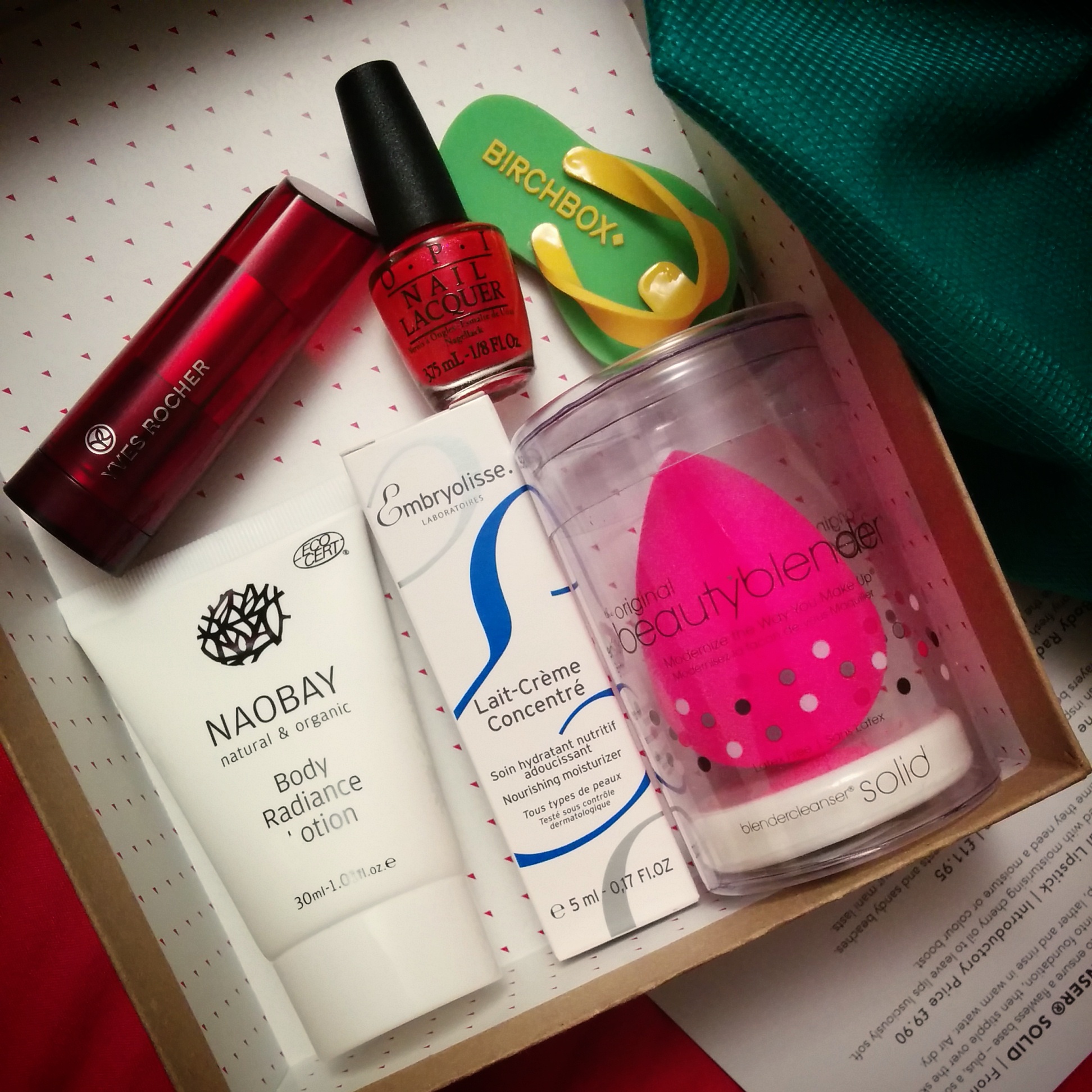 Yves Rocher Sheer Botanical Lipstick in Marron Glacé – Holy deliciousness Batman! This (full size!) sheer lipstick is infused with cherry oil to moisturise and care for your lips, and builds colour verrrrry gradually. It also smells INCREDIBLE. It reminds me of candy lipsticks I used to have as a kid, very sweet and lovely. Really impressed with this product.
OPI Liquid Sand Nail Polish in I'm Brazil Nuts Over You – Bright coral mini polish from the OPI Brazil Beach Sandies collection. I already have three of the OPI Liquid Sand polishes in my collection and I love the texture and staying power of them. I've seen some people whining about the size of these, but to my knowledge OPI only do the Brazil colours in miniature so… yeah. No complaints from me!
Naobay Body Radiance Lotion – Organic body lotion from a brand that's new to me. It's lemony, but I don't like the smell once the obvious lemony-ness fades. Kinda detergenty and chemically? Not a fan. Really not a fan. Just sniffed my hands again to make sure the smell hadn't magically become nicer… it hasn't.
Embryolisse Lait-Crème Concentré – A cult French moisturiser, primer, makeup remover, after shave balm, mask and baby care cream all rolled into one. I've used this in place of my usual Soap and Glory moisturiser in a bid to help out my dry, heat and air conditioning ravaged face. It's got a really nice texture and no obvious smell, and my face feels a lot better than it did earlier!
Beautyblender & Blender Cleanser Solid – Woah. Really Birchbox? For me? The miracle tool seemingly everyone raves about, that promises a perfect base every time. I am SUPER excited to have received this little set in my Birchbox this month, because it's been on my to buy list for ages! I can't wait to have a go with it!
Finally, the lifestyle extra for June is a cute little Birchbox flip flop keyring, again in that bright Brazilian colour scheme of green and yellow. Very cheerful!
So there you have it… Birchbox UK shoots and scores with the Global Strikers box! Groan… kill me now… or forgive me, I'm jetlagged… Why else would I be up at 2am writing about my Birchbox? If you're thinking about signing up don't forget you can do it via this link and we'll both get £5 of points to spend in their shop. 
Oh, and Las Vegas and wedding stuff is coming soon – I promise! I've got a million and one pictures to sort out, and a lot of boring and not so boring admin to do. We had a great time out there, and I can't wait to share our adventures here! :love: