It's time for the Las Vegas trip report… and I think this time I'll split it over several posts, because I have A LOT of pictures and I fear it could get a bit long!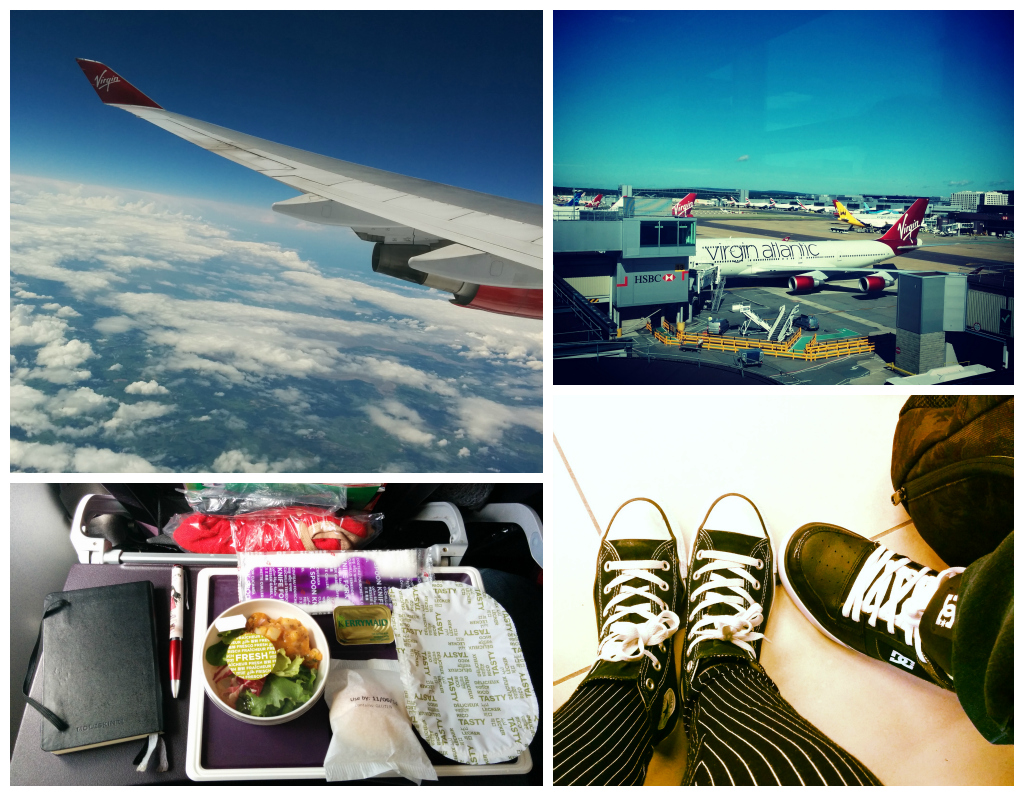 We flew out of Gatwick on Tuesday morning (on Ruby Tuesday – I adore Virgin's names!) after an uncomfortable drive down and a very comfortable sleep in the Hilton attached to the South Terminal – stress free check in? Why yes please… Just like last time our flight was great, with Virgin Atlantic really looking after us. There were no delays this time, but there was plenty of seat-back video poker against Dan, and our friends DW and Matt Wood. I lost. I'm not very good at poker. It did mean that the flight seemed very quick though, which is nice. Once we cleared border control in the US and got our luggage, we were overjoyed to find Tom and Catherine waiting to greet us, having arrived a little bit earlier than us on a British Airways flight. We went in search of taxis, and left them waiting for Jim, who was on a (delayed) internal flight from New York. Our good friend Leon was in a car somewhere between L.A. and Las Vegas, with a bunch his of local(ish, to the area, not to Sheffield!) friends, with a plan to meet us for dinner at some point in the evening. Team Vegas was beginning to assemble!
This time Dan and I stayed at The Cosmopolitan of Las Vegas, and managed to score a really good deal on an upgrade at check-in. We'd originally booked a Terrace One Bedroom but managed to get bumped up to a Terrace Suite (being polite and friendly, with $20 and a mention of a wedding goes a long way!) Now, I would have been more than happy in the room we'd booked, but man… that suite was something else! Really, click through and look at the floor plan and photos… mine don't do the scale justice. It was absolutely massive. Two huge bathrooms, one with a ridiculous jacuzzi tub. A full kitchen. Luxurious everything. A fucking pillow butler, which we didn't make use of but STILL. What the actual? Art and erotica books everywhere. Slightly dubious porn-lite artwork. A massive balcony with furniture to lounge around on. Crayons on the desk. We were on the 54th floor with a view out over the Bellagio fountains and strip – that NEVER gets old. Every imaginable source of light that hits that view makes it absolutely fucking magical.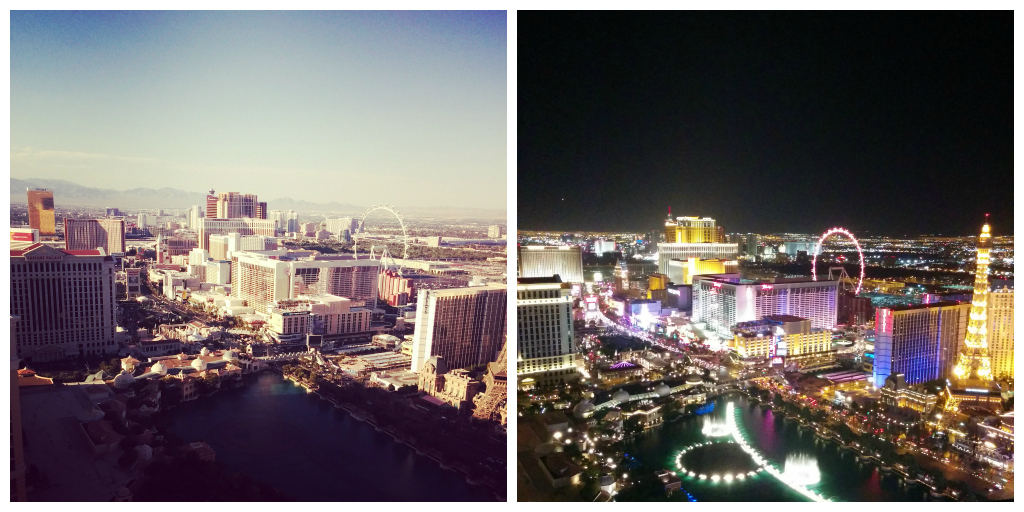 Prepare for many more photos like those two… and not just crummy Instagram excitement shots! Aside from how incredible the suite was, it's worth mentioning that everything else about the hotel was amazing too. Stylish, modern, and visually stunning. Everyone we encountered was friendly and efficient. The casino was lovely, though not as big as some other hotels. Room service was brilliant. The location was PERFECT. I honestly don't know if I'd bother staying anywhere else following this trip. Not only all this, but the hotel is full of artwork – from the changing video pillars in the lobby to the dancing ladies on the bathroom wallpaper, I could never get bored of just looking at this hotel.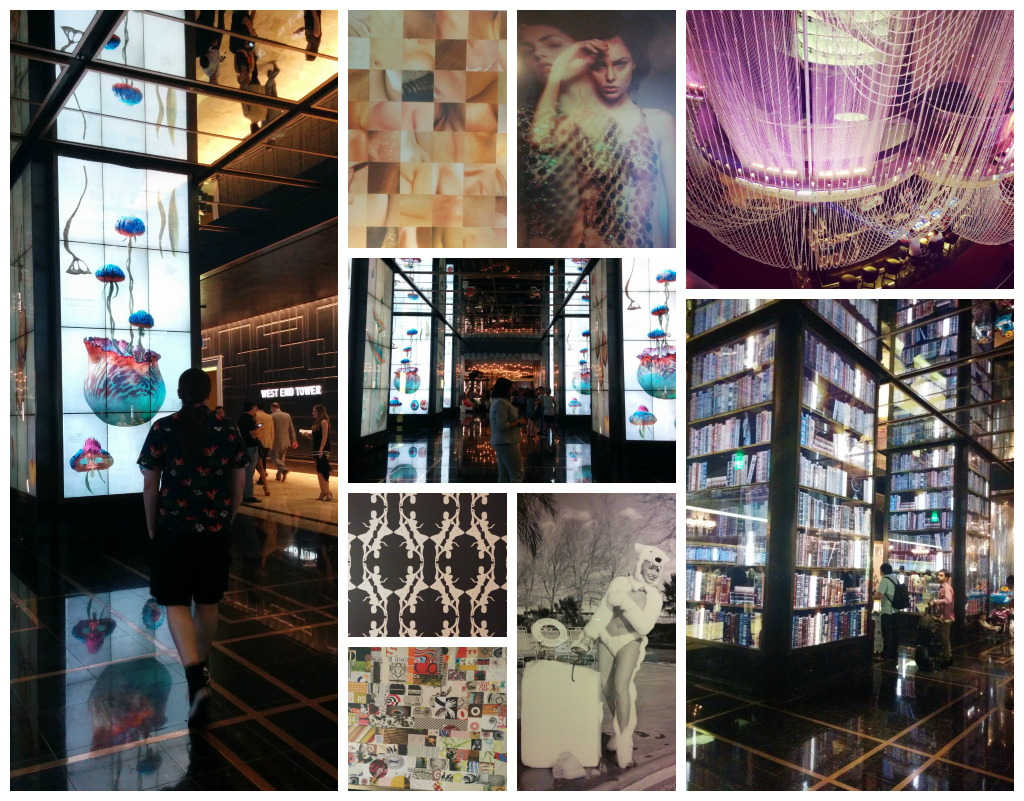 After a bit of unpacking and settling in, we headed out to meet Team Vegas (minus the Beerwulf, aka Dan's dad, whose flight was due in much later on) at the Bellagio before hitting PBR Rock Bar and Grill for beer and food. It was just as I remembered, after discovering their incredible chicken sandwich mere hours before we flew home last time. We were absolutely broken from how long we'd been awake, so we grabbed some drinks from Walgreens and went back to the suite to have a bubble bath and some sleep.
Typically, both Dan and I woke up mega early on Wednesday morning. Waking up to that view with the gorgeous heat on the balcony… No words. The Beerwulf had landed and successfully checked into his castle (Excalibur) so he headed up the Strip for a breakfast beer then an actual McBreakfast with me and Dan. We had a little browse around the Auto Collections at The Quad (which is a bit fancier than it was last time, when it was still Imperial Palace) and the shops in Miracle Mile. Cue a little bit of in suite drinking, then the collection of our marriage license from an uninspiring government building near Fremont Street. That was a strangely efficient process, helped by us filling in the pre-application on the website before we flew out.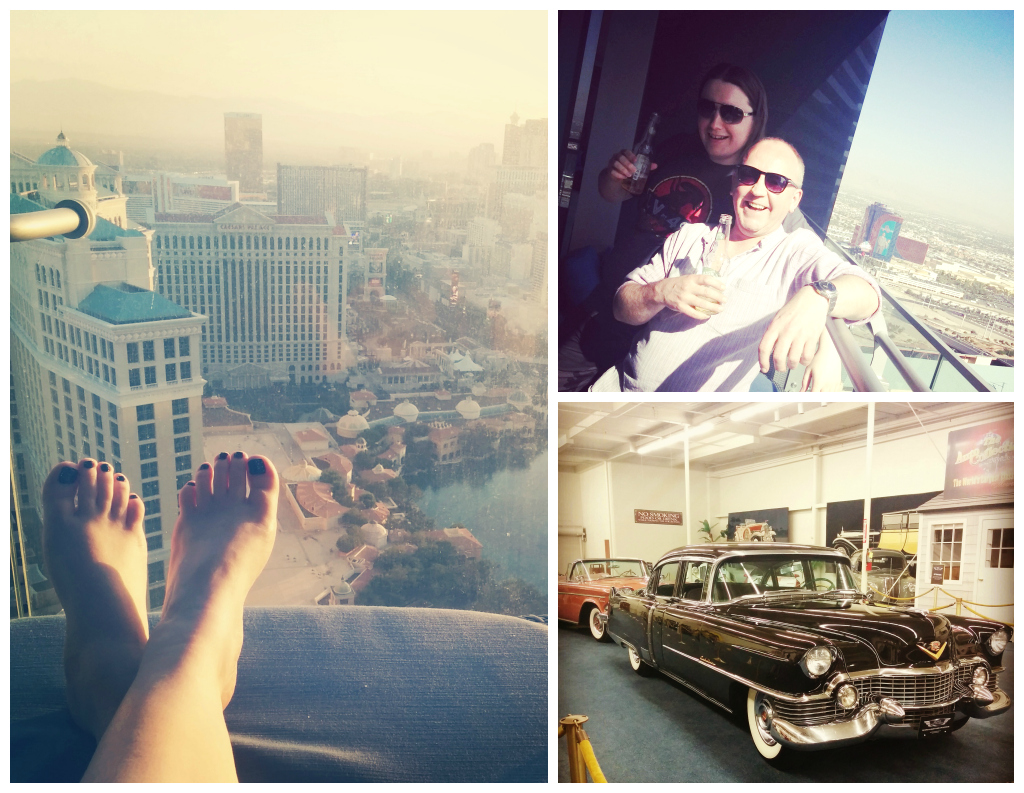 We spent the afternoon and evening wandering about and bar hopping on Fremont Street. Highlights included the light show, girls dancing on bars, cheap pizza and the discovery of Angry Orchard cider – thanks Tom!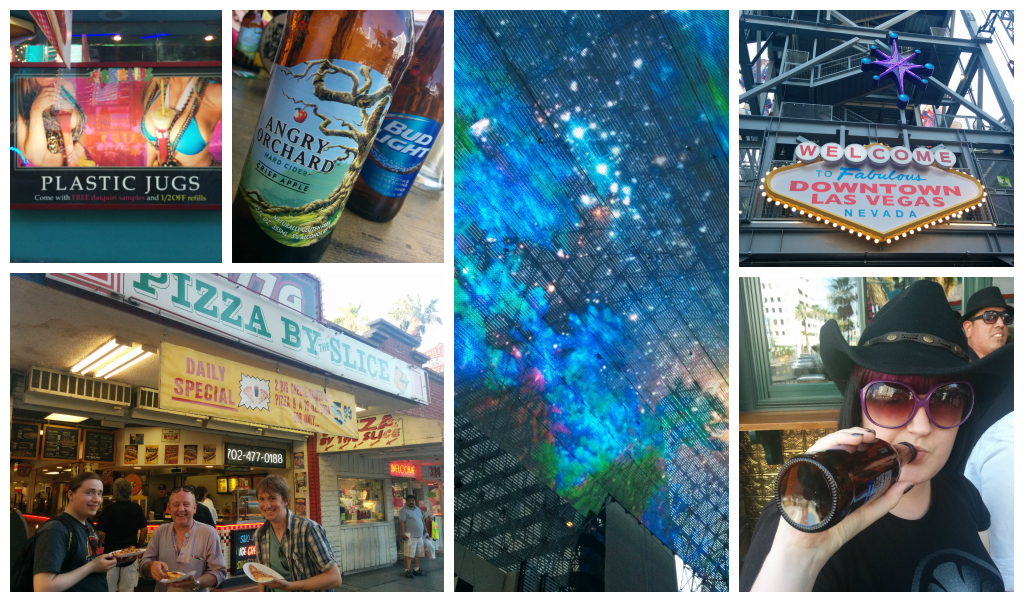 Sadly, that's not my cowboy hat. Borrowed it from Leon, and really wish I'd thought to hunt one down out there. I think it works pretty well with the beer? Yeah? Wedding-stress and generally being tired was starting to get to me that night, and we ended up going back to the hotel earlier than I'd wanted to. I had a good long bath in my snazzy cherry blossom bath milk from Basin (gorgeous, and all gone now – sadface). I then proceeded to pretty much black out in bed, in nervous anticipation of operation impending wedding day…