My October Birchbox UK could not have come at a better time – October is a hectic month for me full of work stuff and research stuff and volunteering stuff, so I was really cheered up opening such a bright and lovely package. The theme of the box this month is Work It! and as you can see, everything's a bit pink thanks to the partnership with CoppaFeel! who are a breast cancer education and awareness charity. Fitting really, considering that October is breast cancer awareness month.
My box was full of lovely treats – five beauty products and two lifestyle extra type things, and all the product sizes were generous. I follow Birchbox on Facebook, and I'm always a bit sad when I see people complaining about sample sizes or the lack of full size products. I don't think I've been disappointed with a sample size so far?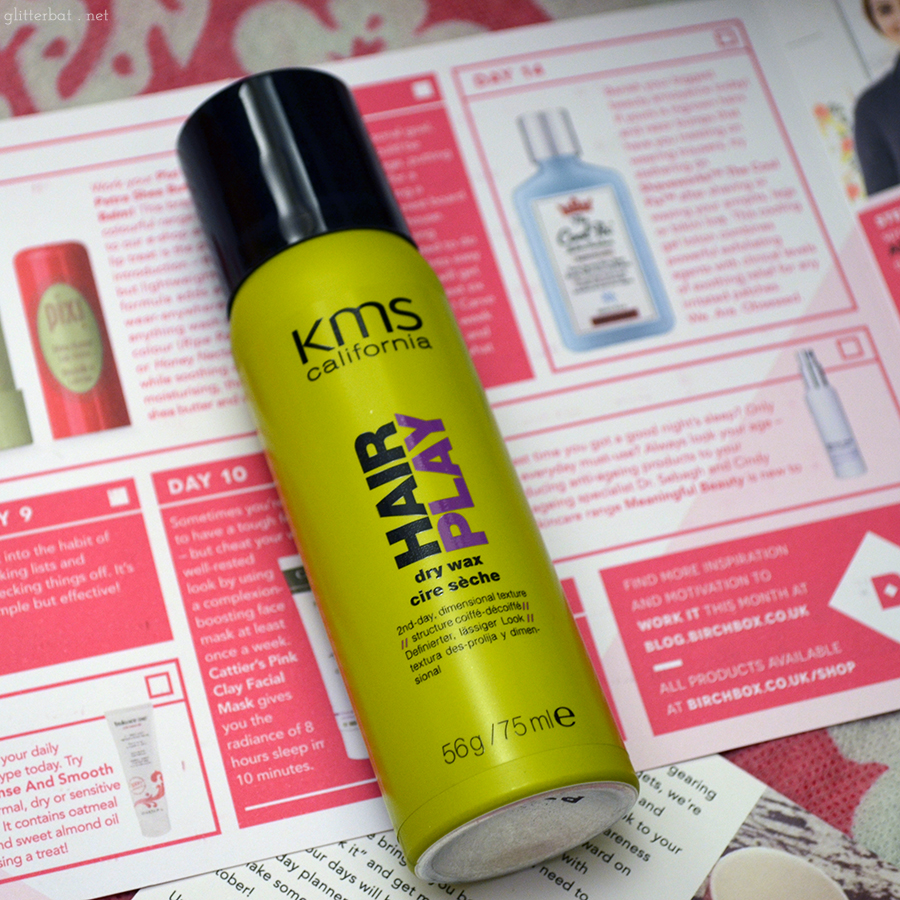 First up is the KMS California HAIR PLAY Dry Wax, a texturising spray for your hair which adds "easy to style second day texture" with a matte finish. I'm feeling like I'm in a bit of a hair rut at the minute, so I'm excited to have a play around with this… though my results are probably more likely to come out dragged through a hedge backwards rather than perfectly tousled…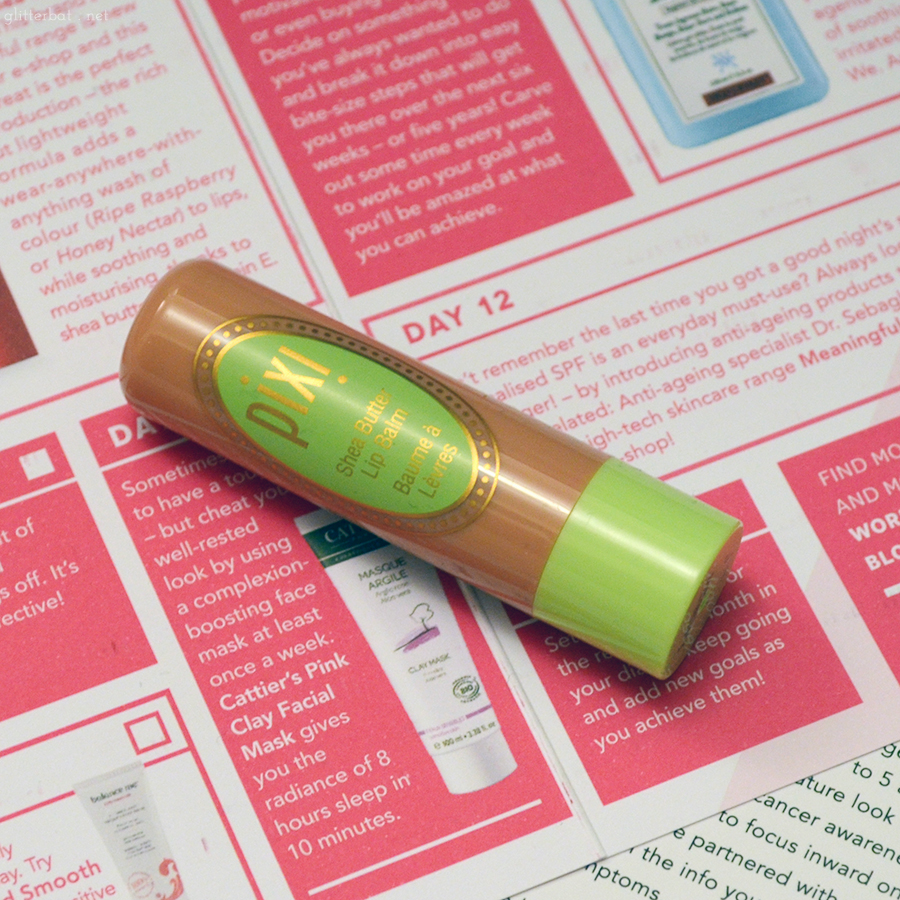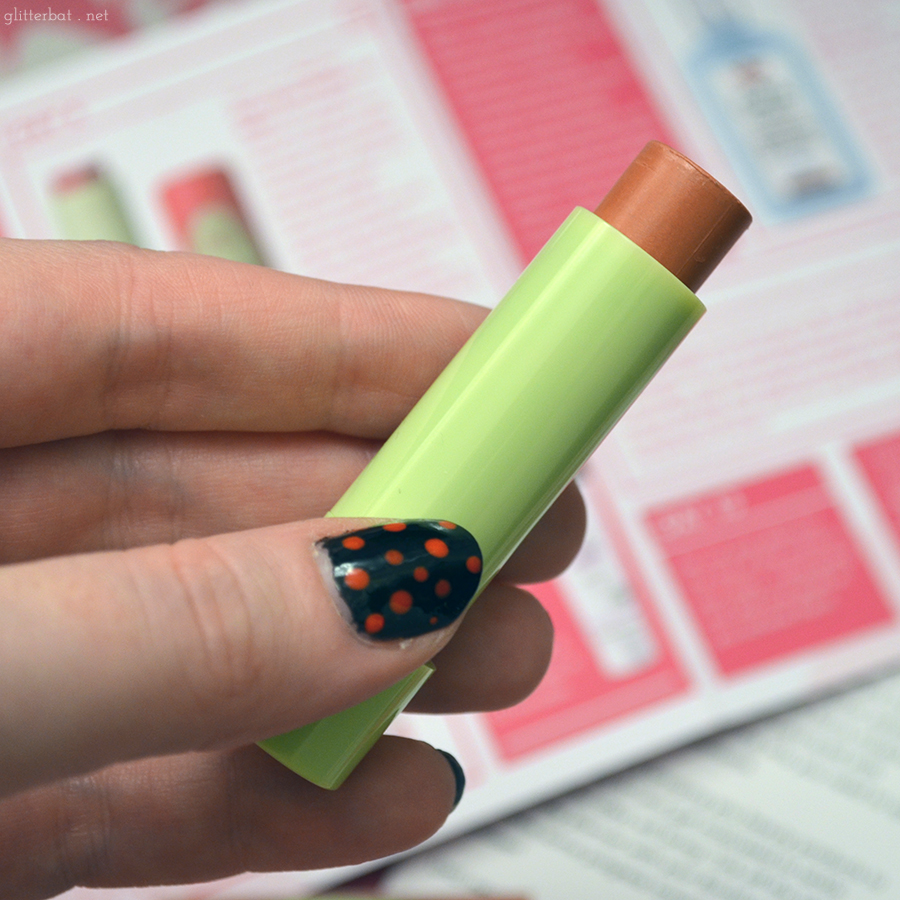 Next is the rather delicious Pixi by Petra Shea Butter Lip Balm in the shade Honey Nectar. Every subscriber this month gets a full size Pixi by Petra lip balm, in either this gorgeous neutral shade or in a bright pink tone named Ripe Raspberry. This is a nourishing, sweet smelling balm that I wore on Saturday, and it's left my lips feeling really soft. I really love a nice tinted lip balm, so this may just be my favourite product this month.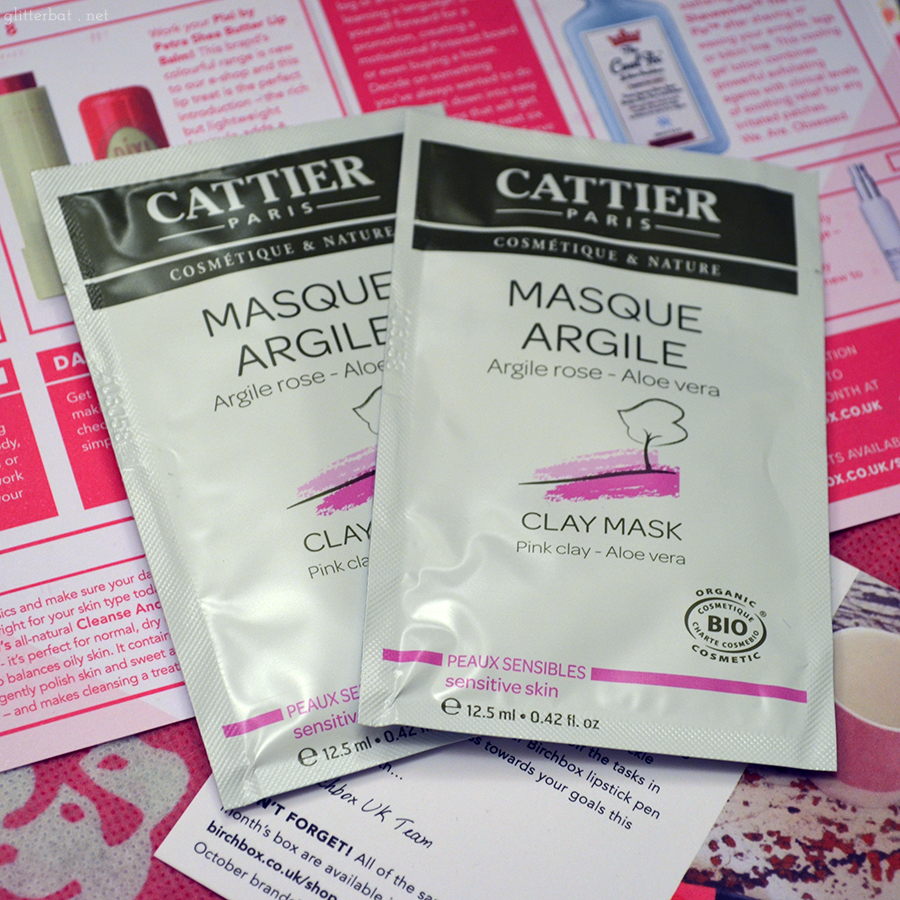 The third product I have in my box is a pair of Cattier Pink Clay face masks, which are aloe vera based and supposedly perfect for sensitive skin. They promise to illuminate the complexion and soften skin, which will be a lovely treat after a long day of teaching stats and grubby public transport. I'm saving these for next weekend, when I can relax a little bit!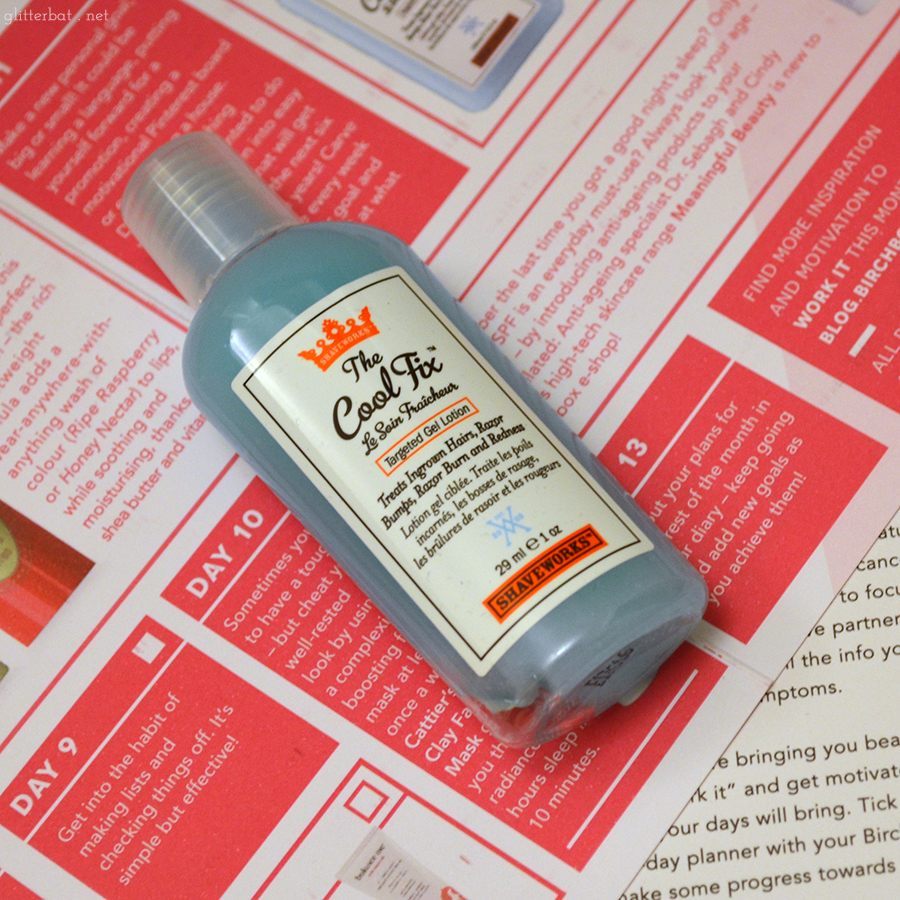 This bright blue gel is the Shaveworks The Cool Fix cooling gel lotion. It's meant to be used after shaving, and treats ingrown hairs, redness and razor bumps after shaving or waxing. My legs can get a bit irritated after shaving or epilating (when I can be bothered with the epilator that is… I can never remember to freeze the ice packs for mine so I usually resort to shaving in a hurry!) so this is a welcome addition to my bathroom shelf.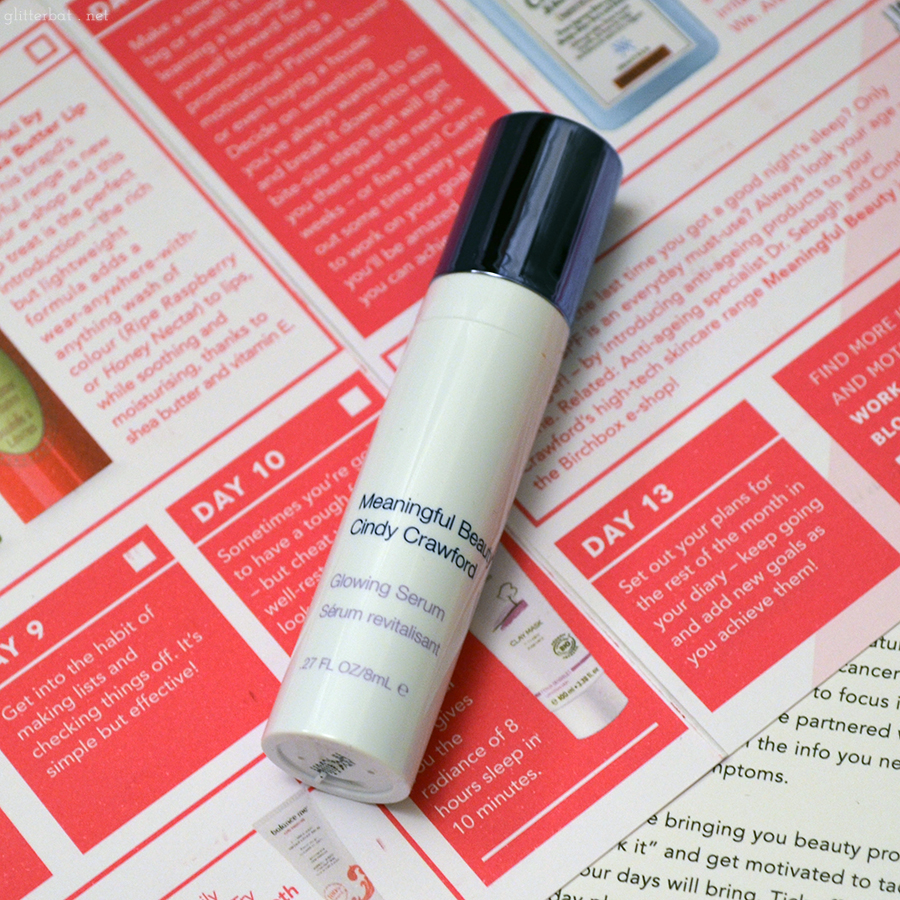 The last product this month is the Meaningful Beauty Glowing Serum as endorsed by Cindy Crawford. I'm under no illusions here, and don't expect this serum to make me look like a super model, but it does make some more reasonable claims about brightening, anti-ageing, smoothing and conditioning the skin. I'm still hooked on the Skin & Co Sicilian Light serum, so this one will likely wait a while before getting a proper test.
Finally we have the lifestyle extras for October, in the shape of the pink makeup bag which replaced the usual drawstring thing…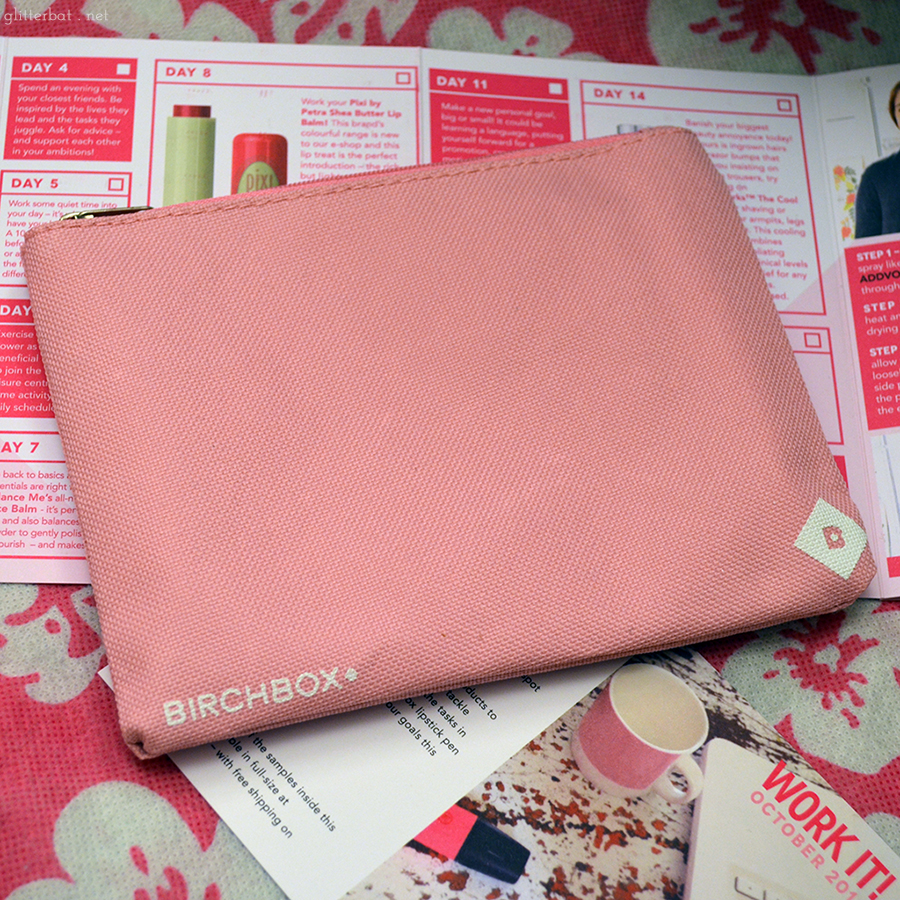 … and the Birchbox pink lipstick pen, which is going straight in one of my handbags. I'm lost without a pen, and this one is cute and bright and hopefully hard for me to lose!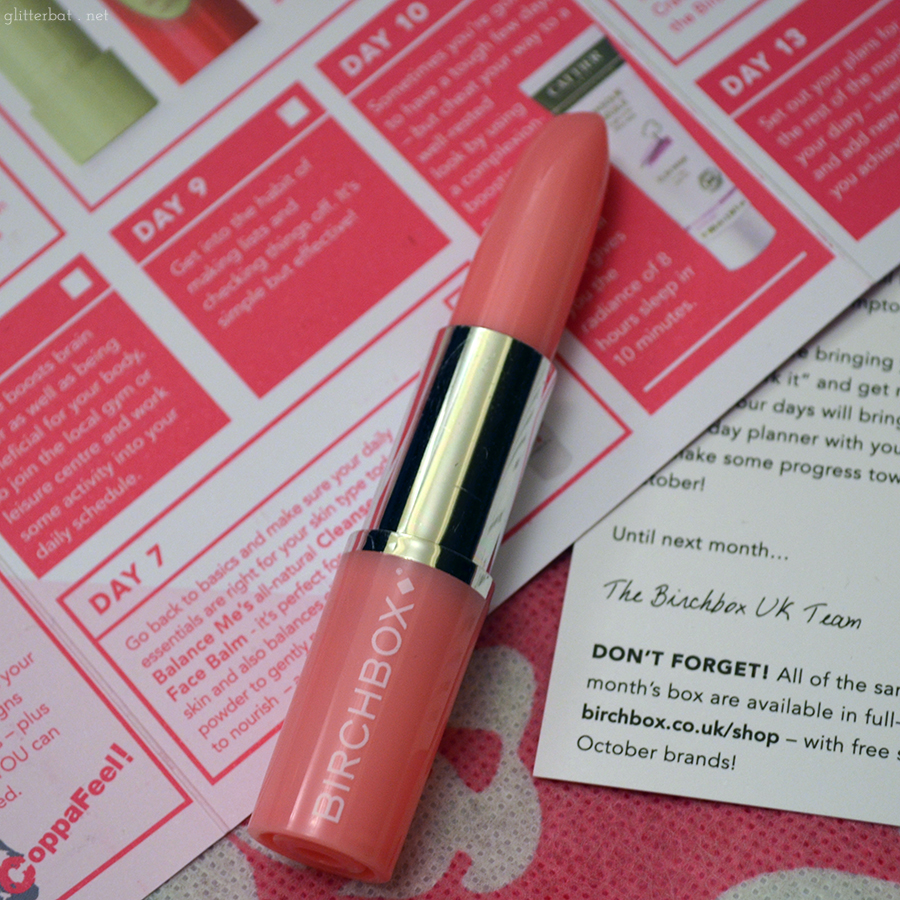 I'm pleased as punch with the October UK Birchbox, and looking forward to seeing what the team come up with for November and December. If you'd like to subscribe to Birchbox UK, you can use my referral link to get us both 50 points to spend in the Birchbox shop – that's the equivalent of £5.
Did you get a Birchbox this month? Let me know in the comments and share your review links!