Can you believe it's four months since I got married? I can't! I wanted to blog about some of the easy DIY wedding stuff we did earlier on, but for some reason I've just been putting it off and putting it off. Well, today's the big day, so grab a brew and get settled – here's a little roundup of the fun things Dan & I made for our wedding in Fabulous Las Vegas, and the after party in (less) fabulous Sheffield. First though, gratuitous wedding shot, because it makes me fuzzy inside.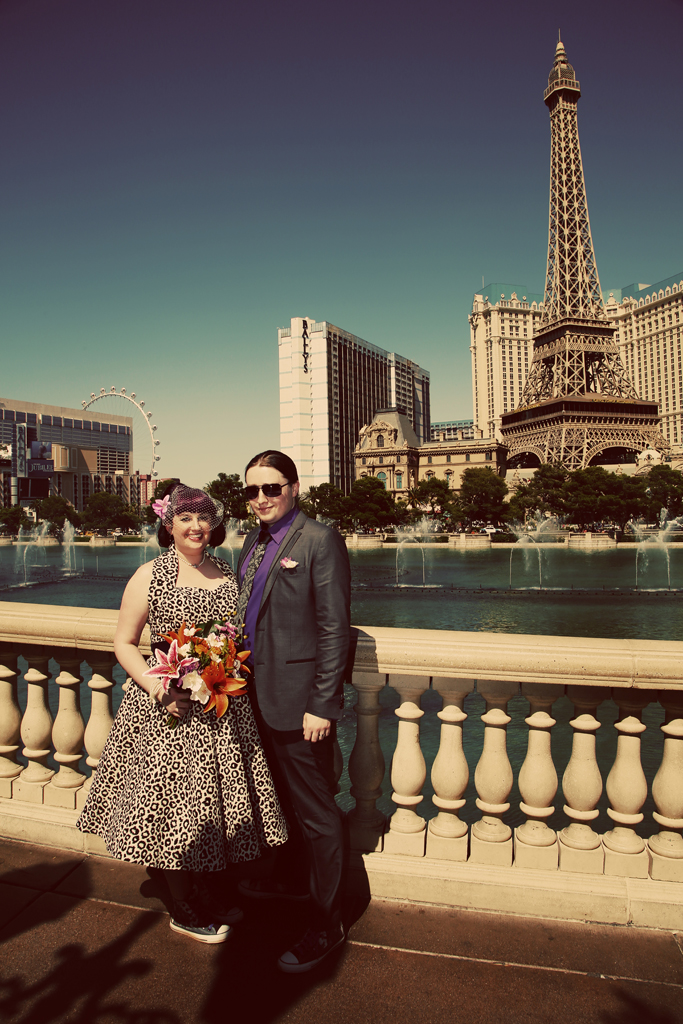 Wedding Website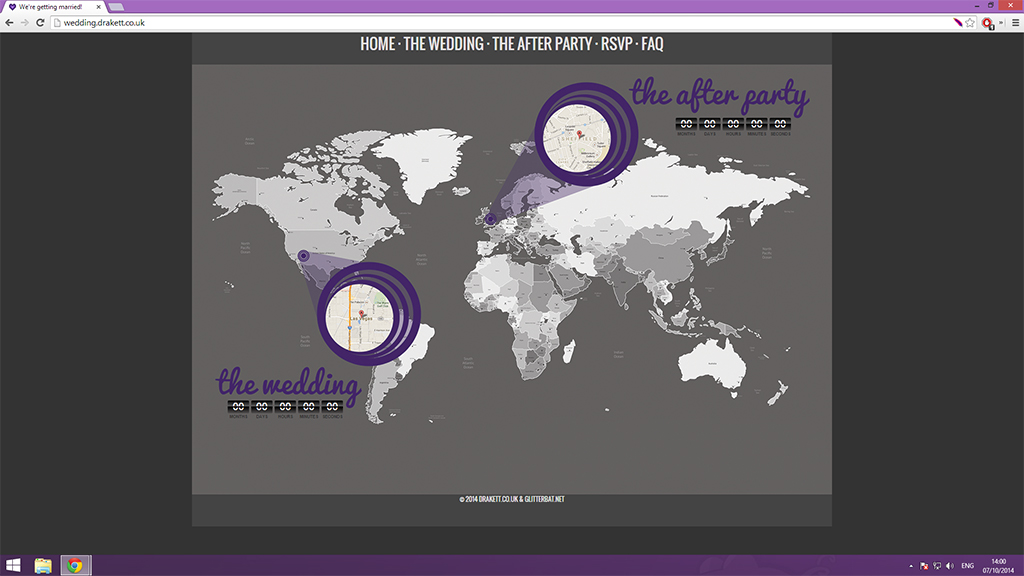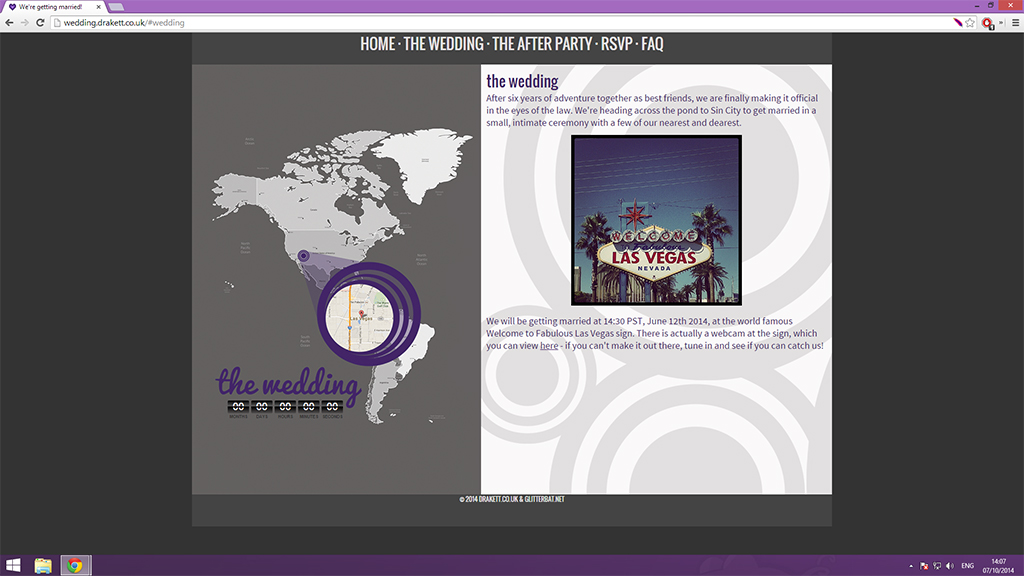 Being the pair of massive nerds that we are, we rolled our own wedding website, or wedsite if you will. There are lots of pre-made options out there, but where's the fun in that? It gave us a chance to fiddle around with some fancy bits of code we hadn't tried before. We managed our RSVPs through this using Google Forms, which links directly to Google Drive. I probably don't need to tell you that we relied heavily on Google Drive for organisation and budgeting, given the Android love in this household. The site is still up at http://wedding.drakett.co.uk
Invitations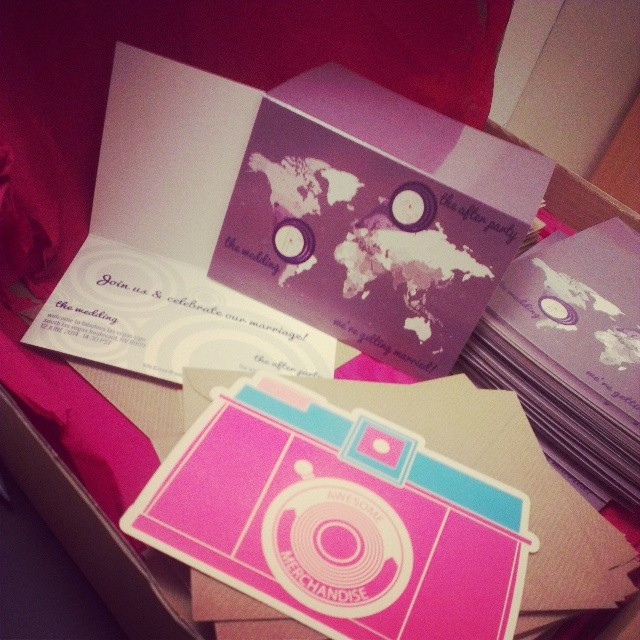 Urgh. Looking round for invitations was mildly soul destroying, so we decided to make our own and get them printed. This meant we had full control of the wording and information we needed to get across, and the bonus of making them match the website. Snazzy, no? We used local printing company Awesome Merchandise, who are (as their name suggests) awesome.
My Birdcage Veil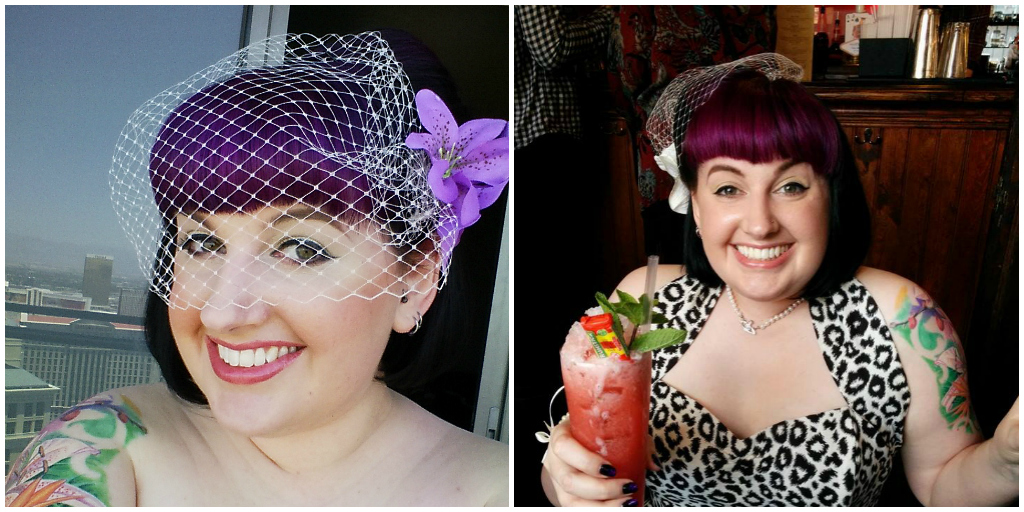 I simply could not find a veil I liked at a price I was willing to pay. I saw loads and loads of birdcage / bandeau veils at thoroughly ridiculous prices, for what is essentially a piece of french netting with hair grips on the side. I'm rubbish at sewing, but even I can manage to gather and stitch some netting and attach hair grips. It cost me about £4 and half an hour of my time in total, and looked amazing. I added some artificial flower hair slides, which covered the grips and made it a little prettier. It was also versatile enough to twist up and wear a few different ways, which I was extremely grateful of.
Dan's Cufflinks
Dan saw some gorgeous cufflinks with Oscar Wilde quotes online, but we couldn't get them shipped in time for us leaving for America. However, we could get component parts shipped pretty much overnight, so Dan made his own wedding cufflinks. A bit of a cheeky DIY, but what's a guy to do? He simply drew up the image/text he wanted, printed it out, and glued it into the cufflink back and glass cabochon combo we bought off eBay.
Wedding Bouquet & Other Florals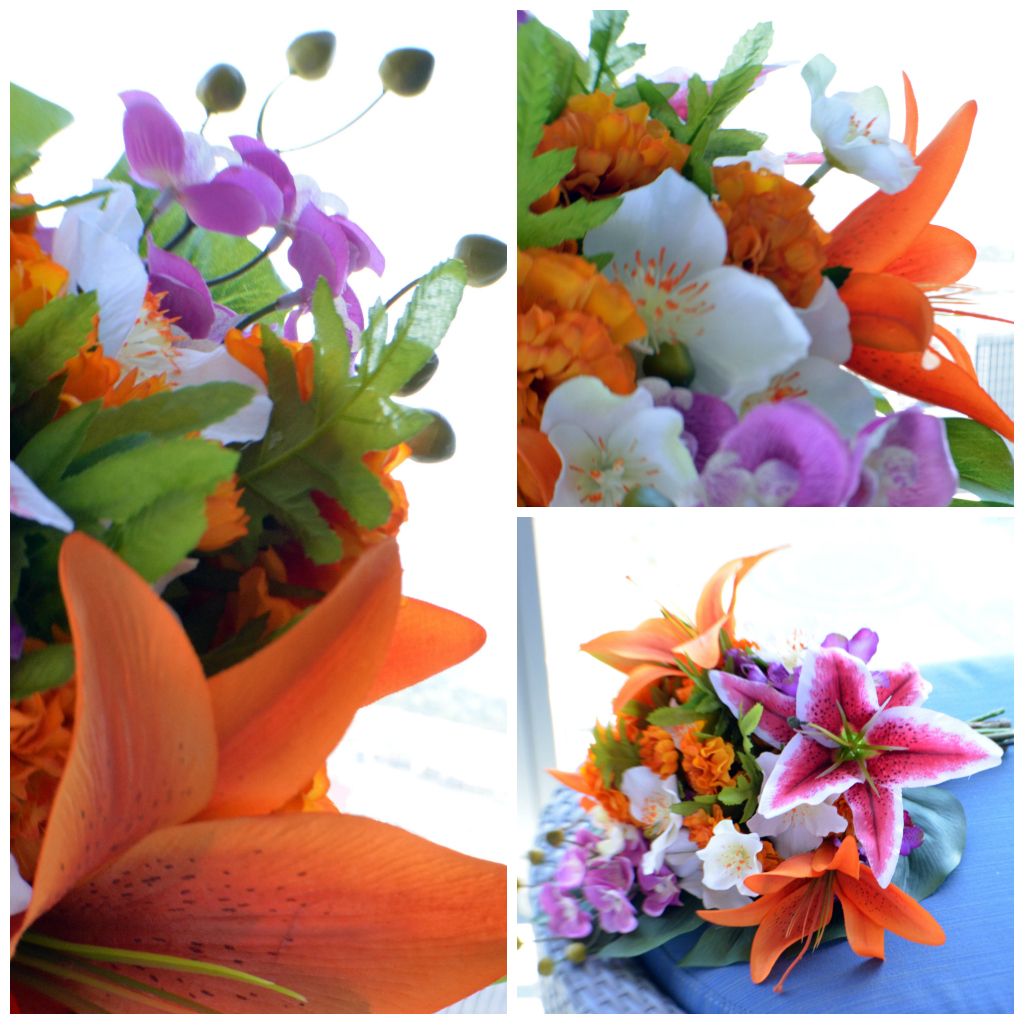 Our wedding was in Las Vegas. Las Vegas is in the desert. The temperature on our wedding day was literally 100 degrees F. Flowers (especially when you add the word wedding in front) are not only ridiculously expensive but will also explode and DIE in that kind of heat. Instead of wasting money on something so temporary and out of my control, given we would have had to have ordered online from this side of the Atlantic, I went off to Country Baskets, a local giftware cash and carry.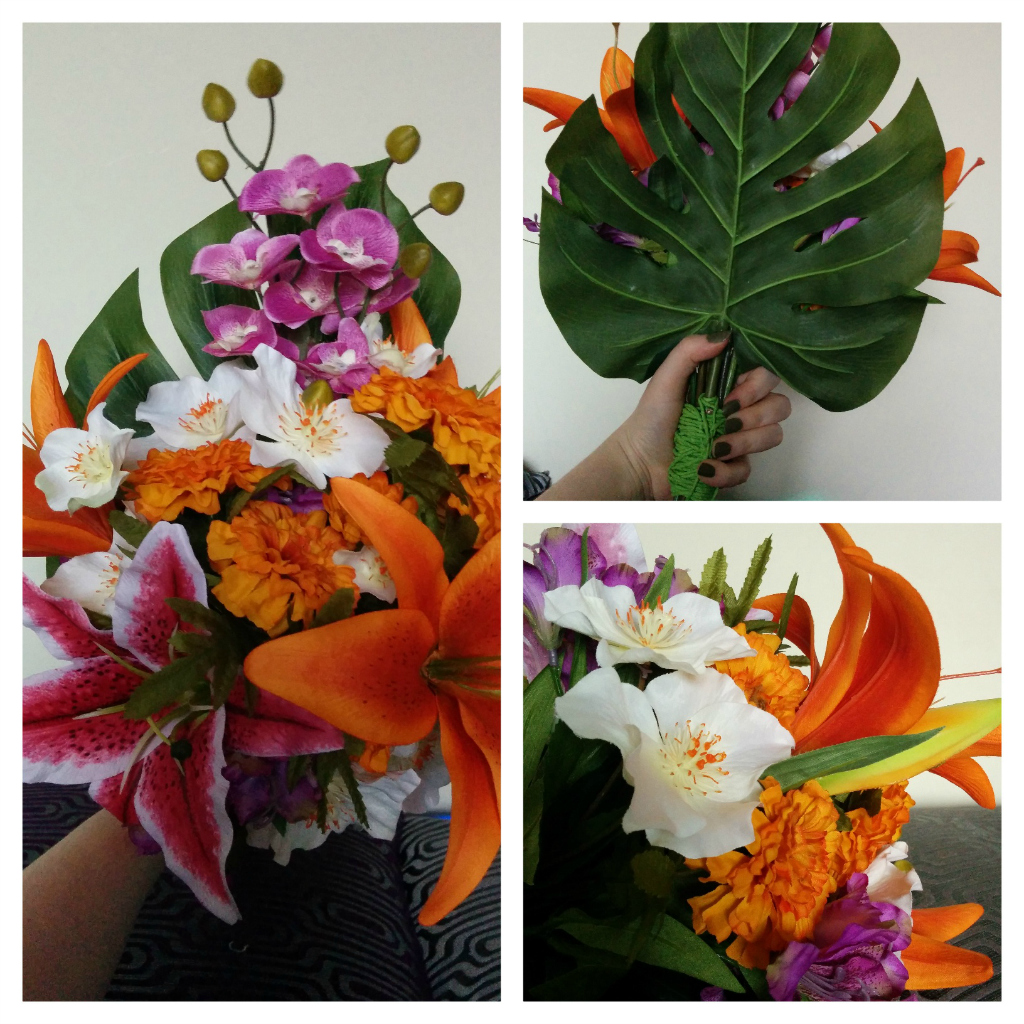 I first found out about Country Baskets when Dan's sister Sara got married in Las Vegas and we went there to buy stuff for her wedding reception and bridesmaids bouquets. I bought a bunch of gorgeously bright tropical flowers and spent an afternoon making a bouquet for myself, a boutonnière for Dan and a sort of posy fan thing for Catherine. Dan made me a protective box and the flowers survived not only the trip out there and the wedding day, but the return flight and the UK wedding party in Sheffield!
Photo Guest Book
As a lot of our friends and family didn't make it to our wedding in Las Vegas,  we had a sort of reception party type thing in Sheffield when we came back. We knew we wanted some kind of guest book, but hated all the white or shabby chic rubbish that the shops were offering. So, what's a girl to do?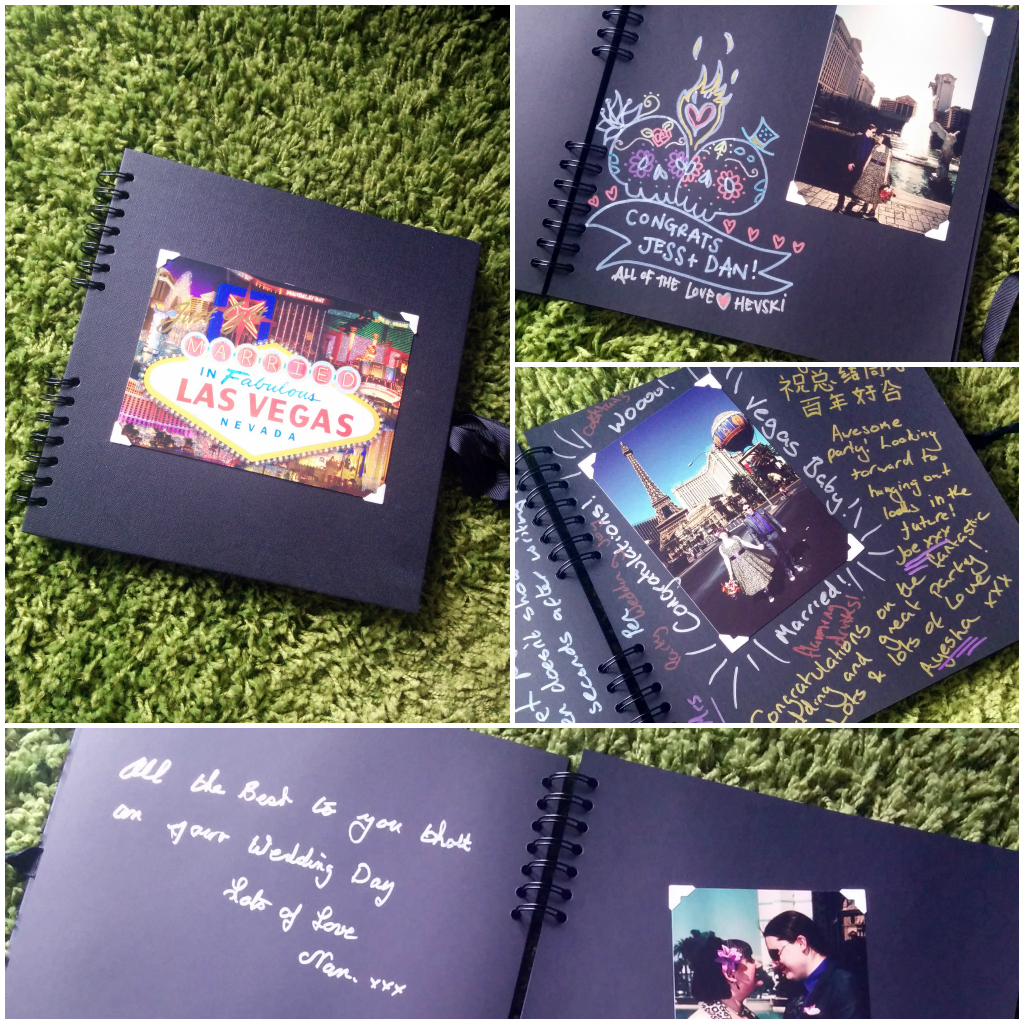 We bought some super tacky glittery post cards in Las Vegas, printed a bunch of our wedding photos out (at Asda, for convenience!) and  popped them into a black scrapbook album from Paperchase using little white photo corners. The book got put out on the bar with some bright pens for writing/drawing on black (from eBay) and people went wild.
Favours – Cute Bath Stuff & Personalised Love Hearts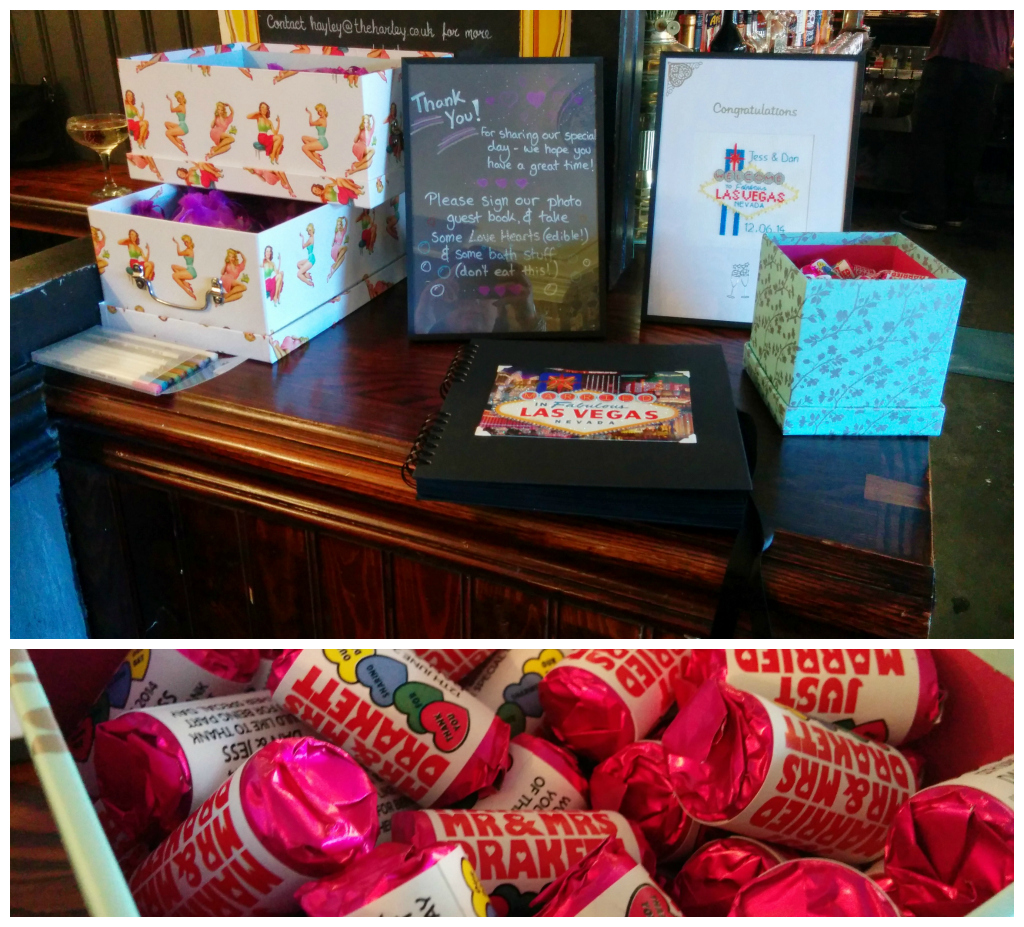 Super simple, but people loved them – purple organza bags with a selection of bath bombs and soaps inside, in a real variety of flavours. All the bits were ordered off eBay, and Dan and I just spent an evening in front of Netflix assembling the bags. We also had a bunch of personalised Love Hearts sweets made up via a different seller on eBay. This did mean I ended up making a sign warning people that the bath stuff wasn't edible and the Love Hearts were, but… ehhh. I was almost hoping someone would make that mistake after a few cocktails, but I was sadly disappointed. Damn sensible/smart wedding guests.
That's about it for DIY wedding bits & bobs – if you made it this far you deserve another brew, and I hope you enjoyed reading!