Okay – I am over the moon with the Birchbox UK for September 2014! The theme of the box this month is Happy Days, which has brought a bright new box design and some seriously cute content alongside the usual high quality beauty samples. The box this month is a beautiful pink/turquoise affair, and the info cards are decorated with Birchbox subscriber pictures of their happy memories – weddings, graduations, etc. Very cute. I was also pleased to see the drawstring bag back in action, as not only are they super useful, but I was sent one with PURPLE string. PURPLE STRING. The highlight of my day, clearly! Anyway, enough waffle from me about colour preferences… what's in the box?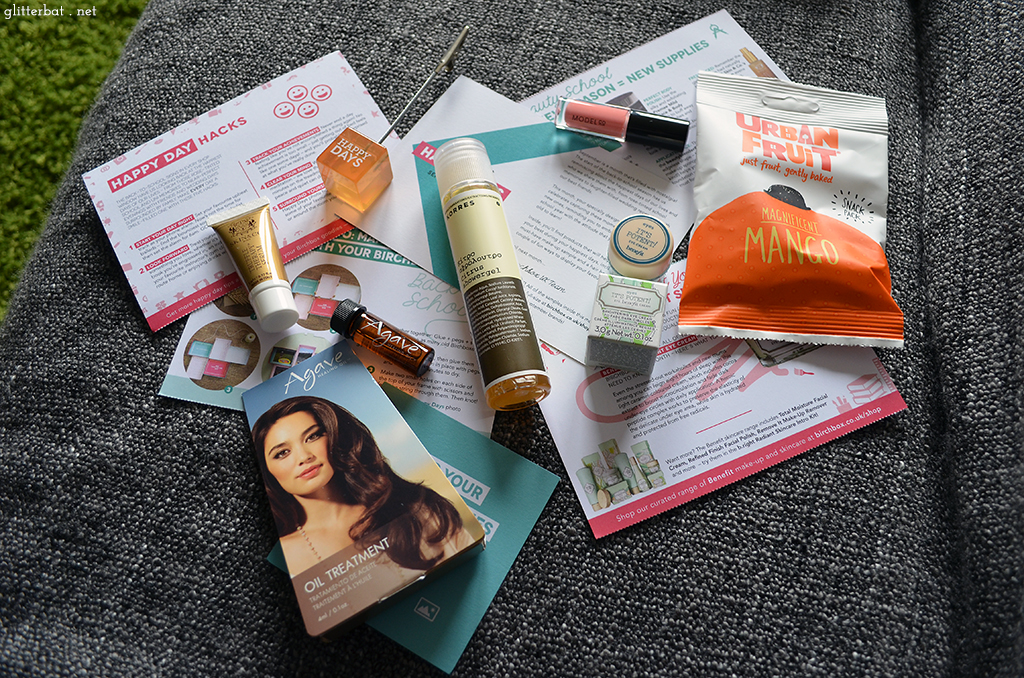 Lots of stuff! Technically seven items, and then an exclusive Photobox offer too? And the fact you can re-use your box halves as photo frames? Colour me impressed.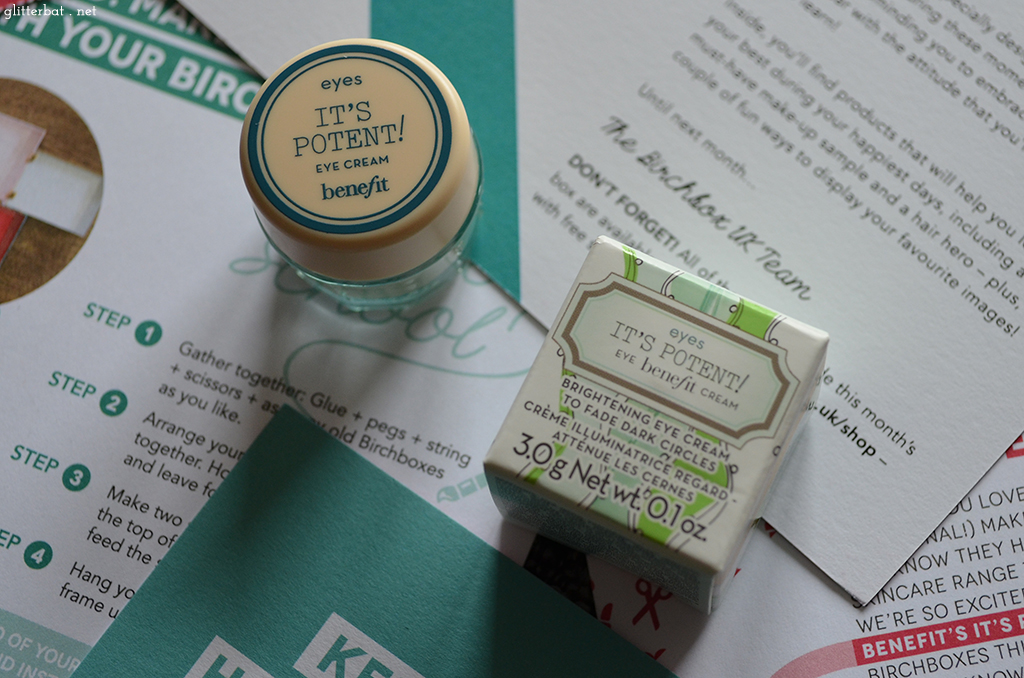 Benefit It's Potent! Eye Cream – I'm excited to see this in my box this month, as I could do with a good eyecream now teaching is about to start again… This promises to banish dark circles, smooth fine lines and protect against free radicals. Excited to see how this holds up against the Balance Me eye cream we had the other month, which I wasn't particularly bothered for (though it did smell nice). It's worth noting EVERY box this month will sample It's Potent!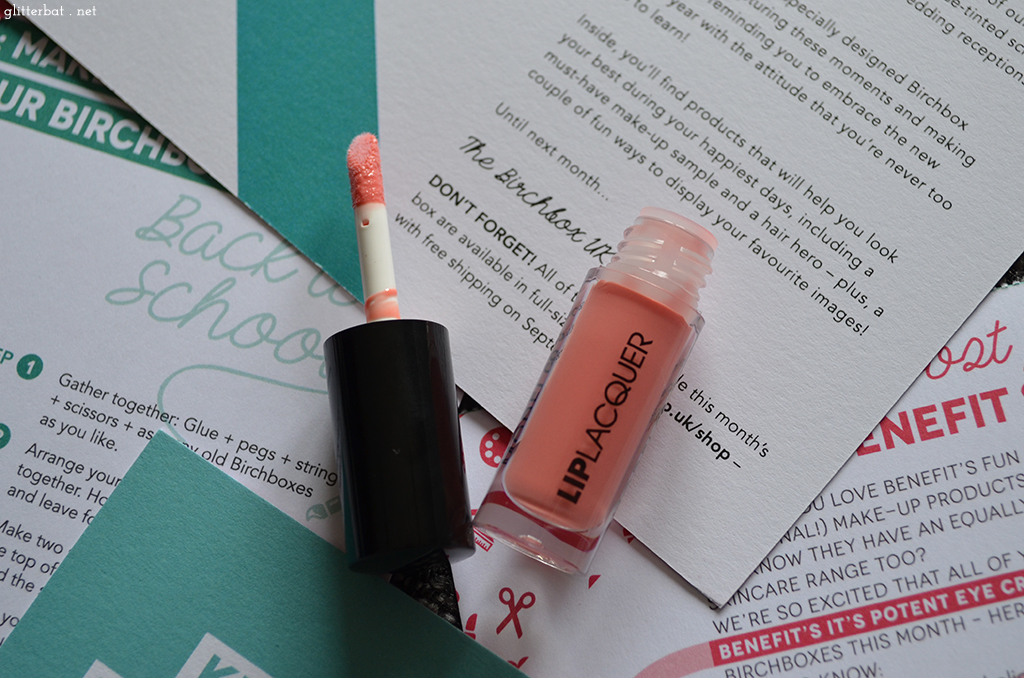 ModelCo® Lip Lacquer in Viva is a sample I chose to receive in my box this month. I like when Birchbox give subscribers the chance to pick a particular shade or product, and this one is no exception. The gloss sample is a reasonable size, and the pink is neutral enough that I can see it being worn quite a lot. It's got a strong fruity smell – strawberry? Other options were a different lip gloss shade or a mascara – I think I made the right choice for me.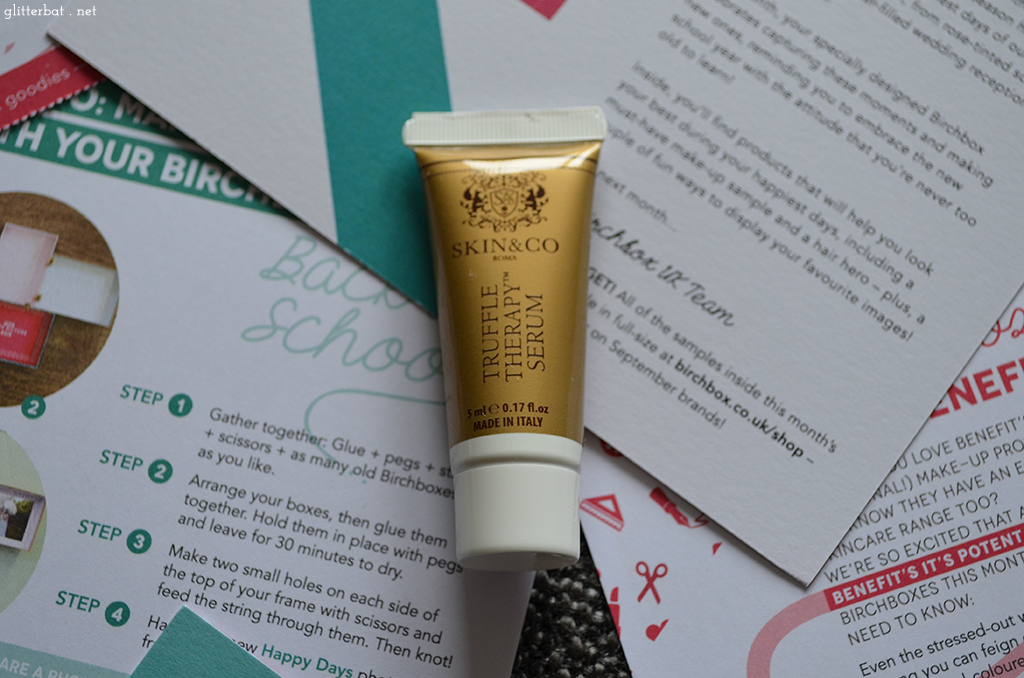 Skin & Co Truffle Therapy Serum – I love me a good serum, and I'm almost out of the Soap & Glory one I've been using for the past… what, year I guess? I've never come across truffle extract in cosmetics before, so this is pretty exciting for the novelty factor alone.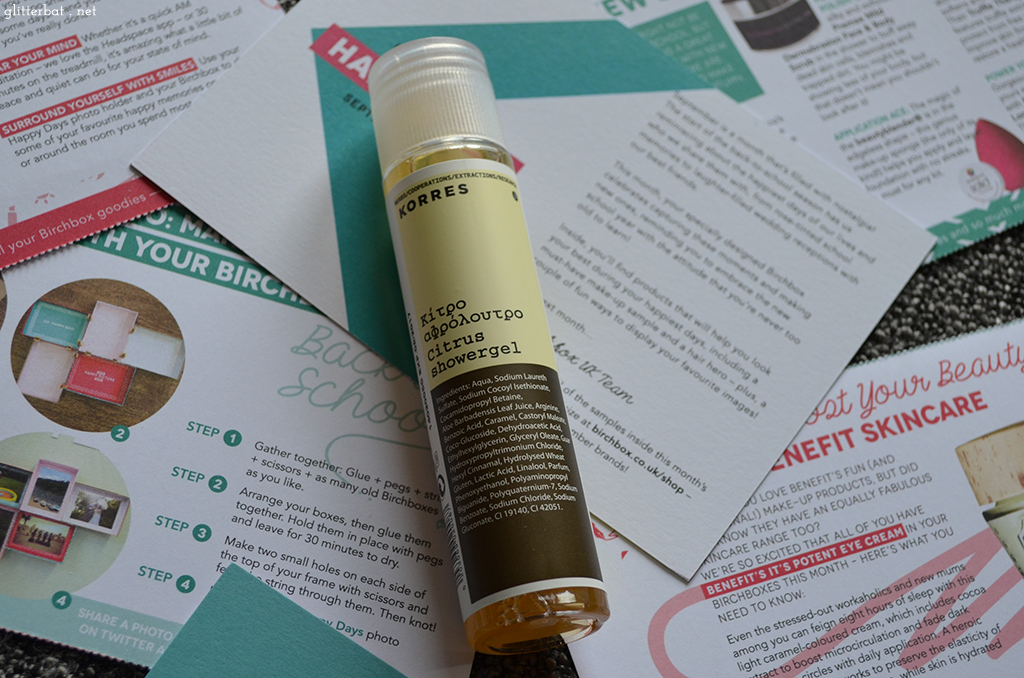 Korres Citrus Showergel – A gorgeously fruity citrus body wash – I hopped in the shower with this straight away, as the postie was early enough to wake me up this morning! It's a generous sample size at 50ml, so I'll get a fair amount of use out of it. The scent is lovely and it's left my skin feeling really soft. Love this.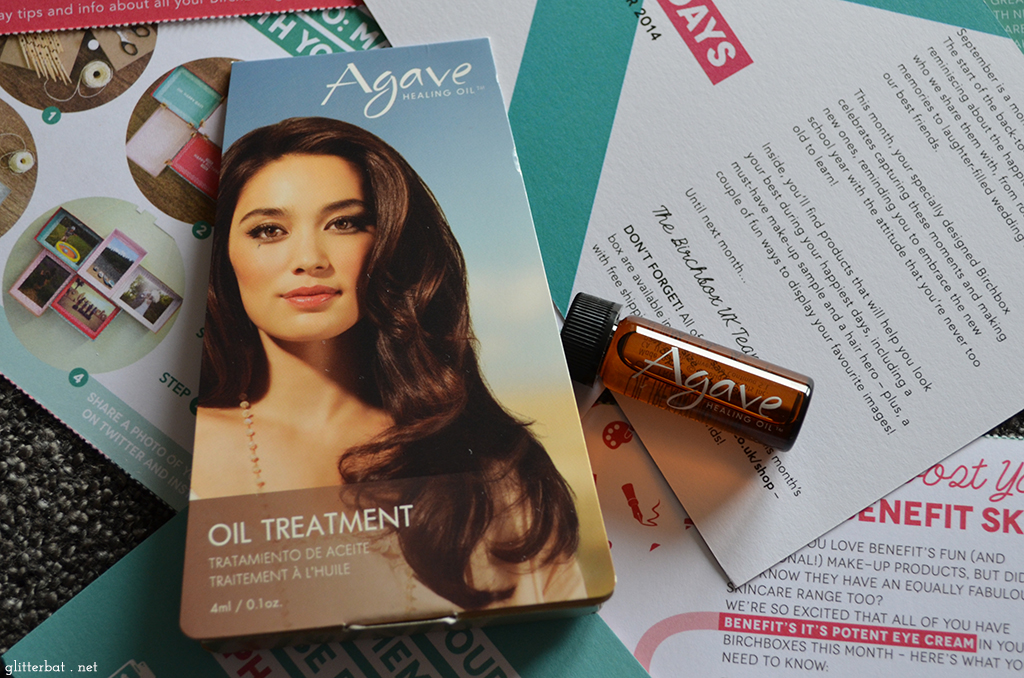 Agave Healing Oil Treatment – Agave! Like tequila yeah? Sadly this isn't a tiny tequila sample (but there's an idea Birchbox!) but a hair oil treatment. Good stuff, considering my hair needs dying and it'll probably want some extra loving once I'm done with the bleaching and the dying. My roots are SHAMEFUL right now.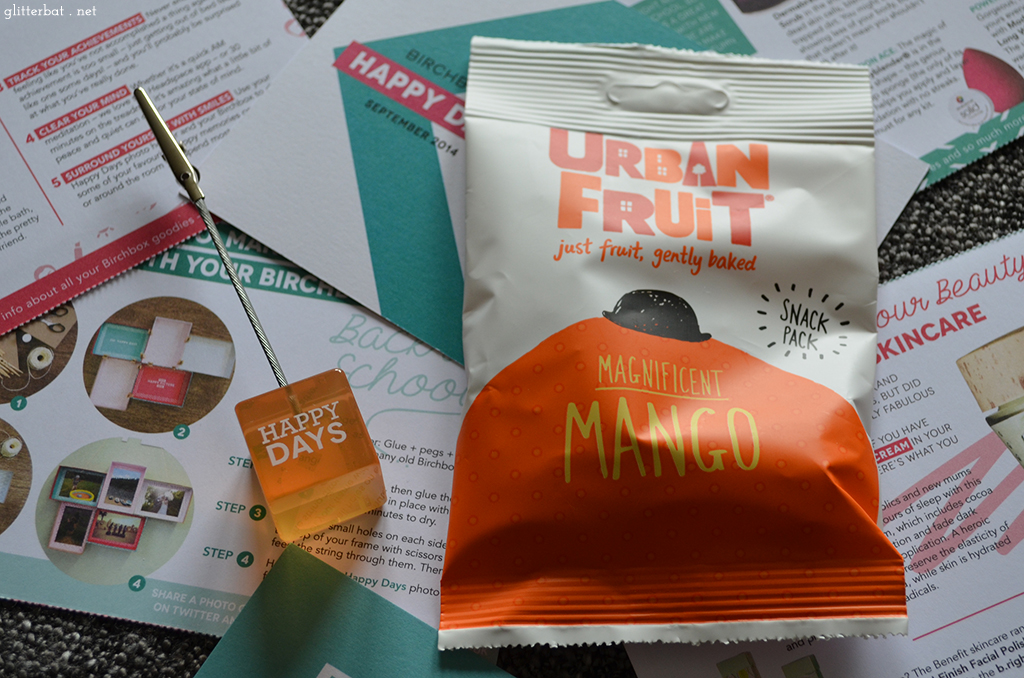 Lifestyle extras this month were the Birchbox/Happy Days photo clip (mine's in orange – it looks like sweets, don't you think?) and a bag of Urban Fruit Magnificent Mango. I love dried mango, and so does Dan. There might be a fight in our house later, unless I sneak it off to uni with me in my handbag… haha.
Overall, I'm very impressed and happy with the September 2014 Birchbox – much happier than I was with the August box, from a samples point of view and a design/packaging point of view. The perfect pick me up ahead of the new term starting.
If you'd like to try Birchbox UK, you can use my referral link to get us both 50 points to spend in the Birchbox shop – that's the equivalent of £5. Treat yo' self.