I love Halloween. I love Guild Wars 2. Combine the two and you have an extremely happy Jess! Not only do I really enjoy all the Halloween content (mining candy corn, costume brawls, playing Mad King Says, perving on Bloody Prince Thorn, the beautiful decorations around Lion's Arch…) but I absolutely adore the challenge of re-skinning my characters and finding the perfect dyes for the season. Seeing as 'tis the season for all things spooky, I wanted to share what I've come up with for this year's Halloween events. Click the pictures for larger views!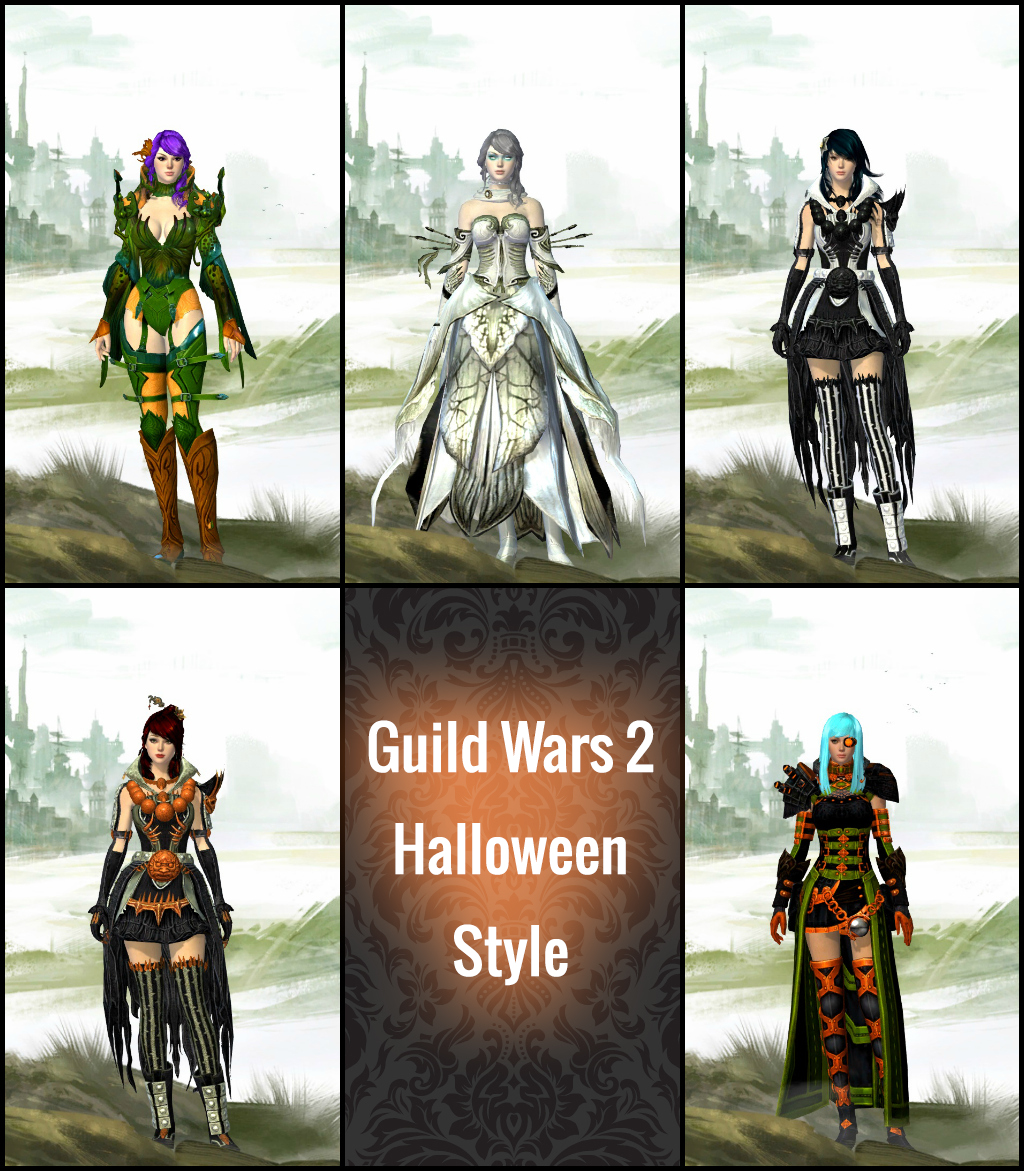 On the top row is my Mesmer (80) who has kept her usual mish mash of armour pieces, but I've used a mixture of (SEVEN!) greens and oranges for the perfect "sexy pumpkin" themed costume, haha! Top middle is my main, my beloved Necromancer (80) who is rocking a spooky tattered ghost look thanks to the Twilight Arbor skirt and Whispers chest – dyes are White and Cinders. Next up is my Guardian (80) who is usually sporting the Tier 2 Human Cultural skins, but I couldn't get them to dye nicely for Halloween – cue the immediate buying of the new Hexed outfit skin! I think the mixture of Abyss and White dyes give her a Jack Skellington kind of vibe?
The girls on the bottom are my Elementalist (64, but levelling quickly in the Mad King's Labyrinth!) also sporting the Hexed outfit with a mixture of Abyss, Cinders and Orange. Lastly my Ranger (80) who has gone back to her mostly Magitech set in Abyss, Midnight Fire, Apricot and Spring Grass. I also have a Norn Thief and a Norn Warrior, but they're only babies and I'm not touching them until my Elementalist is 80 and geared.
Of course, my main also carries several alternate sets of armour with her (she's spoiled, because I love her) and these are all equally Halloween-i-fied. The Profane set on the left is my favourite – BDSM candy corn anyone?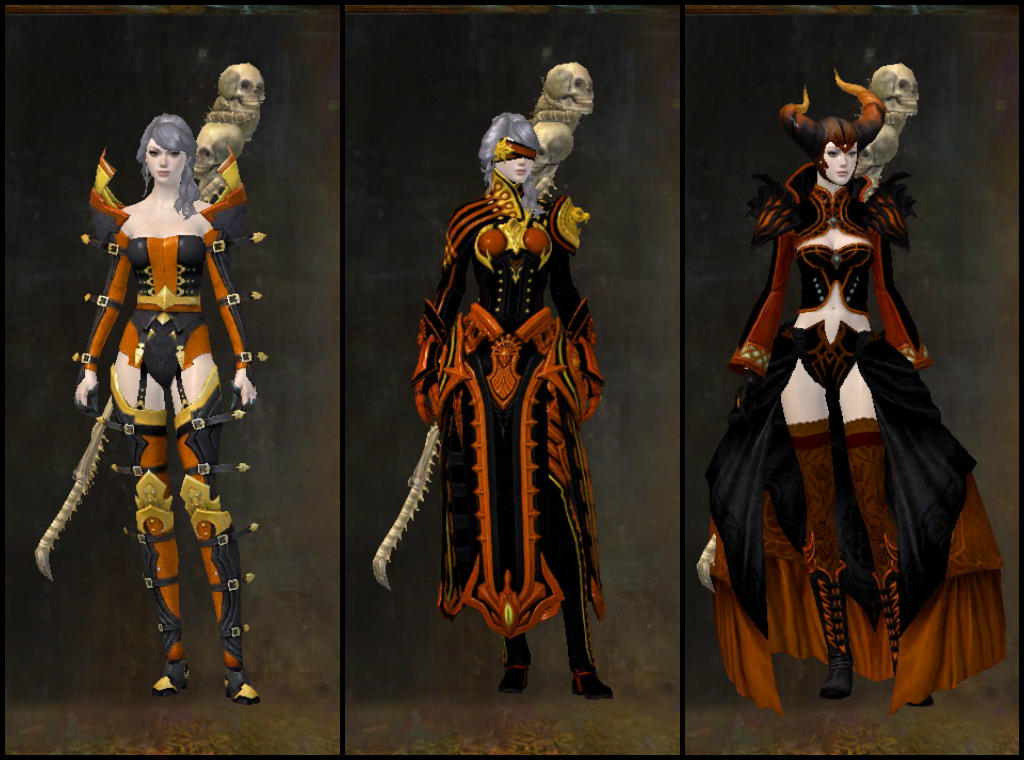 Dan's in the Halloween spirit too – here's his main (Elementalist, 80) with my baby Elementalist. I'm not sure if the Candy Corn Ghoulemental on the right is his or mine – we've both got that now!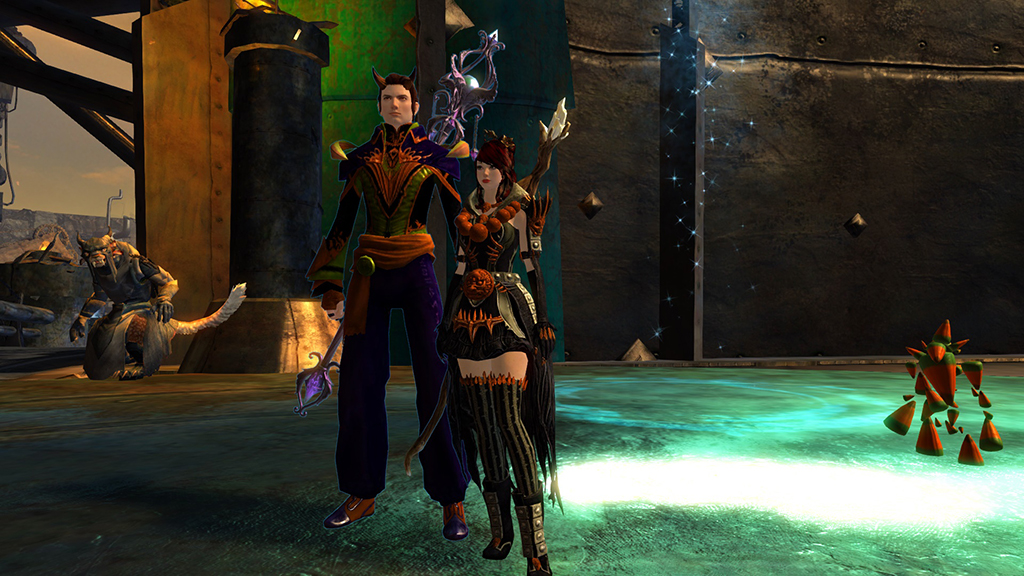 And on the subject of Halloween minis… Mini Zuzu, Cat of Darkness!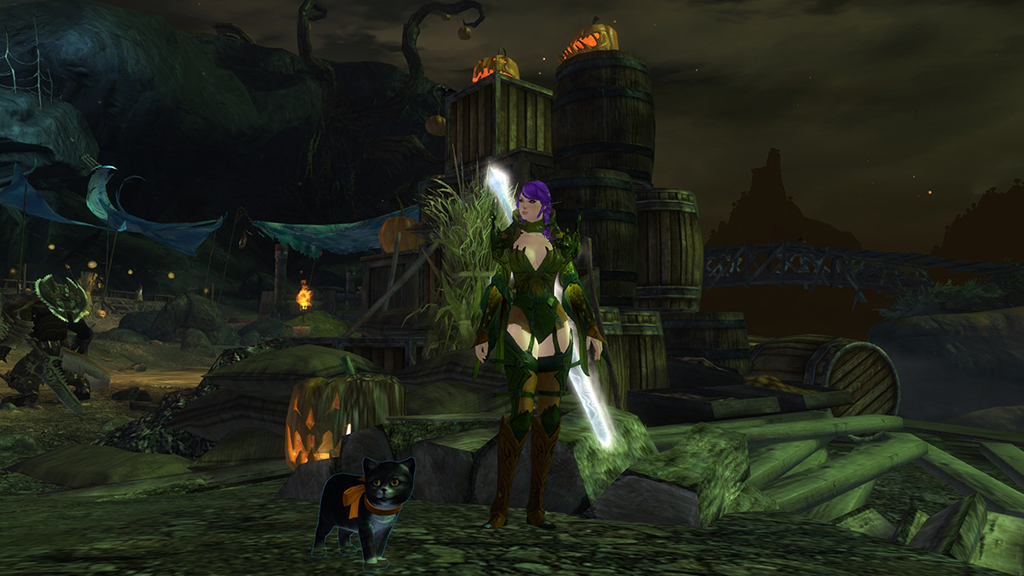 Too. Cute. I'm really excited to see what the next living story patch will bring, and (even though it's going to be recycled as well) the eventual Wintersday/Christmas patch. I've already figured out my Necromancer's Christmas armour get up, and it'll be nice to share that here too. Now… to see if I can finish up my Elementalist in the Labyrinth…