If you're a fan of vintage beauty and glamour, Rose & Co. Apothecary should be right up your street. When I first moved to Leeds four (FOUR?!) years ago, their shop in the Victoria Quarter was one of the stand out "omg so cool" things I would bang on about during moments of pining for Sheffield and all the independent shops in the Devonshire Quarter that I missed. The shop was a treasure trove of gorgeous bath and beauty, with glorious vintage fashions downstairs from the likes of Stop Staring and Vivien of Holloway. Sadly the Leeds shop is no more, meaning you can only fulfil your Rose & Co. cravings online or in their Haworth shop. Or, if you get lucky like I did, in TK Maxx.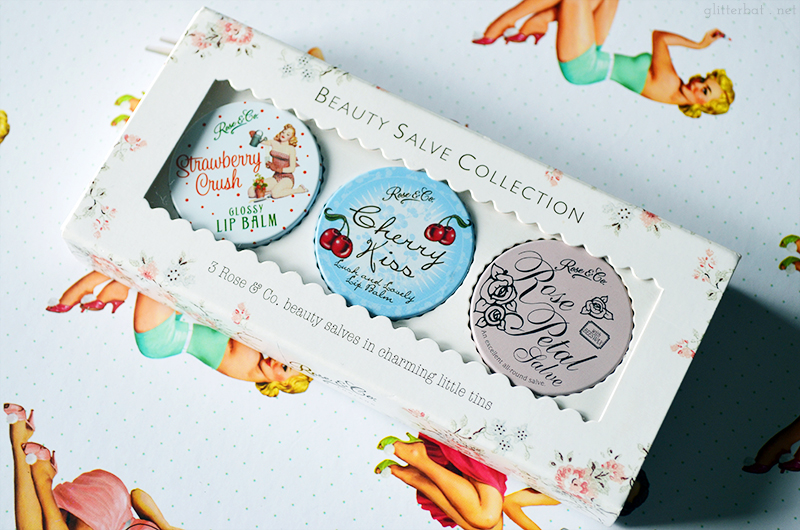 I picked up this three piece Rose & Co. Apothecary beauty salve collection a little earlier this year, entirely influenced by my favourite lip balm ever. I've been using their Sweet Vanilla Salve for ooh… probably around three years now… after being introduced to it by my lovely friend Catherine. You can see in the picture below how scuffed up and battered the tin is, and that is because it goes absolutely everywhere with me. It's a rich, sweetly scented balm full of beeswax and honey, and it nourishes my lips like nothing else. I love the tiny bees all around the tin! I think this has been discontinued now, and I will literally shed a tear the day I use this all up. I can't even bear to think how upset I would be if I lost it somewhere!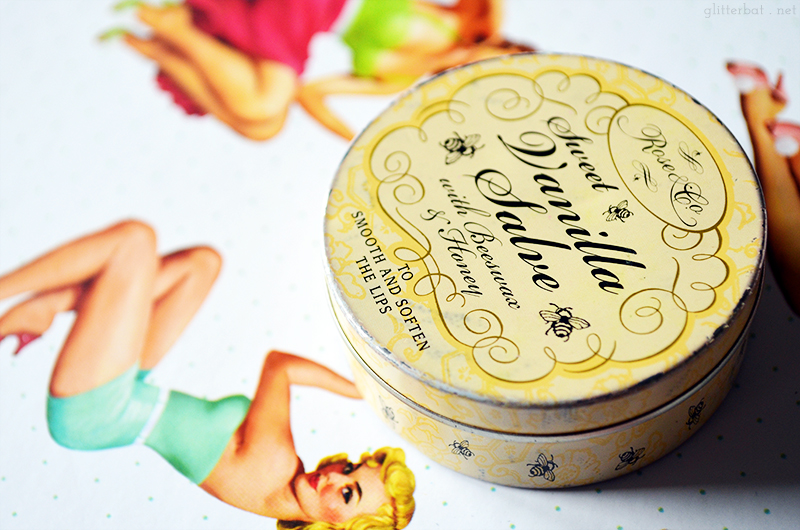 The beauty salve collection comes with three miniature tins from their beauty balms and salves collection – in this case it's Strawberry Crush lip balm, Cherry Kiss  lip balm and the Rose Petal Salve.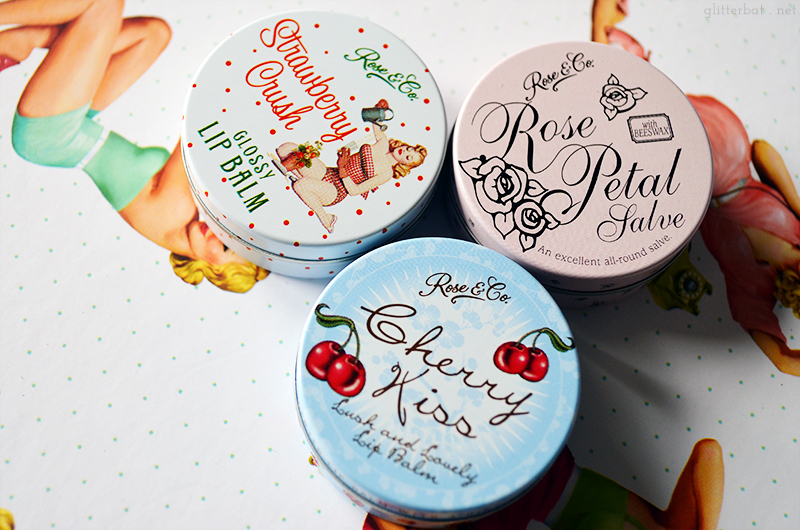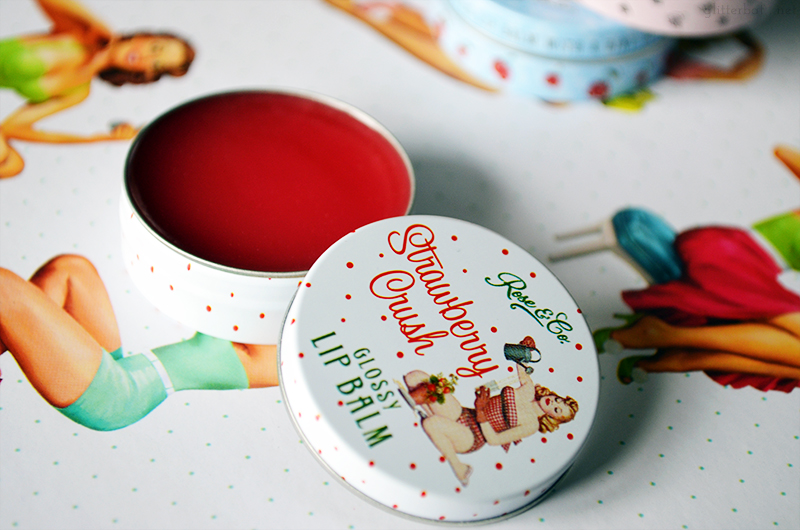 Strawberry Crush lip balm comes in a polka dot tin with a pin-up girl watering a strawberry plant – perfectly matching my pin-up print storage boxes from ASDA! Beeswax, sweet almond oil and strawberry seed oil make this lip balm quick to absorb and ultra moisturising. Though it's a super bright red in the tin, it doesn't leave much (if any) trace of colour when it's on.
Next up is the Cherry Kiss lip balm – a sweet and juicy balm in a beautiful blue tin with cherry blossoms and cute cherries around the edges. Cherry Kiss is a deep cherry colour in the tin, but like Strawberry Crush it doesn't leave that much colour behind. I do think it is a little bit deeper though.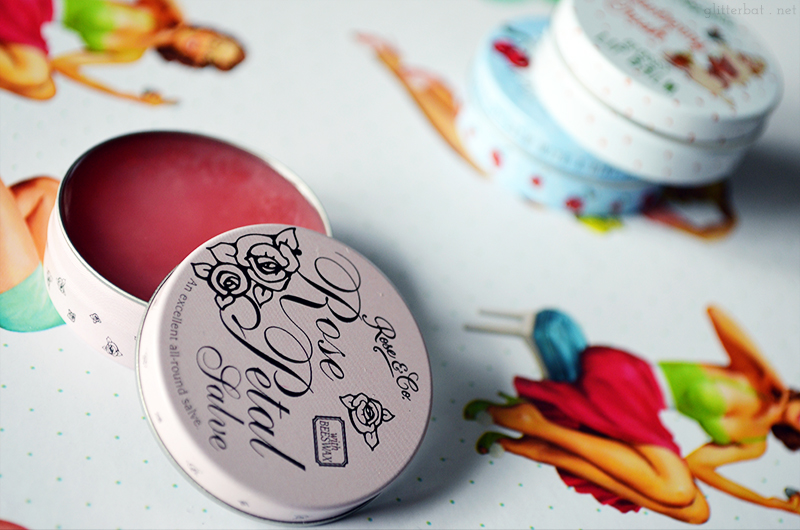 Finally there's the Rose Petal Salve, in a soft pink tin with roses printed around the edges. This is apparently the best selling product for Rose & Co. and I can understand why – it's a great all rounder for moisturising lips and skin. The only downside (for me) is the rose scent is overpowering, and I'm not a huge fan of roses! I know I'm in the minority with that one though, and I imagine the vast majority of people would love this particular salve.
I quite fancy a trip to Haworth for a nose around their physical shop, especially to have a look at their pretty cake-like bath products. It's been ages since I was last in Haworth too, so I might see if Dan fancies a trip out there with the cameras in not too long…
Have you tried anything from Rose & Co. Apothecary? What should I try next?