I think I might have a bit of a Soap & Glory problem… addiction? Compulsion? I went into Boots over the bank holiday just looking to replace my trusty Daily Youth moisturiser, and look what happened…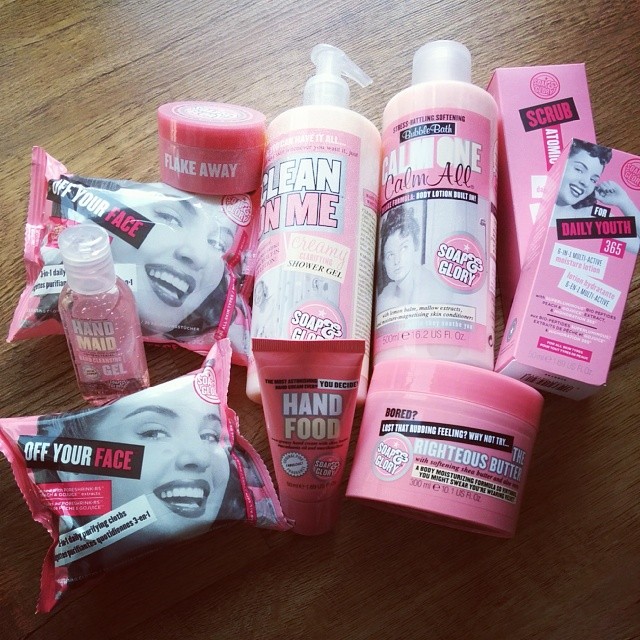 Yeah. Told you I have a problem. I did get my Daily Youth as intended, but there was a buy one get one half price offer on skincare so I also ended up with a tube of Scrub Atomic exfoliant as well. This is good, as it means I can stop pinching Dan's lovely Bulldog scrub, not that he knows minds.
Then I spotted that the Off Your Face wipes were two for a fiver (which makes them an absolute bargain!) and sometimes I like having wipes so I can be lazy… Generally I use their Peaches and Clean cleanser for makeup removal, but hey? Sometimes you're too tired and/or drunk to fanny around over a sink, am I right? Also, they will be ace for taking to Las Vegas. By the way – five weeks to go now!
Browsing around the sunglasses, sunscreens, and travel miniatures, I realised I was almost out of the Hand Maid anti-bacterial gel, which is a handbag staple that I use obsessively. Cue the "Oh well, best do the three for two on travel minis then!" and lo and behold… a mini Flake Away because my big tub isn't practical for taking to Las Vegas, and a mini Hand Food lotion that will be perfect for wedding day hand preening… God damn adorable miniatures. I literally cannot resist how cute some products are in travel size.
Of course I didn't stop there. General Soap & Glory stuff was also on a three for two offer, and I've recently started my last Clean on Me shower gel. I ended up getting a new bottle to stash away in reserve, a Calm One Calm All bubble bath and a tub of Righteous Butter. All thoroughly gorgeous, tried and true favourites of mine. Now, do you want to know the best bit?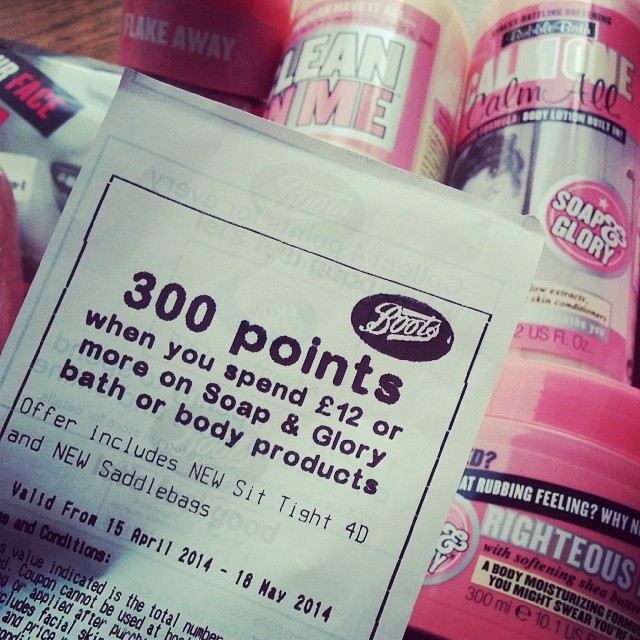 Hahaha… thanks Boots. Guess I'll be back again to feed the beast pretty soon.