First, thanks to everyone who's spoken to me online or offline about Shiverbug. It's been comforting to know that people are thinking about me & Dan. :love: It's getting easier.
I finally caved and bought myself the Loungefly sugar skull purple tweed bag and purse… I've wanted these babies for a couple of years now, and always promised myself that I would splurge when I had the money.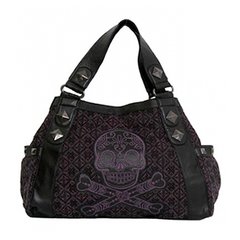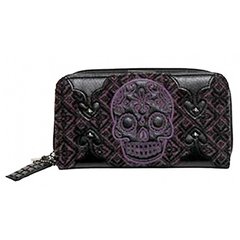 These tick all the relevant boxes for me – purple? Sugar skulls? Studs? Job done. Now I need to sort out moving all the rubbish from my current purse and bag to my lovely new ones. A job for this evening, I reckon. Most likely in front of Firefly, with some Blavod – the new favourite (easily obtainable) vodka.
The weather has been particularly nice this weekend… perfect for my 100th photo for A Doll A Day 2011. Leemoo enjoyed the sunshine out on our balcony, and all was well. Hope everyone else has enjoyed the little taste of summer! :heart: