Somehow, in spite of my only being subscribed to Birchbox for a few months, I'd managed to amass £30 in loyalty points to spend in their shop – partially due to people signing up through my referral link, so thank you! When someone signs up via the link we both get £5 to spend in the shop, and you get points for doing surveys about your monthly box… they certainly rack up quick! After a pretty rough, busy week I erm… yeah. Hello there, beautiful little theBalm Balm Jovi palette!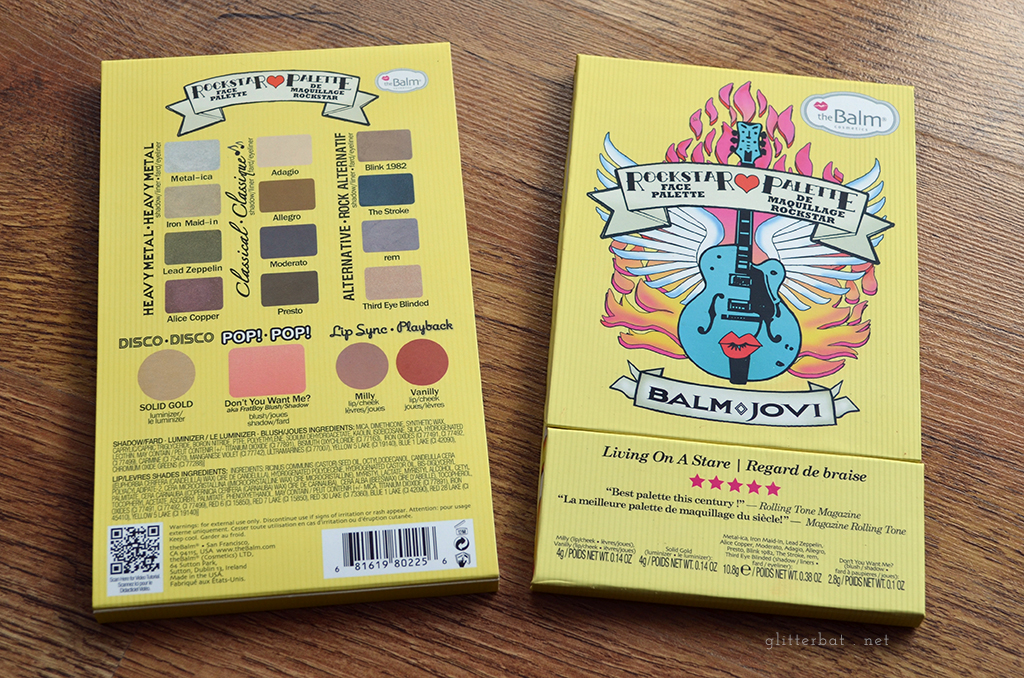 So first off, this palette ended up costing me £4 with my saved points, which is an absolute bargain. The Balm Jovi palette itself is a cardboard and magnetic flappy kind of affair, which flips open to reveal a heart shaped mirror with tattoo-esque wings and a rock n' roll banner.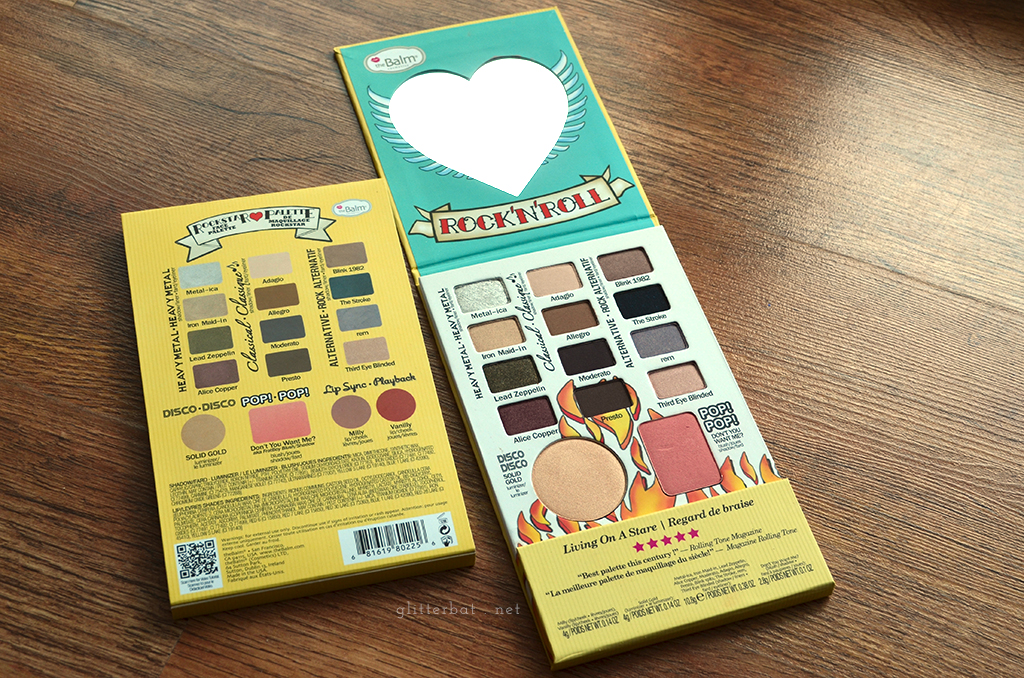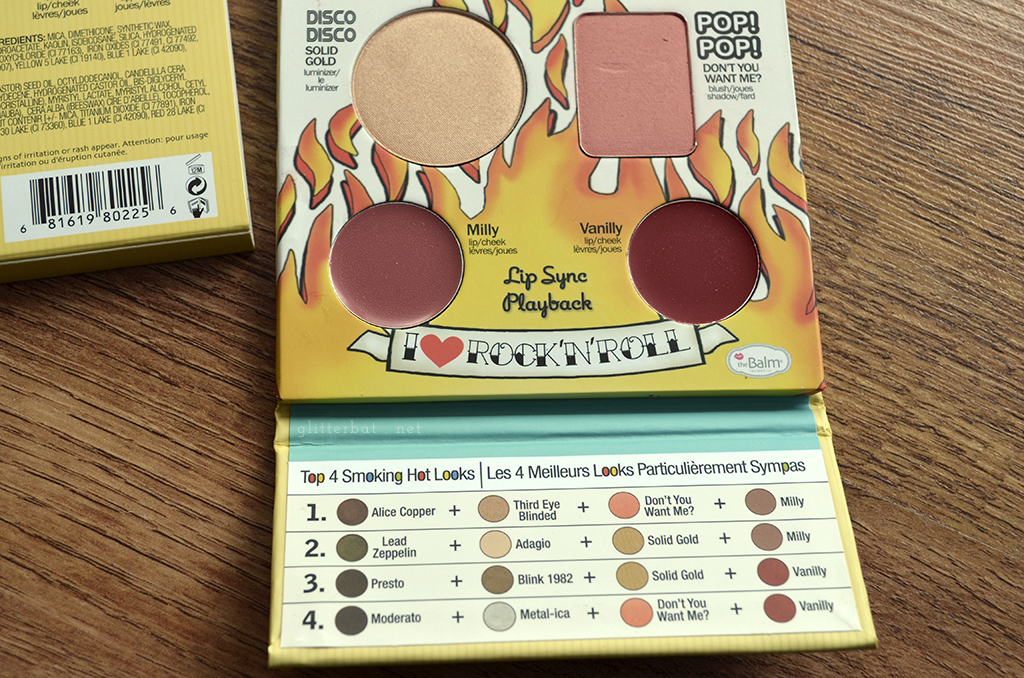 The bottom magnetic flap flips down to show possible look colour combinations, and also acts as a cover for the two lip/cheek stains Milly and Vanilly.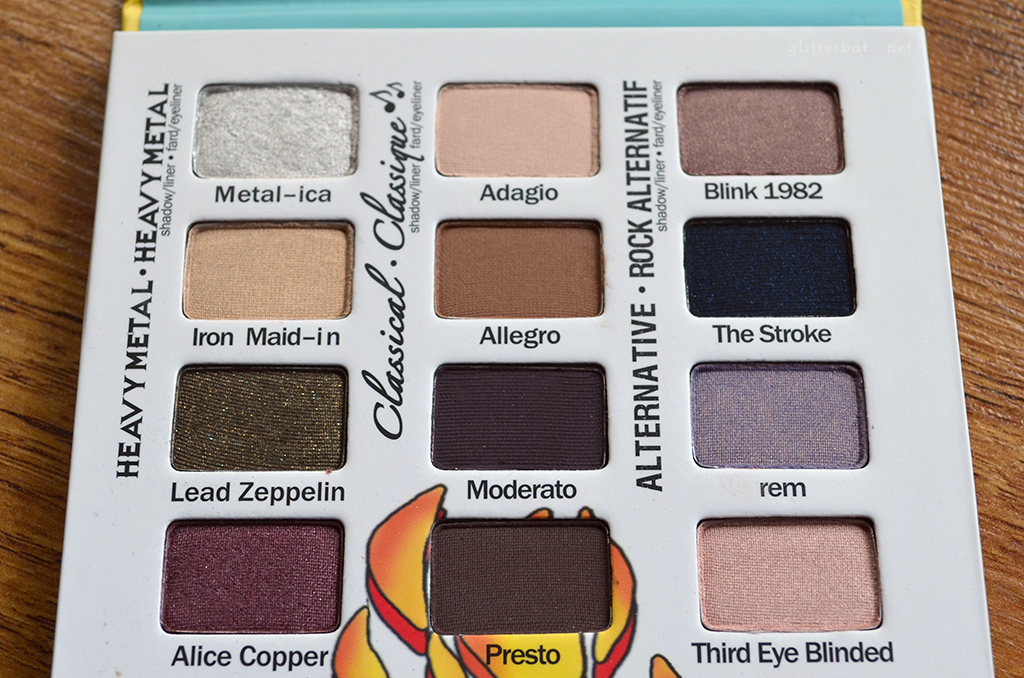 There are twelve eyeshadows in total, grouped into fours under the headings Heavy Metal, Classical and Alternative. Puns for the win. I get a kick out of fun little details like this – it's one of the reasons I love Soap & Glory, and Urban Decay so much. Here are the eyeshadows swatched on the back of my hand, no primer or base or anything.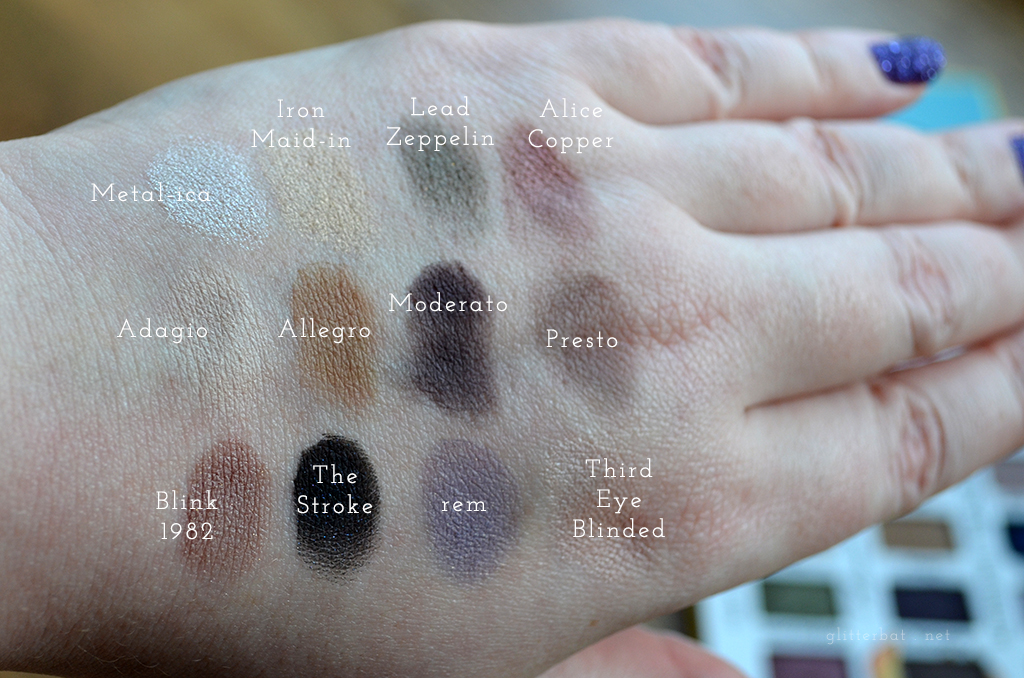 The Heavy Metal set is on the top row. First is Metal-ica, a buttery soft white/silver shimmer that I am literally in love with. Next up is Iron Maid-in, a shimmery yellow cream. Lead Zeppelin is a beautiful olivey tone with gold glitter, and Alice Copper is a burgundy/rust shimmer. The Classical set features Adagio, a barely there matte nude shade. Allegro is a matte brown, Moderato is almost plum matte, and Presto is a darker matte brown. Finally the Alternative collection consists of Blink 1982, a slightly shimmery nude with a kind of… mauve tone almost? Difficult to capture, but lovely! The Stroke is a gorgeous deep matte black with blue glitter, really unusual and very pigmented. I'd describe rem as a lilac grey shimmer, with a slightly golden shift to it? Third Eye Blinded is the last in the set, a pale shimmery nude colour.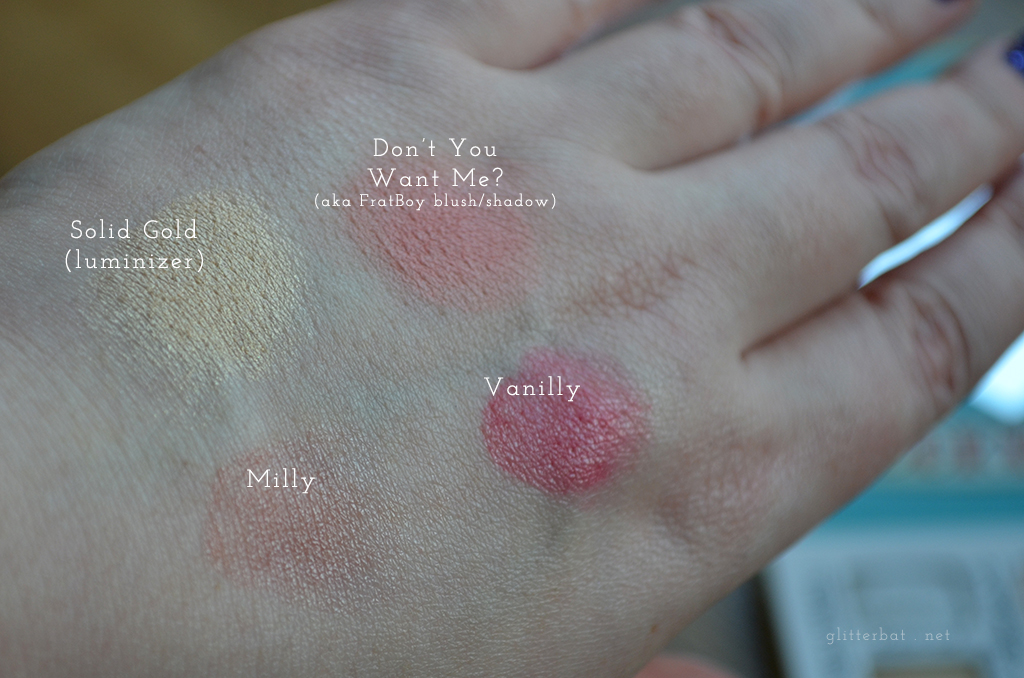 The palette doesn't stop there! We also have a luminizer in Solid Gold, and theBalm's famous FratBoy blush under another name of Don't You Want Me? The luminizer buffs out quite nicely, and doesn't look as OTT yellow on the face, I promise! Last but not least are the lip and cheek stains, Milly (a soft pinky rose nude, though it looks kinda peach in the swatch?) and Vanilly (a deep cherry red). I wouldn't use these on my cheeks but they'll probably get used as lip colours.
I think this palette has the potential to be extremely versatile, with options for creating both natural and dramatic looks. I get the sneaking suspicion that it's going to become a firm favourite of mine, especially for travelling. Overall, very very happy with this new addition to my collection, and very impressed with theBalm!
Have you tried anything by theBalm? What did you think?