Both Dan and I love to travel, and we love to travel together – though we've not done nearly enough adventuring in the last couple of years, through a combination of work, thesis and wedding. I can't wait until my thesis is in, I have a list as long as my arm of places I want to visit, with Dan of course. Over the course of our relationship, we've learned a lot about holidays and trips together, so here are some of our top tips for travelling as a couple…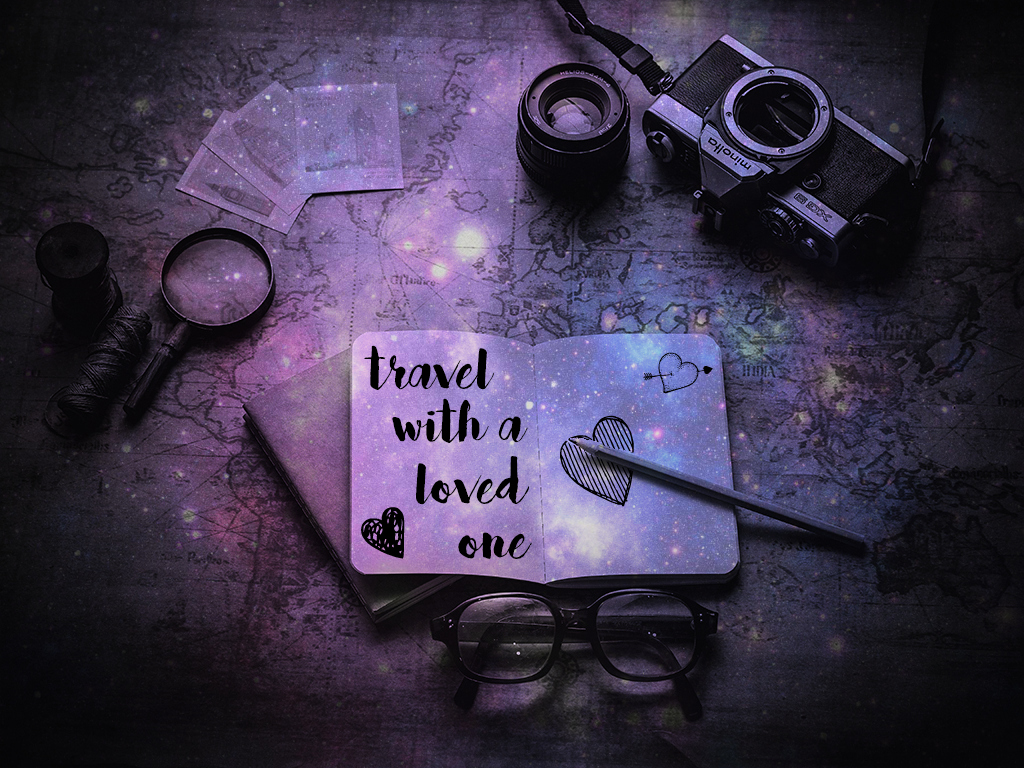 The couple that plans together…
We are both a little bit list obsessed, and this extends from work time to fun time. Before we go anywhere we like to do our research, and that involves making lists of places we want to visit, shops we need to check out, places we want to eat and drink.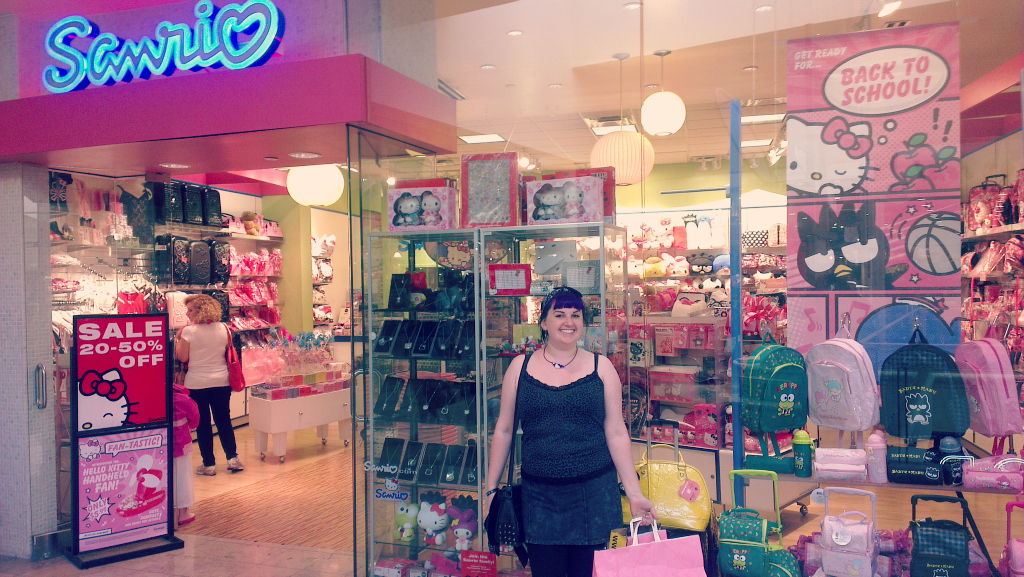 If there's a Sanrio store, it's on my list – Las Vegas, 2012.
Of course, we both love stationery so chances are we'll have notebooks setting these things out – for example my Las Vegas City Notebook by Moleskine made both trips to Las Vegas – but we also love technology, which leads me to my next tip…
Sharing is caring…
Yes! Related to planning before your trip, but beyond useful during your trip – use apps to help plan and then share this across all your devices and between your accounts. We're an Android house, so we've often got shared Google maps and Google calendars on the go. We always keep copies of important documents like reservations and insurance stuff in Google drive, just to cover all possibilities.
Luggage mishaps can happen, though *touches wood* we've never had a problem travelling together. If we did have a case go missing, it wouldn't be the end of the world because we like to split our luggage across our bags. Build redundancy into your checked baggage, make sure you have some clothes in each case and then if the worst should happen, you won't be completely stuck.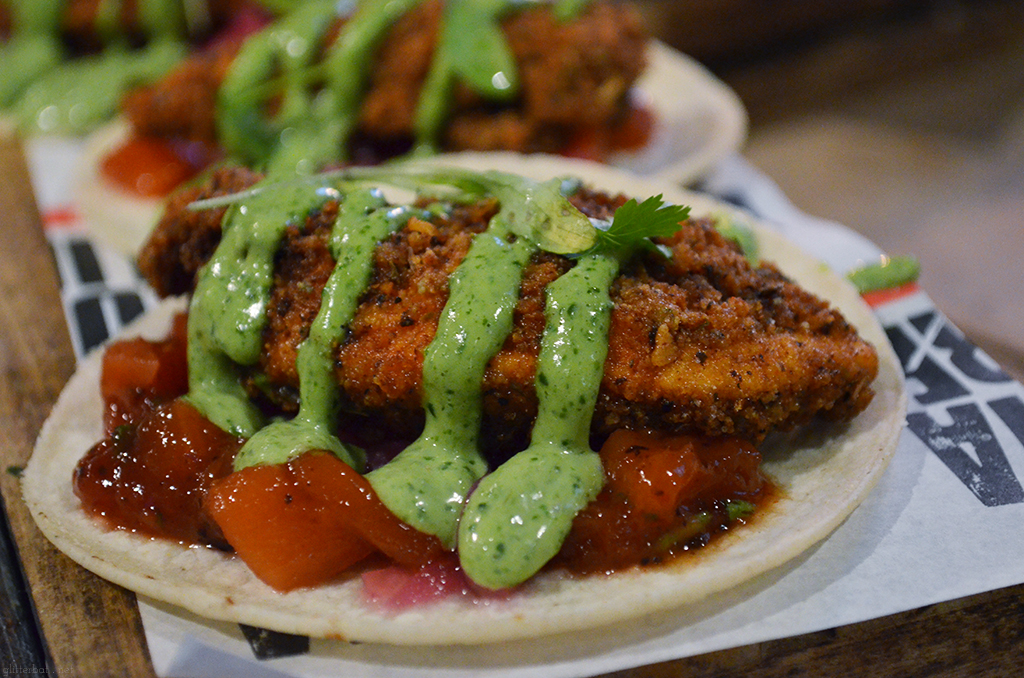 Buttermilk fried chicken tacos – Lucha Libre, Liverpool, 2015.
Aside from schedules and baggage, make sure you share while you're away too – we often find ourselves grazing on tapas style food whenever we are on holiday, or splitting desserts and so on. It's such a relaxed and social way to eat, with the bonus of getting to try more things! Life pro tip, tacos are excellent for this.
Enjoy making memories together…
You've gone on holiday with this lovely person for a reason, so make the most of the time you have together. Put your phones down, turn the hotel TV off, and talk to each other. Get off Facebook and Instagram, for the love of God. Take pictures without worrying – not everything has to be shared with the Internet, does it? Go to a coffee shop and just watch the world go by. Get up early and watch the sun come up together. Be with each other!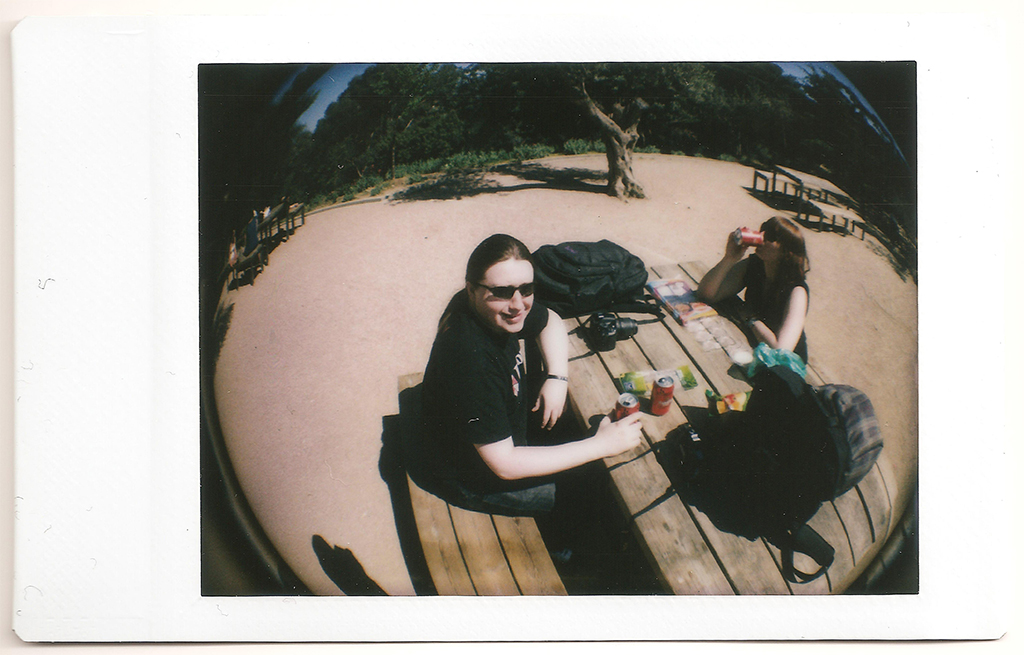 Picnic (with Catherine, hi!) in Park Güell – Barcelona, 2013.
… but make space for time apart
Travelling together is lovely, but for some people it can be a little overwhelming to be put in a situation where you can't get away from each other. A holiday should give you some time to reset, so I think it's important to give each other some breathing room. I like to squeeze in a long bath with a cheeky drink, but even little things like nipping out for five minutes to fetch a coffee can give you the breathing space you need.
Don't sweat the small stuff…
So you forgot to pack toothpaste. The museum you wanted to visit happens to be closed on the day you wanted to visit. So Penn and Teller aren't in Vegas for the two weeks you're out there getting married, and are (ironically) in the UK. You forgot to get travel money in advance and now you're being ripped off in a last minute panic. The shoes you brought have melted in the Vegas heat. All things that have happened (not even kidding), but you know what, who cares? In the grand scheme of things, these things don't actually matter – let it go, and just run with it. Enjoy being with the person you love, on an adventure.
If you're in the holiday mood like I am, Travel Supermarket have shared some of their tips for making holidays memorable for the right reasons which are well worth a look. What are your tips for travelling as a couple?