One of the things I have noticed about a lot of beauty blogs (beauty in particular) is the intense focus on the new, the very latest must have whatever-it-is that's super hyped at this moment in time. And that's great – I get that new stuff is exciting, and keeping up with the latest beauty developments (miracles in shiny packages?) is almost like keeping up with advances in tech… But what about the things that perhaps aren't so new? That maybe you've had or been using for a long time? Things that you absolutely swear by? Does anyone write about stuff they've had and loved forever very often? I've decided that, as a random-jumble-of-stuff blogger I'm going to, so here's one of mine…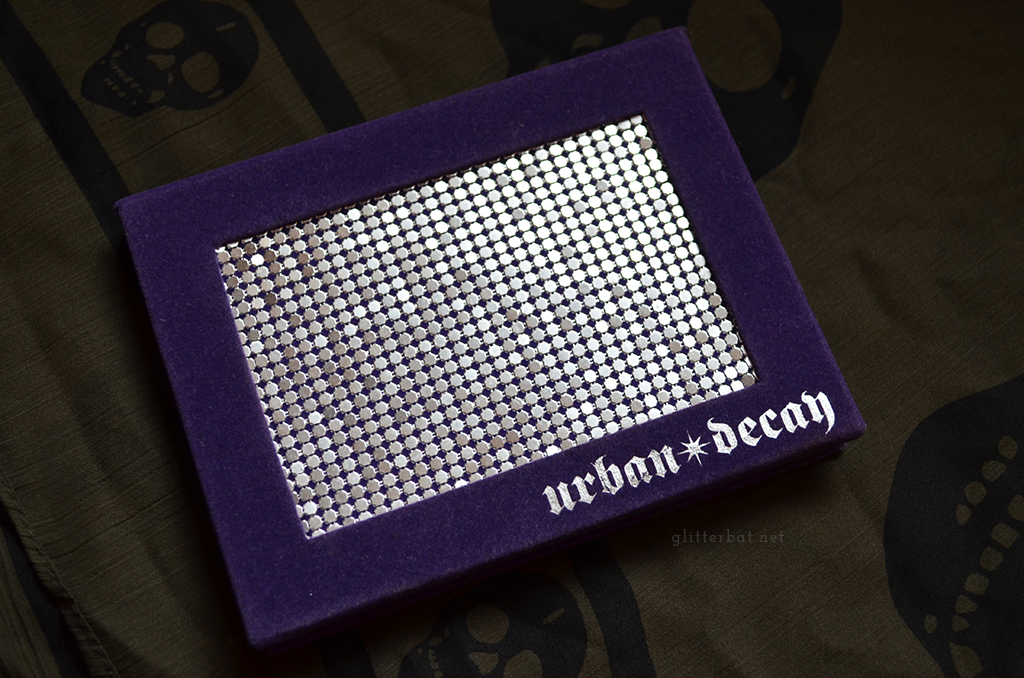 Yep. It's the Deluxe Palette from Urban Decay. I know the blogging world is mad for the Naked palettes, and they have their place… but just look at these colours. The Deluxe Palette has been a favourite of mine for years now. I bought one as a gift for my younger sister when it was fresh out, and picked one up for myself not too long after. The outer is a fuzzy purple velvet affair that picks up dust like nobody's business, but it is topped off with a weird, chain mail kind of thing that I enjoy stroking, so I can sort of forgive it…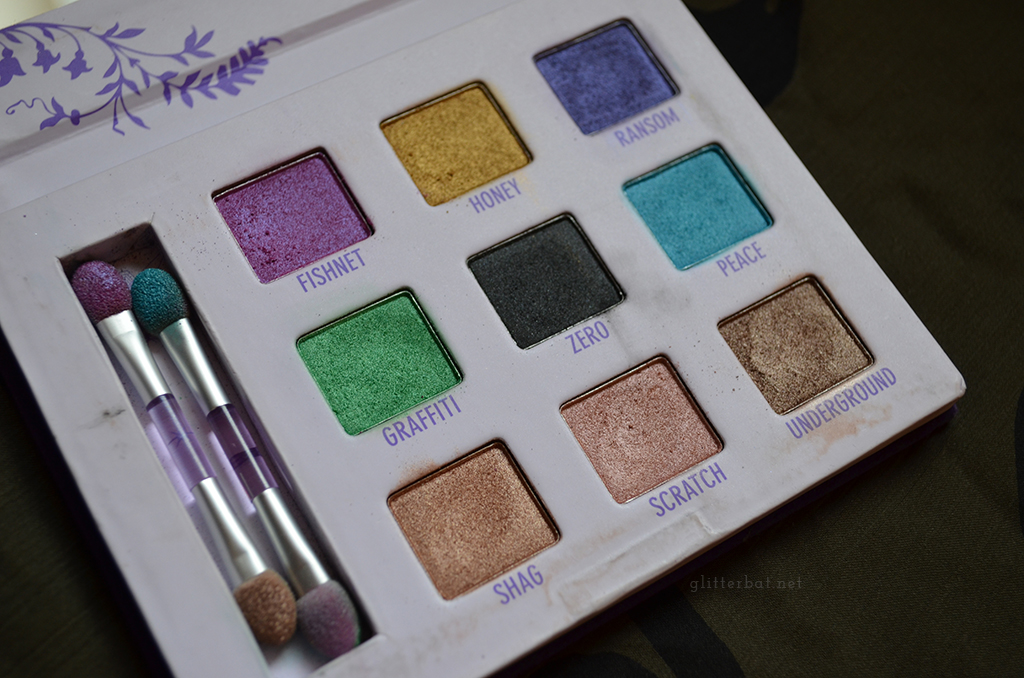 Those colours. Nnnnghhh. There are nine deluxe eyeshadows in this palette, some (rubbishy, but alright in a pinch) sponge applicators and there was a tiny primer potion that's long since been used up. Side note, Urban Decay eyeshadow primers are wicked. The little Benefit one I got in the March Birchbox was nowhere near as good as my beloved Urban Decay. Sorry Benefit!
Here are the shades swatched on the back of my hand, over the glorious Urban Decay Primer Potion.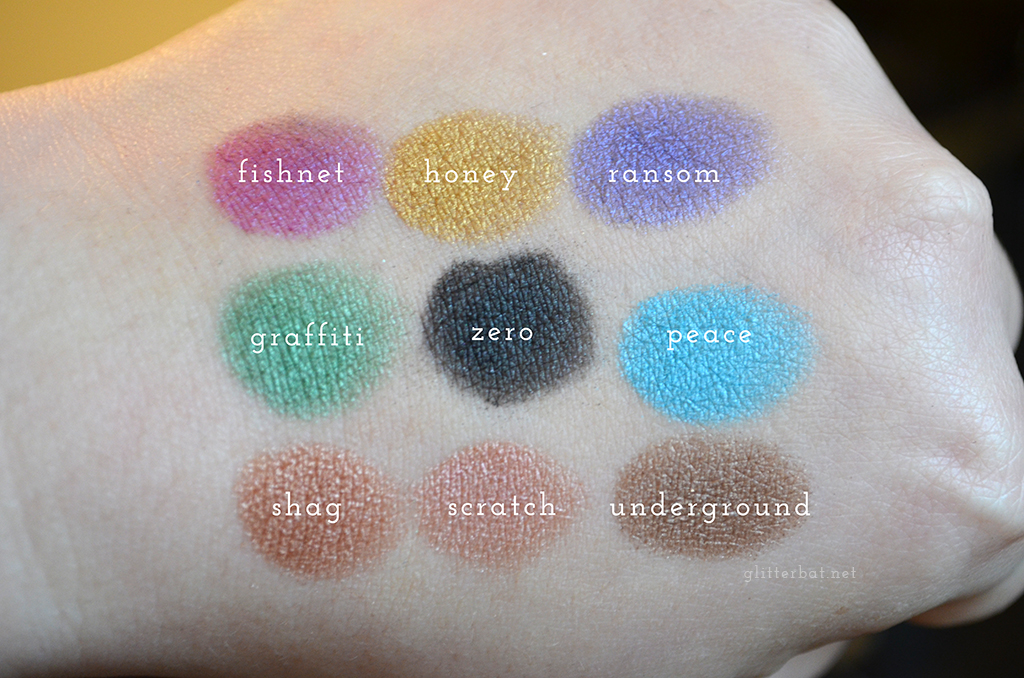 Fishnet is a gorgeous pinky purple tone, which I love to use when my purple fringe dye is washing out and turning pinker. Honey is a gorgeous gold colour which I use more often than I would have thought upon buying the palette. Ransom is the most beautiful blue toned purple, and I love this shade so much I have the single version of it as well. Graffiti is an intense, tropical green  with a wicked shimmer going on – again, I love this colour. Zero is a deep, glittery black – 'nuff said. Peace is… shimmery turquoise blue perfection. Shag, Scratch and Undergound are beautiful neutrals, that I confess are woefully underused by me. I think I can count on one hand the number of times I have used these… Writing this down has made me feel guilty for neglecting them, so I'm going to make a conscious effort to use them soon!
I'd say that the top six are my most used colours, not only for full on eyeshadow fun but also for bright pops of liner when the mood takes me and I can't find an existing liner that I fancy! The colours are all beautifully soft, blend perfectly and last really well, especially when used with a primer. I think you can still pick up this palette (and definitely most shades as singles) at a reasonable price on eBay or cosmetic clearance type places, and if you don't already have it I would seriously recommend it.
What's your favourite not-so-current palette?