Considering how gorgeous the multi-coloured, striped outer for this month's Birchbox UK is (a collaboration with Habitat, FYI) I'll confess that I had really high expectations for the samples inside. What I ended up with however? Ehhh… equal amounts hit and miss, I think.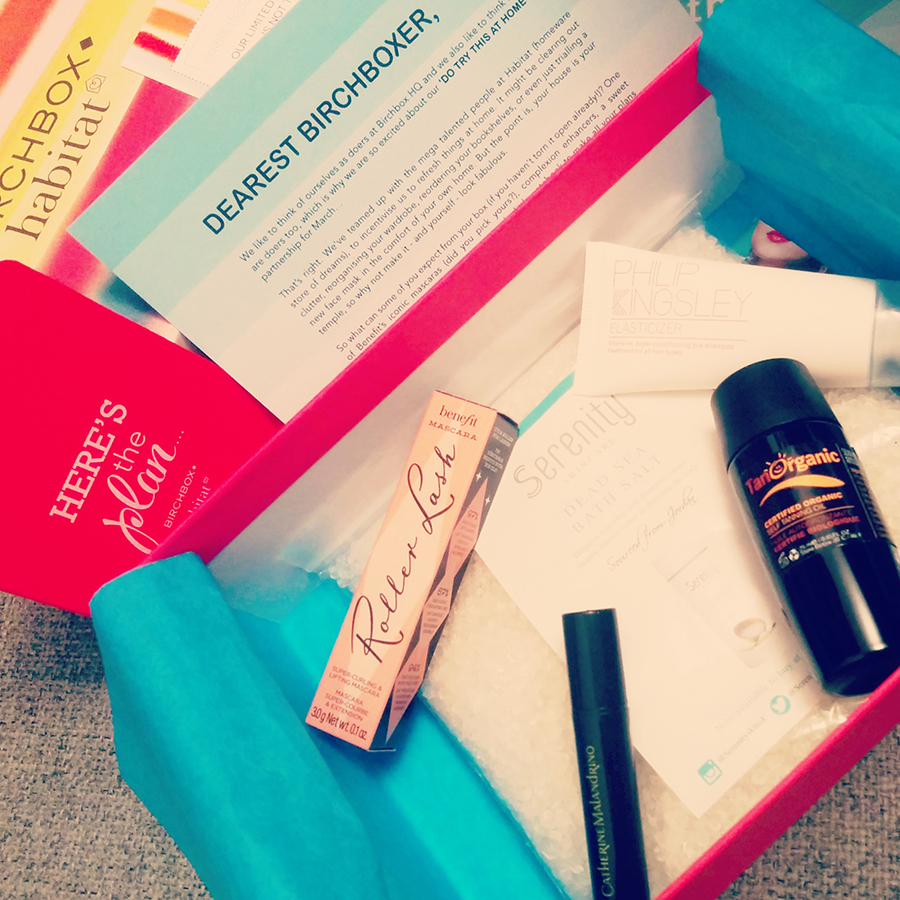 Benefit Roller Lash mascara – the star item in the March Birchbox, for me anyway. This was another choose your sample affair, and Roller Lash is the latest offering in Benefit's mascara line. It's great for length and definition, though I'm not 100% convinced by the claims that it's uplifting and curling. Still, a high quality mascara and a sample I'm very happy with.
Philip Kingsley Elasticizer – I'm actually excited about trying this intensive hair treatment, as it seems to get rave reviews from everyone who has used it. My hair's actually in really good condition at the minute, even if it could do with a trim… so I'll likely save this for a while and fetch it out when my hair is crying out for some love.
Serenity Skincare Dead Sea Bath Salt – bath salt. You know the drill. It's bath salt? Nothing special here I'm afraid…
Catherine Malandrino Style de Paris Eau de Parfum – a perfume sample, ahhhh. One of the most divisive samples in a beauty box, yet I'm not really fussed either way. This one is citrus-y and fruity and wears quite well.
TanOrganic self tanning oil – a tanning oil? Really Birchbox? You know my skin tone already, but I can't help but feel you need a tick box in the beauty profile for "pasty goth type, please don't send me fake tan rubbish thanks". Not for me, but it will be for someone. I'll be passing this on to a friend.
The lifestyle extras this month include a legitimately useful mini notebook, a nod to the DIY/Habitat sponsored vibe, and a sample of the novel A Perfect Heritage by Penny Vincenzi. Like the last time we were sent a sample chapter of a book, I'm really not that bothered for it. I have a list of books as long as my arm that I want to read for fun, and nowhere near enough hours in the day to get through them all. I often end up feeling guilty when I'm reading things that aren't for work, like I should be reading >insert journal article here< or >insert methods book here< instead. The glamorous and relaxing life of a PhD student, eh?
So there you have it… hit and miss, and definitely not as strong as some of the boxes I've had in the past. The best thing is the choose your own Benefit mascara sample, which is still available through the website for new subscribers – if you're thinking of signing up I'd love it if you used my referral link to get us both 50 points to spend in the Birchbox shop – that's the equivalent of £5, and the points really do rack up quick!