Ooh I am late in getting this post up, aren't I? I'm absolutely drowning in marking at the minute, so I've not got a huge amount of time for fun stuff like blogging or Guild Wars. Better late than never though, it's time to see what was in my May 2015 Birchbox UK!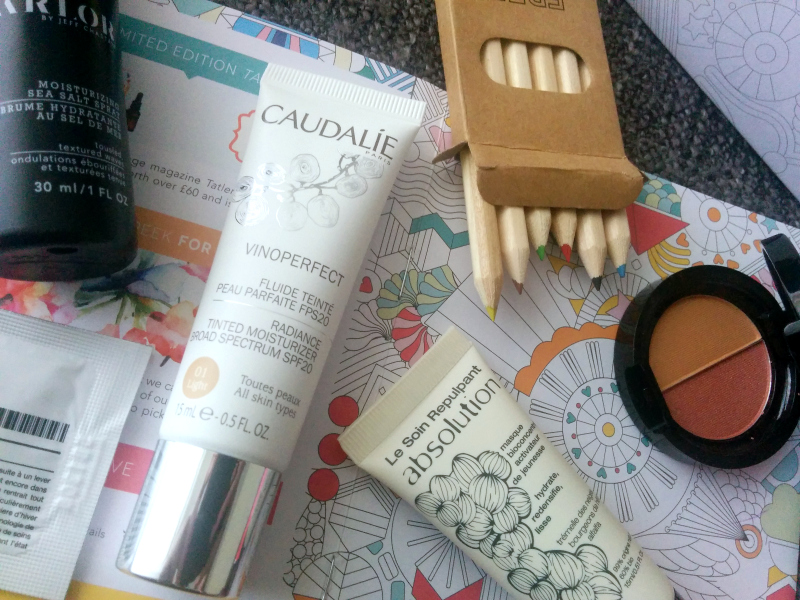 Caudalie Vinoperfect Radiance Tinted Moisturiser in Light – an all in one, oil free tinted moisturiser that claims to even out skintone and fade dark spots. It smells really good, and the texture is great… but I'm sad to say that it is simply too dark/orange for my pale AF complexion. Gutted.
WAH London Press On Nails – I don't tend to wear false nails, but the design on these is really cute. They gave me and Catherine a good giggle one evening last week, but I'm not sure I'd ever wear them.
Parlor by Jeff Chastain Moisturising Sea Salt Spray – god this smells amazing! Summer in a bottle – peaches and cut grass and almond ohhhhh! This will be great for giving my hair a bit of a boost with a gorgeous scent to boot. Nice one Birchbox.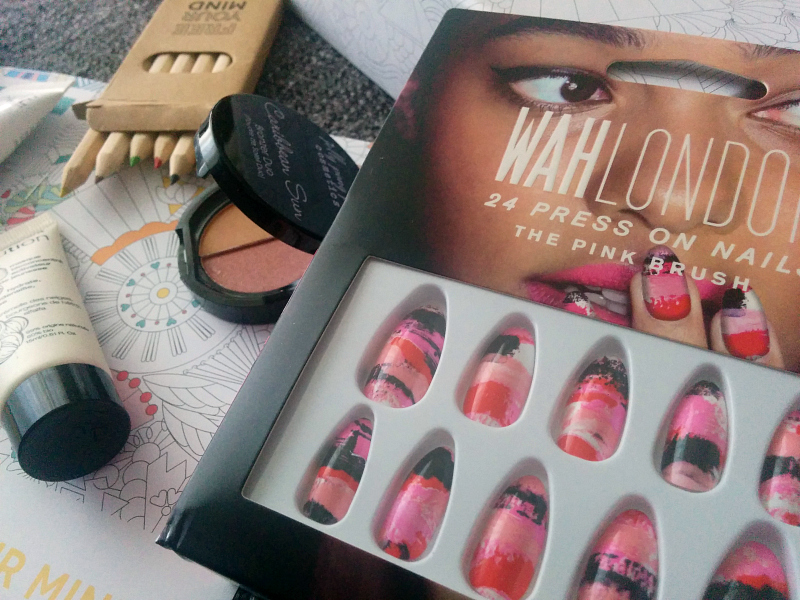 Jelly Pong Pong Caribbean Sun Bronzer Duo in Martinique – an argan and mango butter infused blush/bronzer duo, with a little mirror in the lid of the packaging. The bronzer is light enough to not look out of place on pale skin, and the blush has a lovely warm rose gold feel to it. Another winner!
Absolution Youth Activator Mask – an intensive moisturising mask, full of nourishing natural ingredients. It smells amazing, thanks to the aloe and rosewater – really soothing. It has an incredibly luxe texture, perfect for a pampering session.
Number 4 Lumiere d'Hiver Reconstructing Masque – I love deeply conditioning hair treatments, and I used this one earlier in the week. With soy proteins, shea butter, sunflower seed and jojoba seed oils this felt really nourishing, and left my hair feeling and smelling amazing.
The May box also included an adorable package of colouring pencils to get creative with the box lid – I'm looking forward to colouring mine in after I'm done with all my marking! Overall this box was a winner for me – if you're thinking about signing up yourself, I'd love it if you used my referral link to get us both 50 points to spend in the Birchbox shop – that's the equivalent of £5.