Sorry for the recent quiet here – I've been drowning in the usual work, and more excitingly the unusual work that surrounds BlytheCon UK! If you follow me on Instagram no doubt you'll be familiar with what I got up to in London last weekend, but for anyone who missed it, October 3rd was the sixth annual Blythe doll collectors convention! After a rush to submit a draft chapter to my PhD supervisors, Dan and I bombed it down the M1 to London to meet up with our glorious friend Sam and a bunch of dolly people for the Friday night pre-con drinks sesh. Of course, what's a dolly meet in a pub without a dolly?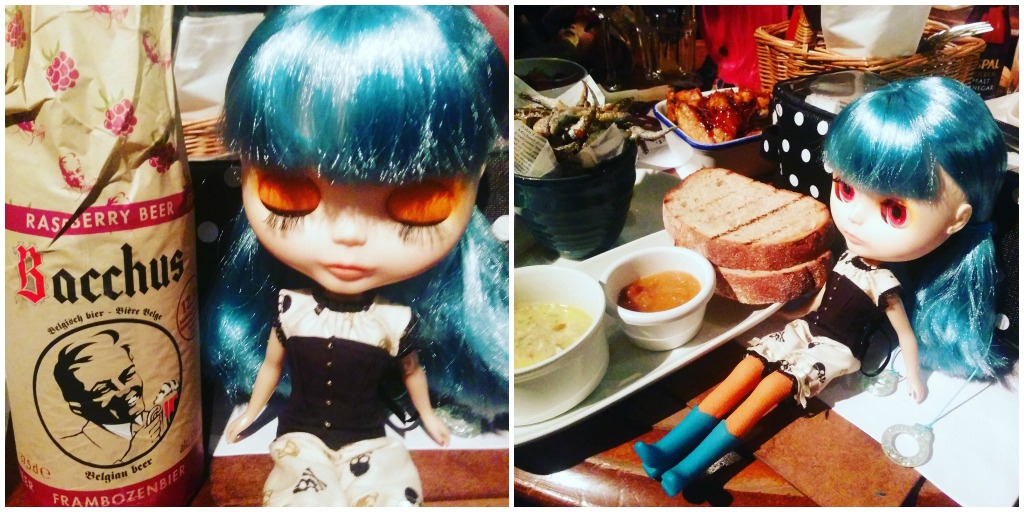 So yeah, I've finally put Penn back together. Penn is a factory Blythe who I feel incredibly sorry for, with her flimsy legs and one hand of red nail polish. In a bid to procrastinate from work work, I dug her out of my box of custom bits and reassembled her for BCUK. I'll probably do a proper introduction post soon, once her freshly cut fringe settles a bit.
We were all up FAR too late on Friday, by the time we got back to Sam's I had a window of about 4 hours for sleep before I had to be up and getting ready for the Saturday morning trip across London to our venue. Thank heavens for blurry Instagram selfies and Touche Éclat am I right?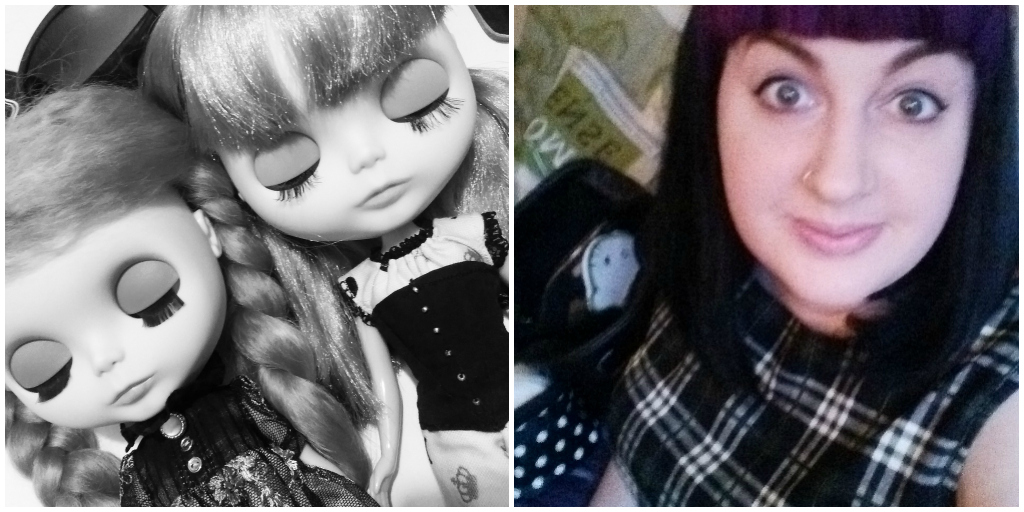 Our home this year was the stunningly beautiful Chelsea Old Town Hall on the King's Road. I'll apologise now for the tiny amount of crappy pics – no time for real camera fun this year, I didn't seem to stop! If you look at #bcuk2015 on Instagram there are loads of gorgeous venue shots to drool over.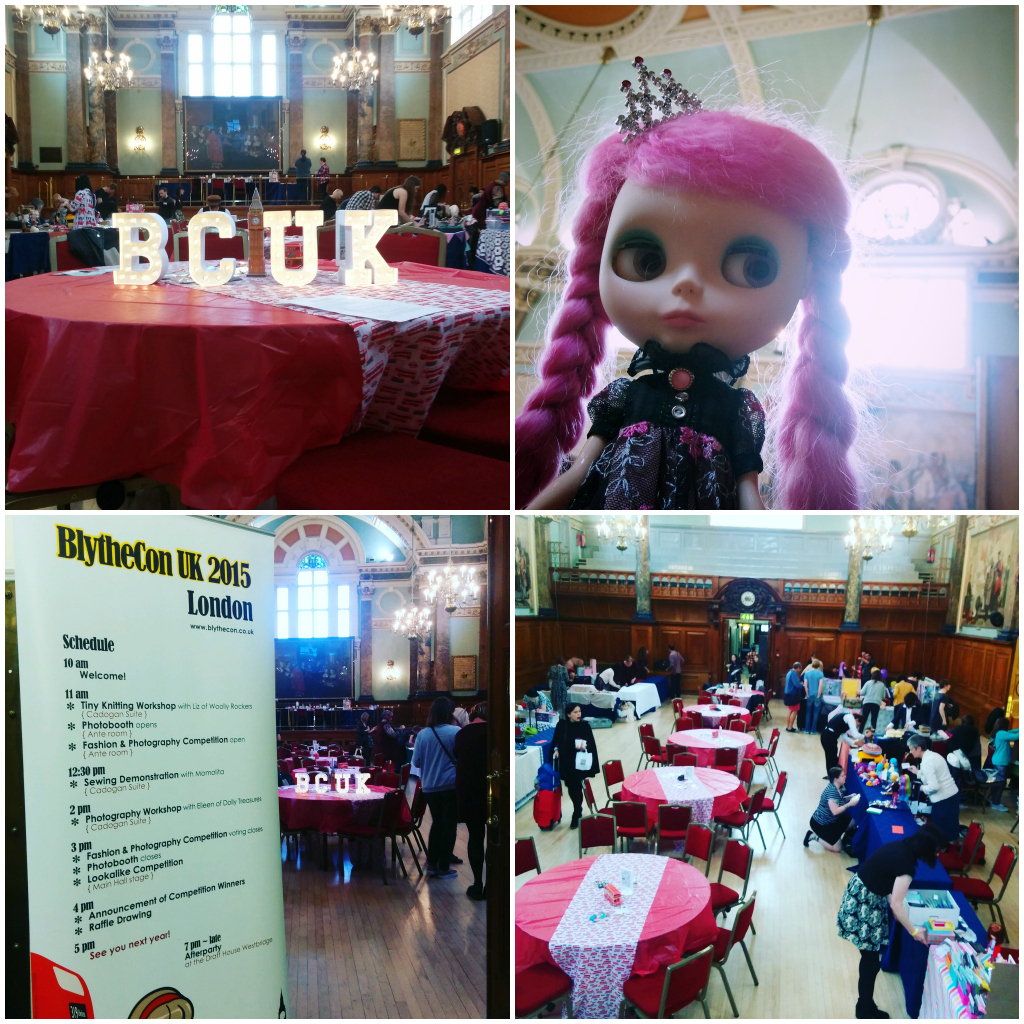 I spent a good chunk of my day (wo)manning the charity Bring & Buy stall, helped by Sam and an assortment of other glamorous helpers. The downside to this was sitting directly opposite the raffle prizes, where Twiggy, Marie Antoinette and Alice dolls taunted me all day long… Booooo. I wasn't lucky in the raffle this time, but we have raised a significant amount of money for our charities this year – Young Minds and Eaves. We're waiting on getting our deposits back for a couple of things, but preliminary accounts suggest this year will see our biggest charity donations yet!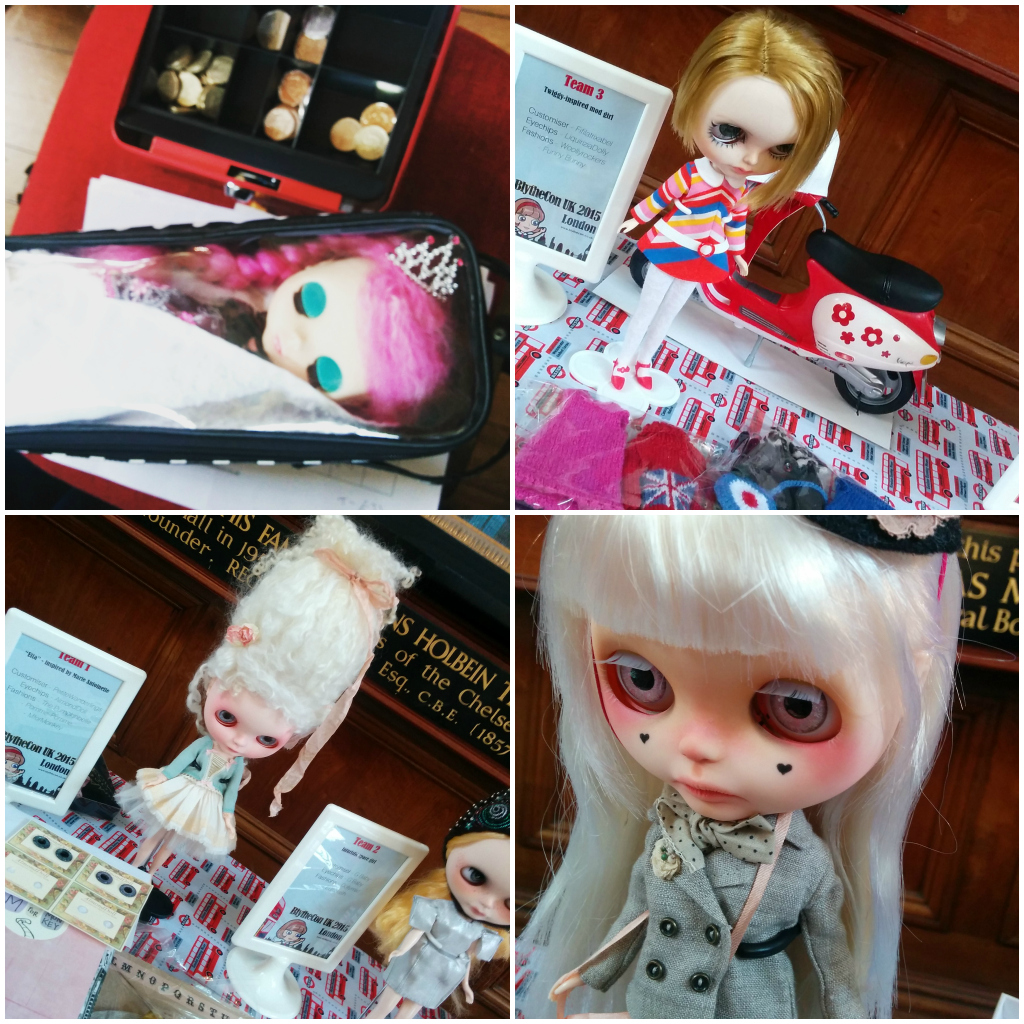 One of the coolest surprises we had in store for our attendees this year was the photobooth! I managed to sneak in a few shots with Dan, and with LK & Angela at the start of the day. Wish I'd spent more time in there, it was loads of fun! I particularly enjoy how irritated Lux seems to be in the shot with me and Dan, hahaha!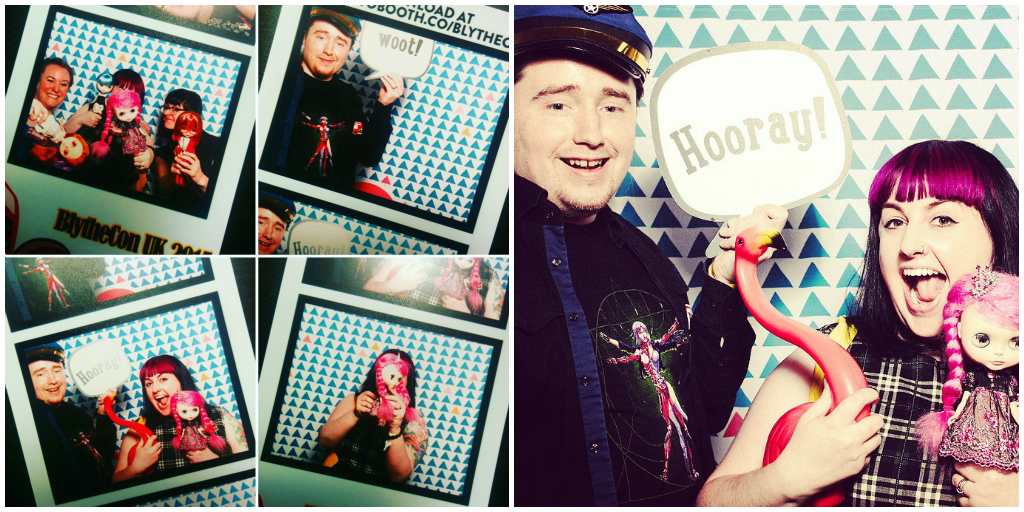 My tiny but respectable haul this year included metallic pink and teal leggings from C'mon Dolly, a vintage Hot Dot Alexander Henry fabric dress from Pinkyjane, and some cute gothy bits from Handmade Dreams. I also picked up a Danboard mini (Tamiya edition!) but I think Dan's trying to steal him away already. The vendors this year were amazing, I just wish I'd had more time to scout out the stalls early on and more money to burn!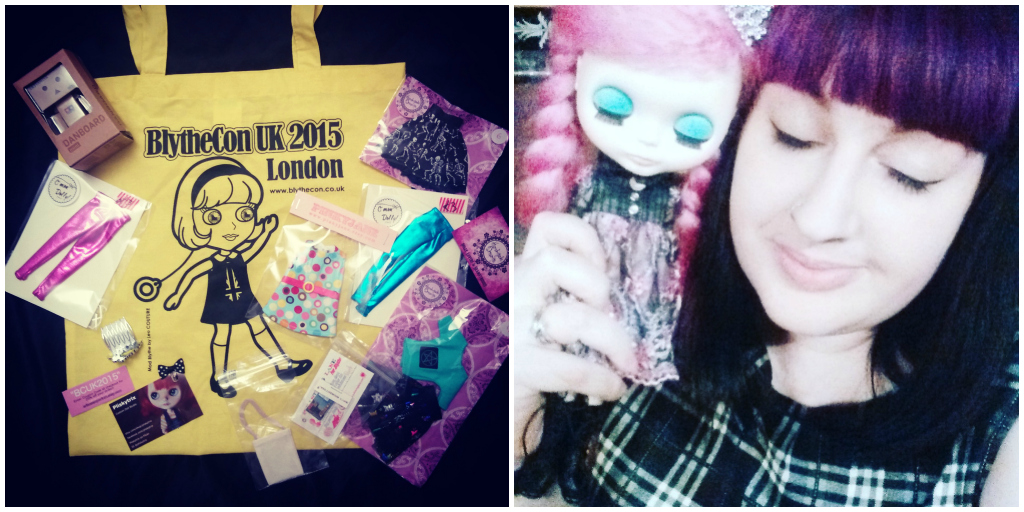 When BlytheCon finishes, it is of course time for the after party… this year we were a short walk (or even shorter bus ride) away from Chelsea Old Town Hall at The Draft House West Bridge. I was absolutely shattered, but that didn't stop me from staying until the very last possible minute! I'd say this year was our best after party to date – everything was perfect, from the friendly and incredibly accommodating staff to the huge selection of "nibbles" (more like a full on hearty buffet!) laid on for our group. 11/10 would definitely recommend!
All in all I had an amazing weekend. Blythe meets are always great, but BlytheCon really takes it to the next level. Not only did I get to catch up with old friends, and the fabulous other pieces of Team BCUK (Laura Kate, Angela and Leo – I love you ladies so much!) but I also got to meet a bunch of people I have known for literally eleven years online, but never met in person. I can't wait for next year! I said I was stepping off the committee but hey… I can't help myself. Our venue is booked, and I for one can't wait to be north of London and somewhere BlytheCon UK has never been before…