One of the most common things I'm asked about (other than questions with the answer: "check the module handbook") is my hair. Specifically, do I dye it myself? What dye(s) do I use? How do I get my fringe to be so bright? How long does it last? What's your natural hair colour? Today I'm going to answer some of these questions, in the hopes that it might be even slightly useful for someone out there on the big old Internet. Disclaimer: I am so not a hairdresser, so if you cock your hair up based on what I do to mine? Well, don't say you weren't warned…

Do you dye your own hair? What do you use?
Yes! I do dye my own hair – though the first time I decided to go for a coloured fringe (that's bangs for you lovelies across the pond) I trusted the stripping out of my permanent black dye to Hair By Christmas in Sheffield. If you're ever looking for a hairdressers that listens and gets alternative hair, I cannot recommend them enough! For the most part, and especially now I've been living away from Sheffield for so long, yes I do dye my own hair. I'm still on the hunt for the perfect hairdresser in Leeds… But what do I use?
First off, if you want bright hair and your natural colour isn't already super light, you're going to have to bleach it. No ifs, no buts, get yourself some powder bleach and cream peroxide – I've always used Jerome Russell BBlonde. We used to sell it at Rocky Horrors, but you can pick it up in most supermarkets and chemists too. You mix the powder and the cream in a plastic bowl (not metal, because science) and apply it to your hair with a tint brush and plastic comb. Follow the instructions on how long to leave it on for, this stuff's strong and you don't want to frazzle your hair off! Think about your hair like a sheet of paper that you're trying to draw on with a felt tip pen – the colour's going to show up better on lighter paper, right? This also works in terms of "I want to dye my hair blue and I'm scared it'll go green" – yeah, it will, if your hair is yellow-ish. Think about drawing on yellow paper with a blue felt tip pen. What do you get? Exactly.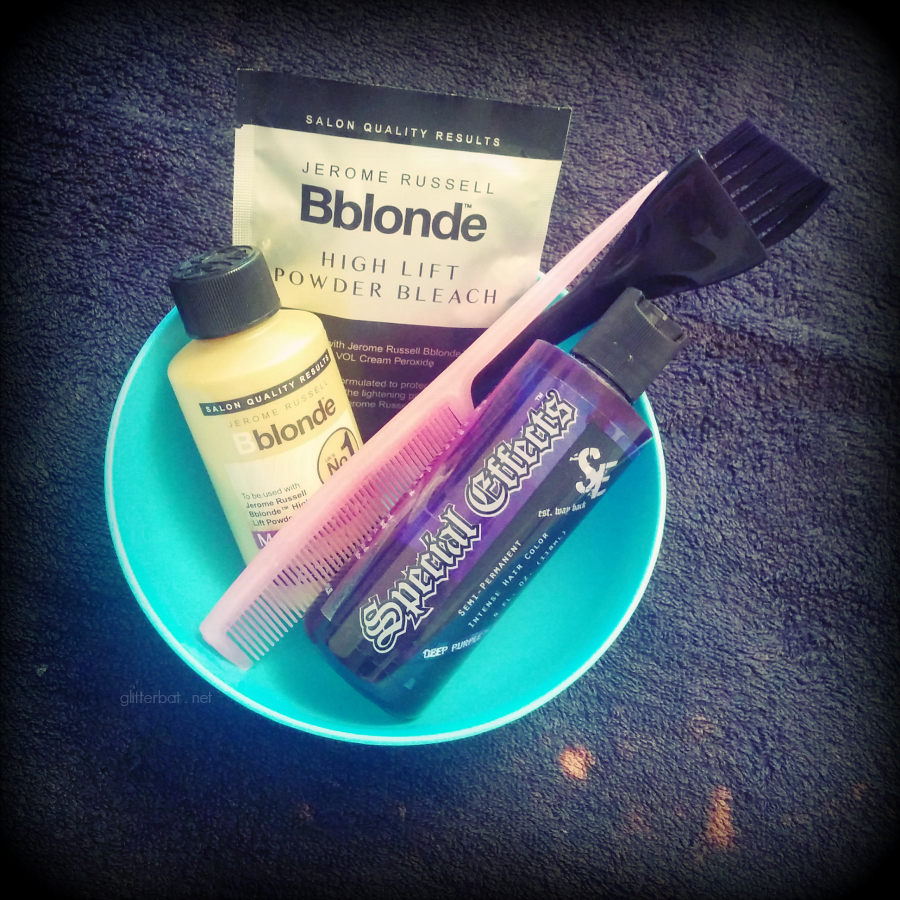 The black part of my hair is a boring, permanent box dye, Clairol Nice 'N Easy #2 Natural Black. I've been using this dye since I was about 16, and it's never failed me yet. I tend to bleach my fringe out first (sectioned off from the rest of my hair) and after that's washed out I'll apply the black dye and the purple dye. If I'm only doing the purple, I'll leave that dye on for as long as I can be bothered, sometimes adding heat – I had a friend who would even sleep with her dye on overnight when she was recolouring her 'hawk!
So here's the fun part… Special Effects hair dye. My usual shade is Deep Purple, but I've been known to use Pimpin Purple in a pinch. Deep is lot more… well, deep to begin with! As such it lasts longer, I find it doesn't fade out to pink as quickly. I can get between four and six weeks out of these colours without looking too shitty, and that's partly down to how they fade out to an even pink colour. I wish I had a fiver for every time someone has complimented me on my "new" pink fringe and I've just sighed and told them it only looks like that because I've not had time to sort my hair out…
Yes, it stains absolutely everything. All my light towels have dye stains, all my dark towels have bleach stains. You will stain your skin. Your bathroom will never be pristine. Sometimes your light silver nails will take on a gorgeous lilac hue. Deal with it.
What about other semi-permanent dyes?
I've tried a lot in my time, and nothing ever quite measures up to Special Effects. Manic Panic Amplified formula was better than Manic Panic. Manic Panic was better than Directions. Mixing two or more shades of Directions was better than neat Directions. Directions alone was better than Crazy Colour. Basically what I'm saying is it's a massive game of trial and error. You might get different results depending on the colour you choose and your hair generally. Special Effects is more expensive and can be a little harder to get hold of than the other brands I've mentioned, but I really do think it's worth spending the extra time and money.

Doesn't it wreck your hair?
No. I've never had an issue with the texture or strength of my hair, unless you count the one time I was literally stupid and impatient and tried to bleach black out myself at home. That left me with dry and frizzy sections underneath my hair, but they recovered quickly. As long as you've got a good conditioning regime you're fine – remember, the semi-permanent dyes are usually vegetable based and actually seem to condition your hair. There's also the fact that the constant trimming of my fringe means that section of my hair never really gets a chance to get tatty and horrible, and I don't use straighteners (I don't even own a pair of straighteners!) – I do blow dry my hair, but that's about it as far as heat goes.
What's your natural colour?
Blonde. A boring, shitty, slightly murky dirty blonde. It's unmistakeable if you catch me on a day where my roots need doing, and looks disgustingly obvious against the bottle-black. Horrendous. In good news, it means that root touch-ups with bleach don't take very long, as it lifts to a light colour in no time!
So there you have it… a crash course in how I make my fringe purple (or sometimes green/blue). I'm more than happy to answer any questions anyone has in the comments below. Life's too short for boring hair!