Continuing the story of our Las Vegas wedding adventures with another picture heavy post, which will (if you're anything like me!) make you SUPER hungry! Can someone mail me a lobster on a stick please?
The day after the wedding was spent doing what all newly-weds do – eating pizza and drinking beer in a baller suite. Am I right? :yum: It was super relaxing, and I'd advise anyone staying at Cosmo to track down the Secret Pizza shop and buy a white pie. You're welcome.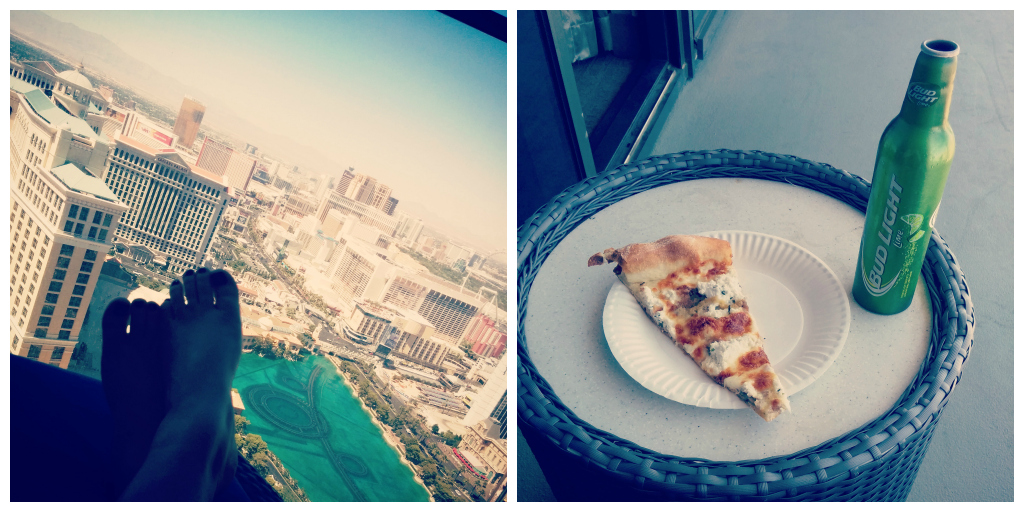 We tore ourselves away from the balcony views and shitty American TV for a late dinner at Cheescake Factory with Team Vegas – we were about to lose two members to Saturday flights back to the UK! To send them off, we watched the Bellagio fountain show (at floor level, for the first time of the trip) then snuck in a little more suite and balcony drinking time. So long DW & Matt!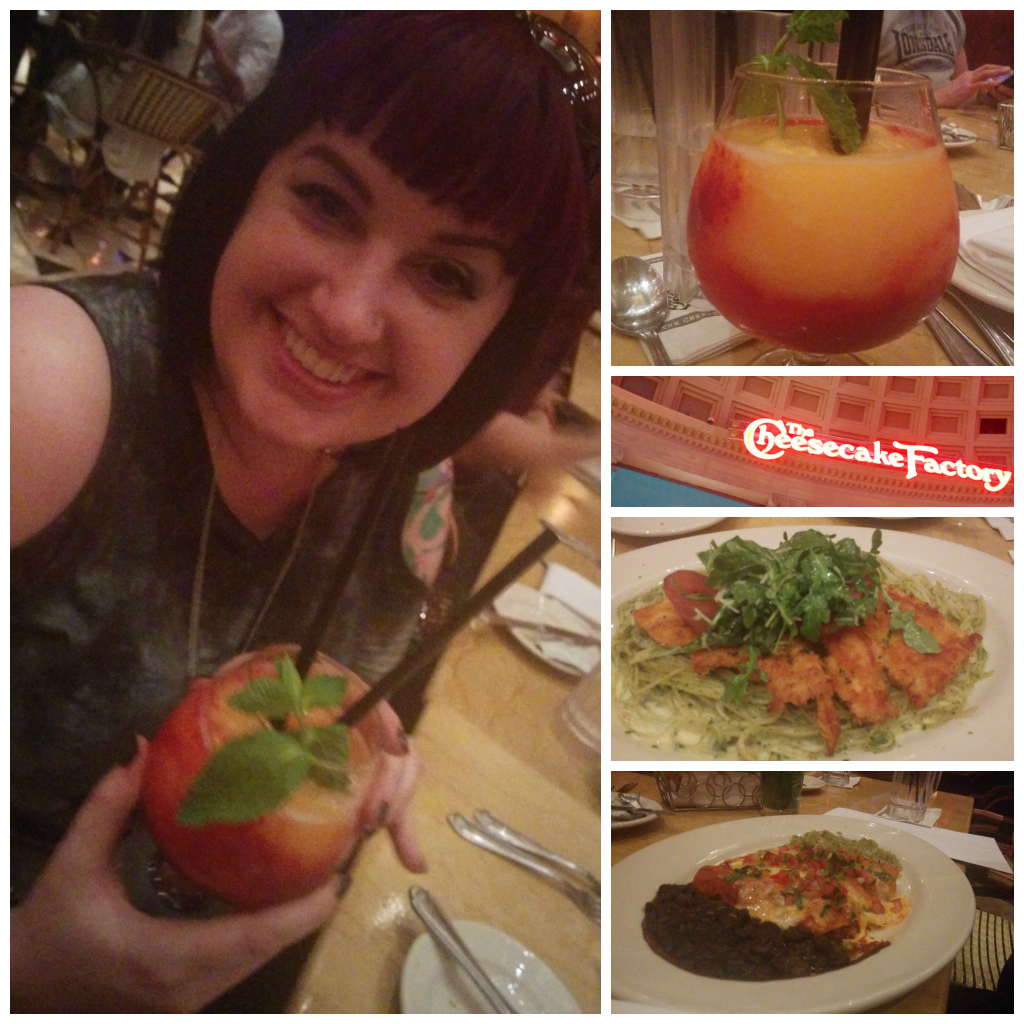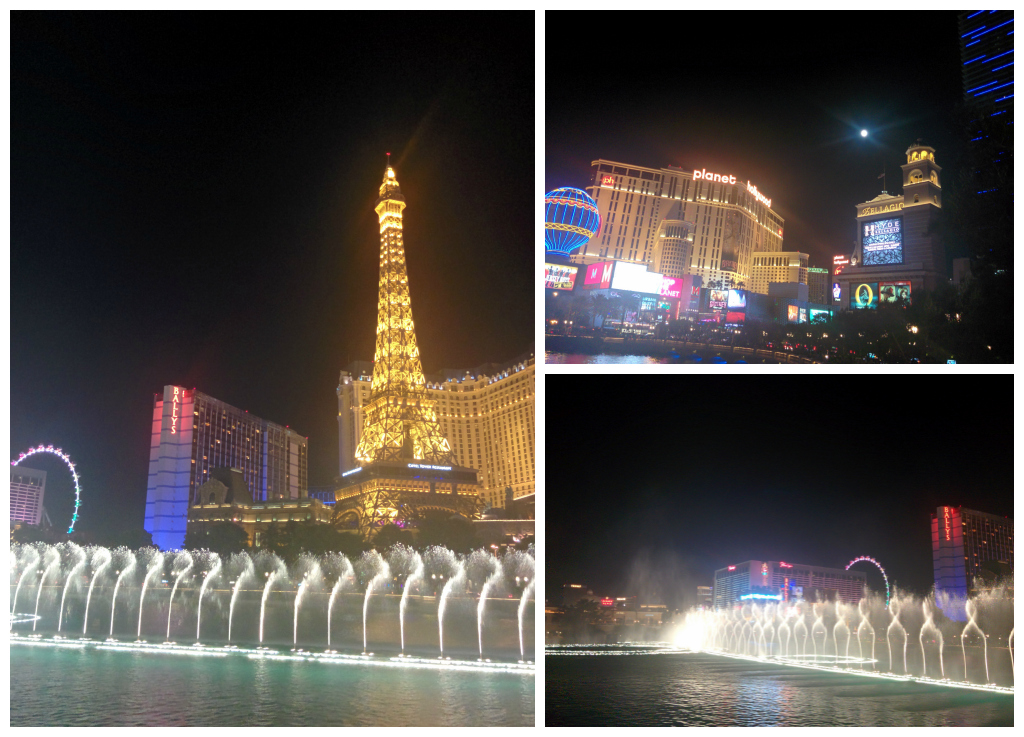 Saturday… well. We obtained Evil Dead The Musical tickets, a Leon and a Beerwulf, and then hit Guy Fieri's restaurant in The Quad. I've no shame in admitting my love for Guy Fieri. We had the pepperoni wrapped breadsticks with cheese/sausage fondue to start (Guy-talian Fondue Dippers), then I had the award winning macaroni cheese and bacon burger. Nnnnggghhh. So good. So full. So big. Wow. Many calories. Much tasty. Yums.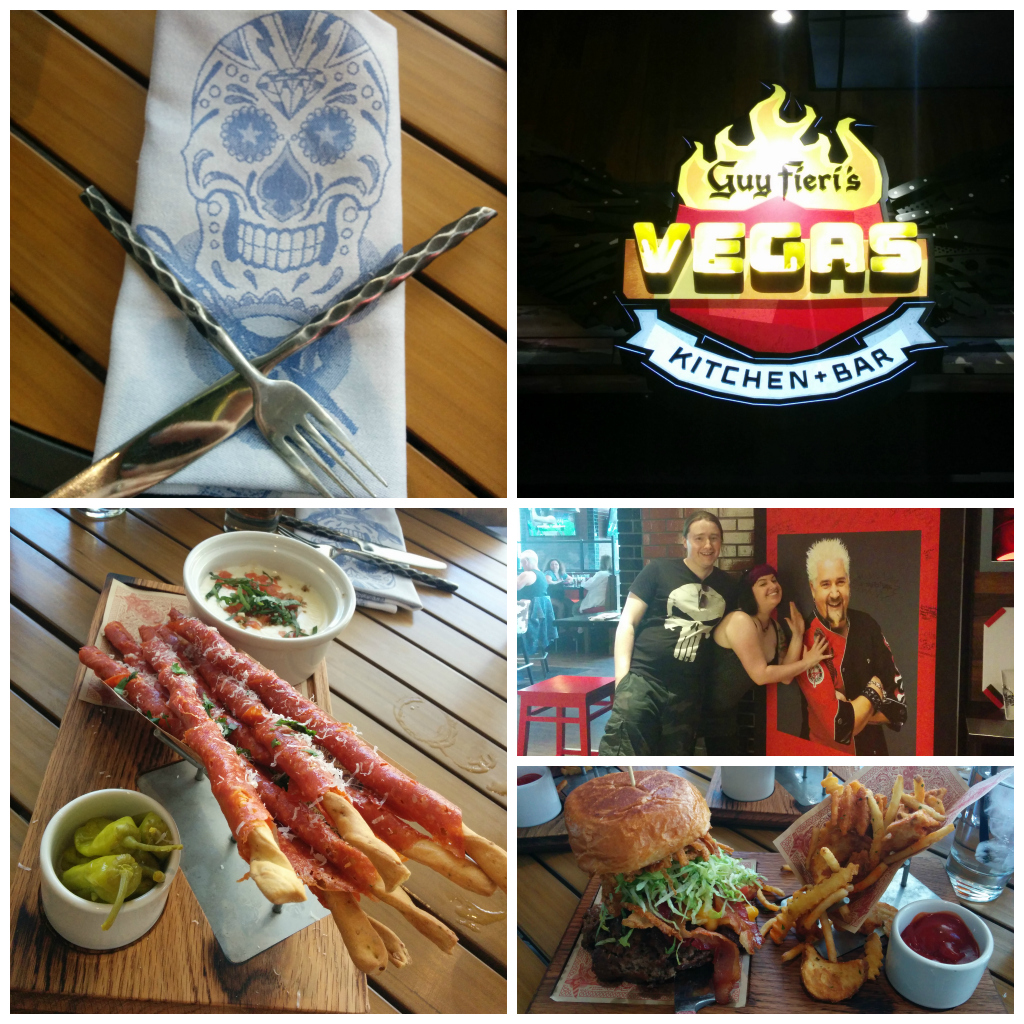 I also found the world's most adorable slot machine – Fiesta Chihuahua. We were too fat from food to do anything other than more in-suite drinking and relaxing (in the shape of Bud Light Lime Mix-a-ritas – JESUS!) before heading to Planet Hollywood for the aforementioned musical festivities. At this point, we lost the Beerwulf to his super-early Sunday morning flight… Team Vegas became six. Evil Dead was really, really funny. It'd been on Catherine's bucket list for the last six years or so, and it was nice being able to share in that excitement with her. Dan and I had intended to go last time we were in Vegas, but managed to miss out due to scheduling around Sara's wedding. Oh, and no… we didn't bother with the splatter zone. 😛
Evil Dead was a pretty late night all in all, meaning Sunday was full of lazing around the suite and long baths, with a cheeky little Lobster Me lunch. That's lobster topped macaroni cheese! And a fried lobster tail on a stick (!) which goes by the charming name of "lobsicle". Surprisingly good quality for fast food as well.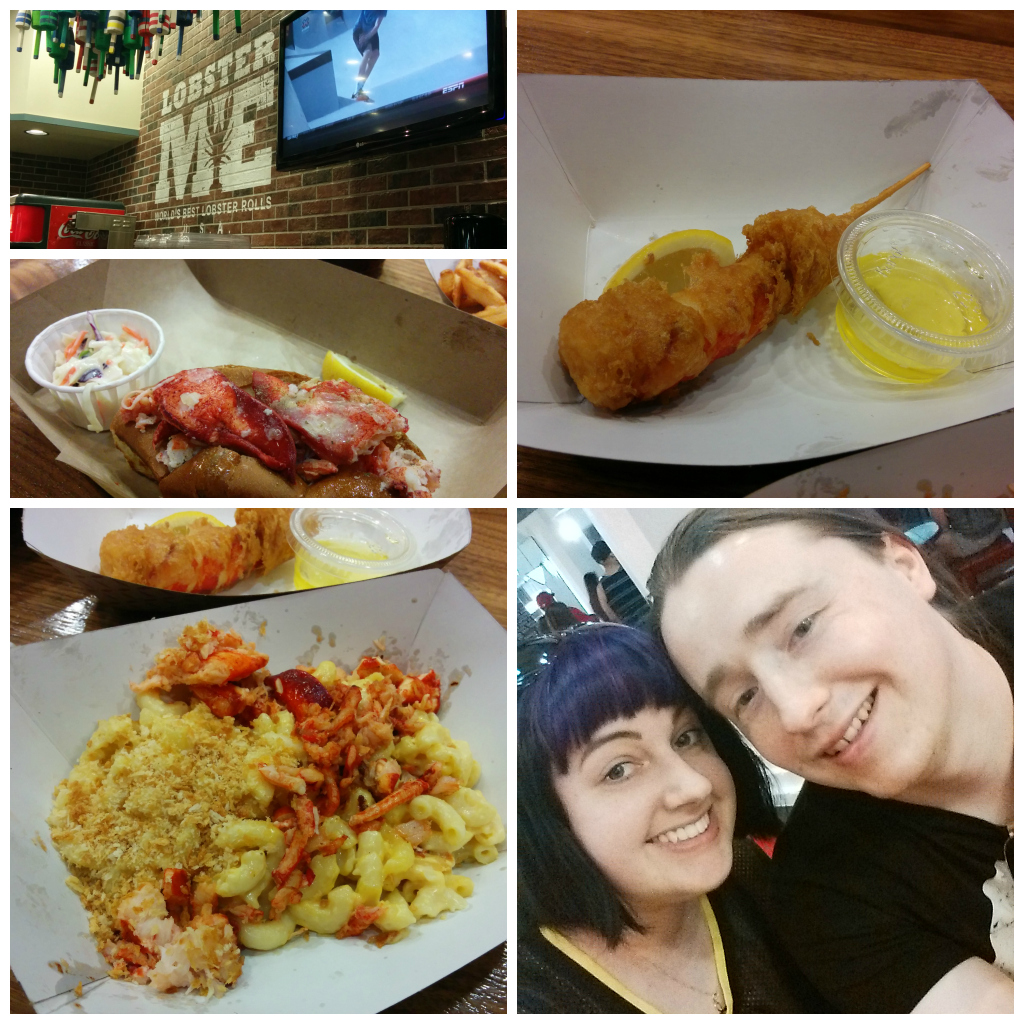 I played a bit more Fiesta Chihuahua, even though it wasn't particularly kind to me. Didn't care though, as it's too cute to be mad at it! The remaining six of us hit Hooters for dinner, walking down the strip via MGM and oh-emm-geee that smell… It has to be the strongest smelling resort on the strip. To clarify, it's a good smell. Some kind of scent they pump in through the ventilation, you will know what I mean if you have ever set foot in there. If I close my eyes and imagine it I can smell it. It is SO bizarre, and it took me right back to 2012. Felt a bit like coming home… and I know, I know… it's all pumped in to elicit this kind of response but fuuuuucck. Even with the psychology bit of my brain aware of this it STILL works on me. I would buy that smell for my house if I could get hold of it.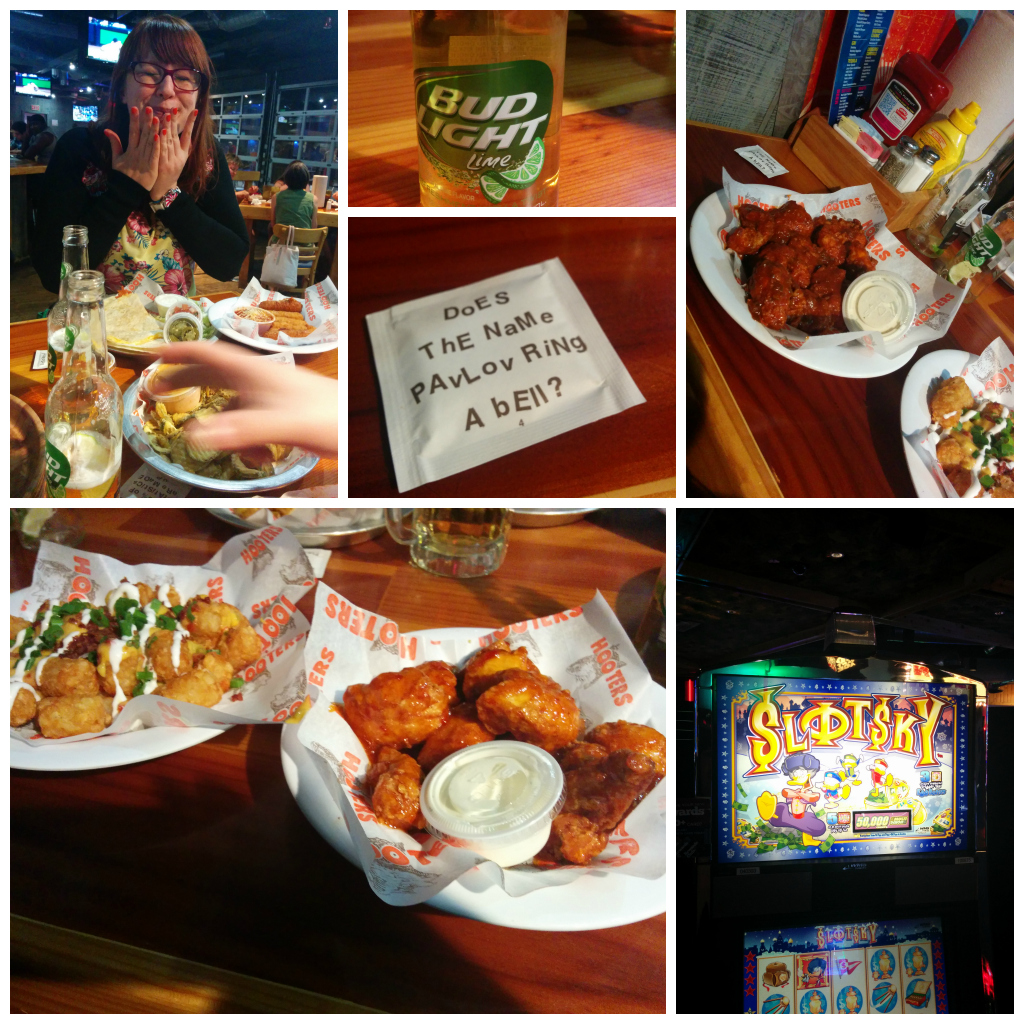 Post Hooters I lost some money in the Slotsky machine (ha!) and we walked back up the strip enjoying the bright lights and warm night-time air. Just look how beautiful it is…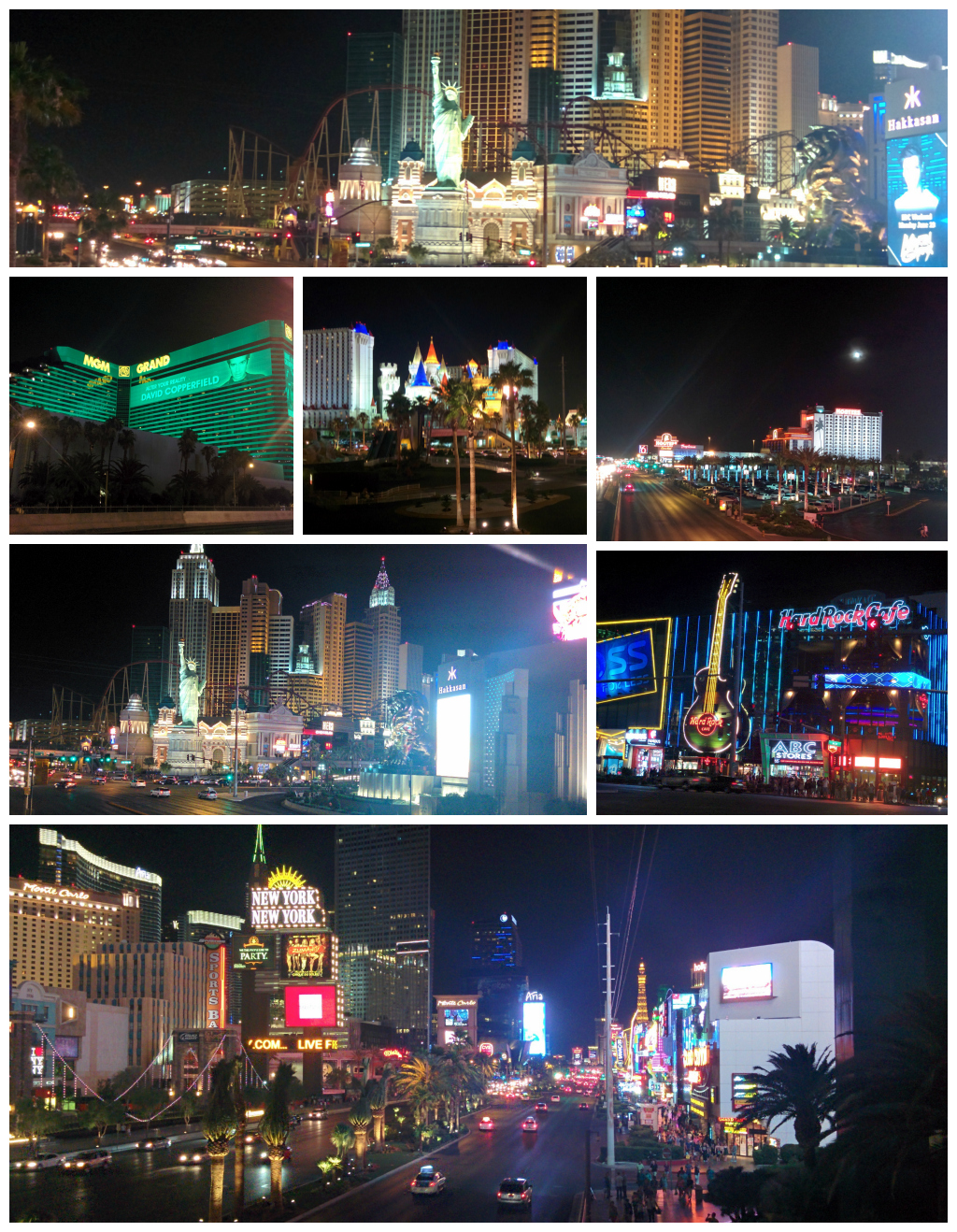 I'll never get tired of those neons. Walking past CVS, Dan, Tom and I popped in and bought some Smirnoff Fluffed Marshmallow vodka and a bottle of Maple Bourbon Jim Beam, which we then took back to the suite. Weirdly, even I liked the Jim Beam – and I don't really go for bourbons. Bit of drinking, bit of balcony time, and out like a light in our glorious bed… What a weekend!