Happy Saturday! Also, happy Birchbox day! The theme for the Birchbox UK July 2014 offering is (rather appropriately) sun, sea and sand. The products this month are meant to be perfect for holidays and summer adventures, taking you "from beach to bar". Not that I do beaches. Apart from Whitby. Which is generally cold and grey – how I like it. I do however do bars, but enough about my alcoholic tendencies – what's in the box man? What's in the box?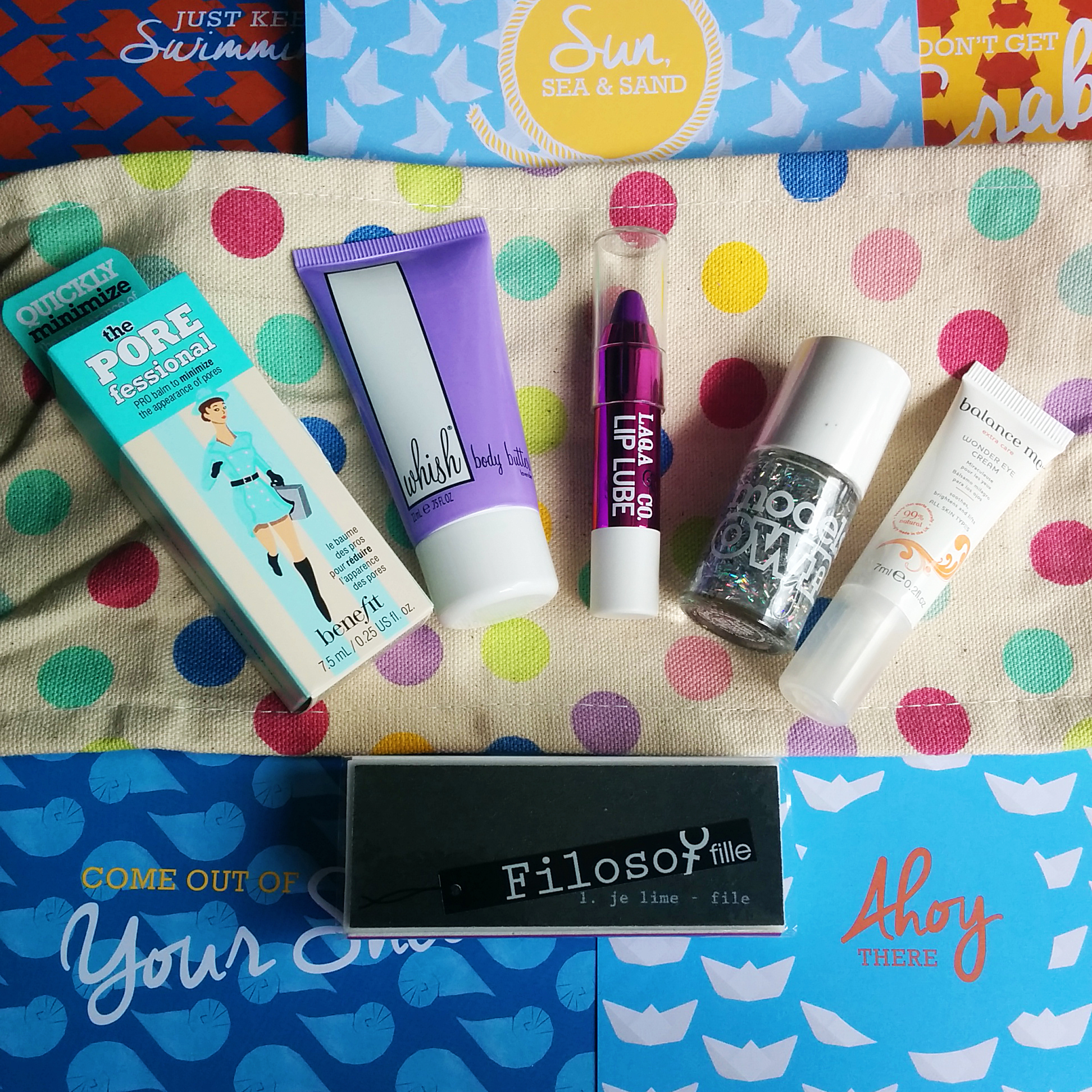 Benefit The POREfessional – so pleased to see this in my July box! After using up all the lovely Dr. Brandt Pores No More sample, I decided to give The POREfessional a try. I'm thoroughly in love with it, using it alone or under a light dusting of Benefit's Hello Flawless powder. Perfect for days when I really can't be bothered with a full face. This mini sample will become my travel/handbag version, saving me toting the full size around with me.
Whish Three Wishes Lavender Body Butter – first impressions of this product were "hmm, packaging looks a bit cheap" but I soon changed my tune when I rubbed a bit on the back of my hand. This is a sweet scented, not overly lavender-y lotion that absorbs quickly and feels luxurious on the skin. It's moisturising (down to Shea butter, raspberry butter and aloe – all organic), firming (thanks organic seaweed extract!) and purifying (from the organic rice bran oil). A generous sample size too, at 22ml.
Laqa & Co Sheer Lip Lube – in Menatour, a rich pinky purple tone. Reminds me a bit of the old Urban Decay Pleather pencils in texture, minus the need to sharpen – does anyone else remember those? Looking forward to giving this a go – not a colour I'd usually seek out, but then again I'm not usually a lips person. That said, I've been loving the Yves Rocher lipstick I got in last month's box, so maybe that'll change!
Models Own Nail Varnish – in Sparkler, from the Fireworks collection. A glittery topcoat full of tinsel-like silver holo strands. I'm a sucker for glittery nails, and can imagine this is going to get a lot of use over dark polishes. It's kinda odd that I got this polish, given I had an erm… incident… at the Models Own pop up stand in Meadowhall last weekend, meaning I have a small collection of Models Own polishes to show off at some point. Thankfully Sparkler isn't one of the shades I bought for myself!
Balance Me Wonder Eye Cream – I've never used any Balance Me products, and when I saw everyone raving about this sample (all subscribers were guaranteed this, and the Laqa Lip Lube) I did get a bit excited. First impression is that it's quite heavy, but seems quick to absorb. Generic almost herbal smell, definitely inoffensive. Looking forward to seeing if this can help out my tired looking eyes – I've not stopped in weeks!
Finally, my lifestyle extra is a Filosofille 4 sided nail buffer. It's a 4 sided nail buffer – what can I say? I usually tend to use a glass file when doing my nails at home, but this will come in useful I'm sure.
This is the sixth box I've had, and in theory the end of my gift subscription – however, I'm definitely renewing! I've not been disappointed with any box in particular, and in fact I can only think of two products I've not been bothered for (the Cellucup and the Naobay body lotion). I'm thinking about writing a "best of the last sixth months" post, as I've discovered some great new products via Birchbox. If you'd like to sign up, you can use my referral link to get us both 50 points to spend in the Birchbox shop.
Have a lovely weekend! :love: