Last weekend Dan and I had the absolute pleasure of being invited to stay a night at Ox Pasture Hall Hotel, a beautiful country hotel in Scarborough Yorkshire. We both love North Yorkshire, so of course we jumped at the chance for a little break by the seaside. The weather was just perfect, a real surprise considering we'd had snow the previous week – seriously weather, what are you playing at?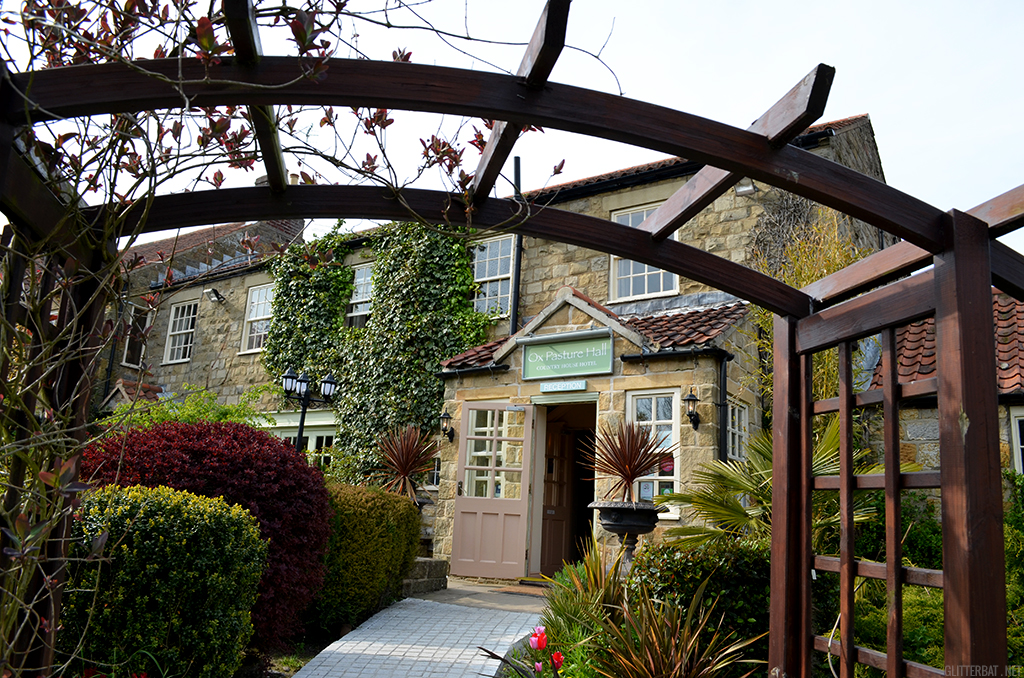 The drive up to Scarborough from Leeds is just under two hours, largely through some beautiful countryside. Ox Pasture Hall Hotel sits around ten minutes drive away from Scarborough itself, tucked away from the bustling town and nestled cosily in the North Yorkshire Moors. The setting is so peaceful, so tranquil, you could easily forget you were so close to Scarborough – the best of both worlds!
Check in was swift and friendly, setting the tone for the rest of our stay. We were shown to our suite, Number 26 – Ilkley. All the rooms appear to be named after places in Yorkshire, which is a beautiful touch. Our suite was made up of a huge living area with everything you'd need – plush leather sofa, desk for work (ha!), a tea station stocked with Yorkshire tea of course, television, and huge windows overlooking a pond with geese meaning we never even touched the television. The bedroom was light and spacious, with the most comfortable bed and beautiful oak furniture throughout, another television we never even looked at… The bathroom? Well, the bathroom was the thing dreams are made of… waterfall taps, twin sinks, the fluffiest white robes… pure bliss.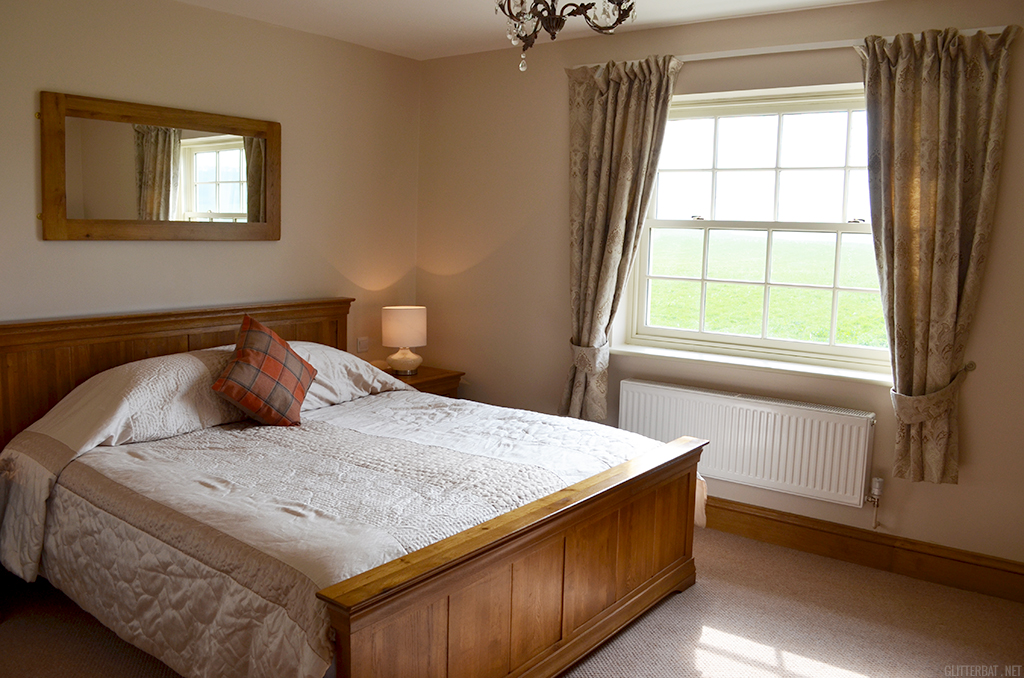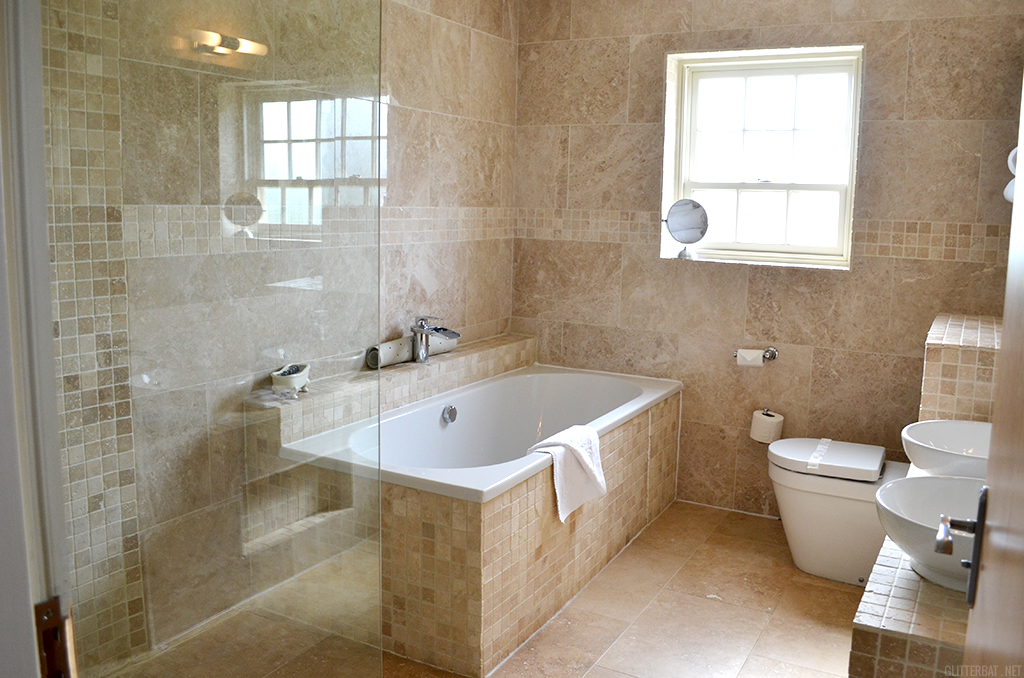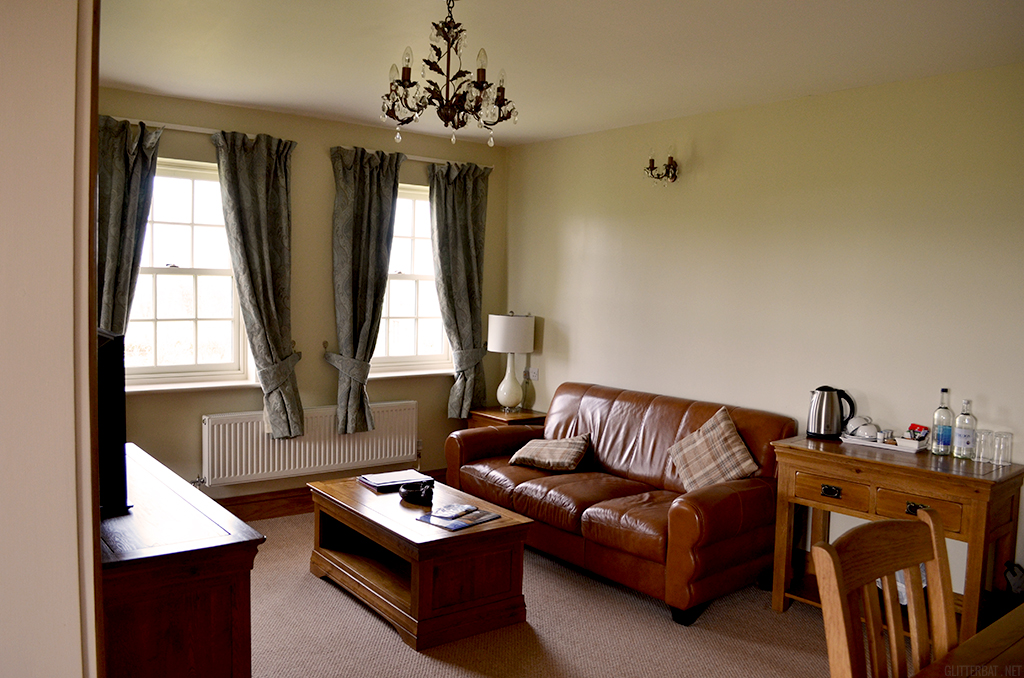 Seriously though… with a view like this, who needs a television?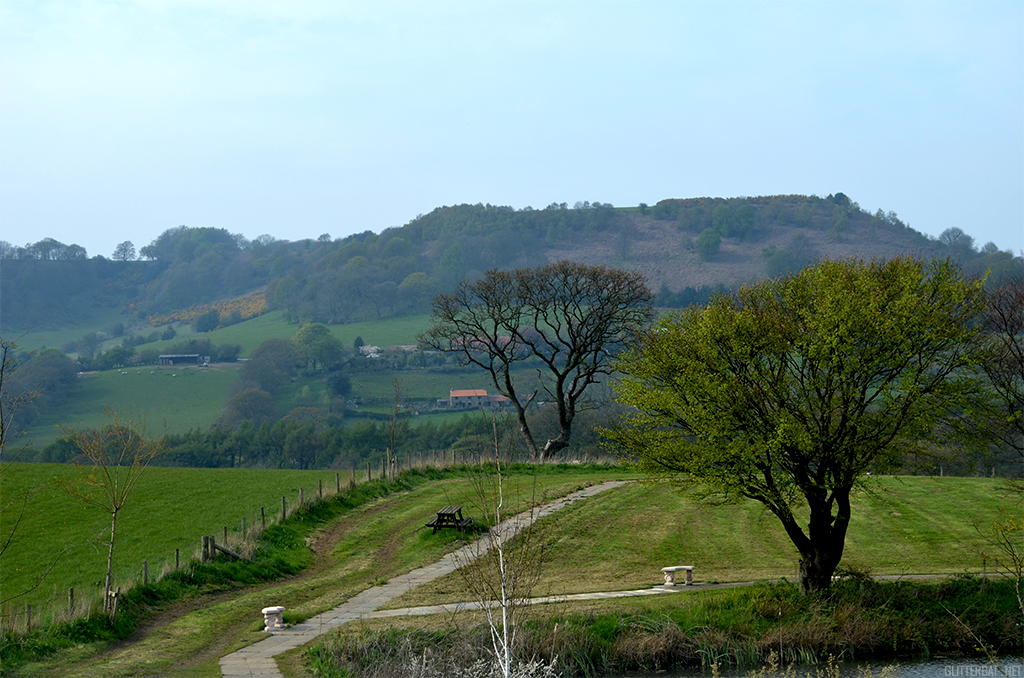 After a little bit of relaxing in the room, we decided to venture out to explore the hotel grounds. Ox Pasture Hall is set in 17 glorious acres of Yorkshire beauty – it's quiet and soothing, and phone signal is sparse. There are all kinds of birds swooping around, a friendly cat, and beautiful gardens. Trees blossoming, clean air, and plenty of places to sit and take it all in. There's no wonder it's a popular venue for weddings, and it was exactly where I needed to be to reset my head.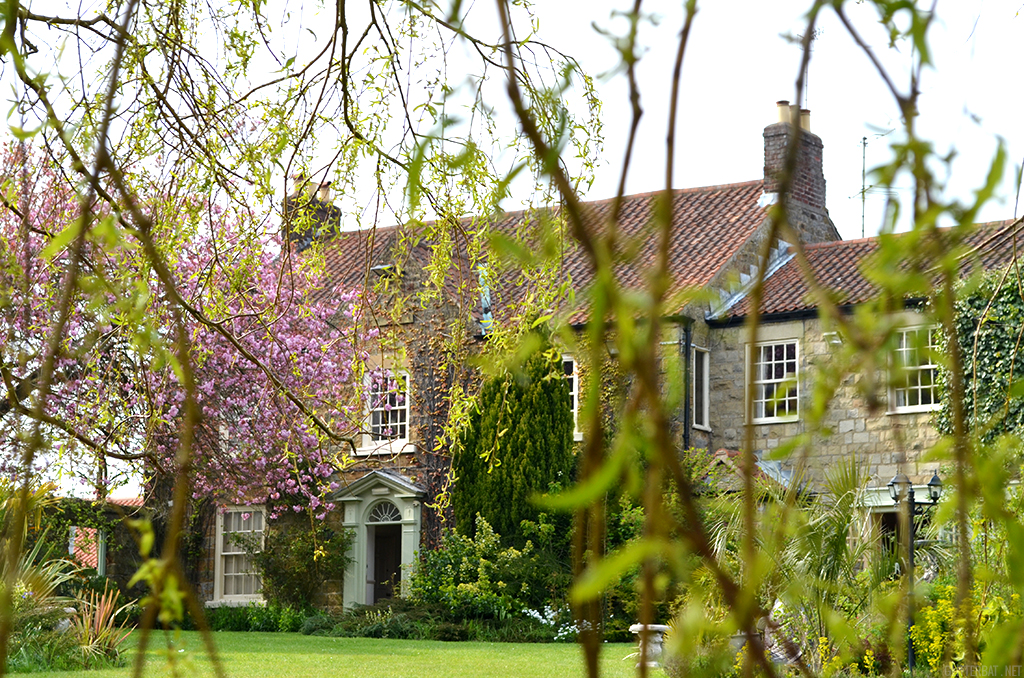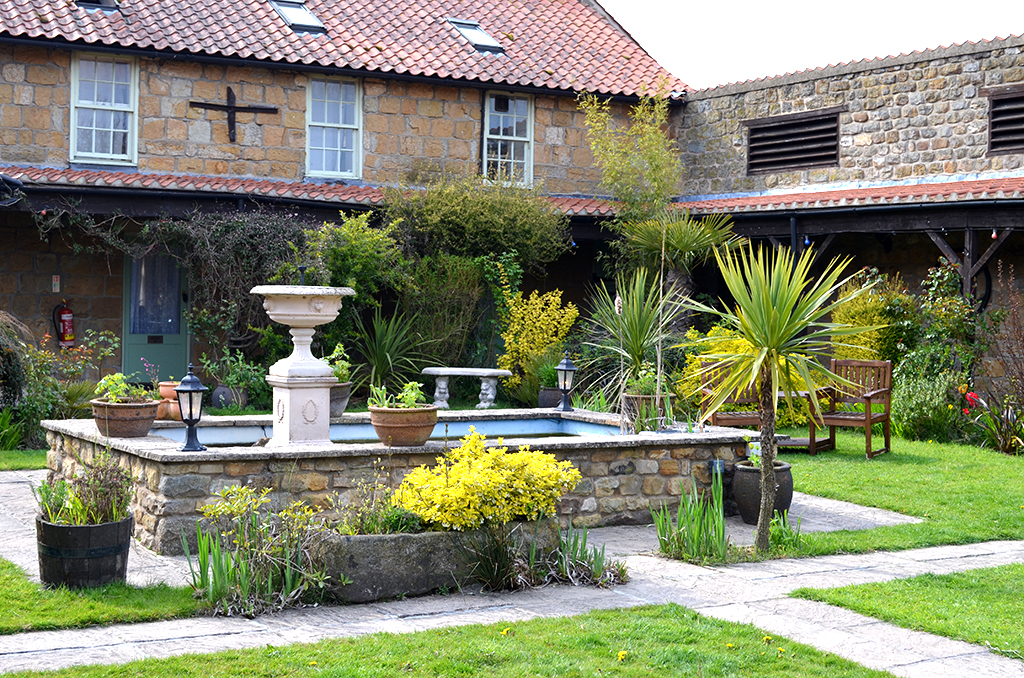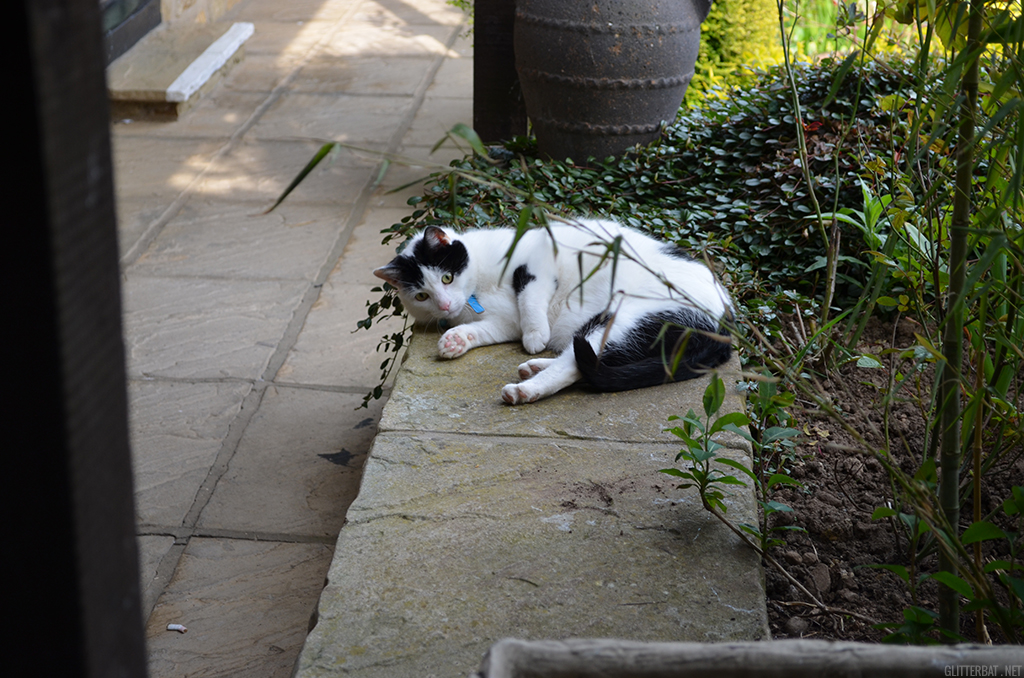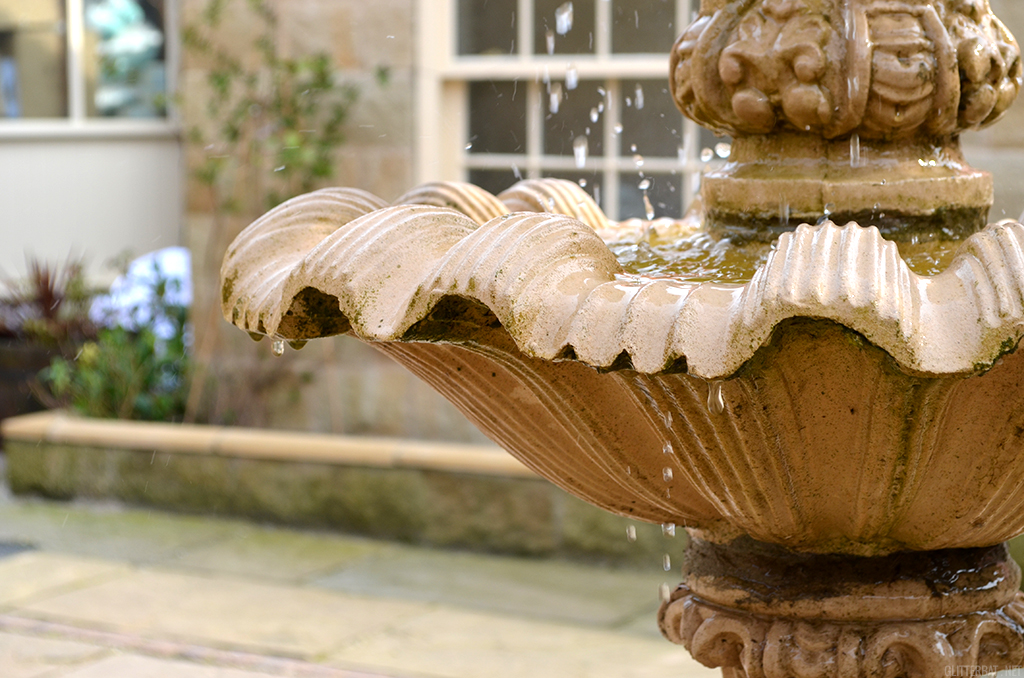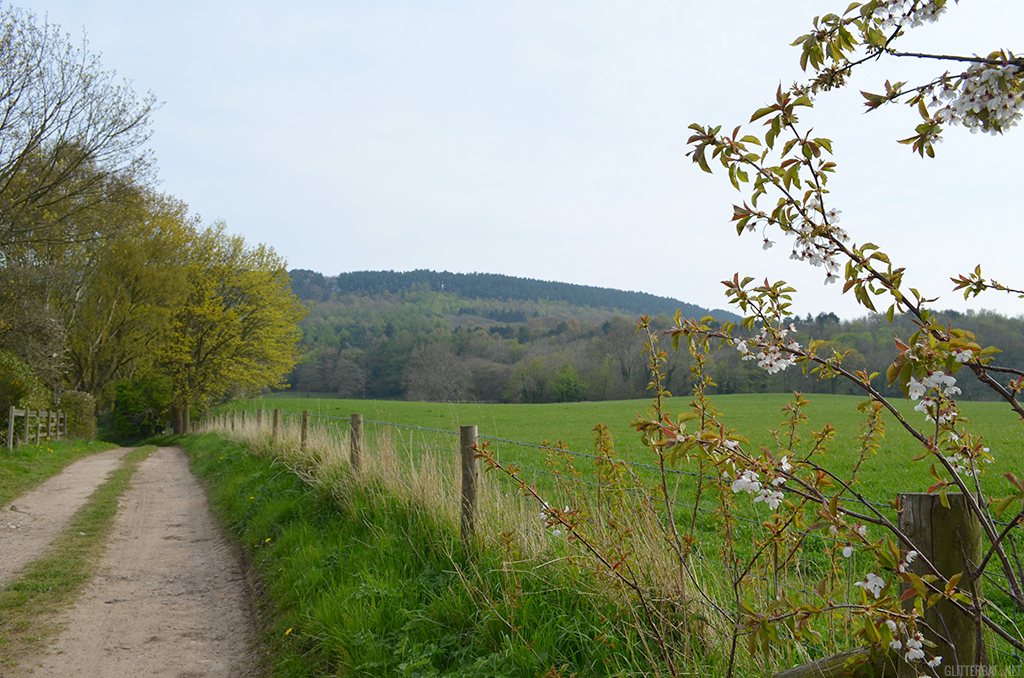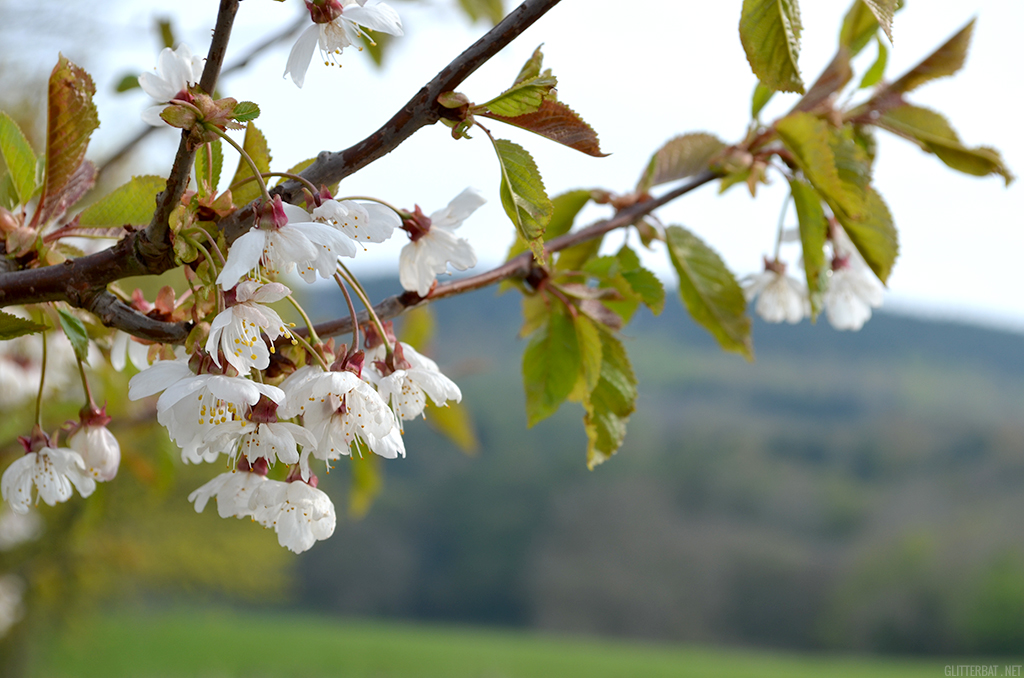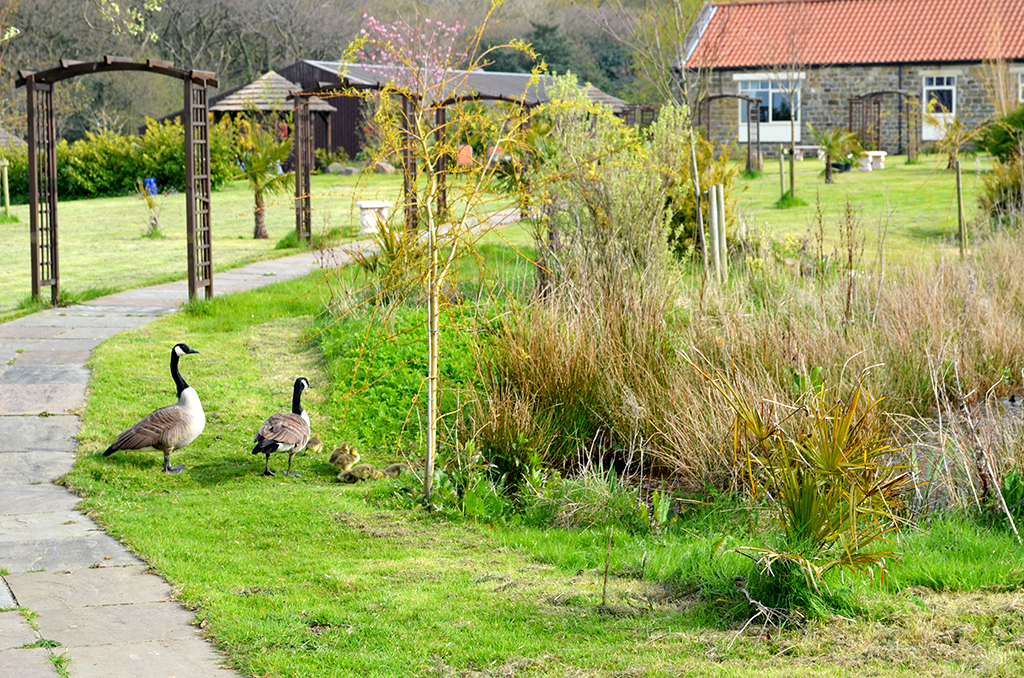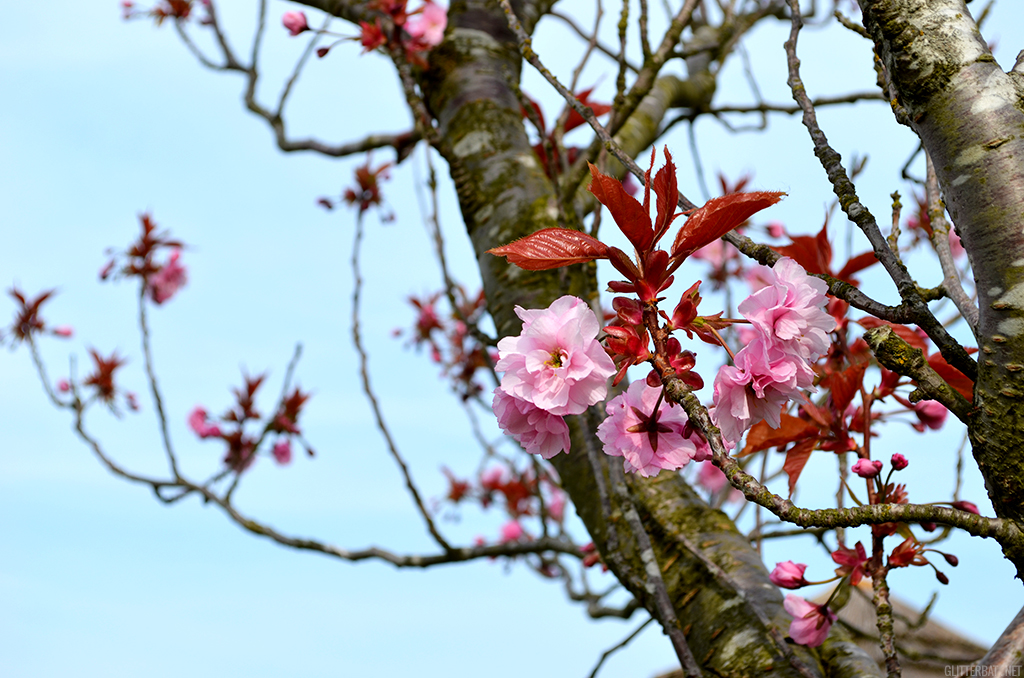 After enjoying a beer under one of the many thatched gazebos scattered around the grounds, we returned to our suite to have a bit of a rest before dinner. I say a bit of a rest – Dan fell straight asleep across the bed! Luckily, it didn't take more than the promise of food to wake him. We started dinner in the bar, enjoying a beer (and then prosecco – thank you!) with some incredibly moreish olives. The bar at Ox Pasture Hall Hotel is so comfortable, incredibly relaxed and the perfect place to recharge. I spotted a lovely fireplace, and can only imagine how amazing it must be to sit beside it in autumn and winter with a glass of wine – hint hint hint Dan!
We both had very high hopes for dinner in the Courtyard Restaurant, having seen pictures from friends and knowing that head chef Craig trained and worked at the 2 Michelin starred Le Gavroche in London. We were not prepared for just how incredible dinner actually was… Our amuse-bouche (!) was described as "simply, mushroom". A light, mousse like texture with a rich and earthy mushroom flavour, punctuated by hits of vinegary sharpness. Simply delicious! A pair of slates appeared – fresh soda bread, with butter and dripping. I'm a Yorkshire lass, and the appearance of bread and dripping was incredible. You can't go wrong.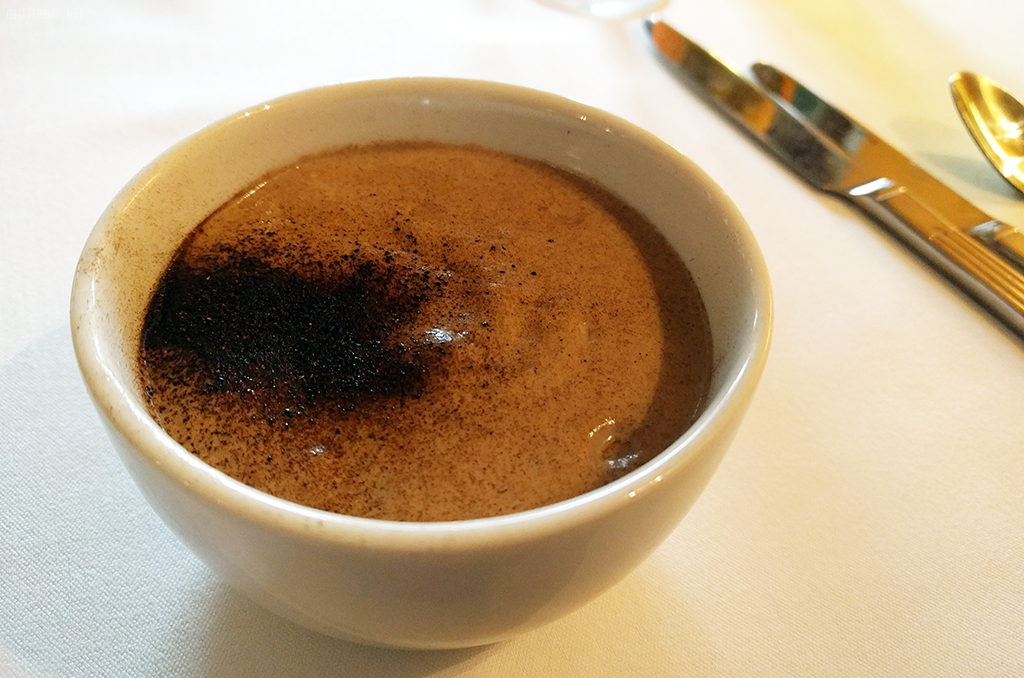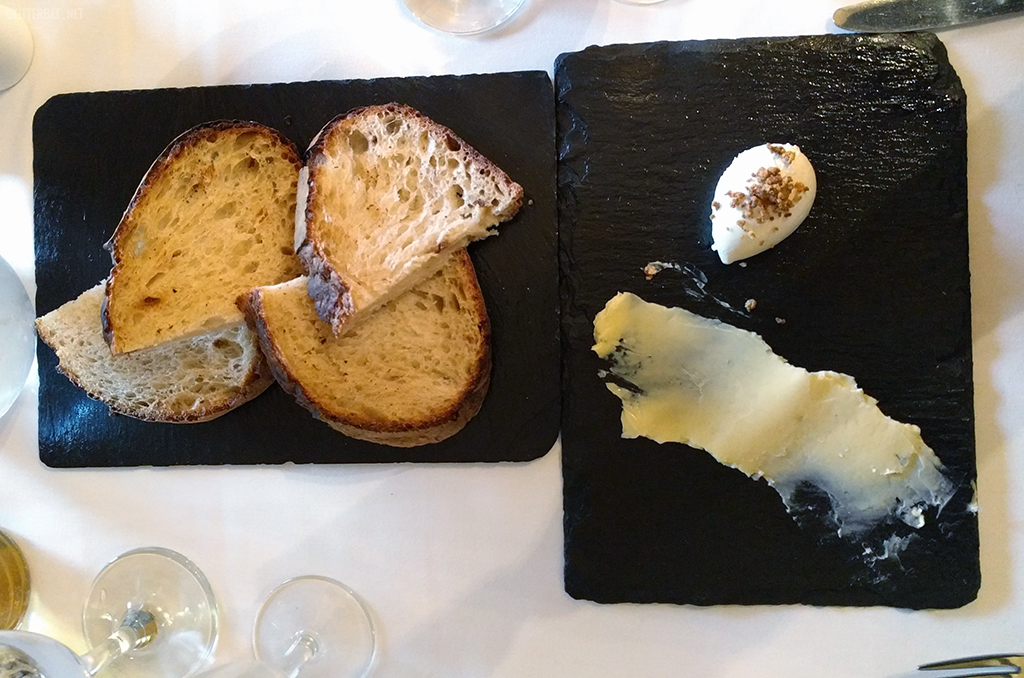 To start, Dan had chosen the BBQ short rib with octopus and brassicas. He loved it, and I was very surprised that he let me try a bite! I opted for the Wye Valley asparagus with smoked ricotta and hazelnuts. My starter was so fresh and crisp, and beautifully presented. The smoked ricotta was deliciously creamy, and the hazelnuts added the most perfect crunch.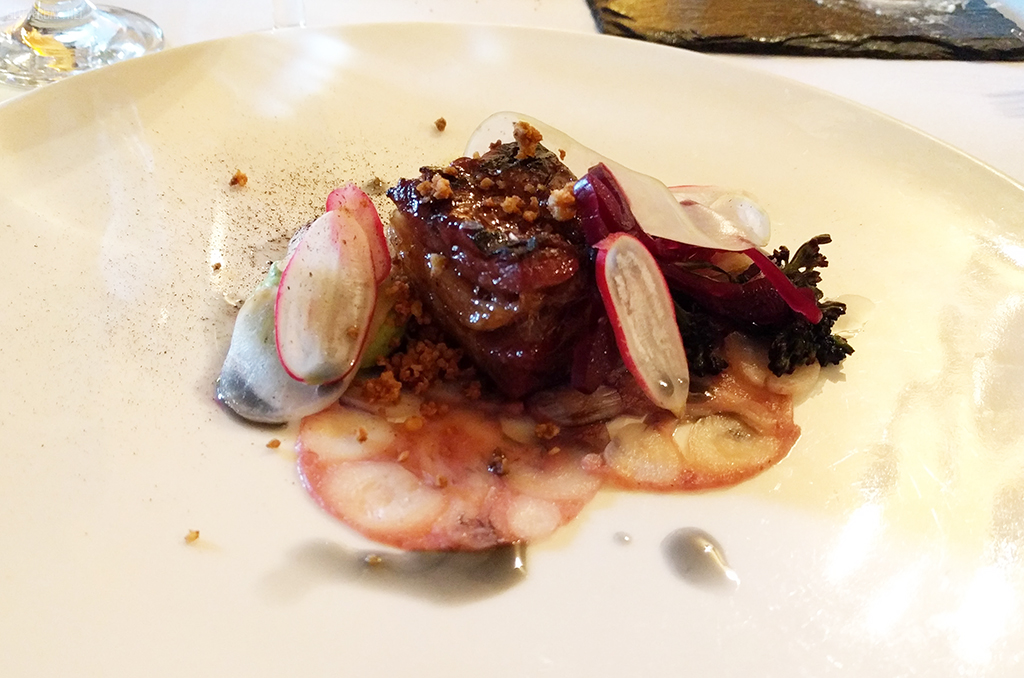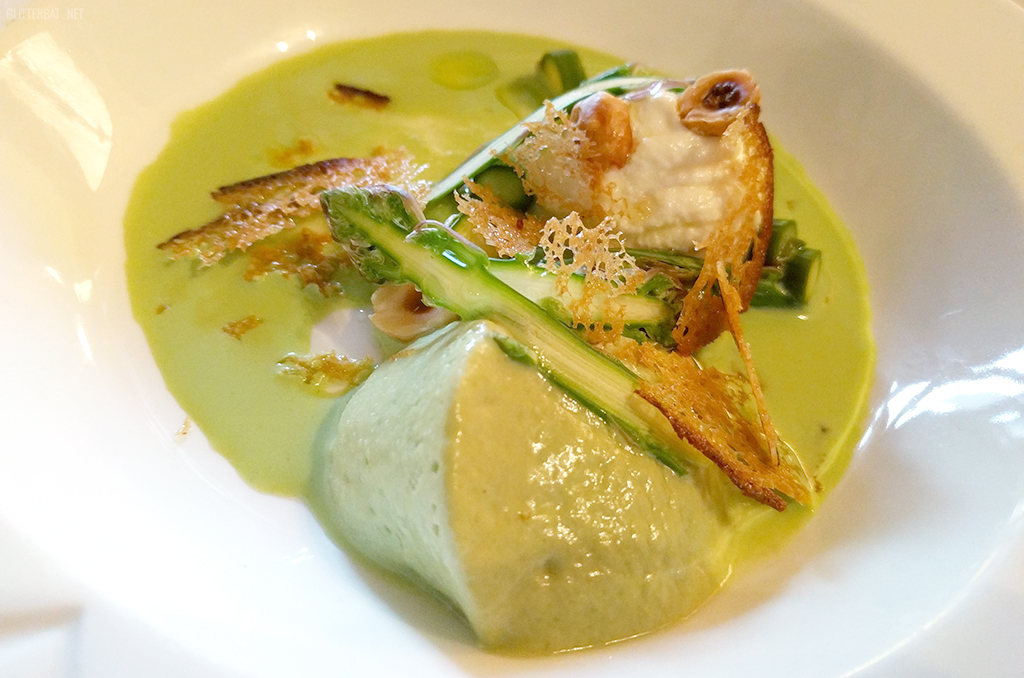 In an unusual turn of events, we both went for the same main dish – 50 day salt aged beef with alliums, miso and seaweed. We absolutely made the right choice, both agreeing that we have never eaten beef as perfectly cooked as this. It was buttery soft, with the richest flavour… The seaweed and onions were beautifully done, but that beef. Heaven!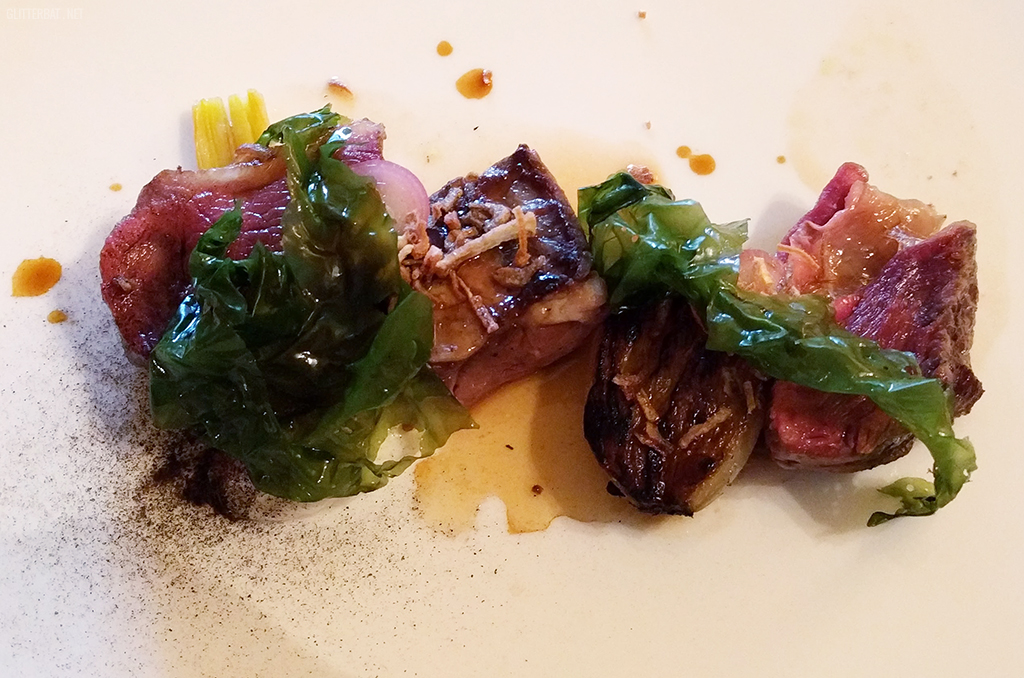 Even though we were thoroughly stuffed by this point, we couldn't resist dessert. We enjoyed a a little crossover dish of tomato, strawberry and frozen yoghurt (sounds bizarre, but it really works!) before our stunning desserts appeared. I'd been lured by the intriguing combination of chocolate, banana, peanut, miso, lime and coriander – it did not disappoint. Coriander and chocolate might be my new favourite taste!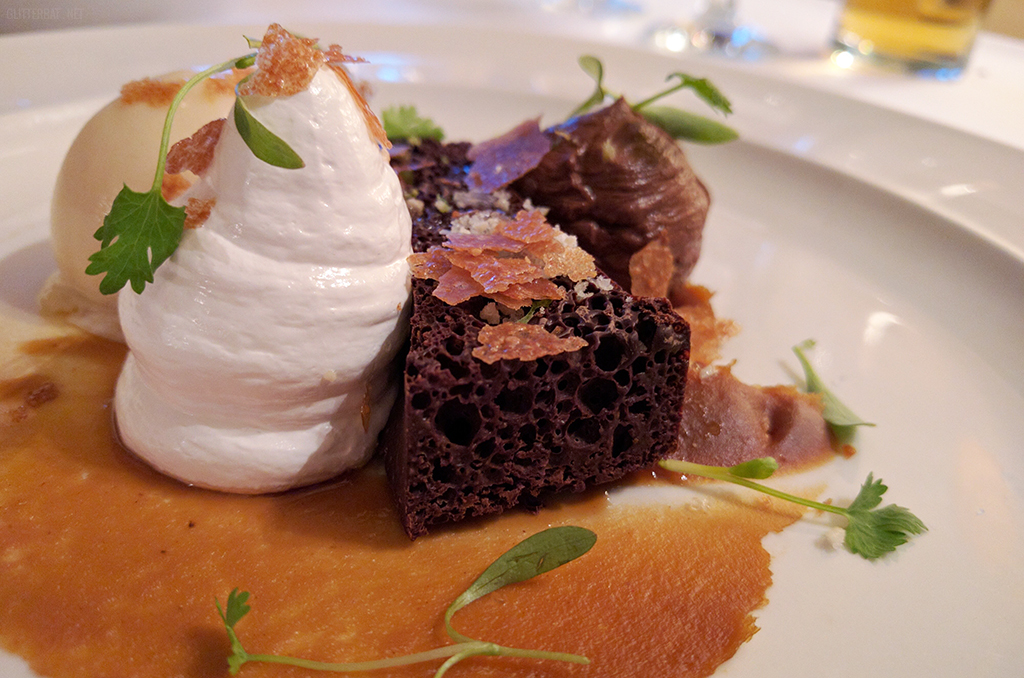 Dan however, went for the ewes curd, with lemon, nettle and oats. His dessert was something else – really special.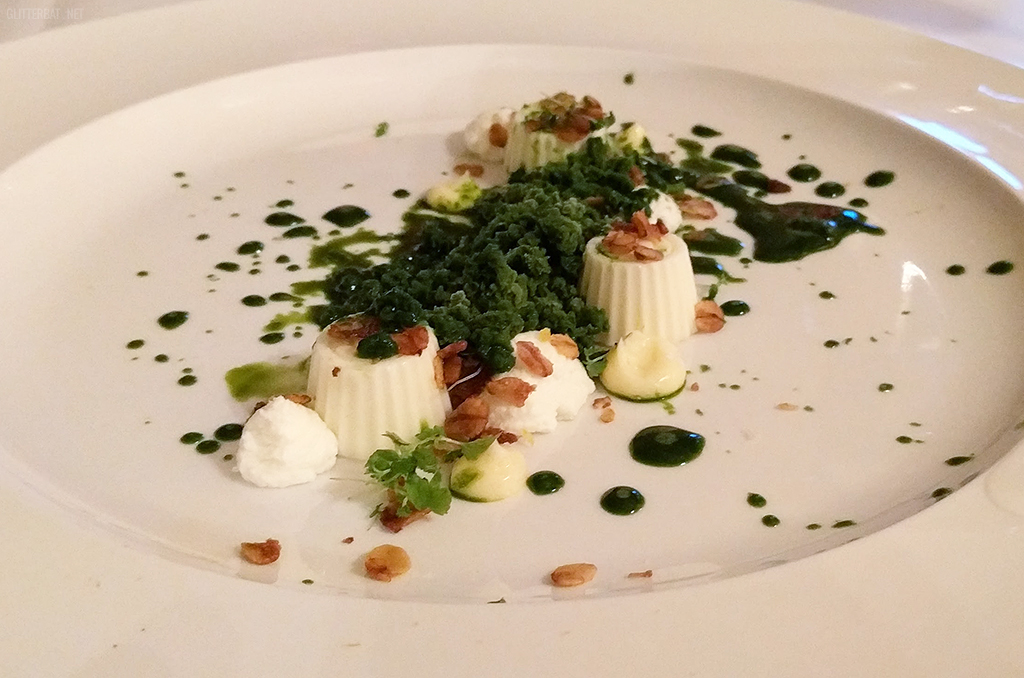 … I never expected nettles and a magical teapot to feature in my evening, but just look at this…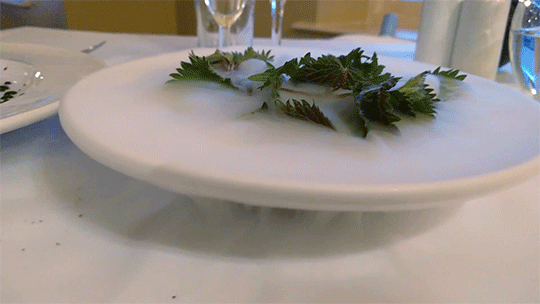 (I've been making video game .gifs recently, why not make fancy dinner .gifs?!) This little bit of theatre at the dinner table filled the air with the fresh, green nettle scent that the chef had enjoyed whilst foraging earlier that day. The commitment to using British produce wherever possible and also foraging for ingredients is admirable – the Courtyard Restaurant is run by people who are passionate about quality food, and it really shows.
Perfectly full, we strolled back to our suite through the courtyard and caught sight of some bats fluttering around! We must have watched them playing outside our bedroom window for a good half an hour, before both having long soaks in the bath (we'd cleverly brought along some Lush to enjoy – I really recommend this!) Of course, we snuggled up in our fluffy white robes and savoured a few cups of tea – peppermint and green… It was absolutely magical – the perfect end to a perfect day.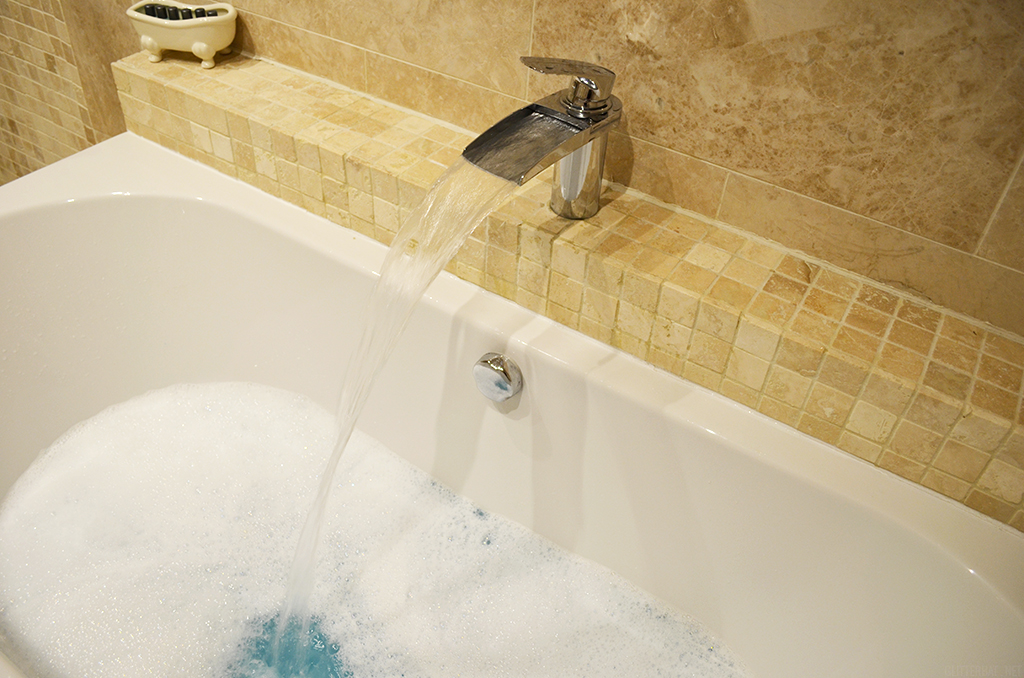 We woke up from a blissful sleep remarkably early, but feeling utterly refreshed. Even though check out wasn't until 11am, we wanted to hit Scarborough as early as possible, knowing that it would get busy on account of the gorgeous weather. I had a lovely shower (great pressure – no complaints!) and we went down for breakfast. There was a huge selection of cereals, fruits, yoghurts and pastries to choose from but of course – full Yorkshire breakfast is the only true option, isn't it?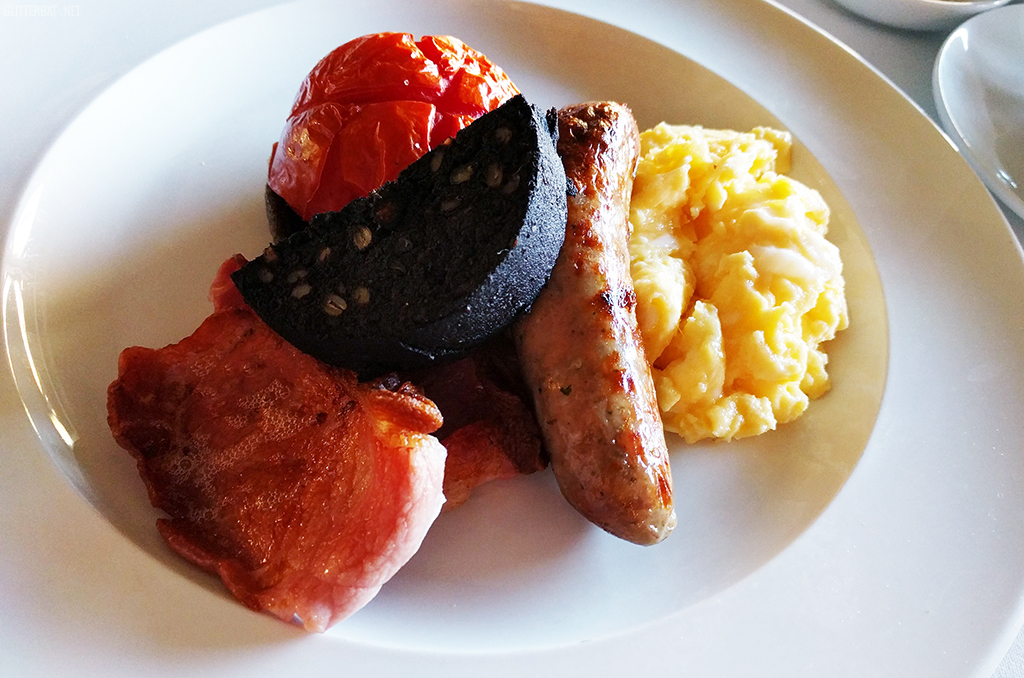 Would you believe that I've only recently acquired a taste for black pudding? Dan's most disappointed, as it means he doesn't get double black pudding these days. Breakfast was beautiful – perfectly soft scrambled eggs, juicy tomato, herby sausage, crispy bacon and a buttery mushroom hiding under the tomato. It doesn't get better than this.
We checked out smoothly, with the friendliness and efficiency we'd found throughout our stay. Something Dan and I both felt, was that it would be very easy for somewhere this luxurious to feel stuffy and unwelcoming.  There isn't the slightest hint of that at Ox Pasture Hall, and I think this is largely down to how warm and genuine the staff are. Everyone is just so friendly, and you are made to feel wholly welcome. Relaxed and happy, we made the short drive into Scarborough for a morning of seaside fun.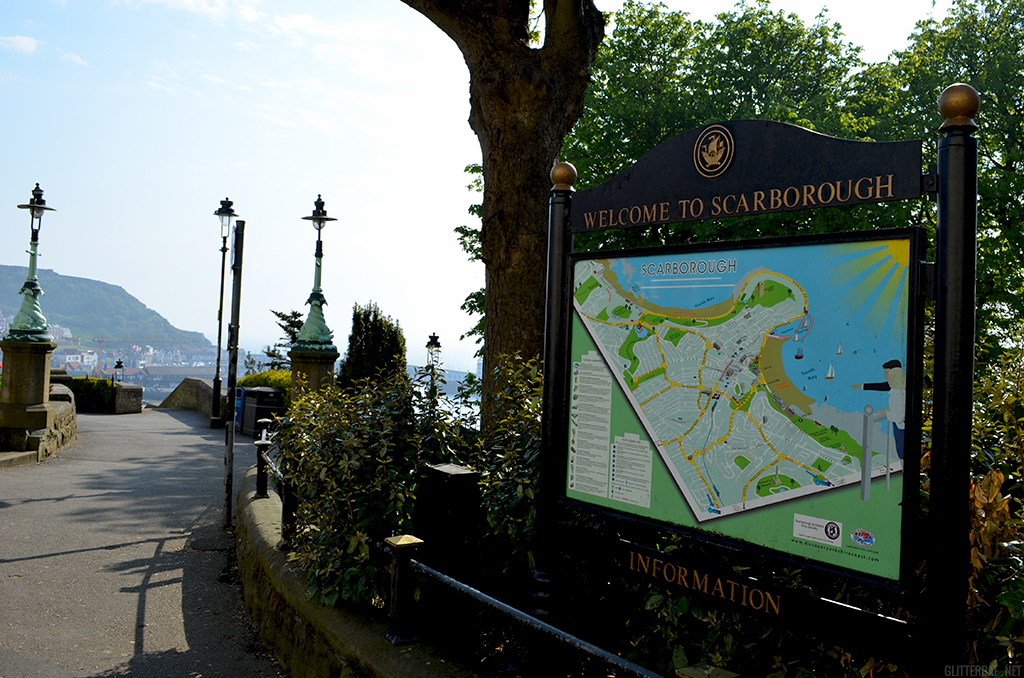 Most of my childhood holidays took place in North Yorkshire. Scarborough, Filey, or Bridlington were the big three destinations growing up – although we stayed in caravans not luxury hotels! Some of my fondest memories are centred around walking along the seafront of the South Bay at Scarborough, feeding the 2p slot machines, riding in every silly little kid's ride in the arcades, trekking out to the lighthouse and posing for pictures on whatever those things are that you tie boats to (answers in the comments please!) and eating ice cream from Jaconelli's. Of course, let's not forget about Whitby – for Goth weekend or for relaxing holidays, Whitby will always have a special place in my heart. I think growing up with the North Yorkshire coast ruins you, because nowhere else in the world quite compares.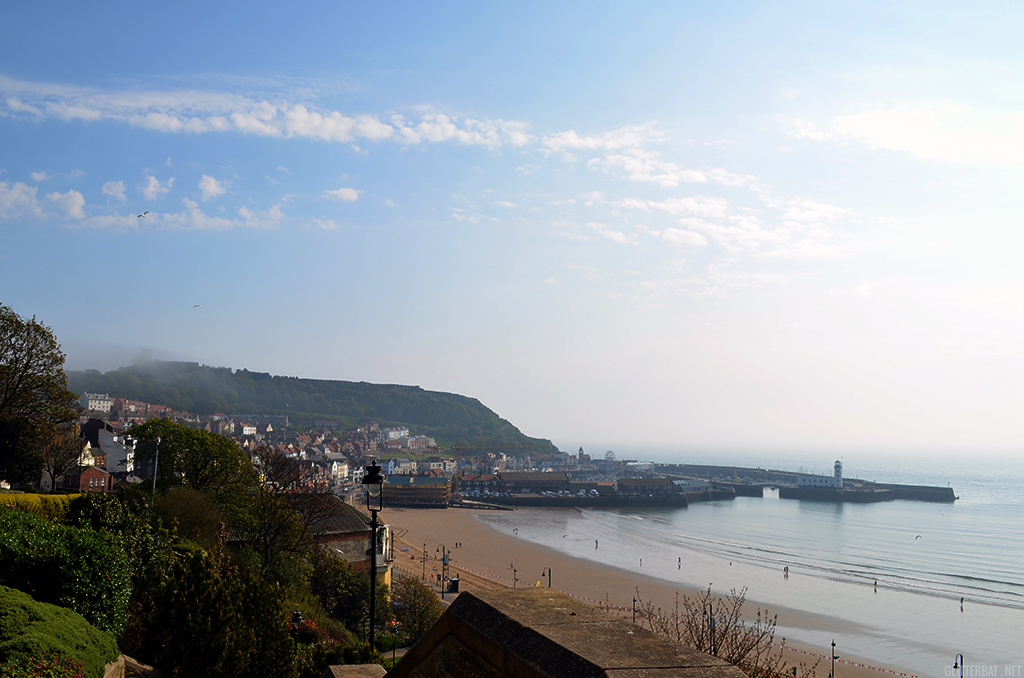 Dan and I were pleased to see that we'd arrived in Scarborough just as it was waking up. The arcades were just being opened, and the front was quiet enough for me to wander about, camera in hand, relatively uninterrupted. We relived some of our childhood memories, starting in the arcades. We fed the arcade machines far too much in 2ps, and lost god knows how much trying to win a Star Wars plushie out of one of those claw machines. We took a walk out to the lighthouse and watched the seagulls fighting over the harbour. We were stuffed from breakfast, but managed to squeeze in a strawberry top from Jaconelli's. We bought a bunch of interesting fudge too. Whoops. I promise I'll post more of my Scarborough pictures in a separate post soon – I'm aware that this post is getting incredibly long, but there's just so much I want to share with you all! For now, look at this beautiful ice cream.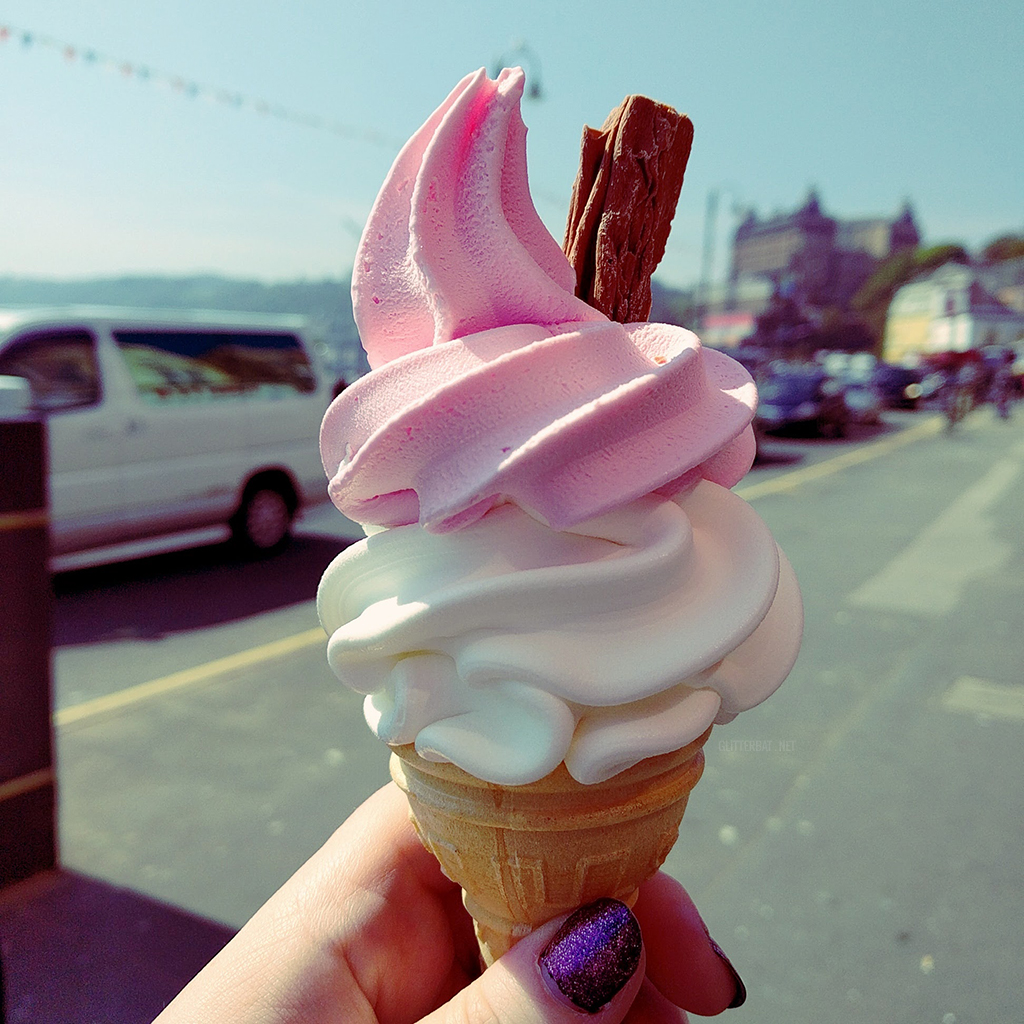 Around lunch time we took the cliff lift back up to the top, and headed out of Scarborough as it was starting to get super busy. Still full, we needed to kill some time until we could fit in some fish and chips – because what's the point of going to the seaside if you don't get fish and chips? We called in to see my mum at Cayton Bay. After years of dreaming and saving, she and my dad finally got a static caravan in North Yorkshire, and they visit as much as they can. Cayton Bay is a beautiful little beach in between Scarborough and Filey, and is beloved by surfers and fossil hunters – it's well worth a visit if you've never been. After a good couple of hours playing with the dogs (I'm not kidding – as soon as we move from where we're renting I'm getting a dog, it's killing me!) we were finally hungry enough to warrant fish and chips, and my mum recommended Harper's at Staxton.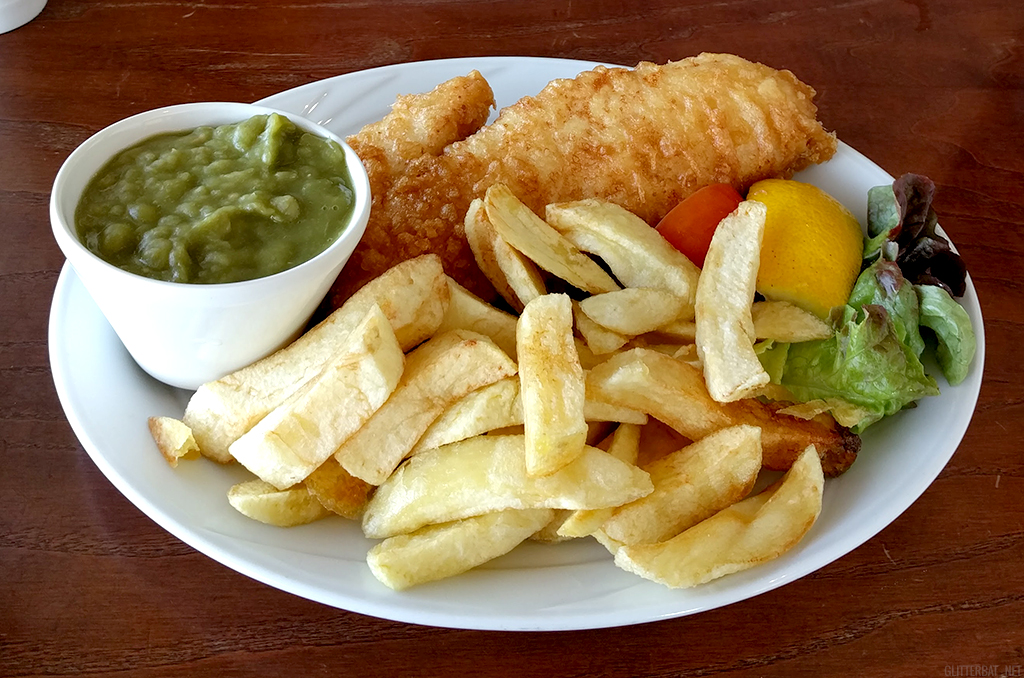 Good call mum! Conveniently Harper's is located on the road back to Leeds, so that's where we ended up, enjoying fish and chips before the drive back home. Crisp battered cod, chunky chips and lovely mushy peas. Does it get any better than this?
Dan and I had the most relaxing weekend we've had in a long time. Every little detail was perfect, so thank you so much to Ox Pasture Hall Hotel for inviting us to stay. From the warm welcome at check in, to the incredible food, the luxurious room and the stunning location, we can't get over how amazing our stay was. I wholeheartedly recommend Ox Pasture Hall for a stay in North Yorkshire, and I'm sure we'll visit again!