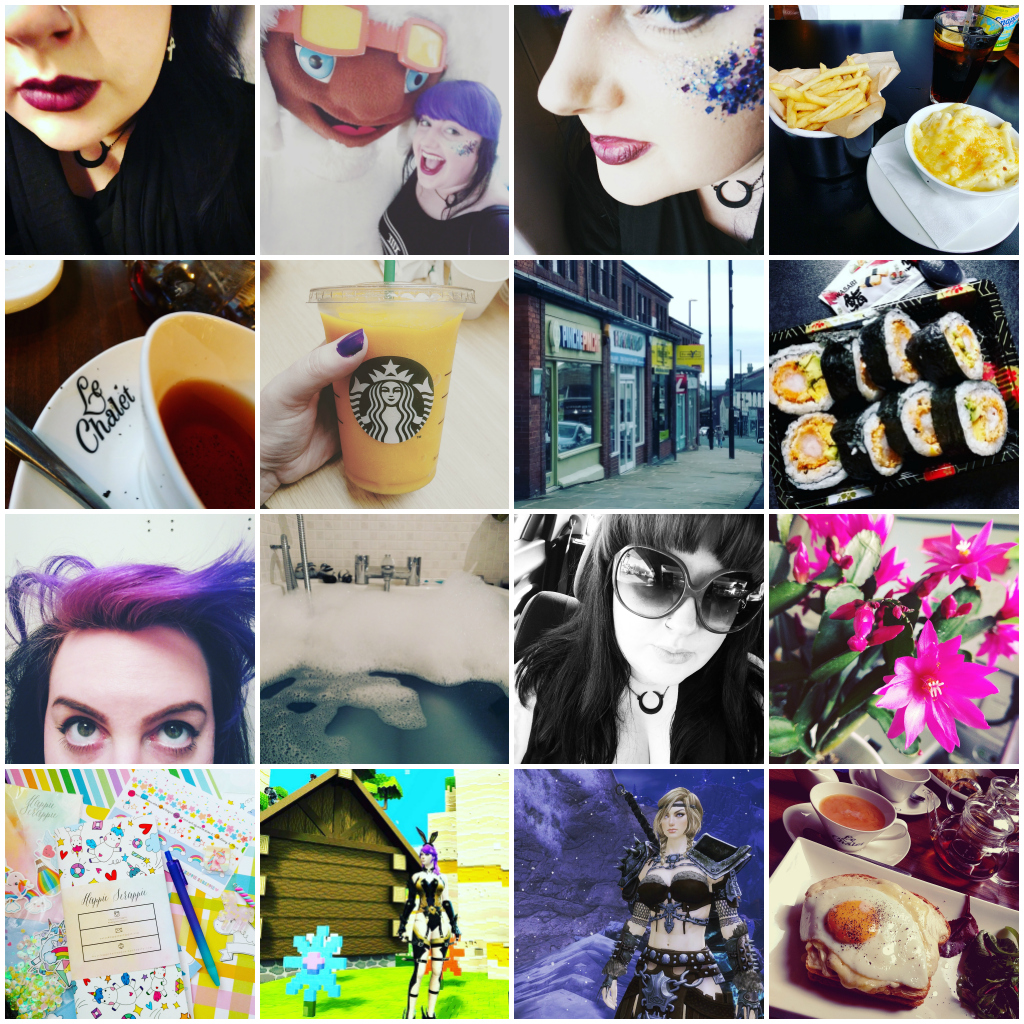 1. Spooky pout 2. Boro the Yeti 3. Glitter face 4. Cheese on carb on carb 5. Cherry tea 6. Mango hango-ver 7. Burrrrrritos 8. Sush-way 9. WTF fringe 10. Wallowing 11. Moar spooky 12. Easter cactus 13. Happie mail 14. Super Adventure Bunny 15. Warrior lady 16. Brunch
I'm here. I'm alive. I'm drowning in PhD work. I have an actual real deadline for the final submission, so shit has gotten very real all of a sudden. My life is currently being lived chapter deadline to chapter deadline, with revisions and papers and committee work and teaching work all wedged into the between times. I'm well aware that I'm going a bit unhinged, so I'm trying to make time for things that make me happy – like blogging, Guild Wars 2, foodie fun and Blythe stuff. My Instagram feed can pretty much be summed up as "things that are keeping me sane right about now".
The top four pictures are from the very start of April, when I spent a rainy Saturday in Manchester for the wicked #Jet2Sunchester event. It was lovely to take some time out to chill with fellow bloggers, and to dream about holidays far far away… The lovely folks from Jet 2 Holidays put on a great party for us, with glitter face painting, massages, cocktails and a ridiculous inflatable flamingo… just the getaway I needed, even if it was only in Manchester!
The fab moon necklace in a few of these pictures is from The Rogue + The Wolf – I'm fucking obsessed with it. So much so that I have another two necklaces from them. They're 3D printed matte black wonders, and I adore them. I'll try to get a little haul post together soon, because I need to show you just how cool they are.
Hobby stuff… well, I added River (an Asian Butterfly EBL Blythe) to my collection, and as of yesterday morning I'm awaiting another grail girl… Whoops! I've not had a lot of gaming time lately, but I did manage to have some fun in Super Adventure Box, and have been enjoying two of my Norn ladies – my daredevil and my warrior. I'm so glad I subscribed to the Happie Scrappie planner kit – a monthly delivery of cute is really helping at the moment!
That's about all for now – if you'd like to keep up with me outside the blog, you can find me on Instagram at @glitterbat.