Can we all just take a moment to talk about the Marmite of the high street for a minute please? Yeah, I'm on about TK Maxx. No other shop seems to divide opinion like this one, and I'm personally in the love it camp. Hard to believe really considering I worked there for a couple of years in my yoof. I don't know, maybe having worked there I can still kind of see the order and logic behind the rails whereas other people just see utter chaos? A couple of weeks ago I'd nipped in looking for my current holy grail, well fitting high waist black skinny jeans, and failed miserably in my quest (as I had in the previous ooh, six shops or so?) – now of course, a fail results in sulking. Sulking results in beauty rummaging. Beauty rummaging, in this case, resulted in a bottle of the rather gorgeous Skin & Co Sicilian Light Serum.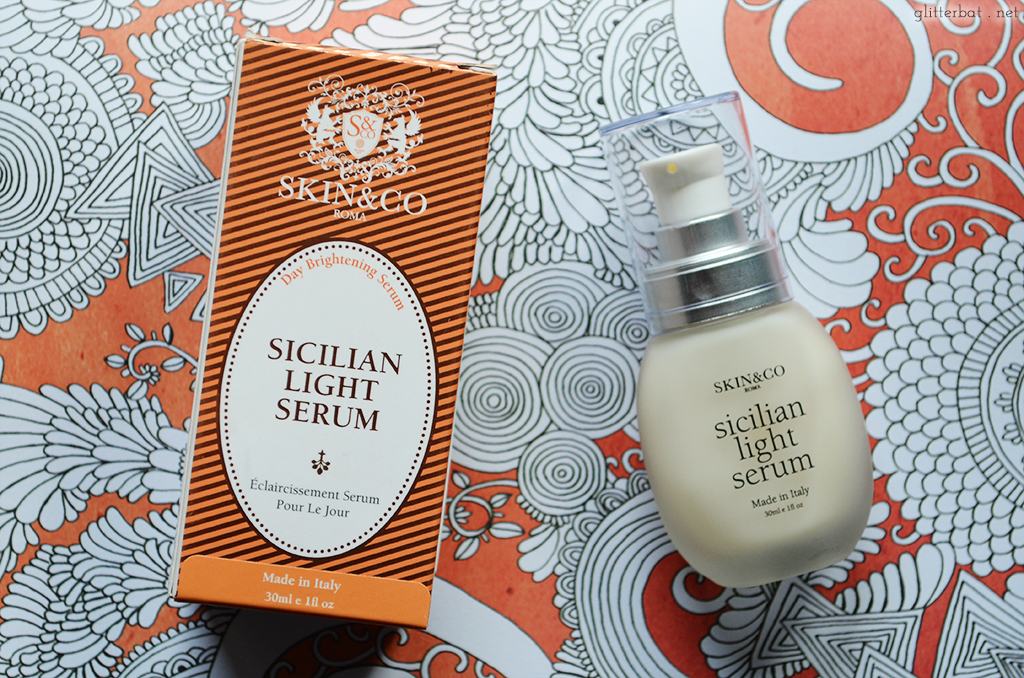 A luxury Italian skincare brand, Skin & Co Roma was introduced to me via the joy that is my monthly Birchbox subscription. I tried a sample of the Truffle Therapy Serum in my September box, and was a) smitten and b) gutted that said serum is £42. I confess to squealing out loud when I spotted Skin & Co packaging in the Leeds TK Maxx, and went on a slightly crazy lady rummage through all the shelves looking for the elusive truffle gunk. There was some truffle stuff, but not the serum (I think it was a scrub or something maybe?) however, I found a couple of boxes of the Sicilian Light serum just hanging out waiting for me. Fate or something. I knew that the Sicilian Light serum had been the other Skin & Co sample in the September Birchboxes, and TK Maxx only wanted £9.99 for a full size bottle of the stuff. I bought it with a view to passing it on if I didn't like it, but let me tell you now there is NO CHANCE of that happening.
The texture is very similar to the truffle oil serum, disappearing into the skin quickly and leaving it feeling almost unnaturally silky and soft. I've been using it for a bit over a week now and my skin already seems softer, brighter and more even toned – impressive considering how busy I've been and how little sleep I've been getting, combined with the creeping lurg I seem to be battling.
Overall, I do think I mildly prefer the truffle serum (I think the smell is slightly more pleasant, sweeter somehow) but for a tenner I'm not going to complain about the Sicilian Light serum.
Have you tried any of Skin & Co's skincare? What did you think?