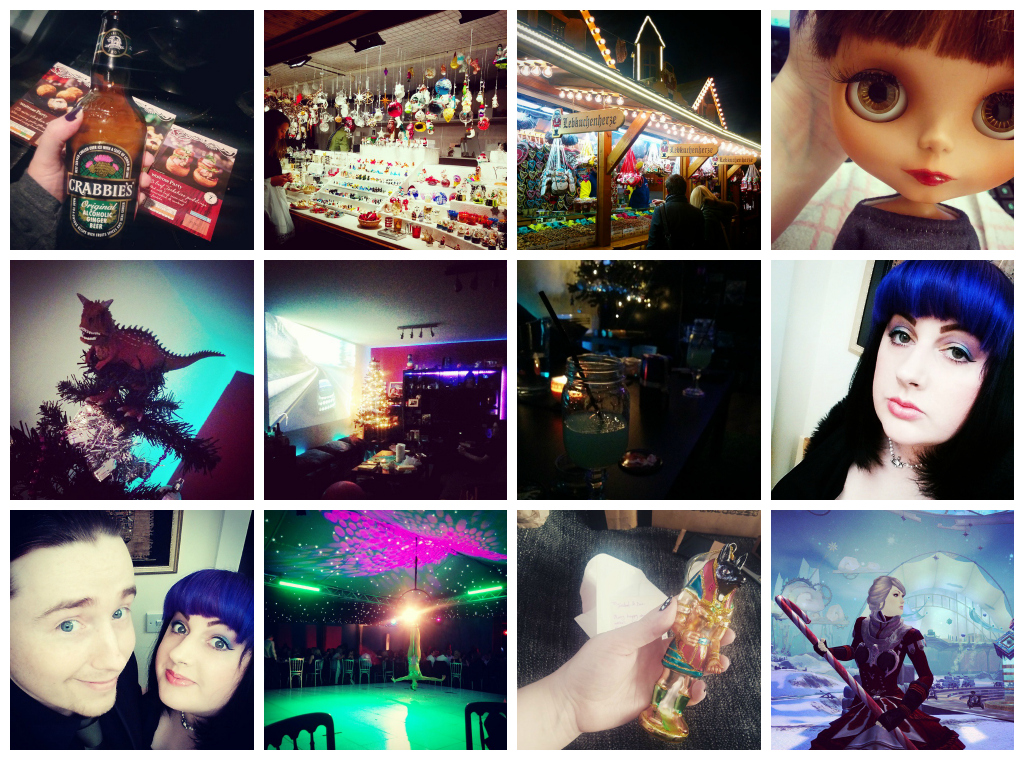 1. Ginger beer & party snacks – aka tree fuel! 2. Baubles at the German market 3. Lovely lebkuchen 4. Custom Blythe finished for Steff 5. SCIENCE! Dinosaur tree topper 6. Projector == love 7. Absinthe with Sam 8. Festive bitch face 9. Games industry party couple selfie 10. Acrobatics 11. Anubis bauble! 12. Candy Cane Smasher
How has December been so far? Well. The Ninja-hubs and I put the tree up pretty early this year, fuelled entirely by ginger beer and party snacks. You'll be pleased to know that it's sporting a rather fetching dinosaur topper – one of our many "wedding dinosaurs". Hey, you give us a scanner in John Lewis and we're blatantly going to add all the toy dinosaurs we can find to our gift list. I think he adds a lovely "FOR SCIENCE!" kinda vibe to the tree. Our gorgeous friend Heather also sent us the most incredible Christmas bauble I've ever seen – a glittery festive ANUBIS. No tree is complete without the addition of ornamental gods of the afterlife, right?
One of the good things about being (relatively) organised with Christmas stuff is that we've managed to squeeze in a lot of social and party type stuff. Our friend Sam visited for a weekend (many absinthe, very Guild Wars 2, such coffee), I did the Manchester Secret Santa thing with my sister, there was a miniature Blythe meet for Leeds types… oh, and Dan's work party. An incredible night filled with acrobats, fire performers, a live band and free flowing alcohol. My eye makeup was boss. I had a very mild hangover the next day. Good times.
Wintersday in Guild Wars 2 is in full swing (I completed the achievements last night – except the jumping puzzle because ain't nobody got time for that) and I maaaay do a festive armour lookbook. Maybe. Not sure yet. Will see how the next couple of days pan out – it's so close to Christmas day! My Necro has a nice new set, but as a result of this her bag slots are toooo full and making stuff a bit of a nightmare. Ehh. Pretty Princess Dress Up Wars 2 isn't without problems you know…
Follow me on Instagram at @glitterbat