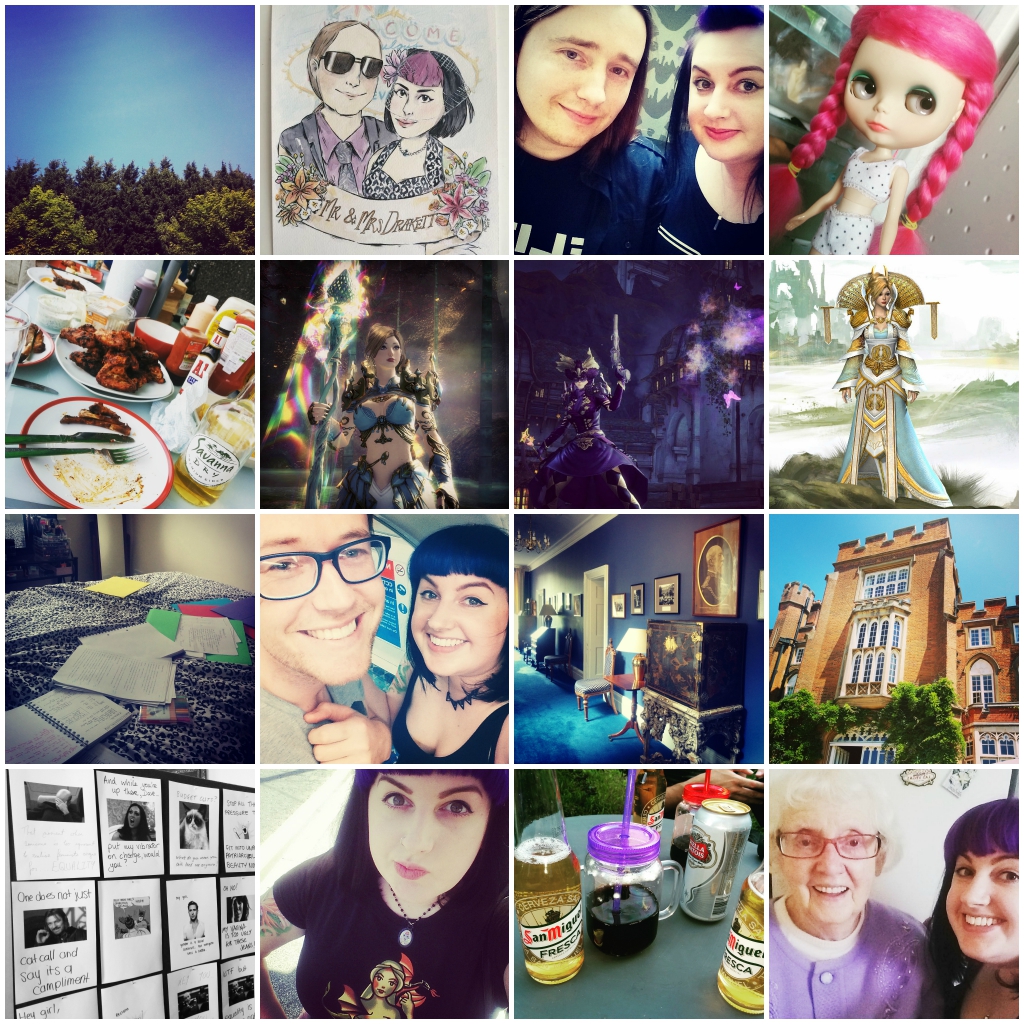 1. Summer Skyline 2. Happy Anniversary! 3. Wedding Portrait 4. Lux Is Too Hot
5. Evening BBQ 6. Second Legendary – The Bifrost 7. Dandy Highway Mesmer 8. Magical Taylor Swift
9. Analysis Nightmares 10. Glen & I Do London 11. So Fancy! 12. Cumberland Lodge Windsor
13. Feminist Memes 14. Ready For #TheCityGirls 15. Beer O'Clock  16. Happy Birthday Nan!
I feel like I've been blogging quite a bit lately, but always about very specific things or events. I don't want things to slip by, so what better way to recap my summer so far than an Instagram life post?
Dan and I celebrated our first wedding anniversary on June 12th, with a trip to see Jurassic World mixed with tacos for lunch and Japanese food for dinner. I commissioned a beautiful piece of artwork from my favourite Hevs as a gift for Dan, and I honestly don't have words for how much I love it. It's hanging in our bedroom above my dresser where my wedding flowers live, and I smile every time I see it.
It's been super hot (and/or super rainy, because British summer…) so there has been a reasonable amount of BBQ time thus far. Fingers crossed that August brings more BBQ time, because there's nothing quite like getting a few beers on the go with some burned sausages and potato salad.
Guild Wars 2 continues to be my favourite escape, and I am still aching for a release date for Heart of Thorns. In surprising news I pulled another precursor out of the Mystic Forge (The Legend) and then worked my butt off (with the help of some very lovely and generous guildies) to finish my second Legendary weapon, The Bifrost. I am super stoked for Heart of Thorns, because Rangers will be getting staff (and Thieves are rumoured to be too!) meaning I'll be able to have horribly adorable rainbow ladies wielding both The Dreamer and The Bifrost. SO EXCITED. Loving PvP, weirdly – pleased to report that the last balance patch didn't break my Ranger, so I'm generally pretty happy in game!
PhD life is happening… my analysis is pretty much done and I'm moving into a (depressingly unfunded) writing up year, thankfully with a bunch of teaching lined up so I hopefully won't starve. I attended the BPS Psychology of Women Section conference at Windsor again – this year presenting a paper with some of my research findings, and running a meme reclamation workshop. As ever, my work blog is at JessicaDrakett.co.uk so please do check it out if you're even slightly interested in feminist psychology type stuff.
Sunday was my mum's birthday, and I baked a vanilla/cream cheese/strawberry bundt for her and had a cheeky little trip up to Cayton Bay to see her at the caravan. Today I visited my Nan to wish her a happy 91st birthday – still going strong, and still the best woman I know!
Here's hoping the rest of the summer is just as lovely!
Follow me on Instagram at @glitterbat