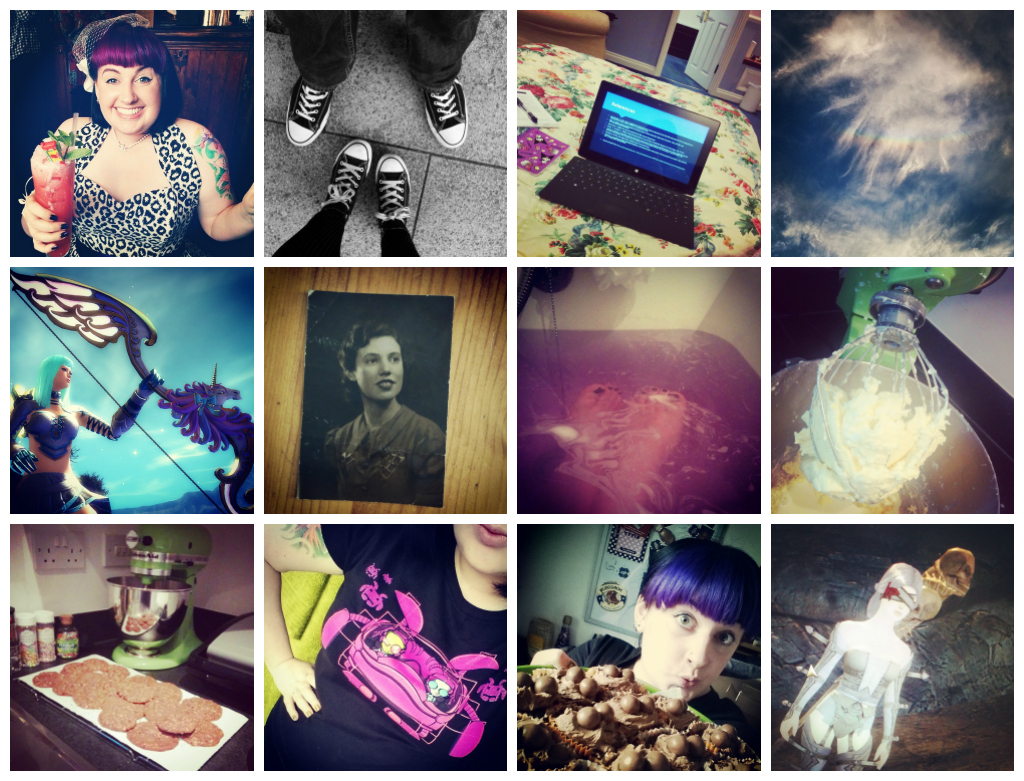 1. Sheffield wedding cocktails 2. Waiting for sushi 3. Pre-conference prep 4. Rainbow at Esholt 5. Legendary weapon 6. Happy 90th Nanan 7. Lush bath feet 8. Making butter 9. KitchenAid cookie love 10. Space Zimvader 11. Nutella Malteser cupcakes 12. New armour for my necromancer
I feel like I'm getting some sort of normality back, just about. After coming back from Las Vegas, we had a post-wedding party in Sheffield at The Wick at Both Ends. The day was full of good people, cocktails and Krispy Kreme doughnuts, the night was full of drunken dancing at Corporation. It also gave us chance to catch up with various friends via the magic of Wetherspoons, Tropeiro and Sakushi – resulting in both myself and Dan feeling very loved. After Sheffield, I emptied my suitcase into the washing machine, and repacked my clothes into a smaller suitcase before heading down to London/Windsor for the BPS Psychology of Women Section conference where I presented my paper on Internet memes – there's a review of the conference here if you fancy reading a bit about my work life.
My Nanan turned 90 on July 28th. We had a family meal to celebrate, and it was wonderful. I can't quite express with words how much I love her and how much she means to me.
Truly wifely news? We got a KitchenAid Artisan in Green Apple. I've been baking up a storm with this beauty – started out with bread, and then made BUTTER from scratch just because why not? There are a couple of videos of it doing it's thing on my Instagram, for the truly curious. I also made cinnamon Nutella oatmeal cookies, and chocolate cupcakes with Nutella buttercream and Maltesers. Dan and I both have our eyes on some of the fancy attachments for it, so watch this space for more boring kitchen related news… haha! Oh man. Wifed. Kidding.
I'll admit, a lot of my downtime has been spent on Guild Wars 2, meaning I FINALLY finished crafting my legendary weapon, The Dreamer. It's a shortbow, but most importantly it's a fucking unicorn bow with ribbons attached that shoots unicorns with rainbow manes and tails. And you leave rainbow hoof prints everywhere you walk when it's equipped. I don't even like shortbows that much. I don't even like my ranger that much. I don't even like medium armour classes that much. I do like rainbows and unicorns though. A lot. I spent this weekend finishing up my personal story on my main with Dan and Matt – she's the necromancer on the end in the bondage gear and bandages. She's had a new hairstyle since that picture though – seemed fitting after killing a big ass dragon.
Like I said. Normality.
Follow me on Instagram at @glitterbat