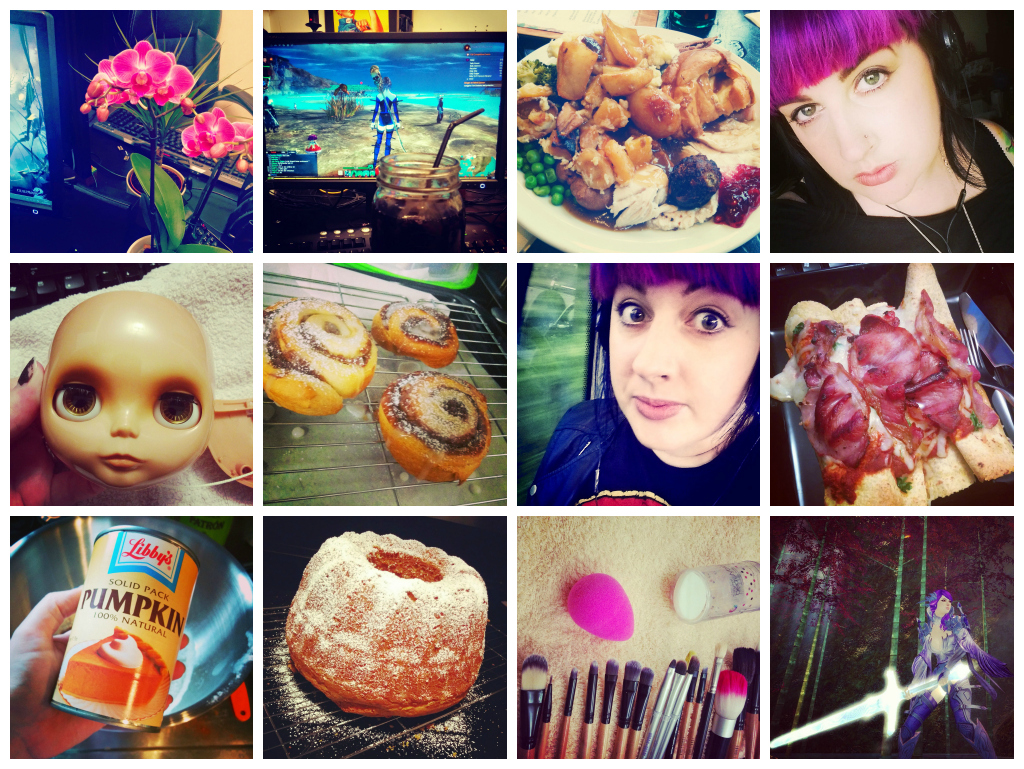 1. Desk orchid 2. Guild Wars 2 weekend 3. Official guild carvery 4. Resting bitchface 5. Custom Blythe for a friend 6. Cinnamon rolls 7. Four hours sleep 8. Bacon-chiladas 9. Pumpkin pumpkin pumpkin time! 10. Pumpkin spiced bundt cake 11. Cleaning makeup brushes 12. Mesmer geared at level 80
It's been a while since I did an Instagram Life post, which is a shame really 'cause I enjoy being able to look at an overall snapshot of what I've been up to. Work is busy, teaching starts really soon, and I've not been sleeping very much (or I've been sleeping FAR TOO LONG). I'm very, very thankful for makeup and coffee. Especially makeup. Touche Éclat, I owe you man.
In my down time I've been doing a lot of baking/KitchenAid mess making. It's truly bundt season in our house, and nobody's complaining. I made a wicked pumpkin spice bundt earlier this week, and will definitely be re-making. I've also perfected my glazed almond bundt, after a year of tinkering with the recipe. It's gonna be pie season soon, so watch this space.
I'm also working on a custom Blythe for a friend of mine – Steph sent me home with her lovely tan lady, and she's in the process of being dismantled for some fixing up. Exciting times, even if her eye mech is being an awkward swine.
I've also done a fair bit of Guild Wars 2. My favourite Kim-beast and her lovely guy Marc bought the game, and we re-rolled our guild and are now doing a lot more fun social stuff in game. And out of game – we had an entire weekend LAN gaming and carvery eating and vodka drinking. Too much fun. I also got my Mesmer up to level 80 (my fourth character at 80, yaaaaasssssssss) and am super pleased with how pretty she's turned out.
Follow me on Instagram at @glitterbat